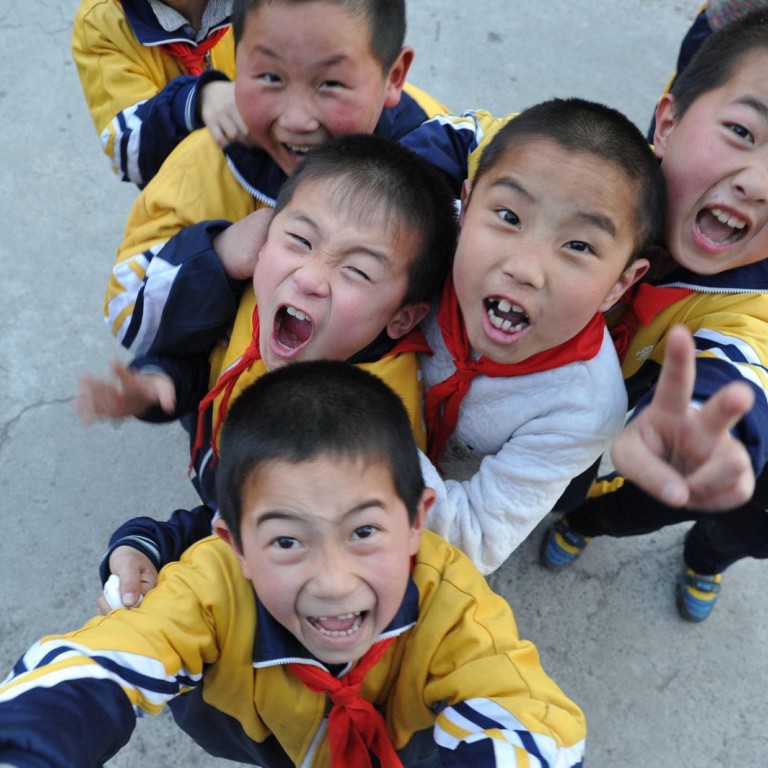 Free school supported by Hong Kong professionals proves a big success in Shanxi
A free school in Shanxi supported by Hongkongers tops the province's education charts, saysAlan Wong
Hong Kong entrepreneur Tam Man-chi, a keen photographer, never had such a rapturous reception as when he visited Fengcun village in Shanxi province. He was there at Easter to view the Bo Ai School, a free boarding facility for primary pupils he helps support. Tam says he felt like a rock star.
"Many of the children had not been photographed before. So I was ambushed every time I raised my camera," he says. "I saw so many happy faces. In Hong Kong, children have much more stressful lives, despite their higher living standards."
A dozen years ago, there was little to distinguish Fengcun, a community of fewer than 1,000 people in the mountainous region of Qingyuan county. It was dirt poor, with a number of villagers living in spartan homes carved out of the loess. Few of the 180 families in the village had access to a water supply. Children walked for several hours to reach school.
Bo Ai School has put Fengcun on the map. Founded about six years ago by an American-Chinese couple, Christine Chan Hoi-chu and her ophthalmologist husband Dr Patrick Chan, the school has won provincial government endorsement as a model facility.
For a school with such a brief history, Bo Ai has achieved impressive results. It produced half of Shanxi's top 10 primary students in 2010, and in a provincial English test, was ranked top among nearly 100 schools. Now the school attracts hundreds of visitors, including other institutions in the region eager to replicate its success.
Christine Chan, 61, decided to establish the school after a chance meeting with a doctor from Shanxi prompted her to make an eye-opening visit to Fengcun in 1999.
"The bus journey [along mountain roads] was long and like a roller-coaster ride. But what really shocked me was the extreme poverty I saw in the village," says Chan.
After returning to the United States, she raised HK$3 million from friends and other contacts to build a primary school for the village. Construction began in 2004.
Visiting Fengcun that year, Hong Kong dentist Eilly Lau Wai-sum met Chan and was so taken by the venture that she roped in a group of like-minded professionals to set up a local charity, the Bo Ai Foundation, in 2006.
"Children are technically guaranteed education, but in reality that isn't always the case," says Chan. "We believe education is essential to children's future and want to give them a chance."
By 2005, Bo Ai School was taking in its first students. It had dormitories for children and teachers, a library, computer room, kitchen and canteen, and other facilities essential to a modern school.
"We want to provide an all-round education," Chan says. "When I was young, I received cram-school education and I know how dreary it can be. My children were so much happier and more creative when they went to school [in the US]."
They wanted learning in Bo Ai School to be as good, and sought operational independence from the government to ensure quality.
Academic subjects such as maths, history, Chinese and English are largely based on the government curriculum. But the school also incorporates modules to teach ethics and build character, that are more akin to a Western system.
Friday, for instance, is set aside for special enrichment classes designed to broaden the children's knowledge. The pupils also take subjects such as art and music, which are often neglected in conventional schools.
The students' remarkable results in public exams - and their exemplary conduct - suggest the founders are on the right track.
"[The children] are very polite and disciplined," says Tam, recalling his stay in the village. "And what they learn at school also influences their parents at home."
Because of Fengcun's remote rural location, the staff were mainly inexperienced graduates from teacher-training colleges. But the school has gained respect from children, parents and the local government, so the teachers are now being sought after by other schools. But the 30 or so teachers value the place too much to leave.
Chan and other co-founders decided to extend the quality education at Bo Ai with a junior secondary programme. Construction began on a new building last year, and the school will begin accepting its first secondary students next month. Parents in the area were surprised by Bo Ai's announcement - and some were disappointed.
"Many had already paid the tuition for other local schools by the time we made the announcement," Chan says. "It was heartbreaking to see some parents in tears, begging to transfer their children to our school. But it just wasn't feasible."
For the coming school year, Bo Ai junior secondary will only accept students who attended its primary school - a decision that Chan describes as tough but necessary.
She says this will ensure quality education for the majority: "Bo Ai graduates are used to our teaching methods and culture, whereas to outsiders, Bo Ai School is a wholly different world."
The foundation tries to keep overheads to a minimum, Lau says. They do not maintain paid staff or premises in Hong Kong, and the team pays for its flights to Shanxi. "Nearly every penny we collect is channelled directly to the cause and not lost in administrative costs."
Early last month, they hosted a party to welcome a student and a teacher from Bo Ai, who were in Hong Kong to receive medical treatment from an affiliated surgeon and a dermatologist, both of whom donated their services to Bo Ai.
As a prelude, they attended a photo exhibition in a Fo Tan gallery to raise funds for the foundation. The children in the photos look like fans seeing their idols for the first time. In some cases, they are.
This article appeared in the South China Morning Post print edition as: Lessons incompassion