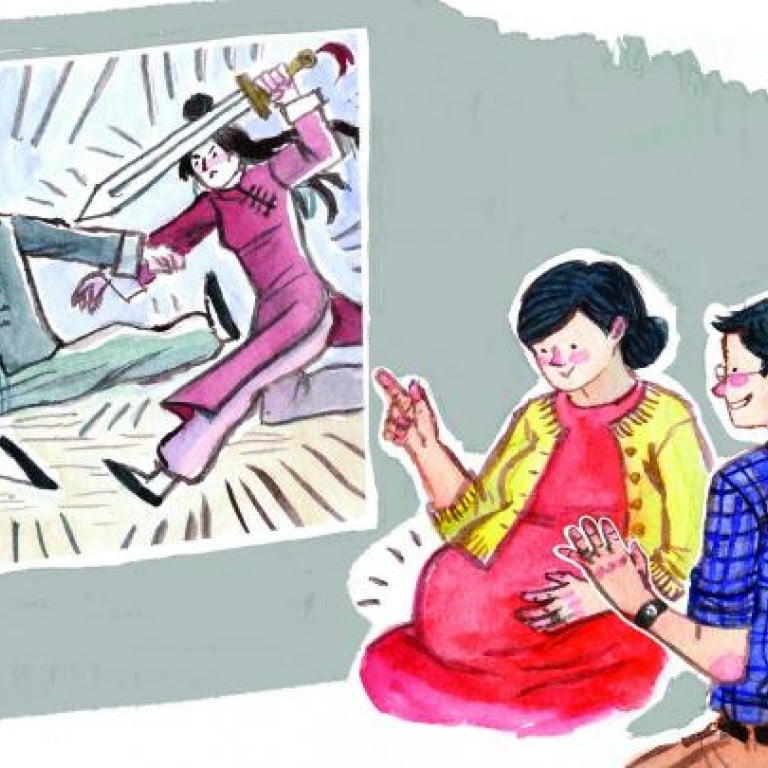 I remember very well our first year of married life. Helena was pregnant soon after our honeymoon. As first-time parents, we were nervous and panicky. I bought a large coffee-table tome on pregnancy, birth and baby care. The illustrations of the developing fetus in the womb over the 40 weeks were fascinating, but childbirth in the labour room looked scary. We both studied the volume diligently.
The obstetrician also gave valuable advice. We booked a place in the hospital ward, went for regular check-ups and visited the baby sections of the old-style department stores, which were still popular. We bought baby clothes, bottles for milk, toys, bedding, the list went on. There was no precise gender prediction in those days and the guessing game was thrilling.
I tried my best to be a caring and tender husband, just as Helena tried to be a conscientious expectant mother. But the big book said pregnant women were prone to violent mood swings from elation to depression. Throughout the pregnancy we found ourselves experiencing ups and downs - one moment excited, the next full of trepidation.
Looking back at my own childhood, my parents missed most of their schooling during the war, so I did not have much of a family education to speak of and was very much left to fend for myself. My parents ran a grocery store together, working from 7am to 11pm seven days a week, with my grandmother looking after us children at home.
Helena and I wanted to give our child the best upbringing. But we simply did not know where to start with our planning. How many children did we want? Would an only child be too lonely and easily spoiled? Could we ignore the traditional Chinese family expectation of a male heir, and settle with one girl if that happened? What if a second child turned out to be a girl as well?
We thought of what to name our children. Sun brother and moon sister: Phoebus if it was a boy, and Phoebe if a girl. There were so many things we needed to sort out - what school we would send our child to, hiring a domestic helper if we both wanted to continue working, where the child would be baptised, where we would move to from our studio flat. But of one thing I was certain - I would let our child have all that I had missed as a boy owing to the hard times then when my parents could spare neither the time nor the cash: music lessons, bicycle rides, swimming lessons, art lessons...
Every now and then we went to see a film on weekends, usually a locally produced martial arts film. And while the hero and villain were having their duel with flying fists and high kicks on screen, Helena would whisper to me that the baby must be under the influence of the film too for it was kicking her from inside.
Ten days before the due day, Helena was getting ready for bed when she started to experience contractions. I rushed her to the hospital, where the obstetrician took her straight into the theatre.
He preferred not to have me in there, so I waited in his doctor's office watching old films on late-night television. One featured actress Ann Blyth playing the part of a mermaid, complete with flapping fishtail. It's funny what you recall.
I was called in shortly after 3am. The delivery had gone well. The doctor was still busy with my wife in the theatre, and the baby, our firstborn, was a girl. At 10 days premature, she weighed a tiny 2.6 kilograms.
The nurse placed her in a cot next to a large glass wall separating the baby's room from the corridor. This new father was standing there all alone and elated in the corridor, gazing at the face of his newborn baby girl with indescribable bliss. Phoebe had remarkably large eyes. And she was staring at her father, too, unblinking, in a fixed and inquisitive gaze. We just carried on looking at one another.
That was the moment of birth that I remember so well - the most wonderful moment of my life.
Rupert Chan is a recently retired university administrator, and chairman of the Chung Ying Theatre Company
This article appeared in the South China Morning Post print edition as: Bliss and tell: our great expectation