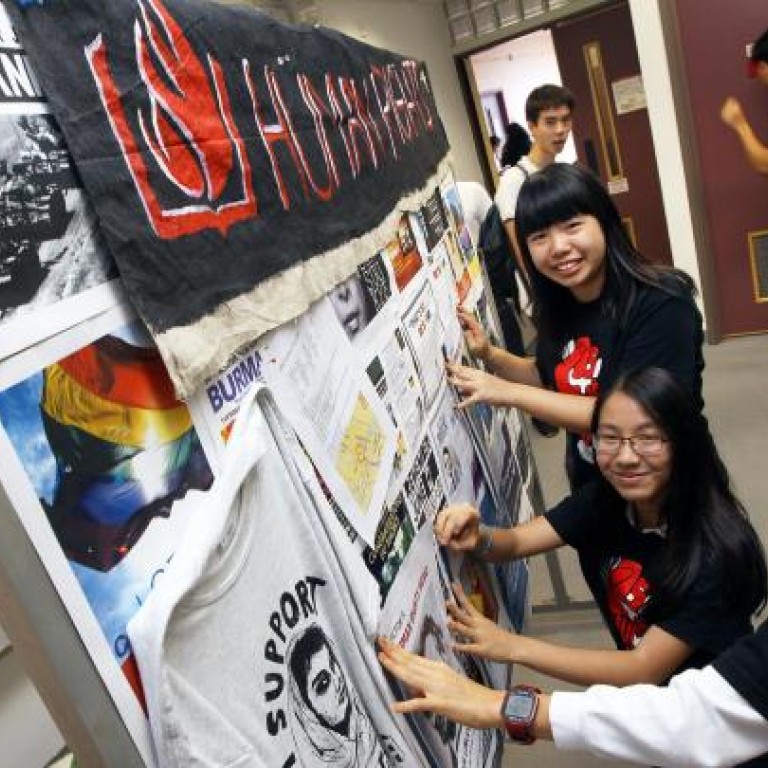 Chinese International School's student human rights group
A group of students have become champions of social justice at their school, writes Anjali Hazari
Students in their final school year usually have little time to pay attention to anything outside the immediate demands of projects, exams and trying to keep sane under a hectic schedule. Yet a small group of teenagers at Chinese International School (CIS) have made it their mission to champion human rights issues across the school.
Their commitment and maturity has been a revelation - and inspiration - to grown-ups around them, especially Brian Kern, the English teacher they invited to guide them.
A member of Amnesty International's human rights education team before he joined CIS four years ago, Kern was keen to share his experience with colleagues and students even if he did not expect much enthusiasm.
"At first no one was interested, but one day in 2009, a student came to me and said he thought he could get a few people interested and wondered if I might be willing to advise them," he recalls.
That student, Liu Yi-wei, roped in his sister Yi-ling. Since then, Yi-ling, along with schoolmates Lewis Ho, Stephanie Cheung, Kaitlin Chan and Adrien Yeung, all in the final year of their International Baccalareate diploma this year, have become core members of a team that has swelled to more than 30 active members.
One of the most dynamic groups at the school, they mounted seven major campaigns in one year alone, staging documentary screenings, exhibitions and panel discussions with guest speakers, as well as organising petitions and silent vigils. The students highlighted issues ranging from labour rights and gender bias to the plight of mainland dissidents such as jailed Nobel laureate Liu Xiaobo and blind lawyer Chen Guangcheng.
"The idea is that if young people are to learn to be active citizens in democratic, rights-respecting societies, they need to have experience of such societies," says Kern, who has helped co-ordinate an Amnesty education project involving schools in 15 countries around the world.
"Schools are microcosms [of society], and youngsters spend a lot of their time in school, so they have the potential to be of enormous influence. Sadly, most schools around the world are not teaching students to be active citizens."
The past couple of years have taught the teenagers in CIS' human rights group remarkable lessons in active citizenship.
"It's not as if we jumped in and [immediately] knew what we were doing. We have received criticism and have improved upon [our activities]. It has been a learning process," says 17-year-old Yi-ling, whose soft-spoken ways belie her commitment to the notions of social justice and compassion enunciated in the Universal Declaration of Human Rights.
A high achiever whose interests range from creative writing to French and quantum physics, Yi-ling says a unit focusing on human rights that Kern introduced in the English curriculum first roused her interest.
"We discussed everything from the ban of the burka in France to censorship in China. One issue that I was particularly drawn to was the Saffron revolution in Burma in 2007. This sparked not only my interest in human rights issues, but also in people power movements and civil resistance in bringing about improvements in human rights."
But there were a few mis-steps as the group tried to draw attention to rights abuses.
At first, Yi-ling says, they drew flak for being too strident and for trying to impose their beliefs on others. "Our passion for the issues and strong beliefs were misunderstood as stridency. In the process, we have learned to be more open to ideas - even if we strongly disagree with them - without sacrificing our own convictions."
Lewis, another active member, adds: "Education creates great change within the student body without imposing ideas on them. With these events we create a fertile environment for ideas. Sometimes we even play devil's advocate just so that the CIS student body is presented not just with the facts, but also different viewpoints so they can develop personal opinions."
The group believes a major reason fellow students have been supportive and ready to participate in their activities is they recognise that human rights start at home.
"This is evident in how the group has swelled to such a large number over the years," Yi-ling says.
"Our group really cares about making things localised. We try to stay away from lofty ideals and show students that human rights is next door to you and important in your life. We have a good turnout for our events because they are relevant."
The group's campaign for foreign domestic workers is one example. Their lunchtime debate to discuss a High Court ruling in March rejecting permanent residency rights for foreign domestic helpers featured a high-profile panel that included veteran human rights lawyer Mark Daly, who led a legal challenge against the ruling.
"Most students have a domestic helper but are unaware of their poor rights situation. That was why this event got a big turnout," says Vera Lummis, a younger member of the group.
The students don't shy away from what's in their own schoolyard either, producing an annual report on human rights progress at CIS.
To mark Labour Day, they hosted a talk by Debby Chan Sze-wan, an activist from Students and Scholars Against Corporate Misbehaviour, who described what they learned from mainland factory workers about conditions at a Foxconn plant making gadgets for Apple.
All events are student-led and although the group dispenses with formal leaders, the informal structure seems to work in their favour.
"In a way we have ordered chaos," Vera says. "We throw out ideas to each other - and then someone takes over and pulls it all together. And it's never the same person each time."
Having to juggle their studies and commitment to the group is hard, Yi-ling says as the group gears up for activities to mark Human Rights Day tomorrow. That's why flexibility is a key factor to their time management.
"So when someone is busy, they can step back while others in the group take charge. When they have time, they can step back in and lead."
Self-control is important, too, since it's tempting to put off school work for ideals that are firing their enthusiasm. "I make it a policy to complete all my school assignments as soon as I am home from school and don't allow myself to procrastinate by attending to my extra-curricular activities first," Lewis says.
Such restraint may be one reason the group gets parents' backing.
"My parents have always been very supportive of what my brother and I have done with the human rights group," Yi-ling says.
"At times, we disagree and have different perspectives on human rights issues, particularly when they are China-related. However, I revel in differences in opinion and perspective. They enrich the debate, and challenge you to really think about and back up your own beliefs."
Just as Kern's charges admire him for his ideals, the teacher is clearly struck by their talent and engagement despite their busy schedules.
"I am proud of and inspired by them," he says. "It is easy to become downhearted when you see what you're up against in the struggle for democracy, freedom, equality and human rights for all, but the students in the group remind me to be hopeful."
This article appeared in the South China Morning Post print edition as: The rights stuff