LIFE
Get more with myNEWS
A personalised news feed of stories that matter to you
Learn more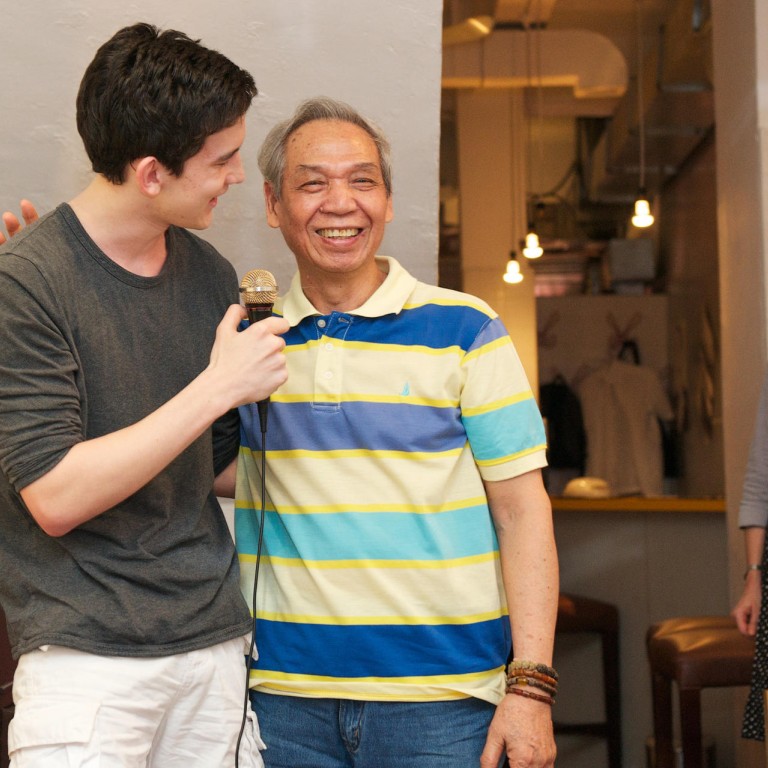 'Stories Among Us' brings tales of elderly Hongkongers to the public
When Paul Spangfort and a group of teenage volunteers walked into the lounge at an elderly centre in Sheung Wan, a cheerful old man stood up and welcomed them with a song, setting his own lyrics to the tune of Happy Birthday.
When Paul Spangfort and a group of teenage volunteers walked into the lounge at an elderly centre in Sheung Wan, a cheerful old man stood up and welcomed them with a song, setting his own lyrics to the tune of
"He came off as a very enthusiastic person. I thought how great it would be if I could interview him - and I did," Paul says.
A 12th grader at the Canadian International School, Paul was conducting fieldwork for "Stories Among Us: History Retold", a project organised by Elephant Community Press (ECP).
ECP runs creative writing courses for youngsters, whose work is then published online and in print. But the stories project is designed to combine writing and service. The idea is to have students interview elderly people and gather their experiences to share with a wider audience through writing and photography. Their work is on show at a gallery in Central.
Paul and his project partner, Geena Iris Yip, learned about Lee She-yuen's life over two interview sessions. Like most people, 76-year-old Lee has his share of regrets. When he was in Form Five, his father told him to quit school so that they could afford to send his two stepbrothers to study abroad. Partly because he lacked further education, Lee remained at a trading company all his working life.
"Despite having an unhappy childhood and being unfairly treated, he seems content and fulfilled. He is not at all hindered by old age and is living every day with conviction and happiness, which is very admirable," Paul says.
Always in high spirits, Lee is an avid painter who also enjoys singing Chinese opera.
Lee spoke some English, and that allowed a lot of the interviews to be conducted in the language, Paul says. Geena, who is bilingual, would come to his rescue when a need for translation arose.
Because few people had asked Lee about his life, he was "very happy to share his past and present with us", says Geena, a Form Four student at St Paul's Convent School. "Every elderly person has a story to tell. I'm now very interested to know my grandparents' stories."
As preparation for the project, students attended eight two-hour classes taught by postgraduate students at Baptist University, where they learned basic journalistic writing and photography skills.
The aged persons profiled came from a centre in Sheung Wan run by the Western district Women's Welfare Club and a YWCA home in Lei Tung Estate in Ap Lei Chau.
The project is ECP's second service learning project under its Street Team initiative, which aims to take classes out into the community.
"There is a diversity of people and experiences in Hong Kong. We want to find a way to connect people," says ECP director Christine Choi.
"We want to help share stories that we often don't hear in Hong Kong," she says, especially among the English-speaking community.
The students, who hail from five schools, were chosen for their commitment to the project. "They owe it to the interviewees to write their profiles and consider how that person's story is going to be shared in public," Choi says. "We're very pleased with their attitude and dedication."
Among the challenges of co-ordinating the project was to make sure that all parties' needs and interests were met.
Some social workers were understandably concerned with the interviewees' privacy, and ECP had to balance those needs with its goal of sharing the students' work with the greater community.
"Part of that was developing trust. We chatted with the different people involved, and explained our goals and why we were doing this," says Choi.
ECP usually donates the proceeds from its book sales to charities, but it was agreed that the work derived from this project would be for exhibition purposes only. The pictures and a copy of the written work will be given back to each of the interviewees following the exhibition.
Crystal Tai Chung-yee, a Form Five student at SKH Lam Woo Memorial Secondary School, interviewed two elderly women. In , she describes how a woman in her 70s cared for her family - including an unfaithful husband. The project highlights her subject's strong sense of responsibility.
Crystal's other story, , follows the life of a woman in her 90s.
"She started working when she was very young and became crippled from hard labour.
"Despite her frailty, she insists on helping people around her - closing the window for other elderly people at the centre and assisting with tidying up," Crystal says.
"Although she had an unfortunate past, she tries her best to bring happiness to others. I have learned a lot from these two ladies, and that has made me reflect on myself," she says.
And the programme hasn't just benefited the students.
Paul and Geena's interviewee Lee says that he thoroughly enjoyed the interview experience.
"The students were very friendly and respectful of elderly people. It was the first time I had interacted with a non-Chinese teenager," says Lee.
"I want to let these young people know that we, too, can be very active and that we enjoy every moment of our lives."
This article appeared in the South China Morning Post print edition as: Teens tap collective wisdom