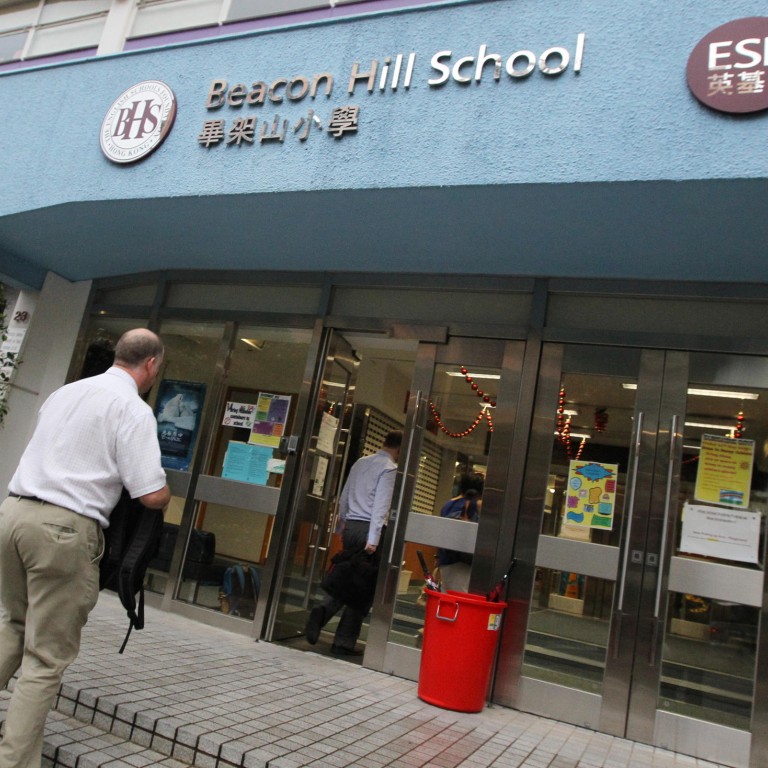 Overpricing English-medium schools could hurt Hong Kong's future, say critics
The loss of government subsidy will make schools teaching in English too costly for many professionals, who will take their talents elsewhere
As his two daughters enjoy their summer holiday, architect Marcin Klocek has school on his mind. The prospect of soaring fees at international schools has left him contemplating sending his children back to his native Poland for their education.
Both his daughters, aged seven and 12, attend the financially troubled Discovery College. Faced with the need to repay a construction loan to the English Schools Foundation (ESF), the Lantau-based college has announced plans to increase fees by 53 per cent over the next five years, taking them above HK$130,000 per year for primary-school pupils and HK$180,000 for those in Year 7 to Year 11.
Discovery College parents, who have formed a 150-strong concern group to fight the fee increase, are not the only ones worried about rising fees.
Parents whose children begin studying at the four kindergartens, five secondary and nine primary schools run by the ESF after 2016 will find the fees much higher than they are now as the government begins phasing out its subsidy to ESF schools.
With international school places in short supply, the loss of subsidy has raised questions about the future of English-medium education and concern that a lack of school places could hit the city's competitiveness by deterring talented international professionals from moving to the city.
The ESF board last month quietly accepted the loss of the government subsidy, long frozen at HK$283 million per year. But many of the foundation's supporters argue that the loss of the government cash will add to a worrying trend - the widening gap between those who can afford quality English-medium education and those who cannot.
The government support, which started in 1967, allowed the ESF to offer affordable education in English to people from all ethnic backgrounds, with a growing number of local families enrolling their children in recent years.
But the subsidy has long been questioned, with critics saying the funding is unfair. The government argues that continuing to offer a subsidy would fly in the face of its policy of not providing recurrent subsidies to schools which, for the most part, do not offer the local curriculum.
As announced by ESF chairman Carlson Tong Ka-shing, fees for new students at ESF schools will rise by 23 per cent, to more than HK$84,000 a year for primary-school pupils and to HK$120,000 for secondary-school students, in 2016. It is not known yet what the fees will be after that year. Discovery College, an independent school run by an arm of the ESF, sets its fees separately.
One single mother whose son is in Year 9 at West Island School and who asked not to be named said: "Not everyone is on expatriate deals or has corporate support. I have to find the fees."
She is fortunate - her child will continue to benefit from the subsidy for the rest of his time at school. But the question is: how affordable will the ESF be to parents in future?
"It will be a pity if ESF schools become like other international schools," says a parent of a Sha Tin College pupil, who also prefers to remain anonymous. "It has proved to be a very successful model where students are not pressurised, do not learn by memorisation and enjoy various extra-curricular activities. We treasure this model a lot. It is not elitist, but yet it is successful."
The ESF "model" has attracted many local families, who are put off by the deteriorating standard of English and the immense academic pressure in local schools and are concerned about stiff competition for admission into the small number of elite schools in the local system. Of the 13,000 ESF students, 70 per cent are from families of permanent residents.
Expatriate families are unlikely to submit their children to the pressurised environment in local schools.
"I have asked local children if they are happy in school; 100 per cent of them say no, because of homework etc," said Bob Kraft, an American pastor who has lived in Hong Kong for 25 years. "It is really a matter of adopting an educational model that people understand is healthy for families. From what I have heard, the ESF model is a better alternative. The removal of subvention is going to hurt the economy of Hong Kong."
The economic argument has also been made by various international chambers of commerce, which argue that a lack of affordable, high-quality international schooling will make it tougher for the city to attract the international talent it needs to sustain itself as a financial centre.
Christopher Hammerbeck, executive director of the British Chamber of Commerce, called on the government to consider other forms of subsidy, for example one given out on a per-pupil basis, instead of withdrawing support once and for all.
"Not all the expatriates working here are compensated for their families' expenses," he said. "ESF has been able to fill the middle-priced area that lower-paid executives will find extremely difficult to find after 2016 when the full increase takes place."
He stressed that maintaining affordable education options for the children of middle-tier executives was crucial to Hong Kong's competitiveness as a global financial future.
As a result of the changing economic landscape, today's expatriate community is more diverse than ever, he says. "The French community has doubled in the past four years, there are more Italians coming, we have the Polish chamber of commerce setting up, a Romanian chamber of commerce setting up; people from Africa, South Africa are coming. The challenge for the government is to provide the right sort of education for executives in the international business sector."
Janet De Silva, who chairs the American Chamber of Commerce's education affairs group, agrees.
"An affordable, high-quality, English-medium education option is sought by the many small and medium-sized enterprise members of the American Chamber and is sought by many Hong Kong residents throughout the territory," she said.
"Hong Kong is a vibrant city of enterprise and this vibrancy is made possible by a well-educated workforce. Ensuring our next generation has the skills and education to continue to be a competitive force for Hong Kong is essential."
Legislators have also taken issue with the future of affordable English-medium education. Civic Party legislator Kenneth Chan Ka-lok accused the government of being short-sighted, saying it was "immoral" to take away the ESF's subvention. "Does the government want to see all English-language schools turning into Harrow [International School]?" he asked at a Legislative Council education panel meeting earlier this month.
The government acknowledges the problem of a shortage of international school places, with education chief Eddie Ng Hak-kim warning last year of a shortfall of 4,200 international primary school places in the next five years.
But Klocek feels that he has few options. Though far from pleased with the depth of knowledge his children are acquiring from school, he shuns paying even higher fees.
"Fees go up in Hong Kong every year,'' he said. "It is less likely I would send my daughters to other, more expensive international schools without being sure they are better. The most likely option would be to move them to Polish schools - which are free and of good quality - if anything.''
But he is also worried about the disruptions to his daughters' live should they relocate to Europe.
With expensive international schools like Harrow - which charges fees of up to HK$159,800 per year, with more for boarders - off the table, one alternative for Klocek and other parents are schools under the Direct Subsidy Scheme.
Direct-subsidy schools receive government funding on a per-student basis and enjoy autonomy in management and fee-setting. Many offer the International Baccalaureate curriculum, widely recognised by universities around the world. The elite Diocesan Boys' School, for example, has 63 IB places, but across the city such places are in limited supply.
Direct-subsidy schools are required to reserve at least half of their places for pupils studying the local curriculum leading to the Hong Kong Diploma of Secondary Education exam.
"We are at full capacity and can take in at most five ESF students a year (should they want to switch),"says Cheung Siu-ming, principal of Creative Secondary School, a direct-subsidy school offering the IB curriculum.
Cheung believes the ESF subvention should remain, and echoes the concern that the ESF will cash in on its proven academic record and reputation to become even more expensive.
"Should this happen, this would only widen the gap between the rich and the poor in Hong Kong," he warned. "Only the rich will have access to better-quality education. This is already happening. The gap between public and private schools is getting bigger. The government needs to increase its spending on education."
This article appeared in the South China Morning Post print edition as: A very expensive lesson