LIFE
Get more with myNEWS
A personalised news feed of stories that matter to you
Learn more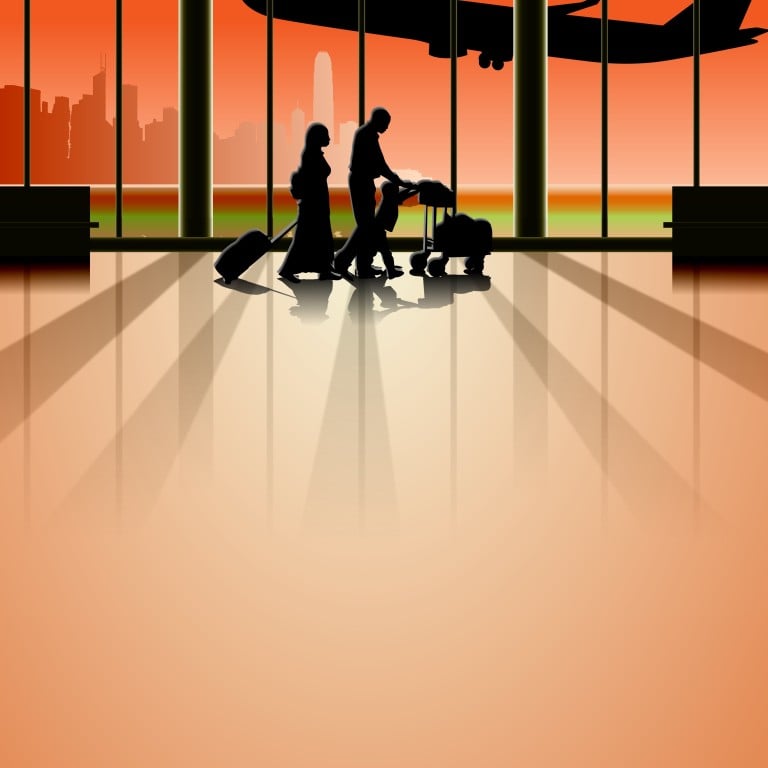 As more residents leave Hong Kong, experts worry about a brain drain
Over the past year, more people left Hong Kong than settled here. Elaine Yau asks if this trend towards emigration is the start of a brain drain
For the Cheung family, life in British Columbia is sheer bliss compared to Hong Kong. There's the fresh air and wide expanses. Best of all is the schooling system, says 41-year-old Mrs Cheung, who resettled in Vancouver, Canada with her husband and daughter in 2010.
The move has transformed their 13-year-old daughter, Cheung says. "She is much happier here. She suffered a lot of stress studying in Hong Kong. But [in Vancouver] there's no homework, as everything is done in class. She gets to enjoy real extra-curricular activities; she swims and goes to the Girl Scouts after school. It's real playtime."
Cheung's daughter had been doing well at St Francis' Canossian School in Wan Chai, but Cheung says her success came with considerable sacrifice.
"I wasn't sure whether she could really learn anything from the spoon-feeding style of education in Hong Kong. But in the government school in Canada, she only gets several assignments for the whole semester, so there is time to do research and explore."
The ebbs and flows of population movement are part of the rhythm of Hong Kong, and in the globalised world, our city of migrants has become even more susceptible to such fluctuations.
Figures released in August by the Census and Statistics Department show that 4,000 more people left Hong Kong between mid-2012 and mid-2013, than settled in the city. Most of the departures seem to have been made in the first half of 2013; according to the Security Bureau about 3,900 Hongkongers emigrated in the first six months, up from 3,600 people in the same period last year.
Four thousand isn't a large figure. But as observers note, there have been just eight times in the past 50 years with a net outflow of people (see chart).
Previous waves of migration have been associated with pivotal events. The signing of the Sino-British Joint Declaration in 1984 and the Tiananmen crackdown in 1989, for example, brought worries about political changes; the outbreak of Sars in 2003 and the fallout from the 2009 global financial crisis led to other uncertainties.
But immigration consultants and population experts put the current outflow down to a convergence of factors, like the deteriorating living environment, worsening political conflicts, and high living costs, coupled with lower emigration thresholds set by host countries.
Veteran immigration consultant Eddie Kwan King-hung reports more Hongkongers are inquiring about settling abroad, and says rising political tensions may be a significant contribution. "In the years following the handover [to Chinese rule], figures released by the Security Bureau showed a consistent decline in emigration. But there has been an increase over the past two quarters," says Kwan, the chairman of EK Immigration Consulting.
"Hong Kong people are more sensitive to changes in the political landscape, rather than economic landscape. Recent controversies such as plans for national education, the Occupy Central movement and arguments about [implementing] universal suffrage in 2017 affect social harmony in the same way that the 1997 handover put people on edge," he says.
"Hong Kong has become quite violent [in dealing with differing views]. People have less confidence in the city's future as they see [tycoon] Li Ka-shing shifting his business interests overseas. Instability might prompt people to sell their properties and wait out the political uncertainty."
Faced with a gloomier outlook in the real estate market, they hope to sell their properties when prices are still high and consider emigration to take advantage of the current low Australian dollar and [low] American property prices," Kwan says.
It's too early to tell if the trickle of emigrants will turn into a wave, but Professor Paul Yip Siu-fai, a population expert at the University of Hong Kong, reckons "the figures should serve as a wake-up call".
"Hong Kong's environment is no longer attractive," Yip says. "Property prices are high and foreign professionals encounter a lot of difficulty securing a good school for their children. Mainland graduates who have studied in Hong Kong would rather head back to China for better opportunities." "[In Hong Kong] they not only have to endure rising xenophobia, they also need to set aside half their salary for accommodation. Some even have to live in subdivided flats. Some graduates would rather go to Singapore, where they can get subsidised housing," says Yip.
"Hong Kong must have a quality labour force to ensure sustainable development. This can be attained by nurturing local talent and attracting quality people from outside. But it seems more such people are going somewhere else."
If the net outflow of people continues, Yip says, it will lead to a brain drain and exacerbate problems due to the city's ageing population as experienced personnel drop out of the workforce. This implies an erosion of the so-called functional core of managers and professionals, whose skills are critical to the well-being of the community and economy.
The Immigration Department has recorded a decline in foreign professionals seeking residency on some visa schemes.
For example, the number of people admitted via the Quality Migrant Admission Scheme fell from a peak of 593 in 2009 to just 54 in 2012. Set up in 2006 with an annual quota of 1,000 people, the scheme aimed to attract people with special expertise by dispensing with the obligation of securing a job offer specified for the work visas.
There has been a similar decrease in general visas; the number issued to professionals such as lawyers, business executives and doctors fell from 30,557 in 2011 to 28,625 in 2012.
But a department spokesman says Hong Kong is not losing talent because the overall number of professionals admitted has increased with schemes such as those dedicated to mainland talent.
Still, Kwan, whose company now mostly deals with mainlanders' residency applications, says some professionals are attracted by better prospects up north, despite getting jobs here.
"They see Hong Kong as a springboard. Being the cream of the crop, these mainlanders can find opportunities elsewhere easily. Many find it hard to integrate into local society after settling in Hong Kong ... Coupled with the high living costs here, they would rather head home, as [graduates] now easily earn more than 10,000 yuan (HK$12,600)."
Chung Kim-wah, an associate professor at Polytechnic University specialising in social policy, agrees that it will require several years' population data to show if there is a brain drain.
But several factors have combined to drive more departures in recent years, Chung says. They include dissatisfaction with the education reforms (overseas education fairs are always crowded), and more parents are going with their children as they leave to study abroad.
More recently, his research on housing issues showed that many young professionals under 30 now want to leave because they can't afford to buy homes in Hong Kong.
Hong Kong has launched talent retention schemes such as one for foreign graduates, who are allowed to stay for one year to find work after graduation but it has had little effect, Chung says. The city also fails to attract other specialists because it lacks a good research environment and its reliance on consumption and retailing results in a lack of diversity.
Citing a population policy report last year that highlighted problems such as ageing population and low birth rate, Chung argues the government should follow Singapore's example and be more proactive in attracting professional talent.
"More should be done to lower property prices as high housing costs pushes both locals and foreigners away."
A 48-year-old returned emigrant who would only give his surname, Chan, plans to stay - for now. Handover fears prompted his move to Australia in 1991: "I wanted to have a back-up option in case anything went wrong."
But life Down Under wasn't as Chan expected. Australia went into recession during the early 1990s and there were few job opportunities for the British-trained IT and management graduate, although he found work at a bank. So Chan returned to Hong Kong, rather ironically, in 1997.
He had "great career development" in Hong Kong in banking, so Chan is glad to be home. His political worries never came to pass, and "although there's a bit of instability now, I feel it's not as severe as it was pre-handover", he says.
Still, he has a 2 ½-year-old daughter. "If Hong Kong's situation worsens, and the education system gets more chaotic, I will consider going back to Australia as I want her to try something new."
As conditions slide in Hong Kong, other jurisdictions are rolling out the welcome carpet to attract quality migrants. A Taiwanese scheme aimed at emigrants from Hong Kong and Macau requires applicants to place about HK$1.3 million in a local bank for a year and reside on the island for two years to be eligible for permanent residency.
Emigration consultant Steven Lui Yiu-ting, of the Global Path Overseas Studies Centre, says the sharp rise in emigrants to Canada is because rules were relaxed in 2008.
"Work visas with a longer period for stay were introduced. The time spent working there before being eligible was shortened, and the range of professions for consideration broadened," Lui says.
"Over half of the emigration cases to Canada we handled involved a reunion with family members. The applicants were 40 to 50 years old, and went to Canada to be with their children, who had got residency after studying there.
"We have also seen an increase in our young clientele [people in their 20s]. More low-skilled local workers like truck drivers, waiters and nannies also apply to emigrate there.
"If they know English and have engaged in work for two years, they are eligible to apply. It takes between six and nine months to approve such cases."
For Cheung, whose husband invested C$200,000 (HK$1.48 million) to set up a garment-making business, the family's decision to leave the city they've called home for two decades to establish a new life in Vancouver, was a sound one.
"Compared to the crowds and frenetic pace in Hong Kong, I feel I am in heaven now."
This article appeared in the South China Morning Post print edition as: greener pastures