LIFE
Get more with myNEWS
A personalised news feed of stories that matter to you
Learn more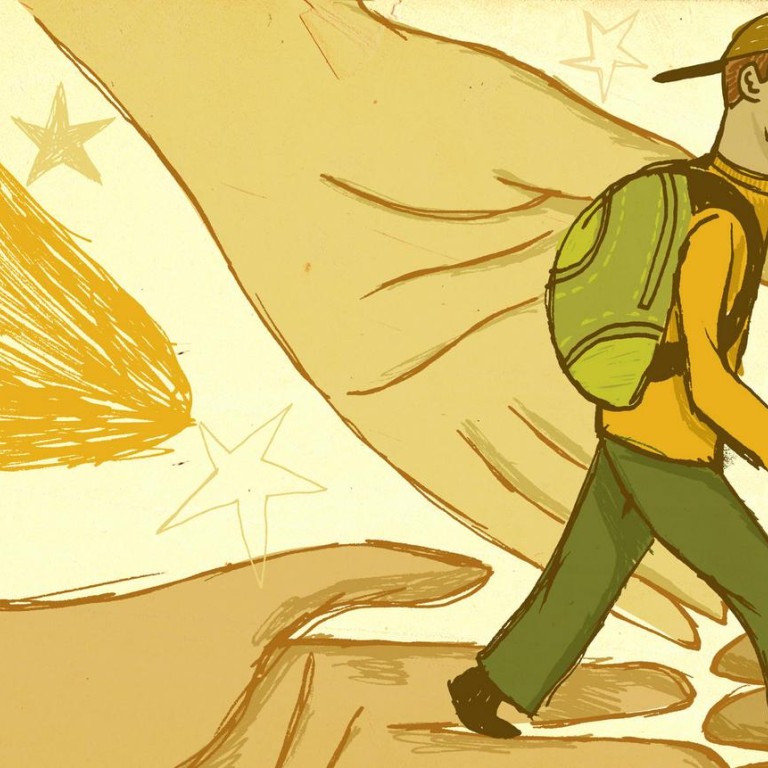 Children are still damaging their spines by carrying school bags that are too heavy
Despite government reminders to parents and students, children are still carrying school bags that are too heavy for them, leading to serious spinal damage
It took sixth-former Sandra five years before she could stop wearing a back brace. Sandra, who prefers not to disclose her real name, is a casualty of the enduring problem of Hong Kong students lugging overly heavy bags.
Signs of trouble were already surfacing in Primary Four, when she would cart thick history and grammar texts between home and school daily to complete her class assignments. "The teacher might not finish covering material from the textbook during the term, but we still had to bring the whole book.
"My back began to hurt from carrying the heavy load to school every day. At first, the pain wasn't so serious. My mum would just massage my shoulders," Sandra says.
By the time she was in Primary Six, Sandra was diagnosed with scoliosis - a deformity in the spine curvature that particularly affects teenagers. Physicians at a government orthopaedic clinic issued her with a back brace, which she has had to wear all through secondary school.
On a typical school day, Sandra's backpack continues to be stuffed with textbooks, notepads, and files. Then there's her trumpet, her running shoes, and a water bottle on the two days when she has PE class and music practice.
Thankfully, the distortion of her spinal curve is now under control, and she no longer needs to wear a brace. But to ensure the condition does not worsen, Sandra regularly visits a chiropractor to stretch her muscles and elongate her spine.
Surveys have repeatedly associated shoulder, neck and back pain with carrying heavy school bags. But the problem persists despite annual reminders from the Education Bureau to parents and students that school bags should not exceed 15 per cent of the child's body weight.
Four to five out of 1,000 Hong Kong students suffer scoliosis, according to the department of orthopaedic surgery at the University of Hong Kong medical school.
Diagnosed using an X-ray, the condition shows how increasing loads on the back flattens the "S" curve of the spine and reduce its capacity to reposition itself.
Scoliosis, which is six times more common in girls, happens most rapidly during the spurt of bone growth in puberty. The child does not feel pain at first, and mild conditions can be effectively controlled by wearing a brace. But if untreated, the deformity may restrict heart and lung function, and require corrective surgery.
A poor sitting posture, like slumping, or playing sports that always use one side of the body, can contribute to scoliosis, experts say.
Students are advised to use lightweight bags, and pack just what they require for the day's classes, eliminating unnecessary items such as comic books, or a water bottle when the school has drinking fountains. Children are advised to use lockers to store items such as art supplies, sweater, umbrella or dictionaries when not in use.
"Studies indicate that 96 per cent of students carry school bags which are heavier than 15 per cent of their weight," says Dr Grace Szeto Pui-yuk, an associate professor at the Polytechnic University's department of rehabilitation sciences.
That may be due to the wide range of subjects students must now tackle in the more technologically advanced and information-rich society of today, she suggests. With each new subject comes more textbooks and study material.
The shoulder bag and the backpack are the two types of bags most favoured by Hong Kong students, and each presents a different set of problems. "While it may look cool for students to sling their shoulder bag across their chest, one shoulder has to constantly bear the load. Over time, their spinal curvature may be affected because of the asymmetric weight on the shoulders," Szeto says.
Backpacks are preferable to shoulder bags because the load is balanced across the back. But backpacks also bring problems. The head automatically leans forward, and this shifts the centre of gravity towards the neck to counterbalance the weight on the back.
According to Keith Wong Hon-wing, a registered chiropractor at the Hong Kong Chiropractic Healthcare Centre, this unnatural posture could be a cause of neck and back aches, as well as stiffness, numbness and a tingling that extends from the shoulders to the hands.
In severe cases, the child may develop a hunch back as the body is pulled backward against natural forces. A healthy "straight" posture, Wong says, is when the person's ear is aligned with his shoulder, hip, knee and ankle, when viewed from the side.
When children start complaining of neck, shoulder, and back aches, parents should immediately send them for checkups to prevent further deterioration of their spine, experts say.
Students should learn the correct way to carry school bags while they are still growing. "Kids carrying backpacks like to let the load hang down their back, which actually makes it harder to carry. They should shorten the shoulder strap, so that the load is ideally positioned between the shoulder and the middle of the back," Szeto says.
Wong recommends choosing backpacks with chest and waist straps. When both straps are buckled, the weight is evenly distributed across the body.
The adoption of electronic textbooks (e-books), which is encouraged by the Education Bureau as part of e-learning programmes, might help reduce the weight on young shoulders, but that's not always feasible.
Secondary school teacher Mo Kin-ping says her school considered using e-books. "But we found out they were more expensive than the actual hardcopies, and students may not be able to afford them."
This article appeared in the South China Morning Post print edition as: Burden of knowledge