LIFE
Get more with myNEWS
A personalised news feed of stories that matter to you
Learn more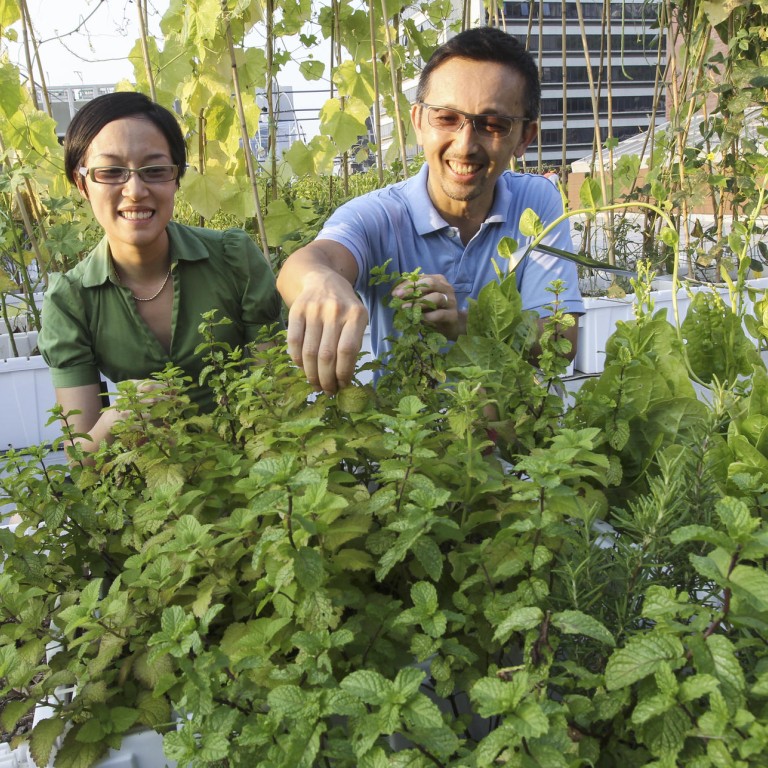 Married to a cause, Rachel Pang Hoi-yan and Hui Fai promote environmental issues
A husband-and-wife team has taken environmental advocacy to a new level
Many people are advocates of green living but Rachel Pang Hoi-yan and Hui Fai take it to another level. Not content with maintaining an eco-friendly home, the husband and wife spend much of their free time working on projects to help others live a greener life and raise awareness of how wasteful activities hurt the environment.
Most recently, 37-year-old Pang has been developing a mobile phone app that shows the locations of more than 700 water fountains across the city in an effort to encourage residents to consume less bottled water. It required tedious data entry, which took up much of her time after work, says Pang, a lawyer specialising in intellectual property. But she can't abide unnecessary use of bottled water because it generates so much plastic waste.
"So many plastic bottles end up in landfills every year. Yet MTR Corporation, a public company, has not installed any water fountains in its stations, although it rents spaces to retailers who sell all kinds of beverages," she says.
It took some effort to gather the list of water fountains. "I asked the Leisure and Cultural Services Department (LCSD) for a full list and they only acceded to my request after legal legislator Dennis Kwok Wing-hang intervened," Pang says.
After she placed the sites of LCSD water fountains on Google Maps, a software developer offered to help her put the list on a mobile app so people would know where to find the nearest fountain if they were thirsty, or needed to refill their own bottles. Pang estimates there are more than 1,000 fountains in the city.
Hui and Pang walk the talk. They poke around rubbish collection points to pick up usable furniture, avoid supermarkets in favour of market stalls and grocery shops, and pick up plastic rubbish when they go on beach walks. The couple also try to spread the message about adopting a responsible, sustainable lifestyle.
Four years ago, they set up a Facebook campaign against the consumption of shark's fin, which quickly attracted 30,000 likes. The media attention it gathered helped convince Citibank to suspend a credit card promotion that offered discounts for orders of shark's fin at Maxim's restaurants.
Pang says they were surprised by the impact their small-scale event had. It began when she found herself having to explain to relatives why Hui, who grew up in Canada and mostly speaks English, refused to eat shark fin at family functions. She began to do research to bolster her case, and launched the Facebook page.
"I like being an amateur environmental activist. My green activities are all one-man shows," Pang says. "I've volunteered with big green groups but there's not much serious work to do besides teaching people how to dispose of rubbish properly. Groups set up by people with full-time jobs are usually nothing more than talking shops. [I know because] I used to serve as a vice-chairman of such a green group."
To spread their green message further, the couple have set up a bilingual blog, Go Green Hong Kong, where they review vegetarian and organic restaurants and introduce green products, such as a toothbrush with a reusable handle. Pang contributes the Chinese content and Hui the English material.
"The blog is like a guide for the green consumer," Pang says. "Product reviews by the Consumer Council do not cover green elements. And while some restaurants claim to be organic, their fare is hardly that."
Besides rating green products, their reviews also serve as a platform for discussing the effects of conventional items. "Many of the issues I raise in the blog have never crossed the mind of readers. One blog post that drew a great response was about the comparison between soap and body wash. The latter contains many chemicals and comes in plastic bottles, and harms the user and the environment," Pang says.
Hui, who quit his job in a private equity firm two years ago to become a full-time farmer, says contributing to the blog and running his market garden are his passions. "I love writing and farming," he says. "With the blog, I want to show that, as consumers, we can make a difference. The choices we make when we go shopping can help change the environment.
"There's no need to rely on government, businesses or NGOs to solve environmental problems." A licensed Hong Kong organic farm inspector, Hui says people here should re-examine their consumerist and wasteful ways. "Do I really need to sit at my desk to eat takeaway lunch? Do I need to buy bottled water?"
People derive instant gratification from being consumers, but being a consumer is not a source of happiness, Hui says. "True happiness comes from being a producer. Painting, writing, making music and growing a plant make people happy."
The couple's blog often takes aim at corporations that use green themes as a marketing tool. "Consumers unconsciously lap up their green slogans without much thinking. I want to debunk such practices," Pang says. A brand of bottled water that claimed, in an advert featuring a Canto-pop star, that it uses environmental-friendly plastic, is in her sights.
"The brand claims that 30 per cent of the plastic used in the bottle is made from ethanol instead of petroleum, which makes it recyclable and more environmentally friendly. But this is misleading: the use of plant-based ethanol is still a controversial subject because the production of it triggers rainforest destruction," she says.
The manufacturer had best take heed.
This article appeared in the South China Morning Post print edition as: GREEN TO THEA CORE