LIFE
Get more with myNEWS
A personalised news feed of stories that matter to you
Learn more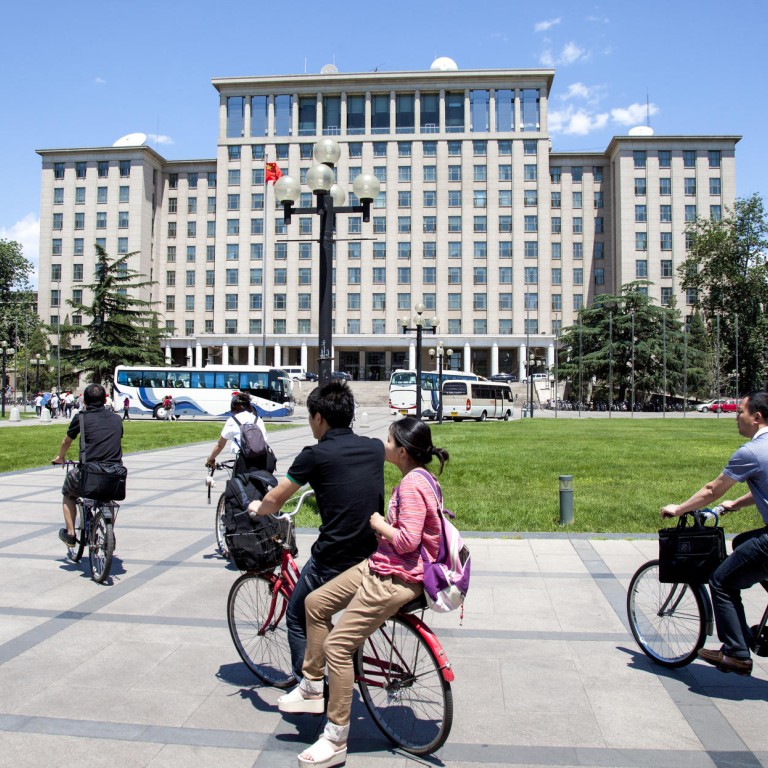 Asian universities are set to improve in world rankings, says expert
Asian universities continue to improve in world rankings, but Hong Kong's mid-sized institutions are at a disadvantage, writes Liz Heron
In just 16 years, East Asia has emerged as the world's third great zone of research and innovation, following Europe and North America. And it is poised to continue this rapid advance over the next decade.
That was the message delivered by Simon Marginson, a professor of international higher education at the University of London's Institute of Education.
The region is at the leading edge of two major global trends in higher education: rapid expansion of tertiary participation; and greater investment in building national capacity in science and technology, says Marginson at the Tin Ka Ping Education Fund Distinguished Lecture at the University of Hong Kong.
As participation doubled worldwide, increasing from 15 per cent of the age group to30 per cent from 1995 to 2011, East Asian countries, with the exception of Vietnam and mainland China, headed towards universal participation in tertiary education.
South Korea doubled its rate to more than 90 per cent, and Taiwan reached 84 per cent over the period. Hong Kong and Japan rose to 60 per cent and Macau to 64 per cent.
In 2011, US$448 billion was spent on research and development by East Asian nations, compared to US$453 billion by Canada and the US, and US$320 billion by European countries, says the Organisation for Economic Co-operation and Development (OECD).
"In terms of science and technology, and R&D universities, East Asia has already overtaken Europe, and it's on a par with North America," says Marginson. "It has gone ahead since 2011, and I expect that, in the next batch of figures from the OECD, it will have overtaken North America."
In mainland China, tertiary participation increased five-fold over the period, from just under 5 per cent to nearly 25 per cent. The student body stands at some 30 million, and is expected to grow by 10 million up to 2020.
"That is an enormous number of people," says Marginson. "There are going to be so many middle-class families seeking education that China's capacity will be stretched. The volume of East Asian outbound students going to Western universities will also continue to increase for the foreseeable future.
"And in the next generation, the Asian middle class will multiply by five times and more, primarily in China and India, but also in Indonesia, Pakistan, Bangladesh and other large nations, exceeding three billion people in 2030."
Marginson argues that growth in R&D investment and student numbers will translate into rapid improvements in the status and quality of East Asian universities, many of which are already doing very well.
"More of the East Asian universities are going to become top dogs at the top of the rankings," he says.
"Instead of the US universities being half of the top 200 and most of the top 20, they will be a third of the top 200 and half of the top 20.
"The US is still going to be the leading power, but China is going to be very good, [South] Korea is going to be like Germany, and Hong Kong is going to be like Switzerland."
Among possible contenders for a future Asian Ivy League, Marginson sees the National University of Singapore (NUS), with 13 per cent of its papers in the top 10 per cent by citation rate, as a front runner.
"Cambridge is 19th in the world by this measure," he says. "The way NUS are going, they will catch up with Cambridge in 10 years. When you have caught up with Cambridge, you have really hit the jackpot.
"Tsinghua will become comparable with a North American university. It won't be top five, but it will be in the top 30. Tsinghua and the [other] C9 universities [an alliance of nine universities on the mainland] will just get stronger. The University of Tokyo will also continue to be really strong."
With seats on the boards of both Times Higher Education and the Shanghai Jiao Tong Academic Ranking of World Universities, Marginson has sifted through the growing body of statistics and rankings of higher education worldwide, seeking robust measures to pick up the latest trends.
He chose the annual ranking by Leiden University in the Netherlands, which measures universities in terms of the number and citation impact of their academic publications, to compare the performance of East Asian universities.
In particular, he adopted the Leiden criterion "number of papers in the top 10 per cent of the field by citation", arguing that it is an objective measure that captures the "quantity of quality" in research output.
The resulting "Marginson league table for Asia" ranks the top 30 East Asian universities according to their scores on this measure averaged over three years from 2009-12. Tokyo comes top, with 1,389 such papers, NUS second with 1,361 and Tsinghua third, with 1,025.
University of Hong Kong (HKU) has been among the highest-placed Asian universities in both the QS and Times Higher Education world university rankings. But on this measure, it is in 13th place in Asia. Chinese University is 18th, and Hong Kong University of Science and Technology does not appear; Polytechnic University and City University occupy the bottom of the table. Can this be right?
"This is the best ranking I can give you that tells you who is strong in Asia," says Marginson. "These are real numbers, not reputational surveys, which can be controlled by marketing departments. HKU comes behind five mainland universities because it is small. It is half the size of NUS in terms of volume of papers. Hong Kong does very well in citation quality.
"Hong Kong has designed its system so that it has a number of high-quality universities of medium size. It's a good model for Hong Kong residents. Hong Kong is doing very well.
"But in the best of all possible worlds, I would like to have a flagship that is comparable to the other flagships in the world. Where there is a big concentration of talent in one place, it attracts talent, and it attracts capital.
"The other factor is that the overall R&D budget is too low - 0.75 per cent of GDP is abysmal. It's like Eastern Europe. It's way below the rest of Asia, except Macau."
The territory's policy is also misaligned with the expansionary climate in terms of growth in sub-degree programmes, while the proportion of the age group going into funded, first-year, first-degree places has been steady at about 18 per cent since 1995.
Marginson says that the percentage is "too low" and needs to grow because "all our numbers tell us that the proportion of the workforce in highly skilled occupations is growing". "You need more skilled people, so you need the proportion of your workforce with degrees to go up," he says.
"Hong Kong has a numbers issue. It aspires to be a mainland hub and an international hub. But it also needs to expand the high-skill preparation of its own population. That means growth in the leading universities or the upgrading of a couple of the others, and it will require money." 
This article appeared in the South China Morning Post print edition as: Higher ground