LIFE
Get more with myNEWS
A personalised news feed of stories that matter to you
Learn more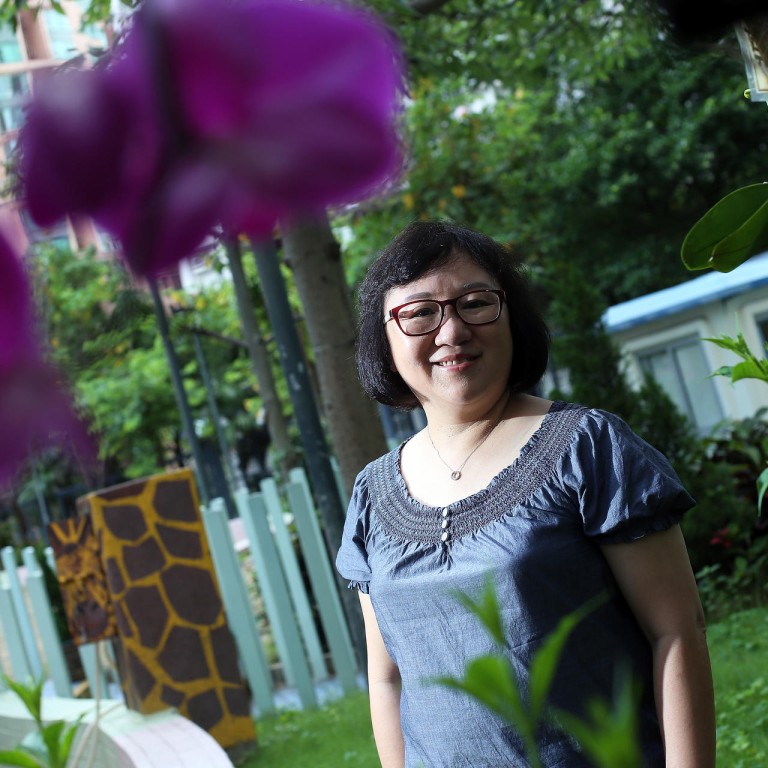 How horticulture therapy can teach life skills to those with special needs
A local association is spreading the word on how looking after plants can teach valuable skills to those with special needs, writes Bernice Chan
It's the last class of horticulture therapy for the year at Christian Alliance Toi Shan Primary School in Ma On Shan, and students file into the classroom wondering what they're going to do.
The group of 10 SEN (special education needs) students include those with autism and attention deficit hyperactivity disorder. They were recommended by the school's social worker for the class. In the past year they have worked outside preparing a garden bed, planted seeds and grown wheatgrass and bean sprouts.
The lead teacher instructs them to cut and rinse the sprouts, then place the washed ones on a plastic plate.
Each students' batch of sprouts will be cooked into soup for them to eat by the end of class. Some cut them one by one with scissors, while others grab a handful and try to cut them off in one snip. One girl has inadvertently added dirt with the water, while another boy has only snipped halfway through his plant and hasn't even begun washing the sprouts.
It's through these exercises that Connie Fung Yuen-yee hopes to engage the children in developing empathy, not only for the plants, but people, too.
Fung is the president of the Hong Kong Association of Therapeutic Horticulture, which spreads awareness about the benefits of looking after plants.
"I'm a registered social worker and I've worked with clients doing crafts or singing, but I find looking after plants most effective," she says.
"A plant is alive and you need to nurture it continually, watering it regularly. As a facilitator it can be hard to articulate what someone should get out of a plant, but the clients understand. They can see the changes they bring to the plant."
Fung likes to foster what she calls a "person-plant connection" that can be a lesson in resilience and determination.
"If it rains too much and the plant dies, then what? Is that it? Clients learn to try again, much like the challenges we face every day. It's a form of self-reflection that is experiential."
Through the association Fung trains therapists and designs activities based on abilities and needs. They mostly work with dementia and stroke patients, special needs students and those diagnosed with depression.
"For special needs students, we get them to pick the sunflower seeds from the sunflower head. This may seem tedious at first, but gradually their attention spans increase," says Fung.
When that happens, Fung teaches the students to pick out the seeds, beginning with large ones and moving on to those as small as sesame seeds. Some students may lack the motor skills for such a task, in which case they're taught how to make pressed flowers.
One of the students in the class is 11-year-old Tony Li Ching-tung. He was diagnosed with autism when he was two. His mother, Shirley Ng Bun-suen, is pleased with his progress.
"He has improved a lot, especially when it comes to sensory integration," she says. "He loves growing plants and flowers because he cares about things that are alive."
Horticulture therapy can also build self-esteem for stroke patients who often feel frustrated and depressed. Fung usually has them transplant plants into bigger pots and can give them adapted tools, depending on their ability.
Pots are placed on non-slippery surfaces and patients can fill them with soil, or water the plant. Depressed patients are given colourful, low-maintenance plants to look after. This is done for sensory and visual stimulation.
Fung uses plants and flowers in different forms, from potted plants to cut and pressed flowers to show that plants are beautiful in many ways.
This concept helped Fung when working with parents whose daughters were going through drug rehabilitation at Sister Aquinas Memorial Women's Treatment Centre in Sheung Shui.
"One father said in the beginning he could not accept that his daughter was a drug abuser. But he attended the sessions and learned that if we can use different perspectives to view plants, we can do the same with people. He was able to let go of his frustration and accept his daughter again."
Though the sessions have finished, father and daughter have developed a stronger bond from looking after the plant.
Gardening was initially just a hobby for Fung, who was living in Toronto and working with dementia patients. Then her boss encouraged her to attend horticulture therapy classes at Providence Farm in Duncan, Canada.
After Fung returned to Hong Kong she was surprised to discover Asian countries such as Japan and South Korea had horticulture therapy, but not Hong Kong. So she set about establishing the association in 2007 and began working full time on it the following year.
There are now more than 300 members and the association will hold its first conference on horticulture therapy and therapeutic landscaping on June 27 and 28.
Fung invites anyone interested in horticulture therapy to attend and hear from experts from the US, South Korea, Taiwan and Hong Kong. She will also launch her book about the benefits of horticulture therapy.
"The book talks about horticulture therapy for those with dementia, children and youth, inter-generational therapy and rehabilitation, therapy for the visually impaired, mentally ill and drug abusers," says Fung. "It's full of stories that have touched my heart."
For more details about the Hong Kong Association of Therapeutic Horticulture, go to
hkath.org
This article appeared in the South China Morning Post print edition as: Garden path