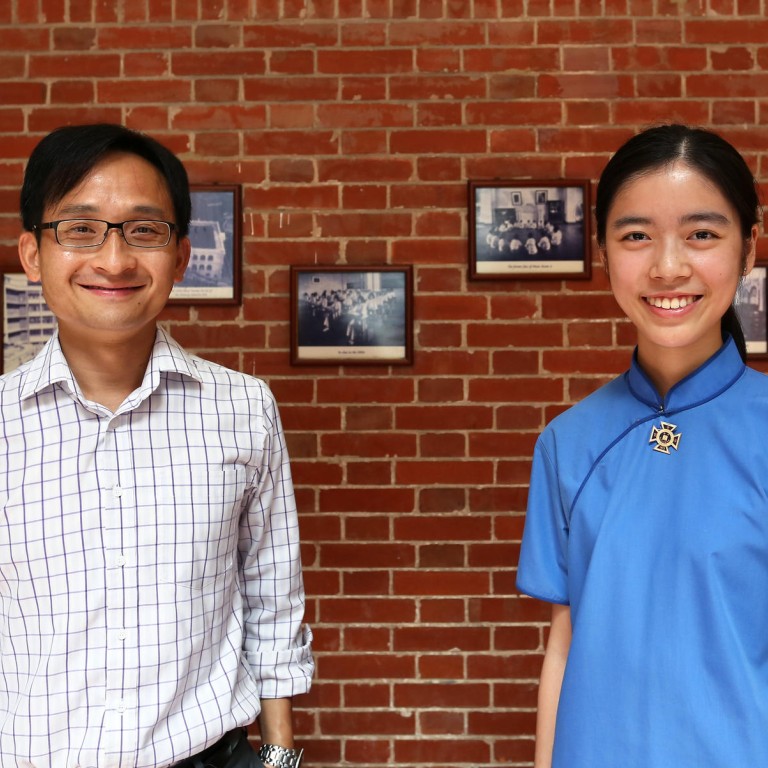 Doubts raised about using Putonghua as medium of instruction for Chinese language
Policymakers prefer Putonghua, but top student Susane Wong and teachers have their doubts
Seventeen-year-old Susane Wong Yui-hin recalls being drawn into the magical world of Chinese literature after reading the by Jin Yong, a gift from her parents 11 years ago. Jin's (swordplay) novels are immensely popular in the Chinese-speaking world and have been adapted into many films and television series, which her dad enjoys watching.
"My parents had to stop me from reading more Jin Yong when they discovered that I had developed myopia," says Wong. "I was in Primary Two then."
However, Wong grew up to be a voracious reader. In secondary school, she volunteered to work 90 minutes each week as a librarian. "I'd discover books I want to read when I'm sorting them out and I'll see what new books have arrived before they are on display," says Wong.
Wong is among the top scorers at this year's Hong Kong Diploma of Secondary Education (HKDSE) examination. Besides Chinese language, Chinese history, and Chinese literature, she got 5** in English, mathematics, economics, liberal studies and an "A" in Spanish.
"What Susane has achieved is the consummation of what she's taken in over the past 10 years," says Gary Lam, her Chinese teacher at St Paul's Co-educational College. "Language is purely a means to an end, which is acquiring knowledge. It is an empty pursuit to learn a language without developing a passion for history, literature, philosophy and culture."
Wong spent her primary years at C.& M.A. Chui Chak Lam Memorial School in Yuen Long, where Chinese classes were taught in Putonghua, but she had already started learning it in kindergarten. The language skill made it easy for her to transition to the secondary school, as the lower forms also use Putonghua to teach Chinese.
In the last three years leading up to the DSE, however, the subject was once again taught in Cantonese.
"In the senior forms, there is no need to learn the basics of the language any more," Lam says. "Instead, the exams demand students to critique and analyse difficult texts, and exercise their creativity. Moreover, there is an oral paper which requires candidates to express and debate ideas fluently in a small group setting using Cantonese."
In 2000, the Curriculum Development Council cited in its Chinese language curriculum document that using Putonghua to teach Chinese in Hong Kong's schools is the long-term goal. In the academic year 2008/09, the Standing Committee on Language Education and Research announced that HK$200 million would be injected into the Language Fund to kick start a four-year scheme aimed at helping schools to switch from Cantonese to Putonghua-teaching. A maximum of 30 primary and 10 secondary schools were chosen to take part each year; as a result, 160 schools are now supported by the scheme. However, according to an unofficial survey released in March, up to 72 per cent of primary schools and 26 per cent of secondary schools have now adopted Putonghua as the medium of instruction in Chinese-language classes.
Ma Kin-tang has 21 years of teaching experience and is the Chinese panel head at CCC Fong Yun Wah Secondary School in Tin Shui Wai. He was involved in implementing the scheme in a primary school in Tai Po where he used to teach. For three years, they selected two classes of top achievers in each form to take part, and assessments were conducted at the end of each year to monitor the students' progress.
When he joined his current school, his headmaster asked him how successful the scheme was at raising Chinese-language standards.
"I said to him that unless the students are already fully adept at spoken Putonghua, for classes of moderate or average ability, Putonghua teaching seriously weakens students' motivation to learn. This is shown by their unwillingness to ask questions or respond in class." He says that some children showed their discontent by talking back to the teacher and would only answer if they were allowed to speak in Cantonese.
Ma says he is often involved in discussion with university professors about Chinese teaching and the scheme was thought to have helped students with their Putonghua rather than their mastery of the Chinese language.
"For our generation, which was taught in Cantonese, our intuition for the Chinese language came from reading extensively. That is how we learn to discern the correct usage of words and build a wide vocabulary."
After teaching Chinese at local primary schools using her native tongue for 15 years, Ng Ho-bing switched to using Putonghua two years ago. Even though Ng has attained the satisfactory grade in the benchmark test, she expresses concerns about using Putonghua as the medium of instruction.
"I told my headmaster that I have only ever taught in Cantonese. I felt I was out of practice because I have not had the chance to use it and speak it up until now." She now teaches one class in either language at her current school, so she can get used to using Putonghua in a classroom setting.
Ng says it is not necessarily more effective to use Putonghua as the medium of instruction in Chinese language lessons. "If we say that learning Putonghua helps you write the same way you talk, does it mean that if you are a native speaker then you will be able to write a truly captivating essay? Of course not."
Children of new immigrant families from the mainland do not necessarily have an advantage in Chinese, she says. Moreover, many at her school have limited exposure and rarely leave the housing estate.
"Students whose parents do not encourage them to read are often weak in essay writing. To encourage my students, I bring them to the library so they can borrow books."
This September, Wong will be a freshman at the Chinese University, majoring in Chinese. Asked what books she would recommend for secondary school students, she cites works by the lyrical Hong Kong writer Chan Wai, Taiwanese essayist Lung Ying-Tai, and acclaimed author Pai Hsien-yung, who was born in Guilin and educated in Hong Kong and Taiwan.
"I think that Cantonese is still a better option for teaching the Chinese subject as it will serve most people," says Wong who wants to be a teacher. Well-versed in Cantonese, Putonghua, English and Spanish, and an accomplished pianist, Wong will have the freedom to choose her medium of instruction when she graduates in 2018.
This article appeared in the South China Morning Post print edition as: A question of characters