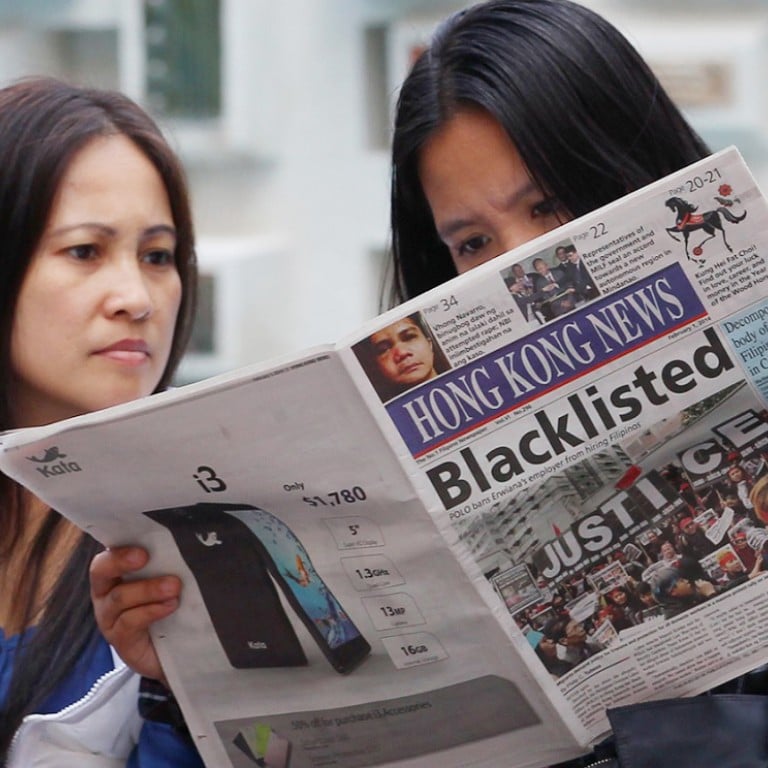 Racial stereotyping in Hong Kong's textbooks undermines harmony
Racial and gender stereotyping gets in the way of fostering multicultural spirit in students
Former teacher Tom Grundy was caught in a maelstrom of recriminations after putting up a post on his Hong Wrong blog about racial stereotyping in a primary school workbook.
The post, which appeared a few months ago, attracted more than 250,000 page views in a week, and forced him to upgrade his server several times to cope with the online traffic. He also had to close the comments section after being flooded with responses, some racist.
Grundy's post referred to a "Racial Harmony" exercise, showing people of different nationalities in Hong Kong and their jobs: the white British man was an English teacher and the Filipino woman was a domestic helper.
Unsurprisingly, Filipinos the world over were incensed at the stereotypical depiction.
Educational Publishing House in Singapore, which produced the general studies workbook for Hong Kong primary schools, was trying to instil multiculturalism; the problem was with its approach, says Grundy, who is also a co-founder of the advocacy group, HK Helpers Campaign.
Executives at Educational Publishing House replied to Grundy about his concerns over stereotyping in the workbook, saying the examples "are meant for the students to be thankful of people in various working positions".
These included the estimated 180,000 Filipinos living and working in Hong Kong, most of whom were domestic helpers who "make an indispensable contribution to society", they wrote.
Grundy doesn't accept this argument. "If you see how the tests are set up, there are only right and wrong answers," he says. "But this is a liberal arts course where the subject should be taught more holistically by involving the minority community and Equal Opportunities Commission."
Most major cities around the world have significant immigrant or expatriate populations; some, like Singapore, celebrate the diverse races that make up its population.
But Grundy says he has found Hong Kong, where 95 per cent of residents are ethnic Chinese, is largely monocultural.
Yip Ho-ling, acting executive director for advocacy at Hong Kong Unison, a charity serving ethnic minorities, says this situation must change if Hong Kong is to live up to its self-styled status as "Asia's world city".
It is unfortunate that young children are having to relate racial identities to particular roles, she says, adding that the examples shown by Educational Publishing are clear stereotypes.
Although the exercise was in an English-language book, similar pigeon-holing is common in Chinese-language schoolbooks.
Many local textbooks fail to depict the multi-ethnic composition of Hong Kong, working as if the entire population were Chinese, with other ethnicities typically portrayed as outsiders who are not actively engaged in the community.
Yip cites a Chinese-language textbook, approved by the Education Bureau, which led with a chapter entitled "China is my motherland, I am a Chinese person".
"The lesson is about racial and national identity, but it's complicated for ethnic minorities who are from Hong Kong," she says.
Presented with a picture of four children - an Indian boy, a Japanese girl, a boy from Britain and a girl from Africa - students are asked to take pictures of themselves and compare their facial features with those of the quartet from other nations.
It depicts most Chinese people as having black eyes, black hair and yellow skin, but "there is no discussion of Hong Kong as a multi-ethnic society", Yip says.
This leaves out children of other ethnicities, those of South Asian ancestry, for example, who have grown up here and regard Hong Kong as their home.
"When you alienate minorities, it creates an us and them situation when we should be fostering one community," Yip says.
Winnie Tam Pik-yan, who has a 12-year-old son in a Band 2 school, shares the concerns about stereotypes that appear in textbooks and workbooks.
Not all parents are vigilant enough to notice errors and explain to their children that teaching materials are not completely correct, she says.
"It's worrying the kind of message they are sending our children," says Tam, adding that stereotypes in primary textbooks are the biggest concern.
Asked about the workbook controversy, the bureau says its general guidelines to publishers state that "textbooks should not carry any form of discrimination on the grounds of gender, age, race, religion, culture, disability, etc. Nor should they suggest exclusion."
Over the past two years, the bureau has held briefings for publishers; and representatives from the Equal Opportunities Commission were invited to speak about writing textbooks without stereotypes.
Andy Pozzoni, a former book editor, who has worked at Pearson Longman and Educational Publishing, says educational publishers often provide detailed guidelines to authors commissioned to develop textbooks, and take into consideration the bureau's curriculum framework, other texts in the market as well as the views of teachers.
"In some cases, we would give writers warnings about possible problem topics or stereotyping," he says.
A unit focusing on teenage problems - bullying, loneliness, not having friends, obesity, having divorced parents - can be sensitive and publishers might tell writers to handle the topic in a more positive way.
But Pozzoni says: "Stereotyping might occur in a unit that introduces nationality and language words - mostly in junior secondary courses."
Textbooks at this level might discuss nationality and languages in a unit about pen pals, for example, or hobbies and interests of children from around the world.
Wong Ting-hin, who teaches liberal studies at King Ling College in Tseung Kwan O, and has written three related Chinese-language textbooks, says the subject is uncharted territory for educational publishers and authors.
The government wants teachers to develop course material themselves, so it does not recommend any textbooks or offer guidelines on the subject, he says.
"Even if the bureau had guidelines for other subjects like general studies [for primary school students] or English, it would not include detailed pointers on how to portray gender or ethnic roles.
"The most it would say is to explore the lifestyles or difficulties of various ethnic groups in Hong Kong. So writers must use their professional judgment when writing passages. Editors will keep talking to writers and help revise passages throughout the process," Wong says.
"Without government guidelines, it's unavoidable that a handful of authors involved in producing a textbook will involve their own narrow world views. When I write textbooks, I try to include perspectives from various interest groups to get a more balanced view," he says.
Amanda Chapman, who has taught English in Hong Kong for 16 years, says she continues to find factual errors and stereotyping of race and gender by educational publishers.
One example was a draft textbook passage presenting a husband's wish that his wife would give up her job and stay home to look after the baby they were expecting: "Whenever I raised the issue again, she still reacts with resentment," it read. "I think she is just obstinate and obsessed with her career."
Chapman says a school's choice of textbooks often depends on cost. Better quality publications may not be selected because they are usually more expensive.
Many educational publishers submit textbooks to the bureau for review, but regard this mainly as a marketing exercise because its approval may help to boost sales, says a former textbook editor who declines to be named. The bureau will do a thorough review, and can take up to three months to respond with comments about a new textbook.
The editor faults the Hong Kong curriculum for being conservative, with a tendency to "baby" students by keeping course material within their experience. As a result, textbook publishers design lessons that mainly target vocabulary and grammar, which does not help to enhance the students' view of the world. "They don't talk about things outside of Hong Kong until Form Three or Form Four," he says. "So they have a childish understanding of the world."
Educational Publishing House has told Grundy it will consult different ethnic groups and stakeholders in future "to avoid any unintended interpretation of our teaching materials".
The Education Bureau says it has also since met the publisher to point out "the pitfall in the existing treatment".
"According to the publisher, it has already engaged an academic to review the workbook at issue and has rectified the content accordingly," the bureau says.
But Yip says removing obvious stereotypes is the least that can be done. The bureau should be proactive and aim for textbook material that fosters multiculturalism, she says.
Yip adds that although there are 22 local schools where more than half the students are made up of ethnic minorities, most Hong Kong children grow up separated from different communities.
"If they don't have a sense of how to accept minorities, what kind of message are we giving the next generation?" Yip says.
This article appeared in the South China Morning Post print edition as: Revert to type