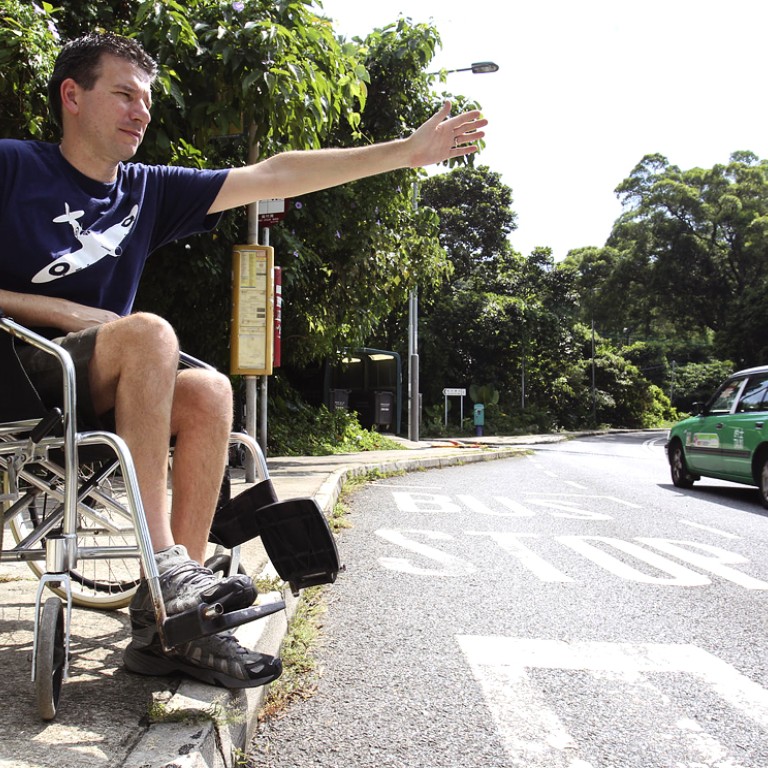 Discrimination and intolerance makes having a disability hard in Hong Kong
Despite a fall in complaints about discrimination, people with disabilities continue to face hurdles and intolerance in the community
Hong Kong-based writer Paul Letters was looking forward to taking his young son on a visit to the bird enclosure in Hong Kong Park recently when they were stopped at the entrance. A security guard told Letters, who is a wheelchair user owing to a nerve condition, he would have to get up and walk if he wanted to look around the aviary.
Such sheer insensitivity aside, there was a symbol posted at the gate to indicate that the aviary was accessible to wheelchairs. The men exchanged words and a supervisor had to be summoned before Letters and his four-year-old were allowed in. But by then the little boy was in tears, and dad wasn't far behind.
"I held back the tears," Letters says. "Once again my disability prevents my son from enjoying something which should be more accessible."
Hong Kong is regarded as an easy place in which to live and to get around: public transport is efficient, services are reliable, and shops and entertainment in easy reach. But not for people with disabilities. The visually impaired find their way forward blocked by oblivious crowds; some taxis speed past people in wheelchairs; many buildings and venues fail to provide barrier-free access. And as Letters' encounter illustrates, many must contend with a sometimes unfeeling society.
On the face of it, those with disabilities are encountering fewer hurdles than before.
The Equal Opportunities Commission has received 212 complaints about discrimination based on disability so far this year, so the final figure this year looks set to be lower than last year's total of 387. That's better than in 2009, when there were 528 complaints.
Yet it was only a few weeks ago that this newspaper reported how a Kowloon Motor Bus driver refused to lower the disabled access platform at the front doors to help Julie Aswani, a commuter with limited mobility, alight from his vehicle. The driver laughed when she tried to explain her difficulties with using the rear exit, she said.
In the end, Aswani called the police. Having made complaints to KMB over similar incidents, including two in 2011, she said, she had just "had enough".
When Aswani posted a request on her Facebook page afterwards, for others facing similar discrimination to come forward, she quickly found her inbox "flooded" with input from fellow victims.
Willy Law Wai-cheung, vice-chairman of the Direction Association for the Handicapped, shakes his head at tales of such incidents.
"This is a very common situation," says Law, who has spent his life confined to a wheelchair because of cerebral palsy.
As he sees it, disability discrimination is a large and multifaceted problem in Hong Kong involving weak legal protection and insufficient public education.
Social service experts divide the challenges for the disabled into three broad categories: public acceptance, accessibility and employment.
Although the city has become more conscious of addressing disability issues, insensitive behaviour by the able-bodied has long been a serious problem.
Kim Anderson, whose 15-year-old daughter, Catrin, has cerebral palsy, says Hong Kong still has a long way to go despite making notable improvements.
Among other things, Anderson shares her daughter's frustration with some individuals' lack of respect.
Although Catrin is very compromised physically, she is cognisant. "She can see and hear and think, but doesn't have speech," Anderson says.
So it is distressing when people stare at her. "It's not just staring, it's looking [Catrin] directly in the eyes, looking at her body and following her with their eyes when she moves. That's very sad for me as her mum because she does understand it," Anderson says.
Some behaviour is so offensive Anderson has had to write a card in Chinese and English explaining that her daughter is aware and that she can communicate by moving her eyes: looking up for "no" and looking down for "yes".
The bigotry sometimes makes Catrin sad and angry, but Anderson goes out of her way to teach her daughter to be patient and try to be "tolerant of their intolerance".
Access to public transport, buildings and facilities is a major disappointment to organisations such as the Rehabilitation Alliance Hong Kong, one of the city's oldest NGOs.
"We have been working on this problem for more than 30 years and it still hasn't changed," says alliance vice-chairman Lee Koon-hung.
Ferries and trains generally accommodate wheelchair users, although Letters tries to avoid stations such as Admiralty, where inconveniently located elevators can add 15 minutes to his journey, and Law often finds the gap between platform and train too wide for his wheelchair.
However, public buses and taxis are a different matter. Only 67 per cent of buses are the low-floored model, which means commuters with a disability often wait a long time for an accessible bus to come along.
The bus companies earlier issued a joint statement that all their vehicles would be fully accessible by 2014, but the deadline passed with little action other than an announcement that buses would be ready only in 2016. Lee holds little hope that the second deadline will be met.
Despite an area designated for wheelchair users on some buses, Lee routinely finds such space taken up by luggage or prams. He says passengers are rarely cooperative when asked to move their things to accommodate his wheelchair. "Sometimes the bus driver helps by yelling at the passengers, sometimes not," he says.
Since the bus cannot move until Lee's wheelchair is properly parked, some drivers find him troublesome. "They tell me to just wait and take the next bus," Lee says.
He now travels with a companion, who can climb up to the upper-deck to ask people to move their belongings, but without her, Lee says, he doesn't know what he would do.
Rehab Bus, a special government-backed service, offers an alternative. But it is chronically understaffed and demand is so great that bookings usually have to be made a year in advance.
Advocacy groups also complain that taxi services lag behind those in other cities, such as London, with some taxi drivers refusing to stop when they see a wheelchair.
Letters has developed a strategy to get around such intransigent behaviour: he hides behind his wife so drivers do not see his wheelchair until it is too late for them to pull away. Sometimes he will even wheel himself into the street to stop taxis before they can speed off.
There are few services such as social enterprise Diamond Cabs, whose vehicles with power ramps that can accommodate two wheelchair passengers. Even so, fares are considerably higher than for regular taxis and the fleet is small, which means the taxis are not widely available.
The government has made some small but significant steps, with the issue of a paper on disability discrimination in 2007 followed by a Buildings Department manual in 2008 requiring all new structures to include barrier-free access.
But there is no obligation for buildings constructed before 2008 to meet the same standards, so many remain inaccessible or employ ad-hoc solutions - for example, ramps that must be installed when someone in a wheelchair visits, and bathrooms that double as storage areas.
Where there are full-sized toilet cubicles for wheelchair users, there is often no air conditioning and ventilation. This makes using the facility very uncomfortable, especially when the disabled person requires someone else's help to go to the toilet.
Perhaps the biggest hurdle for many disabled people is getting a job. Government statistics show unemployment among people with disabilities is 2.9 times higher than the rest of the population.
Despite enacting the Disability Discrimination Ordinance, advocacy groups believe the regulation is too broadly worded to be effective.
In the past five years, about 60 per cent of complaints filed under this ordinance to the commission have been job-related. It has received 137 complaints so far this year.
The commission's study on bias in the workplace released this month found that disability was a factor in 4 per cent of complaints (64 per cent of complaints referred to age).
Commission officials are in the middle of a three-month public consultation to review Hong Kong's laws on discrimination to see how they can be improved to promote equality for all.
Mariana Law, a senior officer at the commission, says: "Since the mid-1990s, when the [ordinance] was developed, disability discrimination laws have been modernised in many jurisdictions." But Hong Kong "has not kept up with other countries or jurisdictions with similar legal systems".
The city has not even updated the demographic data it used to draft policy on people with disabilities since 2008.
However, commission chairman York Chow Yat-ngok hopes to rectify matters and modernise all four ordinances governing discrimination (sex, disability, family status and race).
In the area of disability, they are looking to "introducing a duty to provide reasonable accommodation for persons with disabilities in key areas of public life including employment, service provision, education, premises and the work of the government and public authorities", a commission spokesman says.
While acknowledging some progress, representatives such as Lee are far from optimistic about significant change.
"It's a very serious situation and the government is not doing enough ... It has been improving, but too slowly," Lee says. 
This article appeared in the South China Morning Post print edition as: Great barrier grief