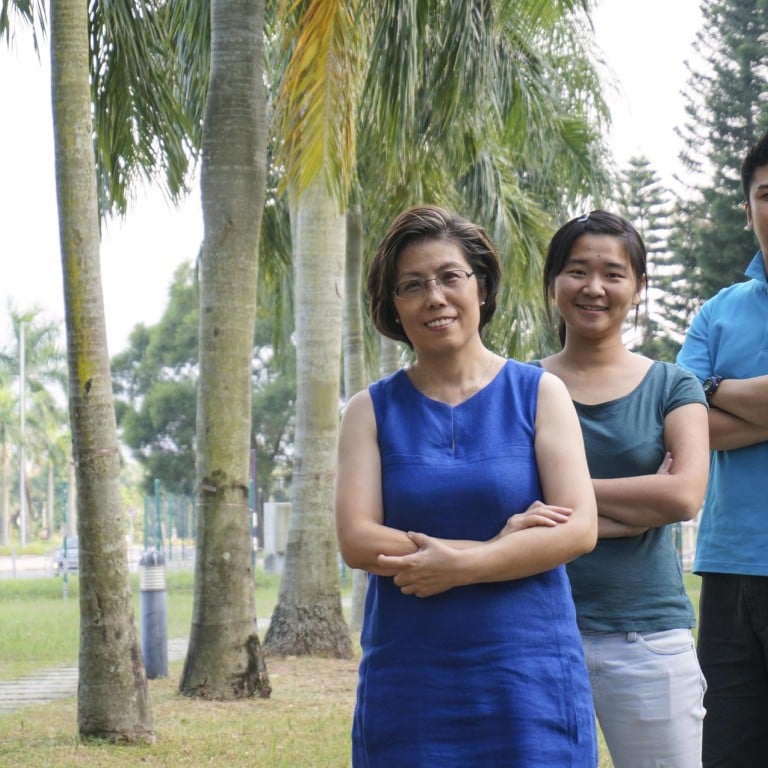 Degree courses for the hearing-impaired
Chinese University gives hearing-impaired students a chance to do what they never thought possible - obtain a degree
Never in his wildest dreams did deaf student Kenny Chu Kwan-ngai ever consider attending university. Armed merely with a school certificate when he graduated from Chun Tok School for the Deaf, he had moved from one low-skilled job to another, until he was discovered by Professor Gladys Tang Wai-lan in 1999. He became her first deaf research associate at Chinese University's Centre for Sign Linguistics and Deaf Studies.
Chu, 34, will be a first-year student in the bachelor's degree programme in linguistics at Chinese University. A sign language interpreter will accompany him to his lectures, even physical education classes.
Chu and his classmate, Laura Lesmana Wijaya from Indonesia, are among the first seven students to graduate with a higher diploma from the Asia Pacific Sign Linguistics Research and Training Programme at Chinese University last year. The programme has been designed to bridge the gap between secondary education and university for deaf students.
"Before joining the centre, I always belittled myself," says Chu. "I thought signing was not a language and was inferior to speech. Deaf and non-deaf people are not equal. But now I've discovered that the problem is with the way we educate the deaf, not the people themselves."
He attended the Hong Kong School for the Deaf in the mid-1980s but describes the experience as painful. Teachers who did not know sign language taught orally, and he says he never understood much. At home, Chu uses sign language with his deaf family, but it was forbidden at school. Even though he was trained to speak, he had no motivation to do so.
"Some voices - whether from deaf or non-deaf people - are against the use of sign language because they think it will undermine the social status of the deaf and prevent them from getting a university education. It's not true," Tang says. "Many of them are not intellectually inferior to non-deaf students. They just need an interpreter to help them understand fully what is being taught."
Tang, director of the centre, received the Hong Kong Humanitarian Award last year for raising deaf awareness, promoting the use of sign bilingualism in teaching deaf students and improving educational opportunities in higher education for the deaf in Hong Kong and Asia.
At present, there are about 6,000 hearing-impaired students who are scattered in various mainstream schools, according to the Association of the Deaf.
The education of deaf children in the last 100 years has taken a mainly oralist approach, using spoken language and lip reading. Sign language was forbidden and seen as an obstacle to learning. It was only on 2010 that signing was recognised as a legitimate language at the 21st International Congress on the Education of the Deaf. Educators and researchers acknowledged the shortcomings of their predecessors' decision to remove sign language from all education programmes and issued a public apology to the hearing-impaired community.
"The history of deaf education is like a pendulum. Supporters for and against sign language both have very strong views," Tang says. "But why do we have to be so extreme? Why not maximise their chances of getting a good education?"
She hopes deaf students in Hong Kong can benefit from the "bilingual" approach in their education; that is, being taught simultaneously in sign language and spoken language.
"Using both languages helps deaf children to establish the concept of speech and go on to learn other languages more quickly," Tang says. "It will be a major setback for deaf education in Hong Kong if we go back to a purely oralist approach. Bilingualism is the way to go."
Timothy Szeto Ming-chun, a deaf student, and Ken Siu Hoi-sing, a hearing student, were friends at Kowloon Bay St John the Baptist Catholic Primary School, where the bilingual programme is in its eighth year.
They are now in Form Two at Notre Dame College in Ma Tau Wai. It is the first local secondary school running the bilingual programme, with the support of the Lee Hysan Foundation. Six staff specialists from Chinese University, three deaf and three non-deaf, are based at the school.
The two boys now go to different classes, and their interests have changed. Timothy has dropped the violin in favour of sports and is on the baseball team, and Ken has kept up his violin lessons, is on the debating team and is passionate about science.
But when they see each other at recess, they chat using hand signs. "We both love reading, especially detective stories and thrillers," says Ken, who is fluent in sign language and interprets for Timothy when he speaks.
In five years, Timothy and Ken hope to go to university together, and some of their non-deaf classmates may become the next generation of professional sign-language interpreters.
The change may take time, but the future is looking brighter for parents of hearing-impaired children, thanks to Tang's team. Non-profit organisations such as the Suen Mei Speech and Hearing Centre teach hearing-impaired children how to speak using the oralist approach.
When Tom Tam was two, he was diagnosed with profound hearing loss in both ears, and was sent off for speech and pronunciation training at Suen Mei. Since receiving a right cochlear implant in Primary Five, he has used a hearing aid and learned lip reading, and can speak relatively fluently.
This year, he graduated with first-class honours and a bachelor of science degree from Chinese University. Two months ago, he flew to California to begin his PhD in environmental toxicology at the University of California, Riverside.
When he was an exchange student at the University of California, Davis, in his third year, he benefited from the real-time note-taking service provided by the university. It boosted his confidence, as well as his grades. Chinese University now also offers this service for hearing-impaired students.
His disability is the motivation behind his scientific research. "There are many kinds of toxins in the environment that may be the cause of hearing impairment. I want to unravel the problem, especially what happens during the first six months of pregnancy, so that the negative effects can be reduced," says Tam.
In his view, learning to speak early was an important factor in his success, but Tam attributes it mainly to copious amounts of discipline and hard work, support from family and friends, and his Christian faith.
"The road ahead may still be difficult, but I will not give up," he says.
This article appeared in the South China Morning Post print edition as: Positive signs