LIFE
Get more with myNEWS
A personalised news feed of stories that matter to you
Learn more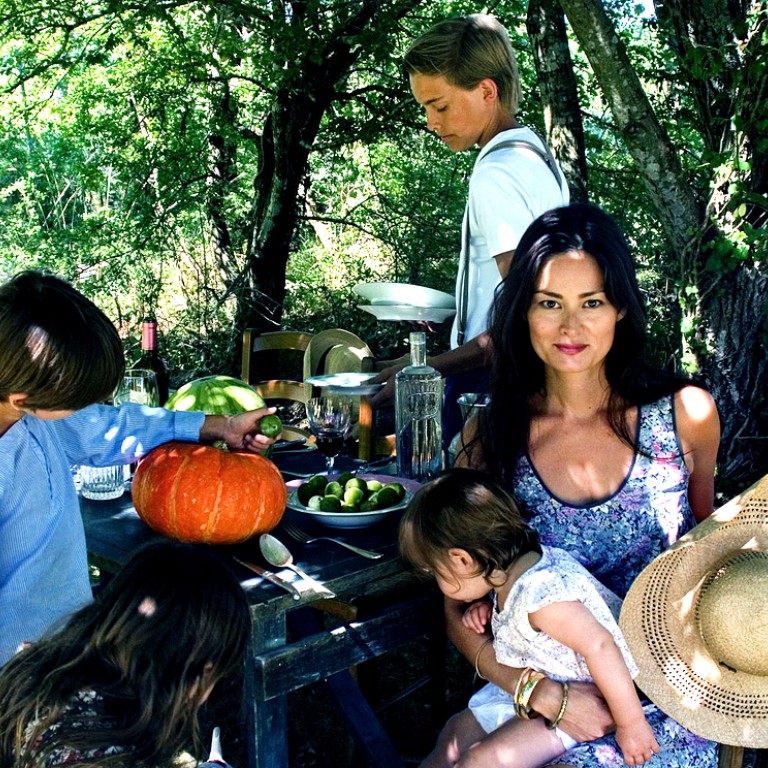 'Most envied' food blogger Mimi Thorisson on her Hong Kong childhood and new life in France
Mimi Thorisson's food blog has made her a global star. She talks about growing up in Hong Kong, and life in Medoc
For Hong Kong-born Mimi Thorisson, global fame began simply, and sweetly - with a vanilla-cream iced cake. One spring evening, the mother of five walked out of her centuries-old farmhouse in France's Médoc region to find a surprise.
Shaking off a long winter, dozens of miniature white daisies were blooming in the garden. Inspired, she hurried into the kitchen and whipped up a meringue cake, artfully decorating it with flowers, leaves and berries.
"I wanted this cake to be a celebration of spring, of the garden, a fairy tale," she says in a delicate accent that is equal parts Chinese, French and British. When it was ready, she posted a photo of her "Garden Cake" online.
Her seasonal concoction was pinned, posted and tweeted all over the world. She started that night with 69 followers - "they were all my friends", she says - but within a couple of weeks the numbers exploded, and magazines contacted her, as did a literary agent who suggested she write a book. That was when her blog, Manger, was born. "It was a gift from spring and I am forever grateful," she says.
Thorisson has found much to be grateful for since she and her husband, Icelandic photographer Oddur, relocated their family to Médoc from Paris in 2010.
Manger, which features favourite classic recipes for coq au vin and slow-cooked lamb, and a few wildcards such as wonton soup, is followed by foodies worldwide. The photographs, snapped by Oddur, capture her friendship with farmers and villagers in Médoc, and life with their children.
Thorisson has also been tapped to star in two cooking shows on French television.
It's not hard to see the appeal. The 40-year-old lives the life many people fantasise about - one afternoon she is chopping vine tomatoes in her farmhouse kitchen and looking smashing in a floral sundress, on another she's plucking peaches from the garden, chatting with a fishmonger about his secret bouillabaisse recipe, and so on.
No wonder many have described her as the most envied blogger in the world.
The year ended with even more success for the former Happy Valley resident. She published her first book, , which soon topped the ranks of Amazon's bestselling book in two categories: seasonal cooking and French cooking.
Today, life revolves around her family and her blog, which has become her family business.
Most days, she wakes early to walk the dogs - 14 and counting - and get her five young children off to school.
Then she makes her rounds of the markets, picking up the catch of the day from a fishmonger, or pears from a farmer.
"I don't plan," she says. "I get my inspiration from what I find."
Returning home, she writes her blog and catches up with fans and editors. Then she heads to her kitchen and, she says, laughing, "I simply cook all day. With so many children and dogs and cooking, you can imagine it's quite busy. I don't have time for a manicure."
Some might see the endless chopping, measuring, mixing and frying as drudgery, but cooking is a joy for Thorisson.
"Spending the whole day doing this never feels like work," she says. "I want to do it. I wake up in the morning and tell Oddur, 'I want artichokes today'. It is not a job. It is who we are. It is me expressing my soul."
Food has always been a big part of Thorisson's life. Growing up an only child, she and her Qingdao-born father would scour Hong Kong for the best noodles and dim sum.
"My favourite dumpling restaurant was around the corner from our flat," she says. "If my parents couldn't find me around the house, they knew to look for me there."
Her French mother didn't cook much but during summer holidays in France her grandmother and aunt would make classic meals for her.
"My parents taught me to enjoy life and food, but it was my grandmother and aunt who taught me about cooking," she says. "My aunt can whip up anything from scratch. Give her tomatoes and leftover sausages and she will take the butter, garlic and wine she always has in her cupboards and make stuffed tomatoes. She is the kind of cook I want to be."
Thorisson always looks forward to the New Year because it conjures up deep memories of the wonderful meals she has had in Hong Kong and France.
She and her husband typically start New Year's Day with a glass of bubbly, before she prepares a huge seafood platter, with the freshest oysters, langoustine and crab. Or in a nod to her Hong Kong roots, she might make e-fu noodles with lobster, her favourite food. "I mix everything because of my heritage," she says.
Everyone then changes into new clothes and the family then takes a long walk in the nearby forest. "In France, the first day of the year has to be impeccable," she explains. "You must look your best and eat your favourite foods. The way you start the year inspires the rest of the year."
She wistfully recalls Lunar New Years of her childhood, when her father would take her to visit her cousins in Qingdao. "We would make those amazing dumplings. My father always insisted that we stay in our cousins' houses, and not in a hotel, so that I would be closer to them. It was so important to him that I was exposed to Chinese culture," she says.
"It was 1979 in Shandong, and it would feel like we had returned to a different century. Now, I have fond memories. It was a special time."
As it is with so many chefs and food writers, Thorisson connects to the beloved people and places in her life through food and cooking.
It has since also given her a chateau of her own. Earlier in 2014, she and Oddur were visiting friends in a village nearby, when one of them suggested they view a grand old house that was for sale.
As it turned out, the house had belonged to a famed female chef in Médoc. "She had been the mistress of the village mayor, and before he died he gave this house to her as a gift."
The chef turned it into a restaurant and hotel for wine merchants visiting Bordeaux. Now Thorisson finds madame's notebooks and recipes in the "weirdest" places.
"As soon as I walked in, I felt the recipes I want to cook coming through to me. I already have the draft of my second book [scheduled for 2017]. I believe in destiny, and this house is magic. Médoc has truly become my home," she says.
This article appeared in the South China Morning Post print edition as: Rustic charm