LIFE
Get more with myNEWS
A personalised news feed of stories that matter to you
Learn more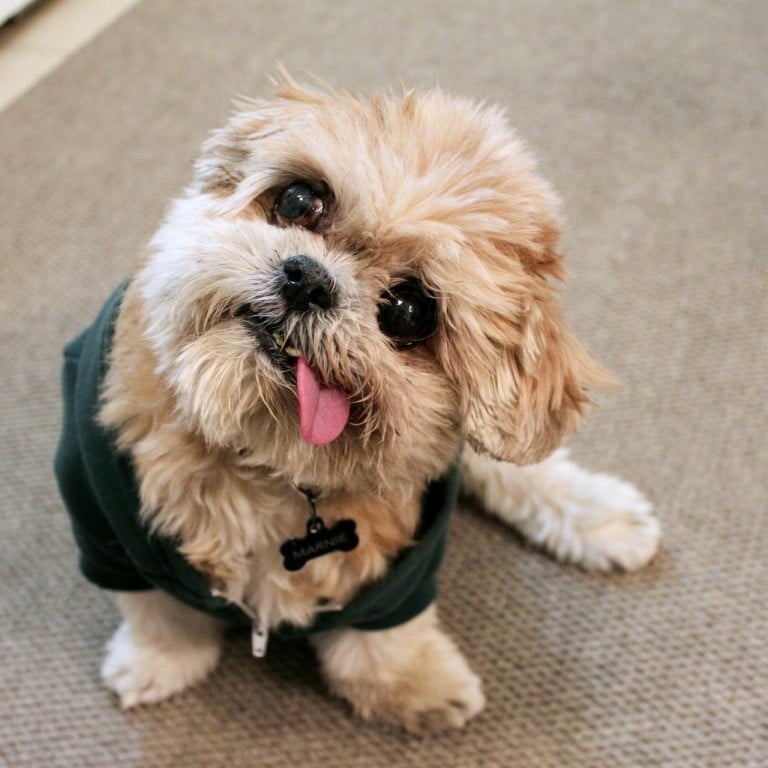 Grumpy Cat move over: dogs snapping at feline heels in battle for internet supremacy
How Menswear Dog, Marnie and Boo are leading the charge to oust cats from their spot as the internet's favourite animals.
When internet historians look back at 2014, it may well be deemed the year of the cat – and all because of one grouchy feline.
With perhaps the exception of and Pharrell Williams' , few things were as inescapable last year as Grumpy Cat. The two-year-old kitty, real name Tardar Sauce, endorsed everything from cappuccinos and pet food to soft toys and books. She even appeared in a made-for-TV-movie . Altogether, the famous feline raked in so much that owner Tabatha Bundesen was able to quit her waitressing job – though she disputes the US$100 million earnings reported by British tabloid
However, the cranky kitten's position may be coming under threat.
"As it stands, Grumpy Cat is the most famous animal in the world, but dogs are definitely catching up," says Shirley Braha, owner of a 12-year-old Shih Tzu named Marnie.
"I think historically on the internet, dogs haven't been given their due," Braha says. "Now people are thinking 'we did cats, so let's do dogs'."
While she's a long way from Grumpy Cat's level of fame, Braha makes enough from sales of Marnie T-shirts and calendars to live in notoriously expensive New York city.
"When I started [running Marnie's social media accounts] full-time in September, I was hardly making any money, but I wanted to devote myself to the project," Braha says. "Things always come up, such as press opportunities. If I had an office job, there's no way I could do this."
"We were just bored one weekend and thought it would be fun to dress our handsome Shiba Inu in serious menswear clothes," Fung says.
Kim and Fung agree. "A lot of work and preparation goes into planning an image - we have to set up the studio, plan the outfit, play with lighting etc, but when it comes to the photoshoot, we shoot very quickly and it typically only lasts five to 10 minutes because we don't want Bodhi to get tired or bored," Fung says.
But popularity online doesn't always translate into money.
Still, Leung remains upbeat about his labour of love.
"There is really a lot of work behind raising [the dogs]," he says. "It isn't about money, though I'm very poor, but the consistency of love, care, and patience.
"I hope one day all the We5 followers and likers will understand our story rather than just focus on how cute they are." 
He published a photo book last year – WE5's Story Photo Book – telling the story of his relationship with the dogs, which he now promotes fulltime.
"Curious isn't it, that Mr Dog boasts close to five million fans on Facebook, where his owner's boss is banking on just that kind of user engagement?" Betabeat wrote at the time. (Boo now has more than 16.8 million fans.)
While Boo may have got an initial helping hand in launching his career thanks to his owner's Facebook connections, the rise and rise of social media – particularly Instagram and other photo sharing services – has made it easier than ever for an animal to achieve viral fame.
Chief executive and co-founder Alejandro Russo says Klooff "allows pet owners to 'celebrify' their animals and vote for the cutest and funniest pets around".
"People post photos of their pets, they share photos of their dogs and cats with our community, and their photos get voted every day into a daily ranking."
Since launching in early 2014, Russo and his colleagues have noticed a surprising trend: dog photos are enjoying a big spike.
"Of our userbase, close to 80 per cent of photos uploaded are dog photos," he says.
However, the report found that dogs also came out on top in terms of Facebook likes, Instagram followers, YouTube views and Twitter posts. In fact, dogs beat cats in every category but one: celebrity animals.
Even controlling for different potential queries, searches for "Grumpy Cat" outnumber those for "cutest dog in the world" Boo (by far the most famous internet canine) by almost two to one.
According to Digital Trends, while statistics "may have proven that dogs rule search, cats individually are able to capture that certain viral something" that is a prerequisite for online fame.
"Part of it is that the famous cats have very distinct personalities," says Chelsea Marshall, animals editor and 'Beastmaster' at BuzzFeed.
"Grumpy Cat is us on our curmudgeon-y days, Maru [a Tokyo-based Scottish Fold who jumps into boxes] is smart and is a master of tricks, and Lil Bub was sent from outer space."
"The more famous dogs are wonderful but they're not that different than those you'd meet on the street. More than that, when a dog acts cute or is well-trained, a large part of the credit goes to the human, whereas with the famous cats, there's this sense that the cat decided to do whatever he or she is doing," she said.
That individuality is particularly apparent when it comes to superstar cats. While many famous or aspiring dogs are pure bred and/or identified by their breed (Doug the Pug, Boss the French Bulldog, Pomeranian Boo), the feline superstars are mostly mongrels. Bodhi may be a very fine looking dog, but when he's not wearing Ted Baker it can be difficult for anyone but his owners to tell him apart from another Shiba Inu.
This aberration from pedigree rules gives the animals' character and a brand: no other cat looks like Lil Bub. This can be the key to internet fame, particularly if the animal is perpetually funny looking.
"There are two factors that make a pet photo go viral. It's either cute or funny, and the funny photos are usually dominated by cats," says Klooff's Russo.
Dogs and puppies may win when it comes to overall cuteness, but off-the-charts viral success comes from humour.
"Since there's nothing the web loves more than puncturing pomposity, they are a great target because they can easily be made to look foolish."
However, while we may be more likely to share something funny than something cute, Jack Shepherd, original BuzzFeed 'Beastmaster' and now its editorial director, thinks a significant degree of cats' perceived or actual online popularity may be a self-fulfilling prophecy.
"The cat propaganda machine is ruthlessly effective, and the online animal media is almost completely under the sway of the powerful cat lobby," he added.
BuzzFeed's Marshall has also found that canine traffic is nothing to be sniffed at: "Dog content has done better than it has in previous years – 'What Kind of Dog Are You?' is still my top post above 'What Kind of Cat'."
If, as Russo suggests, the divide between cat and dog photos is about the difference between funny and cute, then the rise in the popularity of dogs (and cute content in general) may be down to a darker trend: we reach for cute content when the toxicity, anger and outrage of the wider internet becomes too much.
"We like to think of 'aww' as a place where you can go and get joy," says Henderson. "We're really all for providing that pure cuteness without the rest of the world coming crashing in."
With the war in Syria, the rise of the Islamic State, #BringBackOurGirls and #ICantBreathe, airline disasters and the Ebola outbreak, it's no surprise that, according to Google Trends, 2014 was a banner year for people searching for "cute" content.
Cats may make us laugh until we cry, but when we need an antidote for another type of tears, there's nothing like a good dog.
This article appeared in the South China Morning Post print edition as: Reigning cats and dogs