LIFE
Get more with myNEWS
A personalised news feed of stories that matter to you
Learn more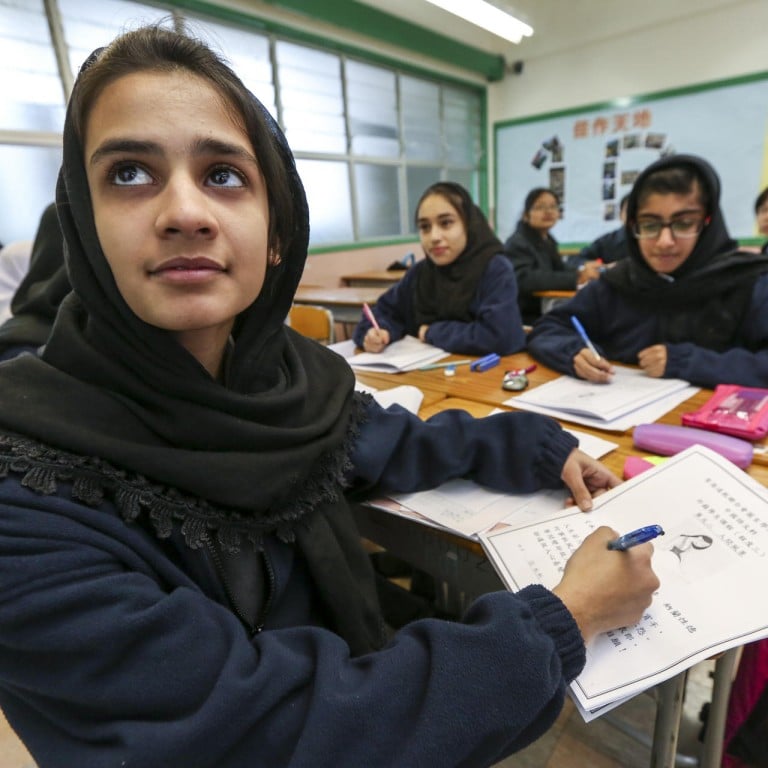 Bilingual classes in Hong Kong public schools suit Chinese and non-Chinese alike
Two public schools have stepped up to the challenge of providing cost-effective options for bilingual learning
While the number of international schools in Hong Kong has grown over the past decade, non-Chinese parents, among them long-time residents in Hong Kong, are looking for a bilingual education for their children, and at a much lower cost.
And two public schools have sought to meet their need.
"Eight years ago, we noticed that the number of non-Chinese families living in Sai Kung was growing," says the principal of the Lee Sin Yam Memorial Primary School, Lewis Ng Chor-kung.
"Some of them had children who were enrolled in local kindergartens, and receiving basic bilingual education. I met parents who were looking for a school with a more well-rounded environment where both English and Cantonese are used, so we decided to alter our curriculum to cater for these needs."
The core curriculum at Lee Sin Yam is similar to other public schools, except that they have two streams. In one stream, all subjects are taught in Chinese (except English).
In the other stream (the Chinese-English stream), core subjects such as mathematics and computer studies are taught in English, while other subjects are taught in Cantonese or Putonghua. Children who come from households where Cantonese is not used receive extra language assistance through project-learning, debate, drama, sports and field trips incorporated into the curriculum, allowing them to interact with Cantonese-speaking children in a more informal environment.
"The programme benefits both local Chinese and non-Chinese students. The students develop better language skills not only in the classroom, but also from their social interactions, and they get a rich multicultural experience. The programme is structured so it reduces the use of textbooks and focuses on task-based projects and real-world learning. Having a mixture of native English and native Cantonese speakers means both groups benefit in their bilingual training. It is refreshing to see young learners embrace other languages and cultures," says Ng.
George Woodman, a Briton who has been living in Hong Kong since 1997, enrolled his son at Lee Sin Yam so he can learn Cantonese. "Lee Sin Yam reflects the Sai Kung community. The students in international schools tend to come from a subset of the community, but we value the diversity," he says.
Susan Yeung enrolled her two daughters, Chloe and Caley, at the school for similar reasons. Although her family speaks Cantonese at home, she says she didn't want her children to attend a local Chinese school because she feels that the workload at such schools is often too heavy.
"It is important that my girls are bilingual and biliterate in Chinese, but also proficient in English. I don't think their Chinese would have been up to par if they had gone to an international school, and I think their English would not be as good if they had gone to a regular Chinese medium school. Lee Sin Yam has a good mix of cultural backgrounds, so it feels like an international school with the benefit of being cost free," Yeung says.
HKTA Yuen Yuen Institute No 3 Secondary School recently introduced a curriculum tailored to foreign students. They learn subjects such as maths, liberal studies, integrated science and computer studies in English, but Chinese language and "living Chinese" - a more practical substitute subject for Chinese history, are taught in Putonghua; and design and technology, home economics, visual arts, physical education, music and religious and ethical education in both English and Cantonese.
The Education Bureau provides funding for non-Chinese speaking students in all government and aided schools, so Lee Sin Yam and Yuen Yuen used these extra funds to support their programmes. "The bureau advocates progressive change, and our curriculum has many elements of its suggested modules of learning. We did not need to get permission for a curriculum change, as our programme already addresses concepts that the bureau suggests for non-Chinese speaking students," says principal Ng.
At Yuen Yuen, non-Cantonese speaking students learn Chinese word processing in computer lessons, and improve their language abilities with a peer-reading scheme, where they receive mentoring from senior local students in Cantonese or Putonghua. Cantonese-stream students also benefit from a mentorship scheme where a senior "foreign" student coaches them in English.
"This is ideal for parents who want their children to be able to speak Cantonese and maintain a good standard of English," says Lai Chun-kit, a liberal studies teacher at Yuen Yuen. "One of the major obstacles for foreign students applying to Hong Kong universities is the basic requirement of Chinese language. With this curriculum, we aim to help them increase their prospects of entering Hong Kong universities by tailoring classes and extracurricular activities."
Khan Shenzad, vice-president of the Parent Teachers Association at Yuen Yuen, appreciates these efforts. "We are from Pakistan and at home we speak Pakistani. There are many foreign students here who speak languages other than Cantonese or English at home, so they need more help with both Cantonese and English; this course is ideal for them," he says.
British journalist Chris Davis, a Hong Kong resident of more than 20 years, recently enrolled his daughter Ocean at Yuen Yuen after she completed her primary education at Lee Sin Yam. "We want Ocean to be proficient in Cantonese. We have expat friends who send their children overseas for secondary school, but when their children return to Hong Kong, they sometimes struggle to find jobs here because of their inability to speak Cantonese. We want Ocean to be able to make a life in Hong Kong, where she grew up. She speaks excellent Cantonese and English, so she can communicate with 99 per cent of the people she meets in Hong Kong," says Davis.
Lee Sin Yam and Yuen Yuen are the only two government schools offering Chinese-English curriculums. Some other schools offer Chinese as a secondary language curriculum.
Lai says there are definitely challenges involved in creating the new mode of dual language education. "The teachers who teach foreign students must not only have good knowledge of the subjects they teach, and good English-language proficiency, but they must also be caring and sensitive to different cultures. It can be a challenge finding teachers who meet these requirements," Lai says.
"There is a lot to consider when offering Chinese-English classes. The curriculum has to cater to a very wide learner diversity," says Ng.
"The typical learning styles and activity levels of local and non-local students are very different. There can also be cultural expectations about homework and exams.
"It has taken much time and effort for us to implement schemes such as the reading programme for lower-primary and project-based learning for our upper primary students. It is a huge workload for a public school to become a functional bilingual school. But we're committed to progress. Change doesn't happen overnight," he says.
This article appeared in the South China Morning Post print edition as: Tongues of potential