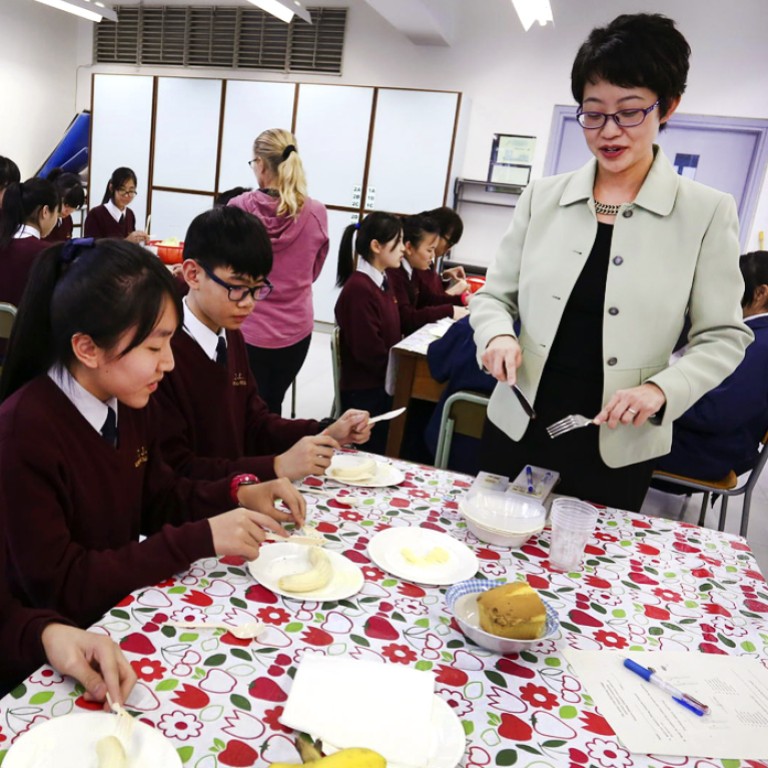 Where are your manners? Hong Kong students taught etiquette of Western dining
It's important to start learning about manners and etiquette early
The menu: a green salad, steak with potatoes, peas and bread, and for dessert, cake. The setting: six large tables with colourful tablecloths and cutlery set out. The guests: students of the Jockey Club EduYoung College, Tin Shui Wai.
But this is no ordinary meal. It's not about the food - which was imaginary, with a bowl of lettuce for the salad, bananas masquerading as steak, and a simple cake for dessert.
The students will be chewing on the niceties of Western dining in a workshop led by Bernice Lee, founder of ELI, the Etiquette and Leadership Institute, as part of an educational outreach programme organised by the American Women's Association.
"How many of you eat Western food?" Lee asks. There's silence until someone whispers "McDonald's", followed by a flurry of hands in the air.
"Our students in this community lack experience with Western culture," says EduYoung College's Yoko Leung Pui-yan. "Because of this course, I've seen them pay more attention to their table manners. In previous years, they also had a meal at volunteers' homes, giving them an opportunity to practice."
It's also a fun way to get the students to speak English. Lee aims to point out the differences between Chinese and Western culture, and help the youngsters "feel more confident about how they show respect to others and to themselves", Lee says.
Lee begins the session with a demonstration of the right way to be seated at a table, and is greeted with giggles when she asks the boys to pull out chairs for the girls. "You could do this for your mothers," she suggests. "She'll say I'm crazy," responds one of boys.
The lesson progresses with tips on posture, guidance on using different kinds of cutlery, and courtesies one should observe. "It's nice, but I don't think I'm going to use this again," says Choy Wan-ling, who has cut her banana into extremely neat pieces.
"I like it," declares Bonnie Chun Hiu-lam, although she groans when told how to break bread into bite-sized pieces. "I never have the time to eat like this," she says.
Lee, a former human resources manager, got involved in community work after she noticed young people losing out in interviews because of their poor social skills. "I'm not even talking about high-level leadership skills, but eye contact, sitting up straight and making chit chat - being a little bit charming," she says.
"It saddened me when candidates couldn't get a job because they left a poor first impression. First impressions make a huge difference, no matter how bright or academically qualified you are."
Determined to do something about it, Lee started out running a mock interview programme for the American Women's Association. "I did that for a few years, and I got a lot of fulfilment from it. I wondered how else I could help young people who don't seem to get this exposure."
Lee was born and raised in Canada by parents who had "traditional Hong Kong values". Her time at Yale University opened her eyes to the importance of social and cross-cultural smarts.
After moving to Hong Kong, she gained certification from the US-based Etiquette and Leadership Institute, and set up in Hong Kong in 2014. Her courses for children aged eight and older focus on Western table manners, social and business etiquette, and also interview preparation.
Lee is just starting to work with even younger clients, as some parents requested it. She continues to dedicate a portion of her time to volunteer work.
"It's a misconception that etiquette is arcane, rigid, pretentious or elitist. I teach practical and modern social skills that are accessible to a broad swathe of society.
"Students can use these skills to build successful relationships with their family, peers, teachers and, eventually, at work," she says.
Last November, Lee was invited to deliver etiquette workshops by IMC Sunday School, a non-profit programme that serves children from under-resourced neighbourhoods by exposing them to 15 professions through motivation-driven in-class lessons and excursions.
"In 2014, we introduced 'business' as a topic in our programme. As many business interactions now happen over a meal, we felt it was important to increase the children's confidence," says Polly Chan Mei-yuk, IMC director.
The organisation takes care to select passionate teachers who are willing to share their stories and can connect with the children. A mother herself, Lee made a good fit.
The children at IMC simulated a fancy meal using cheaper food items. "We had marshmallows for them to practice chewing elegantly," says Chan. "The kids found it fun, and they also paid attention.
At sessions Lee conducted for Hope in the City, a non-profit organisation In North Point, working with children from migrant families, the sessions were a bonding experience for the parents and children.
"The children were like sponges. If they learned how to set the dinner table at the first session, at the next lesson, they could do it properly," says Christy Liang, a Hope in the City volunteer. "The parents understood how important this is for their children."
She says learning manners at an early age is crucial as this sets a solid foundation early on.
"Manners are an outward expression of a deeper set of principles that will ground the child as he or she learns what is acceptable or not. These principles will set the child apart in the early years, as they start to make friends at school, assume leadership positions and build relationships in the workplace.
"I don't think social status should define whether one has good manners, and I wouldn't want to see these children missing out just because they come from low-income families," adds Liang.
When she is working with children from less privileged backgrounds, Lee discusses learning goals with the school.
"If their English is not great, I focus on vocabulary and then give them a taste of table manners," Lee says.
"I expect them to retain about 30 per cent of what I say. The idea is to stimulate their interest," she says.
Primary students are eager learners and fun to work with, but teenagers may need a bit more convincing. Lee says she explains to them how these skills could affect their chances of professional success.
One of her most memorable experiences was coaching two 15-year-old girls in Sham Shui Po to improve their interviewing skills. "I could only spend about 15 minutes with each of them, but I was very touched when one girl, who struggled with English, had tears in her eyes when she thanked me for being kind and encouraging," she says.
"Regardless of what I teach, that's the message I try my best to communicate: that I believe in them and that they're worth it." 
This article appeared in the South China Morning Post print edition as: Saving graces