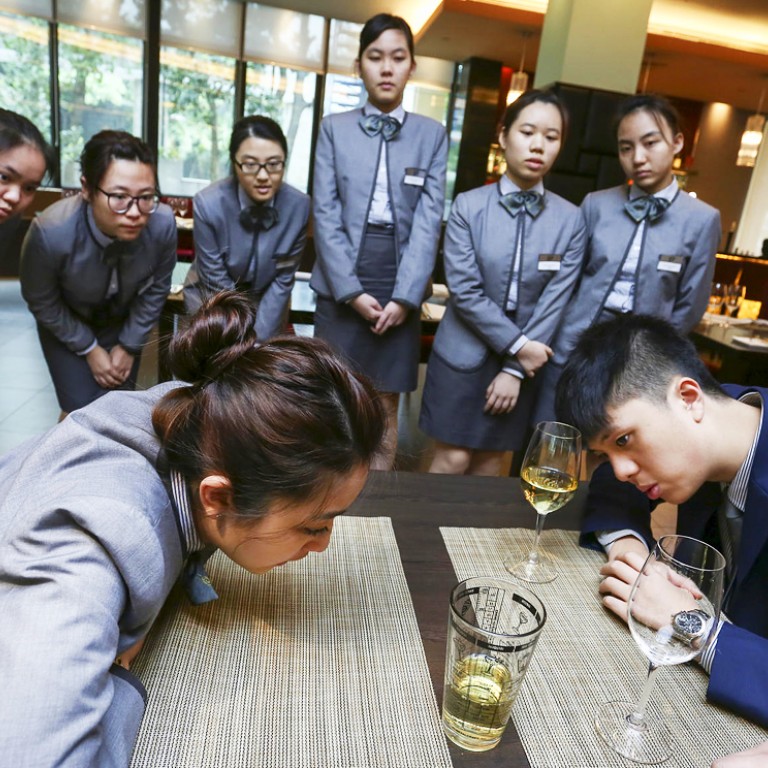 Macau is becoming a higher education destination for Chinese students
Just as casinos have proliferated across Macau in the past 15 years, so too have colleges. When the city returned to Chinese sovereignty in 1999, it was home to two universities and two tertiary institutions. Since then the total has more than doubled to 10. That's a lot of college places for a city of just 600,000 people. Perhaps not surprisingly, most of the slack is being taken up by students from China.
Just as casinos have proliferated across Macau in the past 15 years, so too have colleges. When the city returned to Chinese sovereignty in 1999, it was home to two universities and two tertiary institutions. Since then the total has more than doubled to 10. That's a lot of college places for a city of just 600,000 people. Perhaps not surprisingly, most of the slack is being taken up by students from mainland China.
While undergraduate applications from China fell at several Hong Kong universities last year, the reverse was true in the former Portuguese enclave. The Macau University of Science and Technology, for example, received about 7,000  applications from China last year - a 30 per cent increase from 2013. Now close to half of its 7,500 undergraduate students come from China.
Macau aims to develop higher education as a major pillar of its economy and is fast catching up with Hong Kong on that front, says university president Liu Liang.
Liu acknowledges that Macau UST has only 15 years of history compared to more than 100 for the University of Hong Kong. "But as a relatively new school, we don't have any baggage. We learn from all over the world, including Hong Kong, when developing [our] curriculum," he says. "The Macau government places increasing emphasis on higher education, so we are certain to pose positive competition to Hong Kong."
Although they may not place as highly as Hong Kong in international rankings such as those by QS and Times Higher Education, tertiary institutions in Macau appeal to Chinese students on other levels. Lower fees and cost of living are major considerations.
Huang Liming, a Zhuhai native studying at the Macau Institute for Tourism Studies, says high costs put her off applying to colleges in Hong Kong.
"My cousin, who is studying at the University of Hong Kong, told me lodging and living costs are very high there. He's on a scholarship so he doesn't need to worry about tuition fees. But my public exam results are not that good," the 20-year-old says.
Moreover, Huang's (national college entrance examination) score came to 570 marks at the low end in the first tier of results - which wasn't enough to earn her a place in top Chinese universities such as Peking, Tsinghua, Fudan and Shanghai Jiaotong.
"If you can't get into the key universities in China, there's basically no difference between studying [in a second-rate university] and not entering college at all," Huang says. "My classmates who remained in China just fool around in second-rate universities. They attend classes in Putonghua but I study in English here."
At the publicly funded Institute for Tourism Studies, which started offering degree courses in 2005, the annual tuition cost is just 24,000 patacas.
Chinese and local students pay the same fees in Macau, whereas non-locals studying in Hong Kong universities must fork out HK$120,000 per year in fees - nearly triple the HK$42,100 that local students pay.
Student accommodation is also more easily available and far cheaper compared with Hong Kong, where there's a severe shortage of university hostel places.
The University of Macau, the city's most established institution, has been able to offer students hostel accommodation through all four years of its degree programmes since relocating to a spacious new campus on Hengqin, an island adjoining Macau that is part of Zhuhai.
"Accommodation is very cheap. For 20,000 patacas a year, even meals are included," says Professor Lionel Ni, the university's vice-rector for academic affairs. "Our residential colleges will increase from eight to 13 in future. Hong Kong doesn't have the space. If you come to see our campus, we are better than all universities in Hong Kong."
The university's registrar, Paul Pang Chap-chong, says enrolling students from China is necessary for its survival.
"There aren't enough local students to admit to our programmes," Pang says. "Three years ago, there were 6,000 local graduates. Last year, there were only 5,000. In 2021, there will be only 3,000. We came to a consensus with the government to cap the number of [undergraduate] mainland students at 18 per cent but due to low enrolment from local students, we will gradually admit more mainland students."
Students from China already dominate its postgraduate programmes, making up half of the 2,552 students pursuing master's degrees, and nearly 80 per cent of the 584 people pursuing doctorates.
And while some Hongkongers worry about the influx of Chinese students in tertiary institutions over the past decade, Ni says Macau residents do not have such complaints.
"I don't see any problems. They live and study in harmony. Locals don't like PhD study, so [mainland researchers] can boost academic exchange."
Although business courses tend to be most popular with Chinese students, Macau is unique in Asia in offering degree programmes in hospitality and gaming management.
And they seem to present a good return on investment: according to Antonio Chu Chan-weng, head of technical and academic support at the Institute for Tourism Studies, the starting salary for graduates is an attractive 14,000 patacas. By comparison, a 2014 survey by human resources platform CTHR found the starting salary for Hong Kong hospitality graduates averaged about HK$12,500.
"Hong Kong's strength is in finance. But Macau is strong in gambling and tourism and the government is developing it into a world-class leisure tourism resort hub. Our Mice (meetings, incentives, conferences, and exhibitions) industry is also very strong. Before The Venetian resort opened [in 2007], our Mice sector was very small. But there's rapid growth over the past several years.
"Mainland students can also adapt to local life here easily. Macau people speak much better Putonghua than Hongkongers as we taught Putonghua at schools way before the handover."
Moreover, Chinese students now apply to universities in Hong Kong and China through a central system based on their results. They may name three institutions as their preferred choices, but in listing a Hong Kong university they would have one less chance to seek a place in a university in China.
Macau universities, on the other hand, each set their own entrance exams because there is no standardised public exam for secondary schools. As a result, Chinese students can apply directly to universities in Macau without hurting their chances of entering one in China, Chu says.
Zhongshan native Victoria Li Wanzhen did just that. She did not do well enough in her (500 marks just puts her at the top of the second tier) to enter Polytechnic University, which is renowned for its hospitality programme.
And although Li received an offer from Guangdong Ocean University (one of her choices), it was to study Chinese classics instead of her preferred majors of design or business, so she chose to study in Macau.
"It's lucky that I applied to Macau University of Science and Technology before my results were out," says Li, now a third-year hotel management student. Her annual tuition at the private university comes to 60,000 patacas and accommodation adds up to 27,000 patacas a year.
Li adds: "There are many internship opportunities in the tourism industry. Every year, Disney representatives come to recruit interns for their theme parks in America. They take about 30 people every year."
After graduation, she hopes to work in Macau for a few years before pursuing a master's in hotel management.
"Macau gives preferential treatment to its own residents. [Non-locals] receive lower salaries and promotion prospects are worse. But starting salaries here are still much higher than on the mainland. And the construction boom and vibrant gambling and tourism industry means there will be plenty of rich work experience."
Besides hospitality, Macau UST president Liu notes that traditional Chinese medicine is another discipline popular with Chinese students and a growing area of strength for the former enclave.
"The central government set up a Key Laboratory of Quality Research in Chinese Medicine in Macau. This is the only such institution in China. So advances in combined treatment using Chinese and Western medicine in Macau is much faster than in Hong Kong," he says.
"Our hospital has a Chinese medicine section where students can intern."
But despite dramatic rises in Chinese student enrolment in Macau, Chu says the city is not competing with Hong Kong to attract Chinese students.
"Hong Kong universities have greater prestige. We do not aim to attract the best mainland students. Plus, Hong Kong provides lots of scholarships for the best students. We provide only one or two full scholarships every year."
However, Ni argues that to boost future enrolment, the Macau government should loosen immigration restrictions to enable Chinese students to work in the city after graduation.
"Now, non-locals must leave immediately after they graduate and apply for jobs to come back to Macau. If the local casino industry is looking for talent, they can't apply as soon as they graduate. They should learn from Hong Kong, which changed its regulations [in 2008 to allow non-local students to stay for one year after graduation] to look for jobs."
This article appeared in the South China Morning Post print edition as: Changing by degree