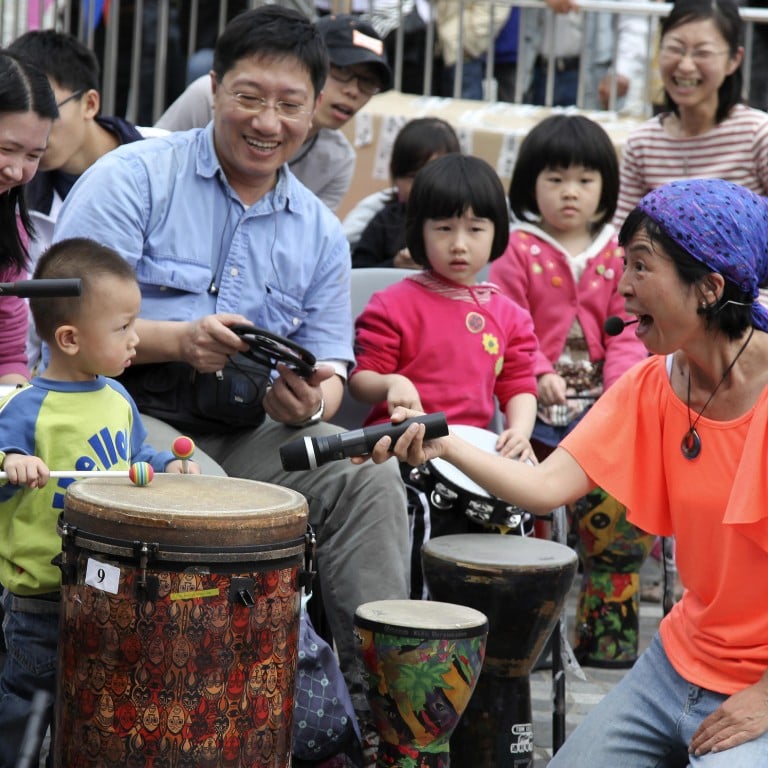 Hong Kong drum clinic pioneer preaches community unity
Kumi Masunaga came to Hong Kong as many expatriates do - to see what the city could offer her. But rather than finding her niche in finance, teaching English or engineering, Masunaga found hers in helping others "find their voice" through drumming circles or, as she calls it, the "drum jam".
Kumi Masunaga came to Hong Kong as many expatriates do - to see what the city could offer her. But rather than finding her niche in finance, teaching English or engineering, Masunaga found hers in helping others "find their voice" through drumming circles or, as she calls it, the "drum jam".
Once the domain of indigenous peoples, drumming circles are becoming mainstream.
Masunaga's love of music began early in her native Japan; piano at the age of three, drum kit at 10, and guitar at 13. After being inspired by an African musical troupe, she immersed herself in African drumming, with many solo trips to West Africa where, she says, "Drum music celebrates every moment of life." There she found the rhythms that feel "so natural to me, yet electrifying".
Settling in Hong Kong in 1990, Masunaga taught African drumming through the Academy for Performing Arts, and in 2001 she started Drum Jam with the support of a local music retailer. Through word of mouth, her drum circles became larger, and continue to attract Hongkongers of all descriptions: schoolchildren, families, community groups, corporate clients. "Our drum beats echo throughout Hong Kong and Asia," she says.
There is a message in all that sound (and a bit of fury, too). "Drumming is truly accessible to all ages and can be enjoyed by everyone. It is an extraordinary tool that uplifts, motivates, energises, connects and heals. I want to see drum music reaching more people and become a unique social glue. As a drum circle facilitator, I have personally witnessed the power of drum to reduce tension, energise the tired, and promote playfulness and togetherness."
Kidz Drum Jam sessions in schools are one of Masunaga's most popular programmes. "Drum Jam, at its entry level, opens doors for students to the world of drumming. Listening skills, musical dynamism, physical coordination as well as a good understanding of polyrhythms are developed.
Active participation and expression builds a foundation for all music-making. Research shows that musical games can really help children learn. The skills they need to play the games include concentration, recognising patterns, following instructions and remembering things in order - all useful in other areas of learning, such as maths. Research also has found that rhythm stimulates the areas that are known to control language and communication."
But these drumming sessions are not offered only as music lessons or as ways to enhance cognitive skills. Drum circles are also a valuable tool for team building and personal development. "Children's innate love of music shines through, where even the shyest children slowly move forward to join in. Teachers and parents also enjoy these jams where children share, listen, take turns, lead, follow and respond - all the things you've been trying to get them to do. Students learn about togetherness, diversity, communication and cooperation as much as they do about musicality, through rhythm games, songs and dance," says Masunaga.
Teacher Jen Napier agrees: "The drum jam attracts participants from many different genres and cultures, allowing participants to experience percussion instruments and sounds from around the world. Kumi's techniques in leading the jam provide structure, while allowing room for exploration and self-expression."
For all her teaching and facilitating, Masunaga is also an accomplished performer who enjoys working with like-minded artists in tune with the notion art breaks down barriers. "I value and respect all world cultures, especially in music and dance. I admire the beauty of varieties and diversities we have in our world."
Since 2003, Masunaga has held drum-circle sessions each month at the Fringe Club, and in the past two years these shows have included different cultural themes and special guest performers. "The drum jam participants love these cultural themes and we are very international-minded now."
As much as Masunaga enjoys performing, her work in communities may be most dear to her heart. In recent years, she developed a programme pilot project in Tin Shui Wai, called "Drum Up HK!" to encourage positive communication and unity.
"Hong Kong has been my home for 22 years. It has saved and raised me. It would be my legacy if this could run successfully. This is something that I would want to achieve through Drum Jam."
Masunaga knows that the drumming circles foster an appreciation of music, dance and other art forms of different cultures. But she also aims to foster a greater understanding and acceptance of different cultural traditions and values.
"This is especially important for the children growing up in Hong Kong, because they learn and grow up together with their peers, some of whom are from different countries [and of different] ethnicities," she says.
"I hope they take positive advantage of the diversity that surrounds them, to learn about and understand others, and to understand that diversity of the human spirit is our strength - and central among the challenges of our time."
Masunaga understands how her work can have an impact on communities, and she tries to convey what it is about drumming that compels her on a personal level. "Drumming connects me to Mother Earth, the universe, as well as my own spirit," she says. "I am quite impulsive and I am at my best when I'm living in the moment. My drumbeat is a stroke of my hand hitting the drum skin, which echoes in that moment. And a second after that, it passes. It's gone. And my hand moves to hit the next beat in a precise moment. In a sense, when I'm drumming, I'm riding on the waves of 'now'… and I like that feeling."
This article appeared in the South China Morning Post print edition as: Beats working