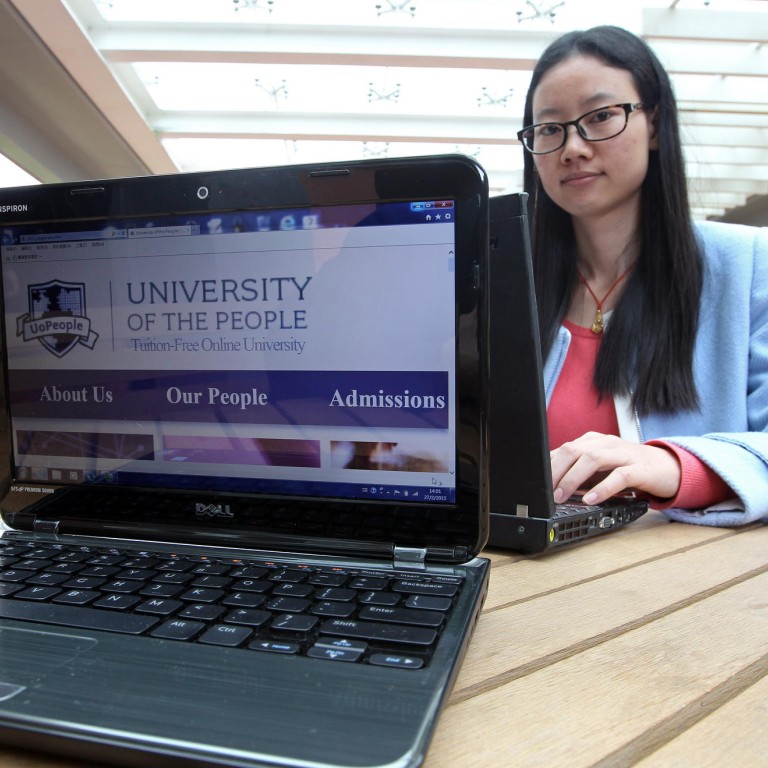 Low-cost online university gives thousands a chance to study
Whenever he has some free time, Chenwie Benatsus reaches for his books and engages in his favourite pastime - studying online.
The part-time salesman for an electronics factory in Dongguan, Guangdong, is among the thousands of students enrolled at
the University of the People
. Originally from Cameroon, Benatsus jumped at the chance to study for a degree in business administration after becoming aware of it. "I was searching on the internet for an affordable online university and discovered it," he says, cheerfully, adding: "It's just too good to be true."
He was filled with excitement when he found out that it is tuition-free.
Set up in 2009 by American entrepreneur Shai Reshef, the university has admitted more than 2,500 students from more than 150 countries, and lately gained accreditation from the Distance Education and Training Council, a non-profit national agency in the US specialising in the accreditation of distance education institutions.
Former chairman of Kidum Group, a for-profit educational services company, and of KIT eLearning, the online learning partner of the University of Liverpool and the first online university outside of the US, Reshef has emerged as a game-changer by offering higher education for free.
Having to work during the day, Benatsus would not have been able to study at a bricks-and-mortar institution; other online universities also were too expensive. UoPeople charges only an examination fee of US$100 per course, which amounts to about US$4,000 for an entire degree.
This is Benatsus' first opportunity at accessing higher education, as is the case for other UoPeople students. He has no idea what he misses out on compared with those studying at mainstream institutions, but he has at least the company of others drawn to the rare offer, including two fellow students from his home country. "They are also very excited about the study. I look forward to getting together with them when I get home," he says.
Reshef operates UoPeople on a lean budget, relying heavily on volunteers, among them retired professors. His mission is to make college-level study more widely available to qualified individuals.
"The problem of unequal educational access knows no country borders and is found in every region on earth, as financial, geographic, social and personal constraints are widespread and youth populations grow," he says.
UoPeople courses are delivered in English, but, instead of viewing formal lectures, they are taught by instructors who appear regularly on online forums to answer questions from students on course readings and materials uploaded to the site beforehand. Students also get to exchange views with each another. Some have become Facebook friends.
The convenience and flexibility provided by online learning keeps people such as Benatsus engaged. "You can study at your own pace. I do most of the reading, coursework at weekends and chat to my instructors and other students on a daily basis on my tablet or mobile phone," he says.
"Sometimes the tutor might not be available to answer our questions immediately. They may come back to us a day late, but I think the tutoring help is enough. They are well-qualified professors."
In Hong Kong, Cao Tingting, from Huangshi in Hubei province, is also taking advantage of the flexibility to pick up business knowledge while finishing her doctoral degree in clinical oncology at University of Hong Kong.
She took six months' leave last year from UoPeople to concentrate on her doctoral thesis and laboratory work on tumour cells.
Cao, 28, fits one common characteristic of the UoPeople students, aged 18 to 66 and with an average age of 29: she is well-versed in interacting with others in cyperspace.
Reshef counts on this rising trend for the success of his institution. "We take modern-day social networking behaviour and put it in our classrooms. For many young people, the way they study with us is the way they behave daily," he says.
"We also focus on small classes of 20 to 30 students from almost as many countries, using peer-to-peer learning techniques. It is very engaging, very intensive."
Asian students make up only 10 per cent of the university's student population, of whom about 28 per cent are Americans. In China, students are from cities such as Hong Kong, Beijing, Guangzhou and Qingdao.
Reshef says people's limited awareness of the university poses a challenge. "The people who need us most have a hard time finding out about us," he says.
Cao stumbled upon the website in 2010. A studious person, she enrolled months later, hoping to learn about a field totally alien to her.
"It is satisfying to learn something new in my free time," she says. "I wanted to know what people in the business field know. If left to myself, I wouldn't know what books to buy. This is a more systematic way for me to learn, and it allows me to exchange views with others."
Studying a different subject at her pace amounted to a break from her usual routine of meticulous lab work, she says.
Owing to support from companies such as Microsoft and Hewlett-Packard, UoPeople students have access to mentoring, internships and scholarships. The university is offering only two programmes at associate and bachelor degree levels - in business administration and computer science. A programme in health sciences is being developed.
Top academics sit on the university's Council of Presidents, among them New York University (NYU) president John Sexton, who is also chairman of the council; Oxford University vice-chancellor Colin Lucas; and University of California, Berkeley chancellor Nicholas Dirks.
An agreement with NYU provides that top UoPeople students are eligible for admission into NYU Abu Dhabi on full scholarships. Two students have taken the offer thus far, one of whom came from the rubble of Haiti. His family lost everything in the 2010 earthquake.
Reshef believes his university, which has about 60 graduates so far, can change many more lives.
"An international degree from an accredited US university is looked upon highly by people in many countries," he says. "We provide an opportunity available at everyone's fingertips if one knows how to seek it and if they're ready for the challenge. And this is something employers look highly upon."
This article appeared in the South China Morning Post print edition as: Power to the people