Fashion
Get more with myNEWS
A personalised news feed of stories that matter to you
Learn more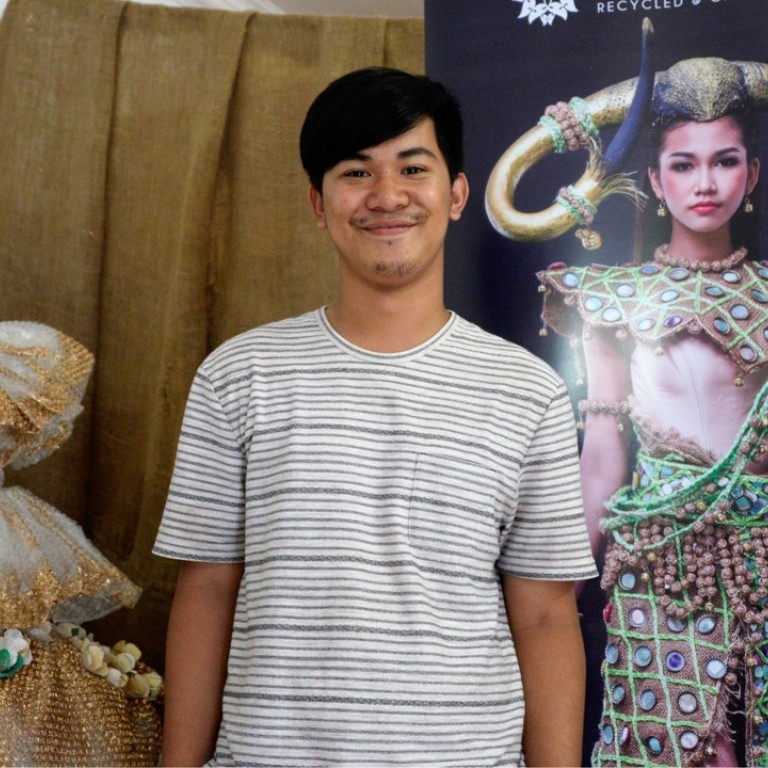 Cambodian designers turning trash and recyclables into high fashion want to make people rethink their wasteful ways
Members of the recycling collective La Chhouk started with a dress made from brown rice sacks decorated with beer bottle tops and broken CDs which was later worn by a Miss Cambodia runner-up at an international beauty pageant
Most visitors to Cambodia are eager to see the ancient temple complex of Angkor or the beaches of Sihanoukville, but there is one sight they may want to shield their eyes from: mountains of plastic bags, bottles and styrofoam boxes.
Despite remaining on the World Bank's list of "least developed countries", Cambodia has enjoyed solid economic growth in recent decades. The Southeast Asian nation has sustained an average GDP growth rate of 7.6 per cent over the last 20 years, the sixth highest in the world. Plastic consumption, however, has also increased at an alarming rate.
According to the charity Fondazione ACRA, the capital Phnom Penh has an annual per capita consumption of 2,000 plastic bags. The average corresponding figure for the European Union stands at about 200.
In terms of pollution the country ranked 145th out of 178 countries in the Environmental Performance Index.
"Plastic waste is everywhere," says Seng Super, a 22-year-old Cambodian designer. "It's in the streets, rivers, lakes. It's very upsetting."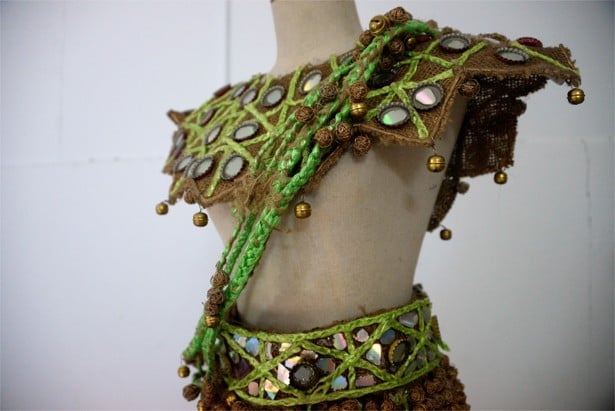 Seng Super studied at the Royal University of Fine Arts in Phnom Penh. He was born in the 1990s, a time when millions of Cambodians were beginning to lift themselves out of extreme poverty, bringing environmental degradation in its wake.
For many young and urban Cambodians, pollution is a huge concern. So when it was time to prepare for the university's annual art show in 2014, Seng Super and his classmates decided to create a project that would challenge people to rethink their wasteful ways. The result, La Chhouk, is a creative fashion initiative geared towards making clothing out of trash and other recyclable materials.
As in other countries, the vast majority of polluting plastic in Cambodia stems from single-use items such as bottles, straws and food packaging.
"When consuming plastics, many people don't think much about the waste. You drink a bottle of water in five minutes, but the bottle can pollute a lake for hundreds of years," Seng Super says. "They also think, 'Rubbish is rubbish. Once you throw it away, you cannot do anything with it.'"
Seng Super and his classmates wanted not only to challenge the way Cambodians think of waste, but also capture their attention in the most remarkable and elegant way. Using only recyclable materials they found in the trash, they created several flamboyant dresses of the sort usually worn by traditional apsara dancers.
With roots in Buddhist and Hindu mythologies, ancient apsara dances are among the most quintessential aspects of Cambodian culture. There are even carvings on Angkor's temple walls showing women performing the traditional dance that are believed to date to the time of King Suryavarman II (1113-1145). While the art form almost disappeared during Pol Pot's bloody Khmer Rouge regime (1975-1999), a modernised version of the dance, which incorporates elements of Western ballet, continues to thrive under the patronage of the Royal Ballet of Cambodia as a centrepiece of Cambodian heritage and culture.
When Seng Super and his classmates started to make the apsara dresses, many people thought the goal was too far-fetched and ambitious – especially as none of them had any training in fashion. That is why the designers named their collective La Chhouk, which means "lotus" in Cambodia's Khmer language.
"The lotus is a beautiful flower that can grow in muddy or dirty waters," Seng Super says. "We thought it was a beautiful metaphor for what we wanted to do with trash and our dresses."
With their first dress they created the lower half using brown rice sacks, which gave it an earthy appearance. They then decorated it with beer bottle tops filled with small pieces of broken CDs, making the garment shiny, like a real apsara's dress. They then ornamented the brown dress with contrasting bright green stripes made out of plastic bags and sacks.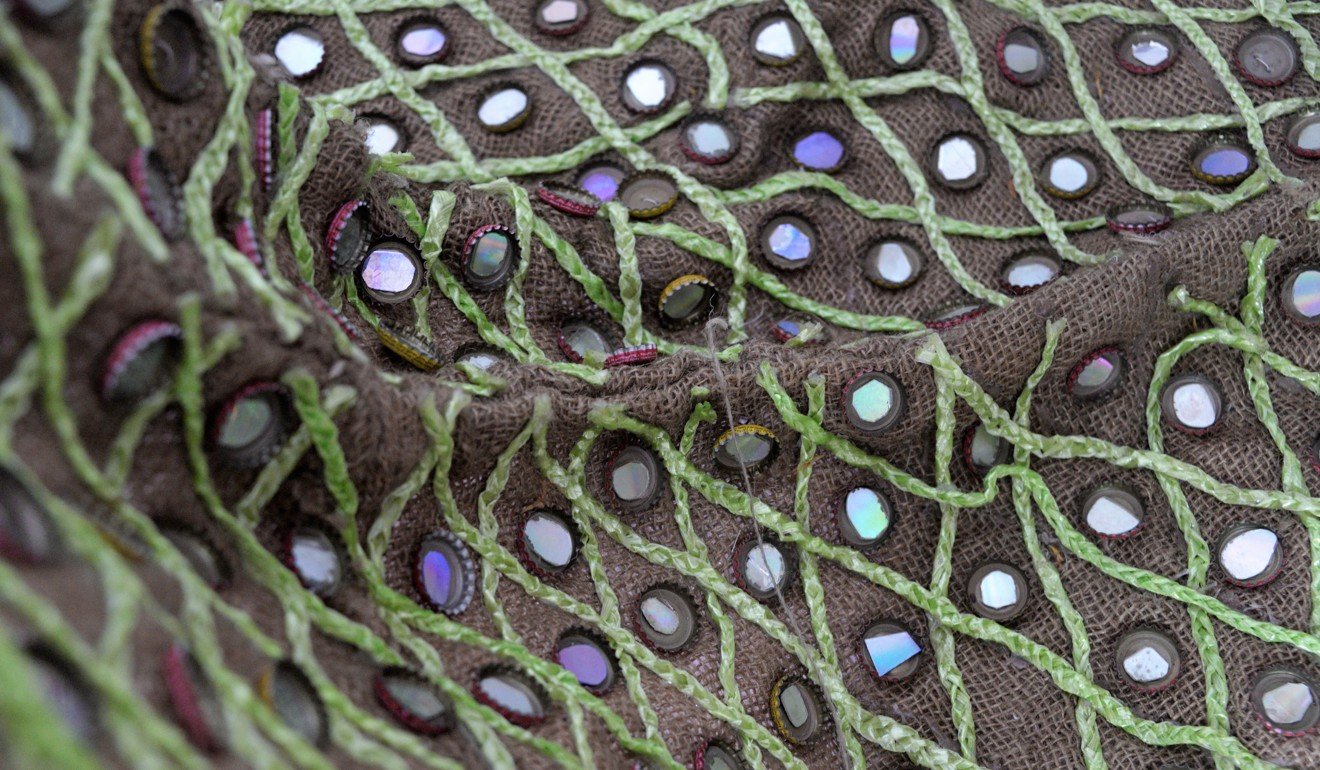 An apsara's costume is not complete without a golden crown. There was no gold to be found among Phnom Penh's piles of rubbish, so the designers used toilet roll tubes and thick cardboard. With these they fashioned intricate crowns, some shaped like Buddhist pagodas, and one with bull horns.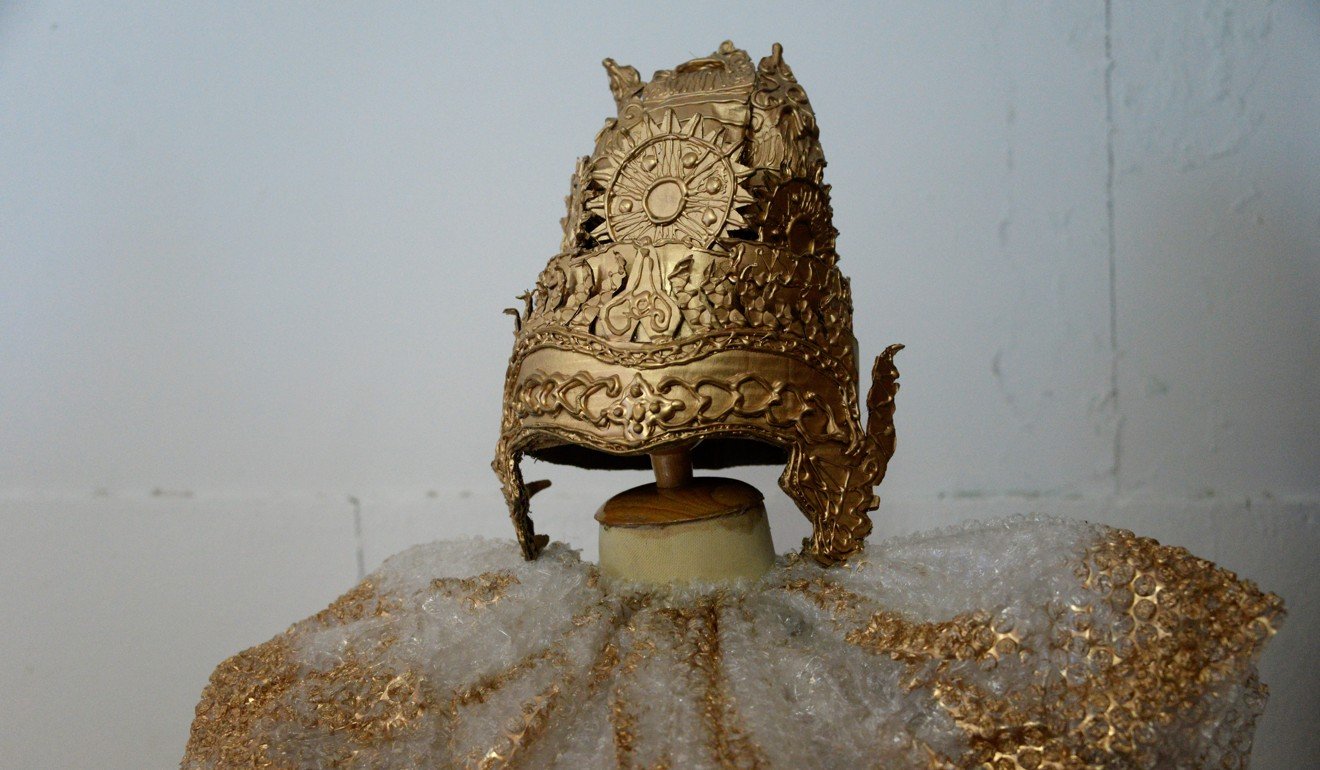 Last year the members of La Chhouk were given a vote of confidence for what many regarded as a wacky project when Em Kunthong, first runner-up in the Miss Cambodia 2016-17 beauty pageant, opted to wear the dress for the Miss Earth environmental awareness beauty competition held in the Philippines.
"This dress represents the perfect Cambodian woman," Seng Super says as he proudly shows it off in the studio of La Chhouk, located in a complex of workshops in northern Phnom Penh. "She's empowered, close to the Earth and strong like a bull. She has the soul of a wild cow, which is a very important element of Cambodian identity and culture.
"We were also inspired by the temple carvings and our mythology," he adds.
Another reason La Chhouk exists is to bring attention to LGBT issues, with some members of the collective identifying as part of the LGBT community.
"Many think of LGBT people as freaks," Seng Super says. "We want to show people that LGBT individuals are capable of creating beautiful things."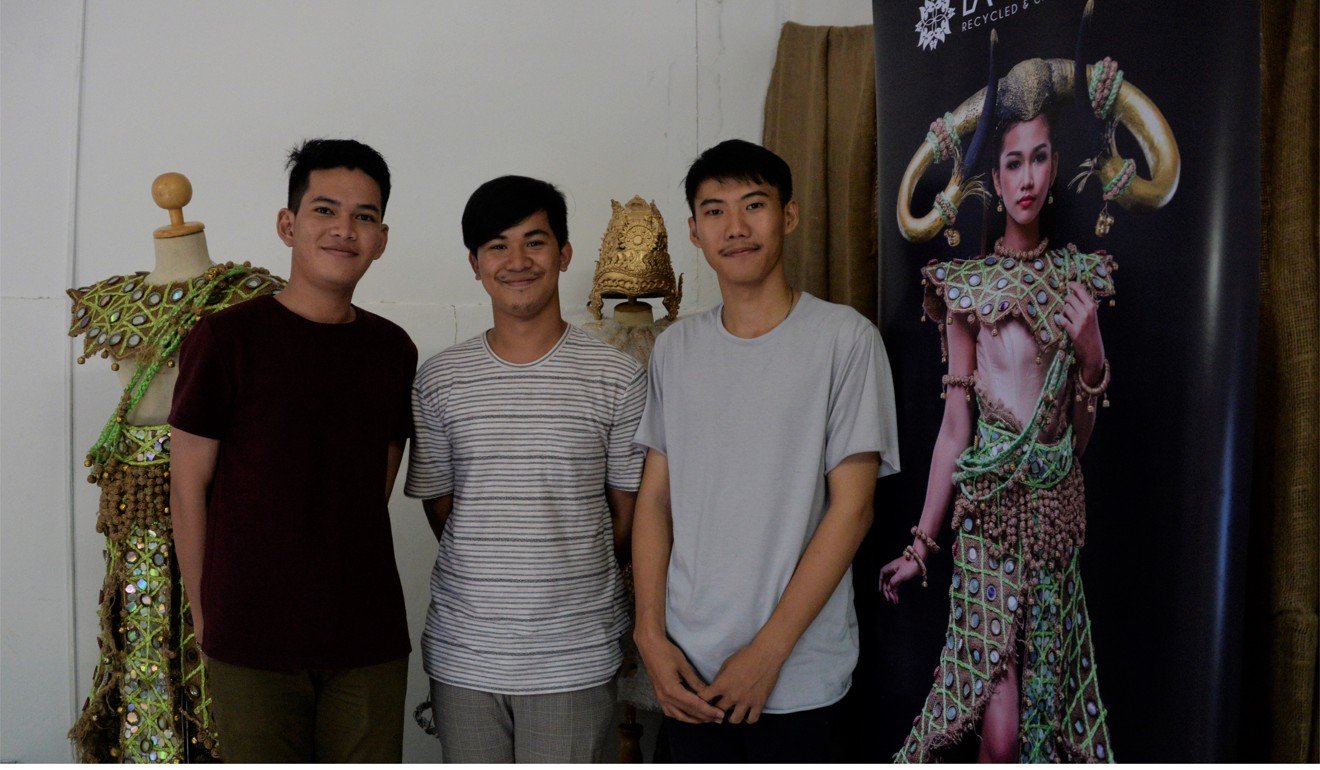 Since the creation of that first apsara dress, La Chhouk has gone on to design dozens of other dresses inspired by Cambodian culture and mythology. In a recent project called Saving Wild, they sought to bring attention to animals facing extinction in Cambodia, such as the Indochinese tiger, river dolphins and various bird species. Seng Super designed dresses representing these animals using plastic waste.
The project is ongoing, and the collective recently held an exhibition in collaboration with the WWF and Tiger Beer.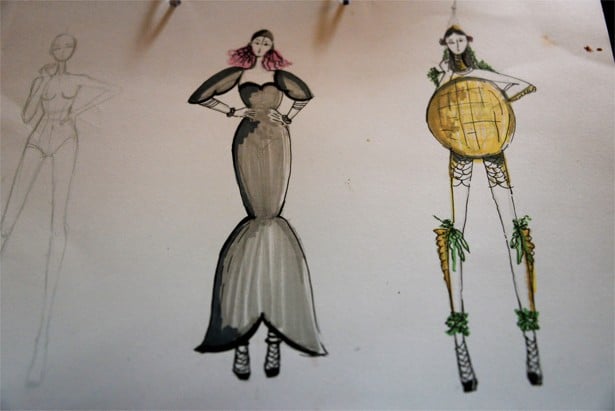 The collective's members still hold down day jobs to pay the bills, and work on their recycled fashion projects in the evenings and on weekends.
"The garment industry is an important one in Cambodia, but fashion is still not an industry," Seng Super says.
Rachel Faller, an American national who founded the Phnom Penh-based zero-waste fashion brand Tonle in 2013, echoes Seng Super's observation.
"Fashion design in Cambodia is still in its infancy," Faller says. "Many young designers struggle with getting proper training, and it's difficult to compete with established brands with big PR and marketing budgets."
The garment industry is one of the largest pillars of the Cambodian economy and helped drive the economic growth that benefited so many people in the 1990s and 2000s. Many mainstream brands, such as Zara, H&M, Gap and Primark, use Cambodian factories to manufacture their clothing.
However, the sector has its problems. Garment manufacturing in the country is regarded as a "pink-collar" sector, employing primarily women – 90 per cent, according to Faller, who believes they are easy prey for exploitative factory bosses. Despite a recent rise in the minimum wage, Faller says, workers still operate in harsh conditions and there is a common phenomenon in the factories known as mass faintings.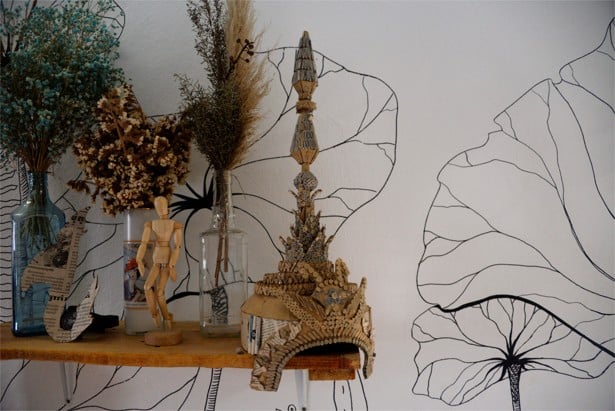 Faller, whose Tonle brand produces clothes from fabric discarded by garment factories, has witnessed the wasteful ways of such enterprises first-hand.
"The waste is astronomic and recycling is unheard of," she says. "There's waste in every step of the garment manufacturing [process], from colouring the fabric to cutting it. Quality control failures and overstocked fabrics produce so much waste, too."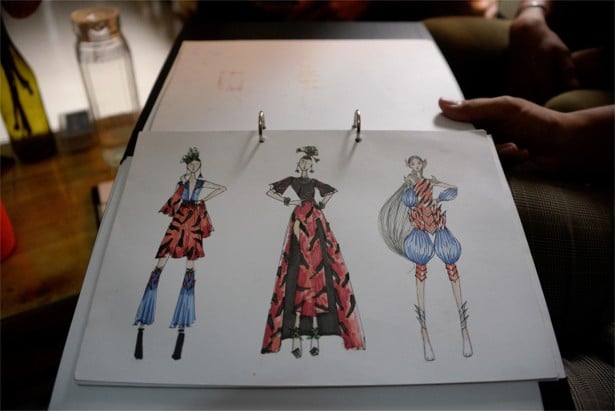 Faller, who located to Cambodia in 2008 as a scholar of America's Fulbright cultural exchange programme to conduct research on textiles and local artisans, estimates that at least 50 per cent of materials used in garment manufacturing ends up as waste.
"Young people, like La Chhouk's designers, are definitely starting something," she says. But she believes the country needs structural and holistic changes to properly tackle the problem of waste.
It is unlikely that independent recycled fashion collectives will make a dent in the millions of tonnes of waste lying in Cambodian rivers, fields and landfills, and La Chhouk is under no illusion. The collective's latest project is to create a YouTube channel in the Khmer language to provide people with ideas and tutorials to manage and recycle their waste.
"We cannot overcome the waste issue, but we can maybe get people to think differently about their waste," Seng Super says. "We can find the beauty in waste, like the lotus flower [growing in] in muddy water."