Fashion
Get more with myNEWS
A personalised news feed of stories that matter to you
Learn more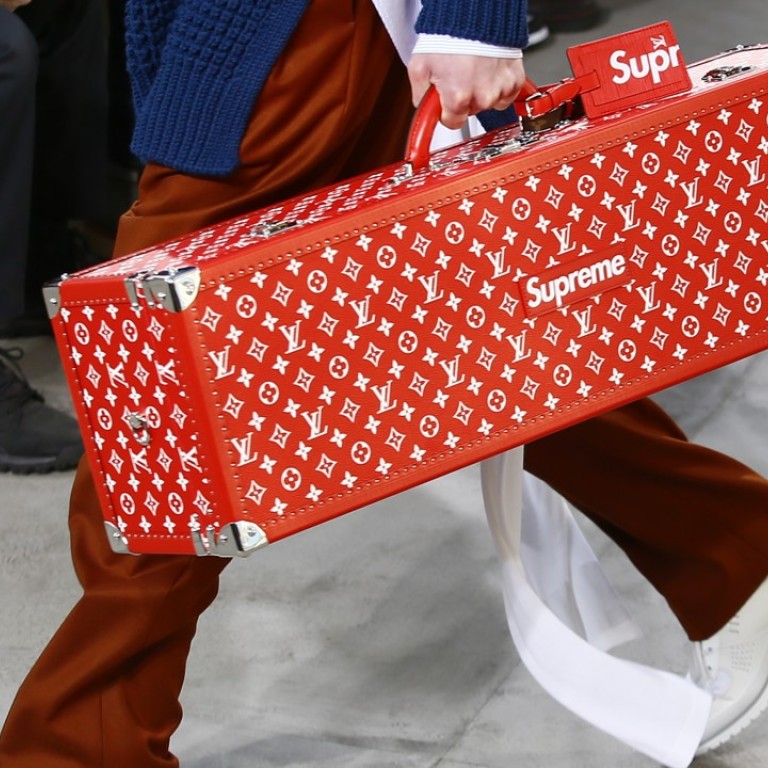 Chinese millennials embrace Supreme streetwear brand, and counterfeiters step in to feed demand
The New York label has a cult following and its obsessed fans camp out in front of its stores to be the first to wear new products. In China, this has led to the proliferation of copies and fakes
Chinese shoppers are known for their love for global luxury labels such as Gucci, Louis Vuitton and Prada, but their latest obsession is a relatively niche brand: Supreme.
Founded in 1994 by James Jebbia, it started as a small store on Lafayette Street in New York, catering to the street kids and skateboard community. Twenty-four years on, the streetwear label has gained a cult following.
It has collaborated with big names in the industry – Louis Vuitton, Comme des Garçons, Bathing Ape and North Face – as well as artists such as Keith Haring, Roy Lichtenstein and Damien Hirst. The once-celebrated (before being embroiled in sexual allegations) photographer Terry Richardson has shot stars including Kate Moss, Rihanna and Lady Gaga for its advertising campaigns.
Supreme has only 11 stores worldwide, and fans form long queues and even camp out in front of them every Thursday, when the brand drops a new collection. Many of them are limited editions and scarce, which has only further increased the fervour for Supreme products.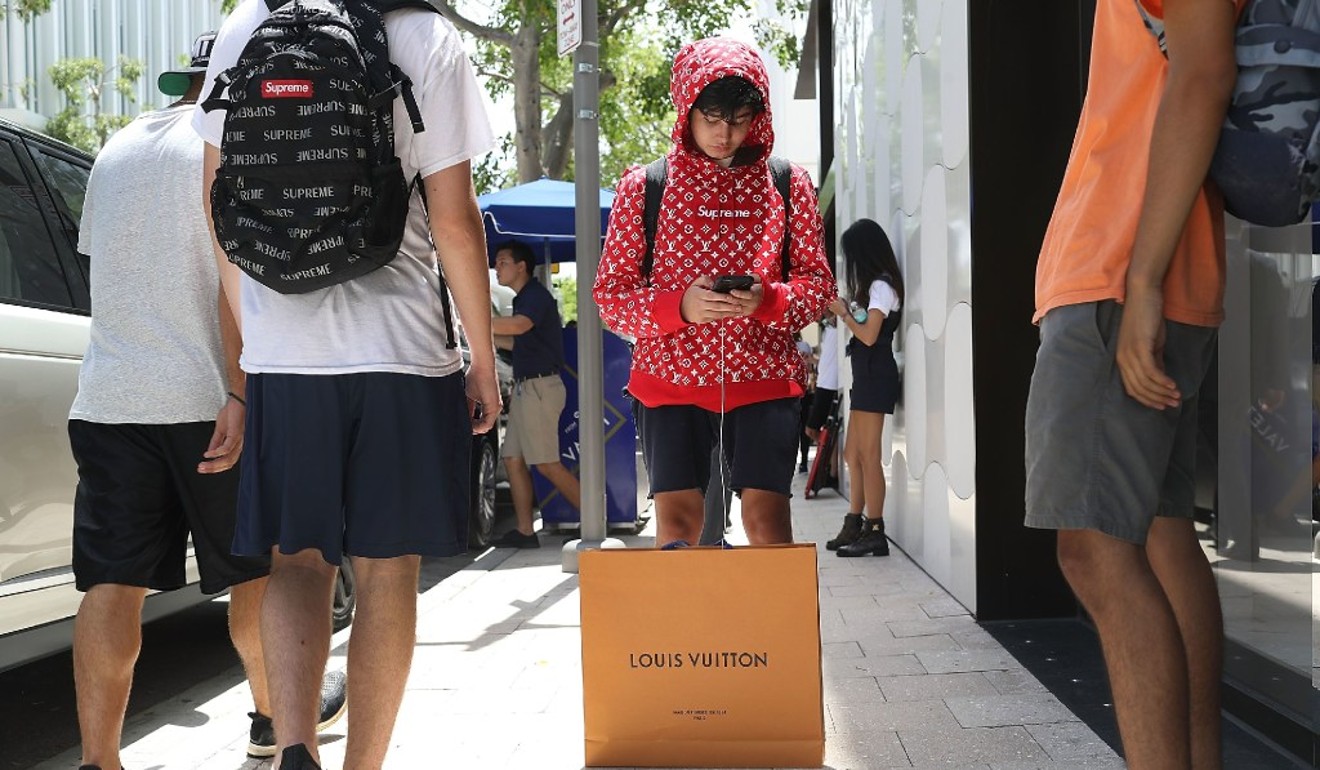 "There is a specific demographic that sees getting every one of the hottest drops as a form of validation," says a spokesman for the editorial team of streetwear website Hypebeast. "There's now this broad audience constantly searching and hanging on at just the notion for a chance to purchase something from Supreme's online store."
Nowhere is this more evident than in China, where diehard fans are willing to pay double or even triple the regular price to get their hands on authentic Supreme merchandise, or a premium just so they can wear the latest collection days ahead of others.
The Rap of China, the popular television show, which debuted last year, brought about an explosion of hip hop culture in the country. Despite the government's attempt to ban hip hop, the culture – especially the visual aspect of it – thrives. And along with it the streetwear grail, Supreme.
Its box logo has been seen on Chinese idols such as Kris Wu Yi-fan, actress Yang Mi and model Ming Xi. Each of them is a fashion influencer in the country and commands their own sizeable following of millennials, who are eager to imitate their looks.
As Supreme has neither a physical nor an online store in China, and the nearest Supreme store is 3,000 kilometres away in Japan, fans turn to resellers.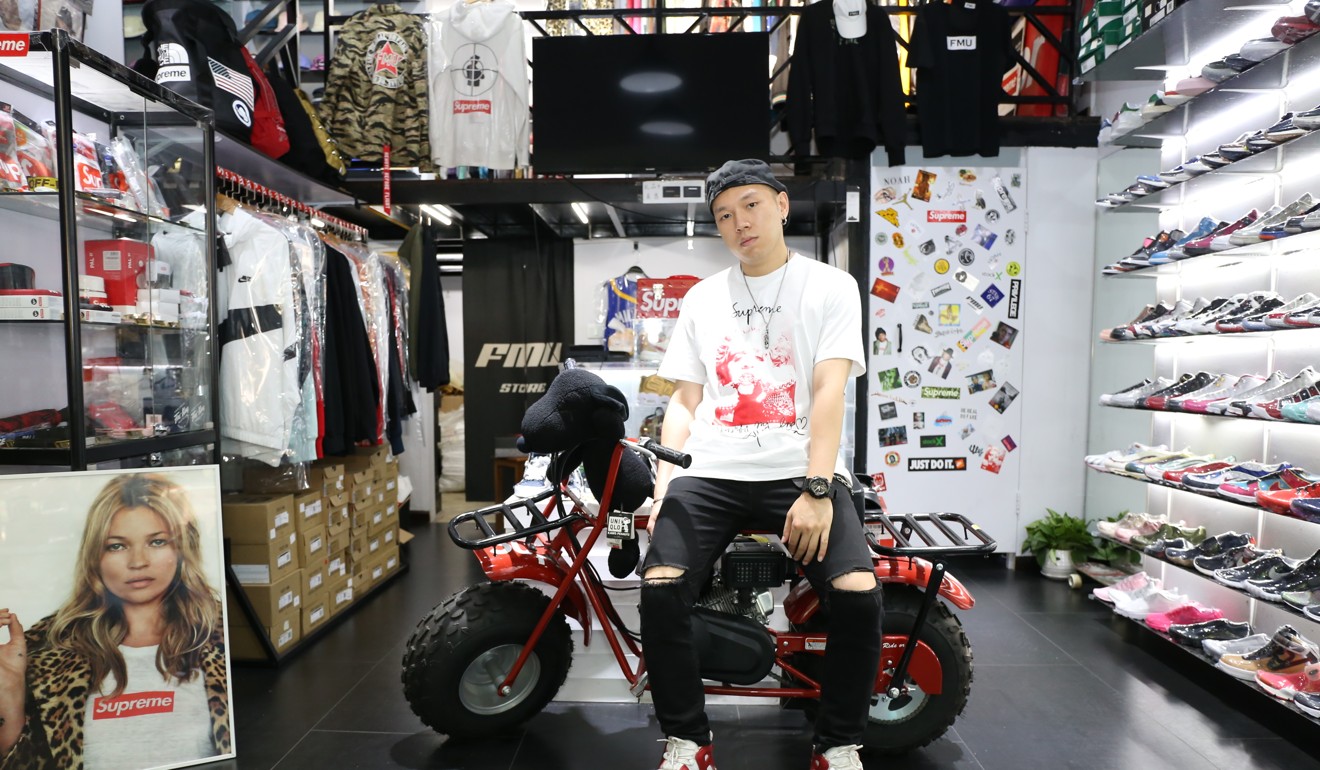 FMU is among a handful of streetwear shops in Shanghai dedicated to the brand. Among owner Wilson Wong's prized possessions are box logo T-shirts – such as a crossover with Louis Vuitton and the 20th anniversary box logo white tee – that he seals inside frames and sells for more than 10,000 yuan (US$1,460).
Wong has customers as young as 10. Before we speak, a father and teenage son left the shop with 5,000 yuan worth of hoodies.
"Kids these days become familiar with popular culture at a very young age. And many parents don't mind splurging on luxury products to reward their children for studying hard," says the flight attendant-turned-shop owner.
Another reseller is Streetbase, run by Zhu Qi. Located only a block away from Shanghai University, it targets a more specific demographic – college kids.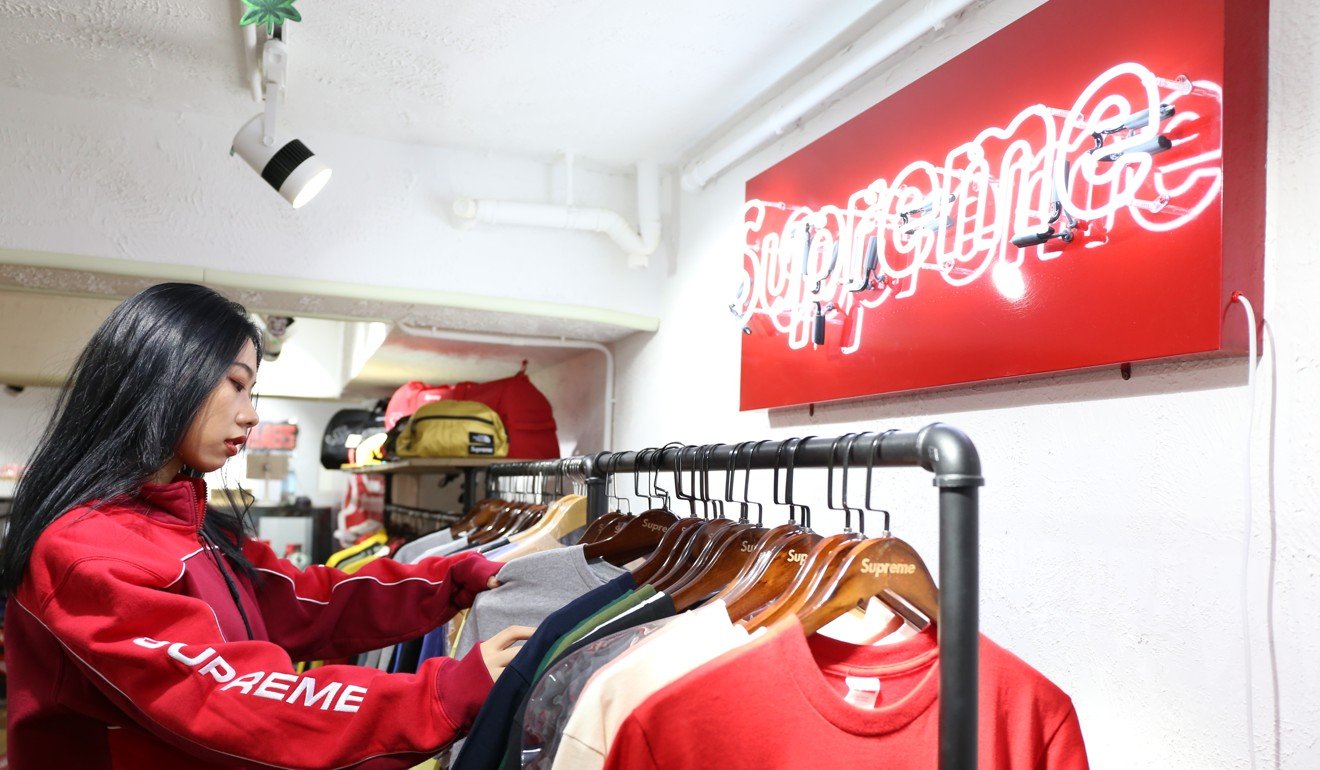 One of his regular customers is 21-year-old student Harmony Shen, whose high school boyfriend introduced her to street fashion.
She has since become a fanatic herself, spending up to 9,000 yuan each month on Supreme merchandise – sometimes even more than what she earns. That said, she could not quite explain why she loves the brand. "I like its style, I guess," says Shen.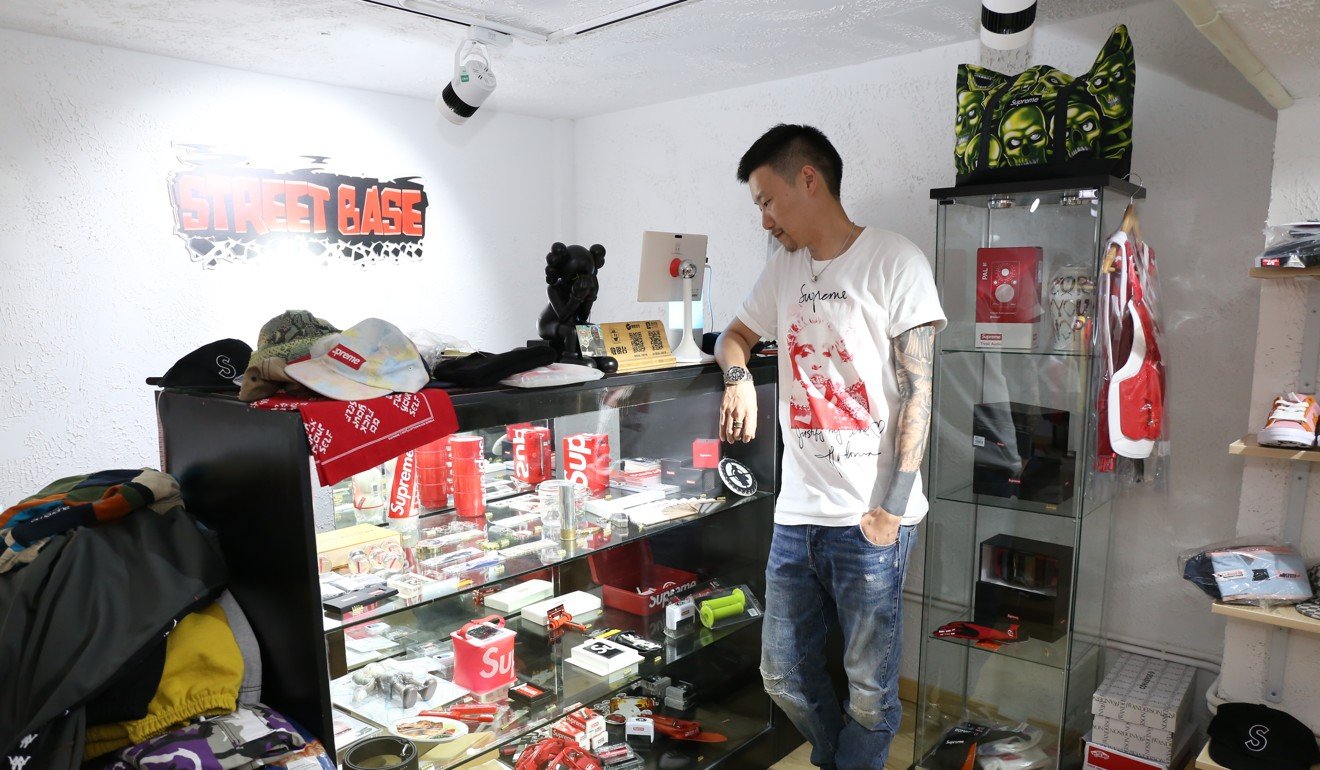 Not every college student has deep pockets. Some would pay Zhu a deposit to hold an item. Others buy what they can afford – Supreme accessories such as phone cases and pens – which therefore sell even better than the clothes. And they do not come cheap, either.
The resale price of a single pen is around 800 yuan (US$116), while a red phone charger costs 1,799 yuan (US$262) and a black one is 1,599 yuan (US$233).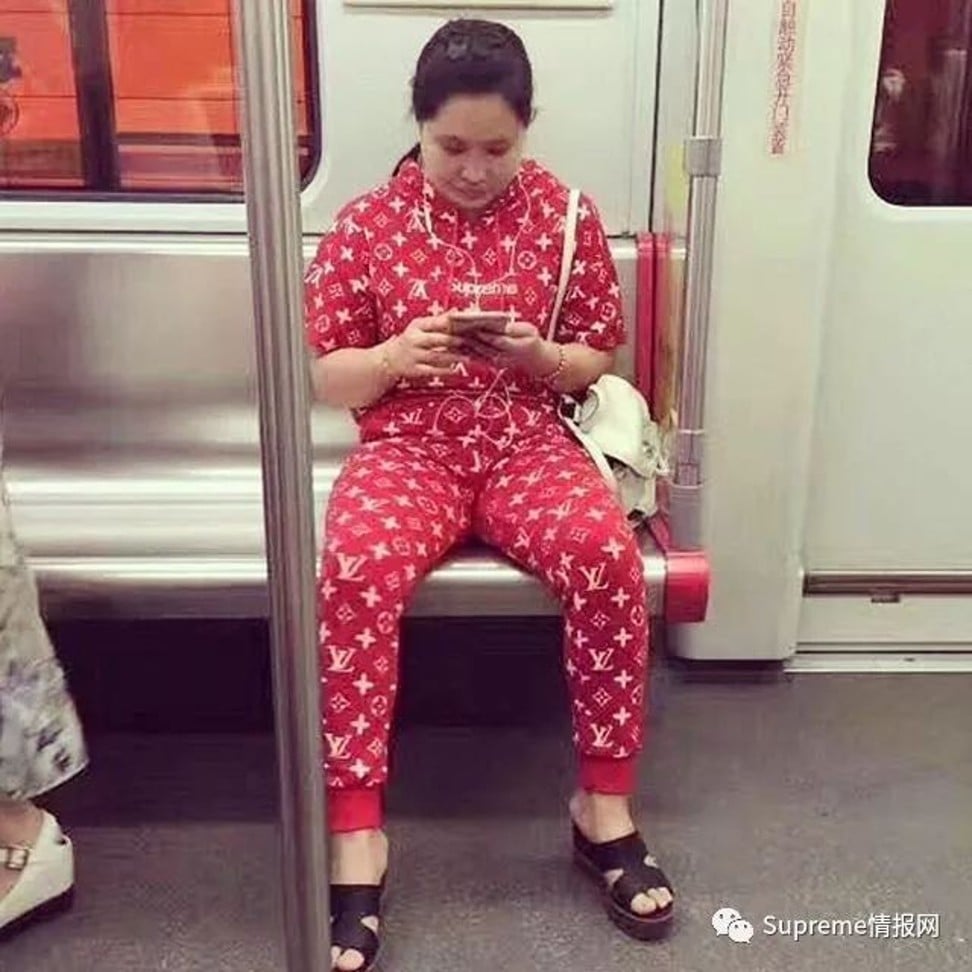 Many others, however, turn to counterfeits, which are available everywhere. "Ninety-nine out of 100 box logo tees you see on the streets are fake," says Zhu, who had a customer who bought thousands of dollars worth of merchandise from him, then proceeded to open his own bricks-and-mortar store in Hangzhou, selling Supreme copies.
The logo is exactly the same, except for three small letters – NYC at the bottom. He even hired foreigners to model the clothes.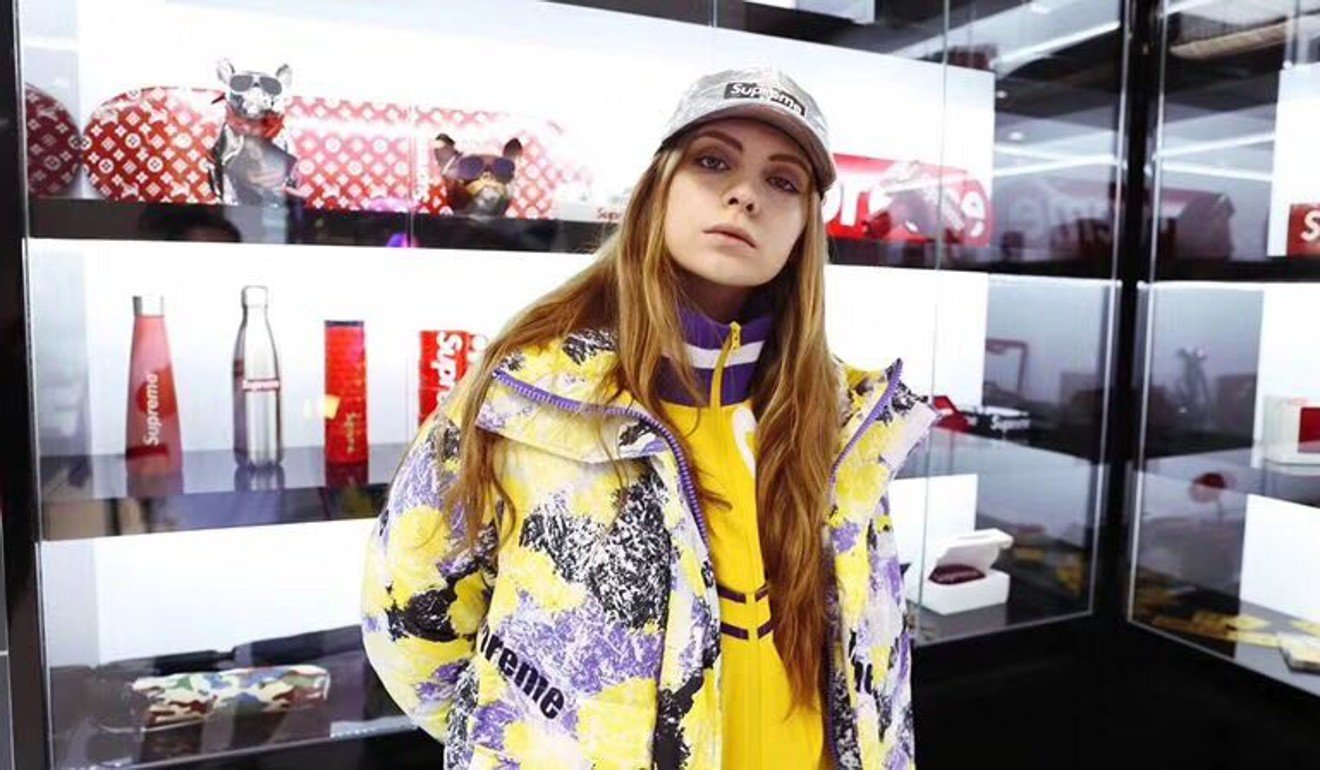 Zhu was shocked when he saw the photos. "That is stooping so low," he says.
"You are not just buying a T-shirt. You are also showing respect for the designer and his originality," says Wong. "But this mentality is just not prevalent in China."
Another counterfeit store popped up in Shenzhen, where the owner held a press conference, claiming that Supreme was entering the Chinese market and hired a black man to pose as Supreme's representative.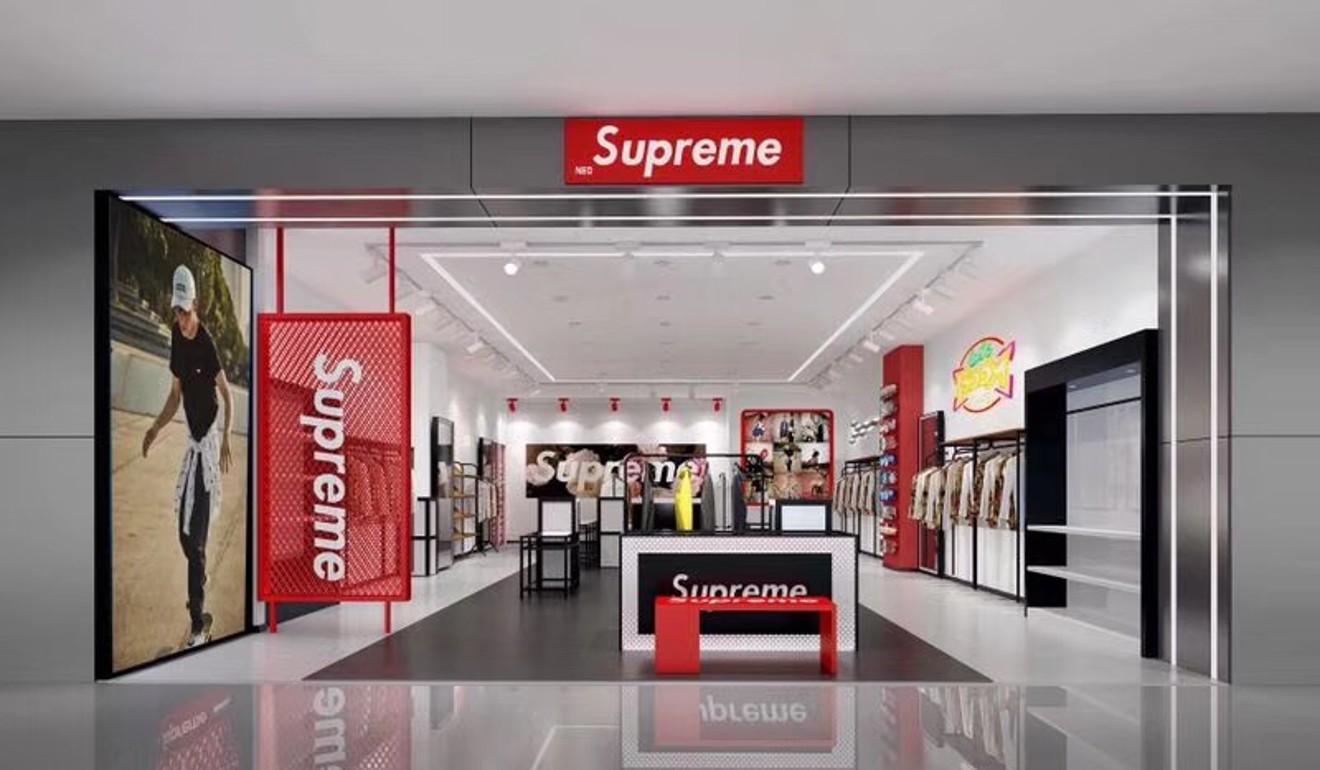 At a bazaar in a mall on Changshou Road in Shanghai, racks of Supreme tees are sold alongside toys and bras. One costs 199 yuan (US$29). Buy one and you get one free.
The manufacturer has even localised the product: while one famous Supreme tee features Kermit the Frog, the ones here have Peppa Pig and cute little dogs.
When I ask the middle-aged saleslady which one looks most authentic, she insists that they are all real. "They are leftover stock," she claims.
Not all counterfeits, however, are as easy to spot. Some manufacturers create top-notch replicas that can easily be passed off as authentic, and sell them online at slightly below the prices prevailing in the market.
The only giveaways are the colour, texture and smell (Supreme uses a special technique to remove the smell of their products) of the garments. Most buyers will not be able to tell the difference unless they compare it with the real thing side by side.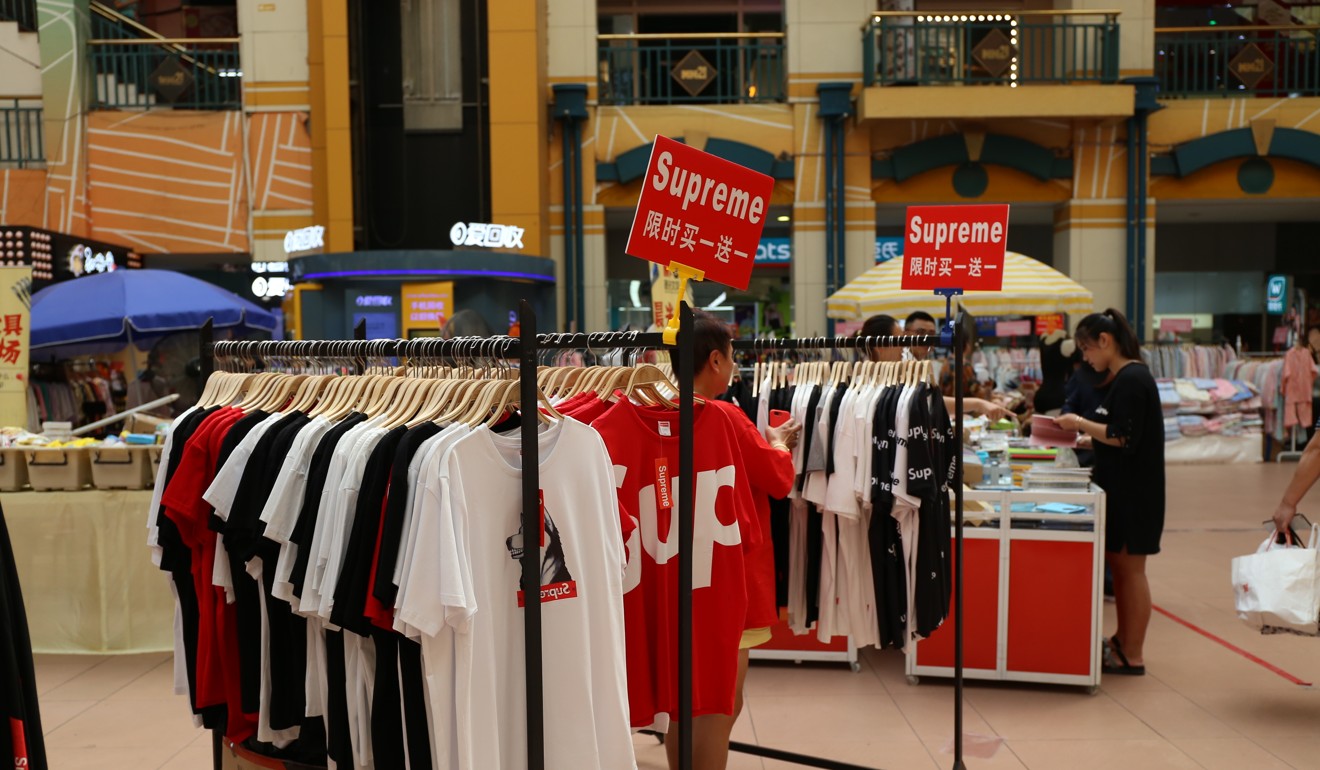 As counterfeits abound, Zhu goes to great lengths to assure customers that he is selling authentic merchandise. To increase transparency, he posts videos of his buyers queuing outside Supreme stores, purchasing the products and sending them through the courier located right next to the store.
His sales are hardly affected by the copies that are flooding the market.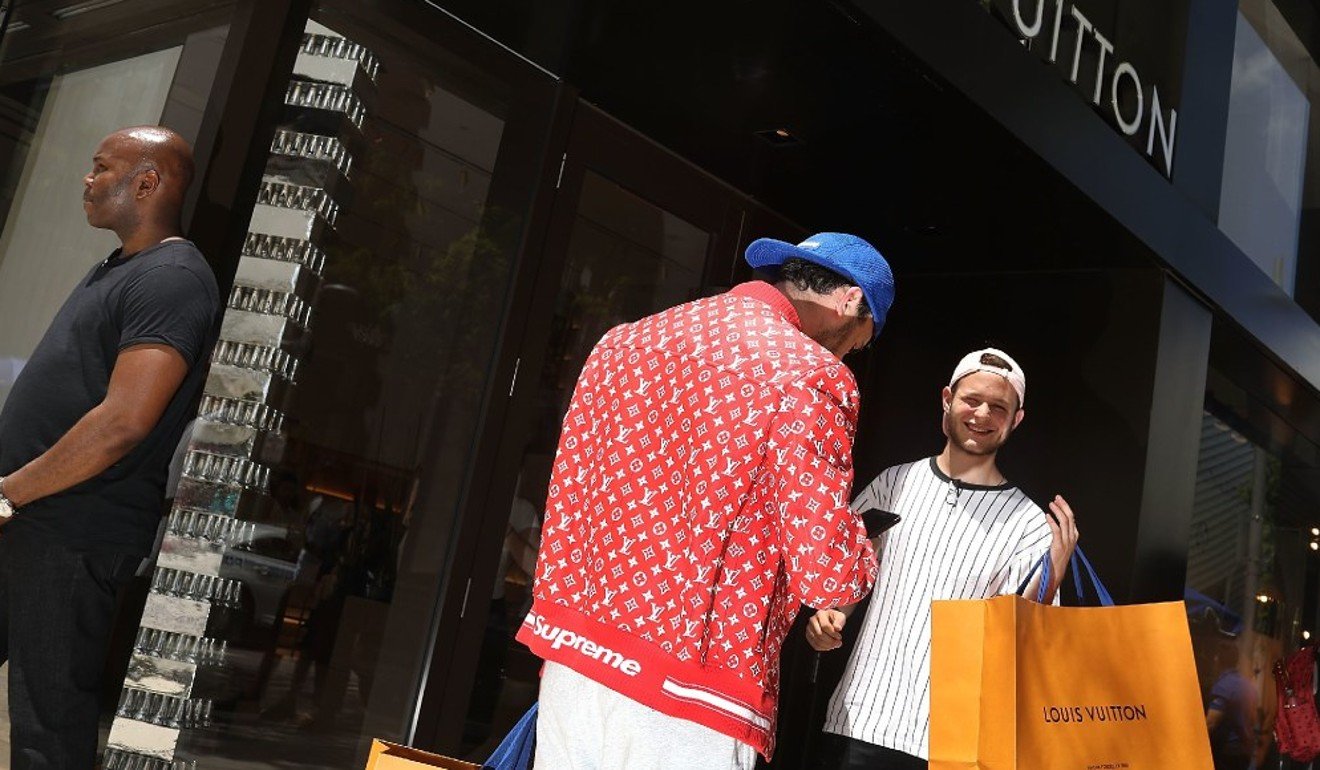 "These fakes act as substitutes for those that aren't emotionally invested in Supreme, but rather, those pursuing the look without paying full price," says the team at Hypebeast.
"This, however, does not impact the brand value in the slightest, as seen in the abundance of resellers in the secondary market."
Although Supreme has earned its fame through exclusivity, the ubiquity of its products – both fake and real – in China has not tarnished the brand's cool factor, at least for now. The frenzy remains, but perhaps only until the next fad arrives.
This article appeared in the South China Morning Post print edition as: even Fakes fail to tarnish cult brand's cool factor