Beauty
Get more with myNEWS
A personalised news feed of stories that matter to you
Learn more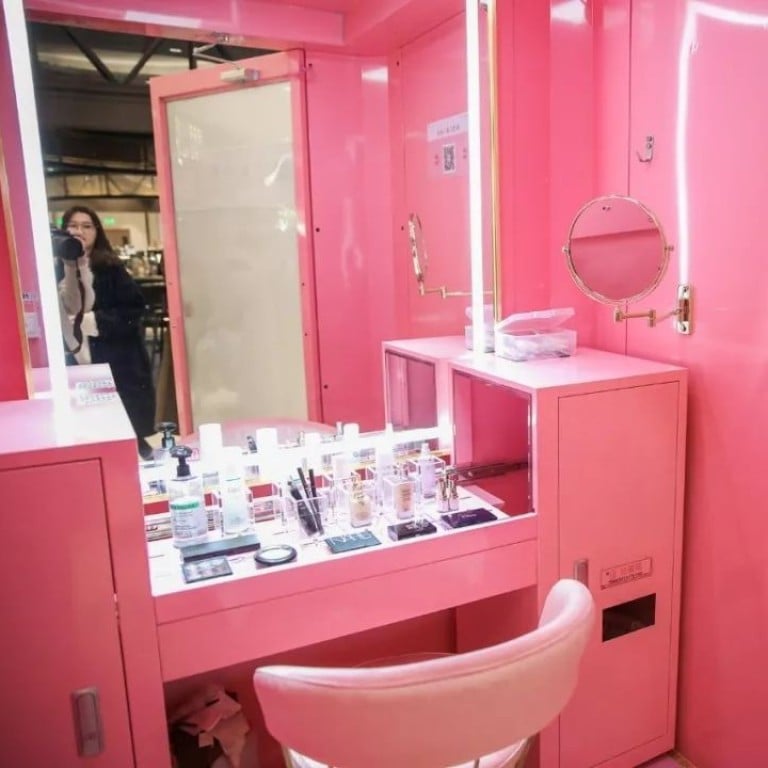 China's sharing economy now includes make-up, but hygiene doubts are hard to brush off
Shareable make-up booths, where customers pay 28 yuan (US$4) for a 15-minute session, can now be found in shopping malls across the country
But critics wonder how much bacteria is also being shared given the country's uncivilised use of other shared products
After sharing bikes, portable chargers and karaoke rooms, China is taking the concept of the sharing economy one step further with shareable make-up.
Shareable make-up booths can now be found in shopping centres in Beijing, Shanghai, Guangzhou, Hangzhou and Wuhan under the name "17 Beauty Box".
When a customer steps into the pink cubicle and scans a QR code on the wall, the transparent glass door behind them turns opaque and the glass cabinet in front of the mirror dramatically opens to reveal a collection of make-up products.
From Nars bronzers to Dior foundations, the products cover a wide range of brands, and together are worth around 4,000 yuan (US$600). Customers pay 28 yuan for a 15-minute session in the booth, or 58 yuan for 45 minutes if they need more time.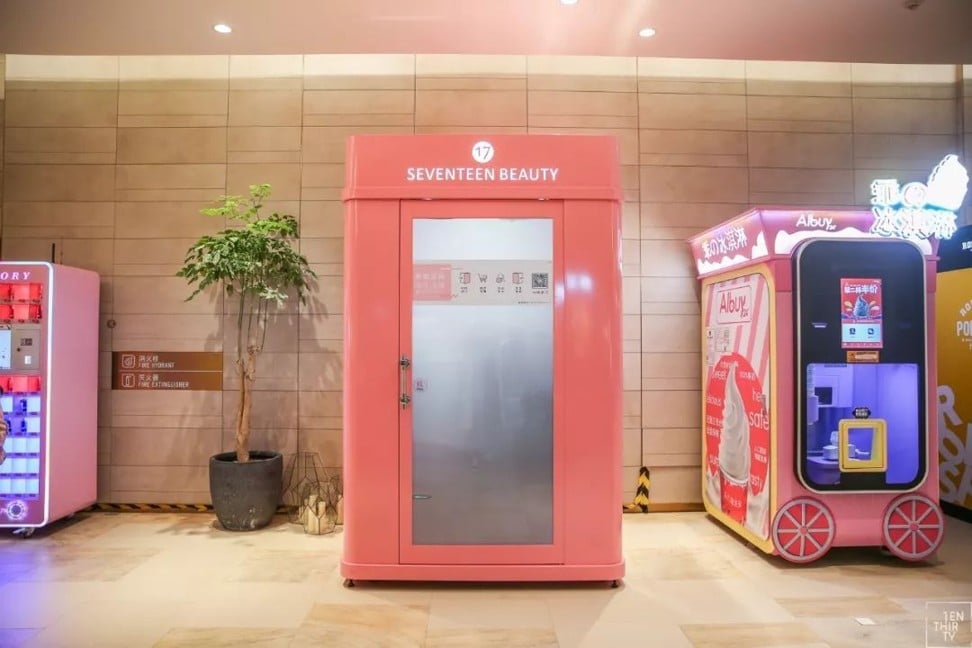 Disposable hygiene products are available for users if they want to make sure everything is clean before use.
While the sharing economy has taken off in China in recent years, it has also faced challenges, mainly because of uncivilised use of shared products and various mismanagement issues.
The proliferation of the make-up pods quickly sparked online discussions over whether sharing cosmetics products with strangers is hygienic.
"Is this sharing cosmetics or sharing bacteria?" vlogger SamChak wrote on Chinese microblogging platform Weibo while showing a booth in Shanghai that had run out of hygiene products as well as cosmetics.
"Products like highlighters, blush and contouring can't really avoid double-dipping," another blogger, A You, wrote on Chinese news sharing website Sohu. "Although disposable brushes can lower the risk of bacterial infection, you cannot guarantee everyone is using them in a civilised manner."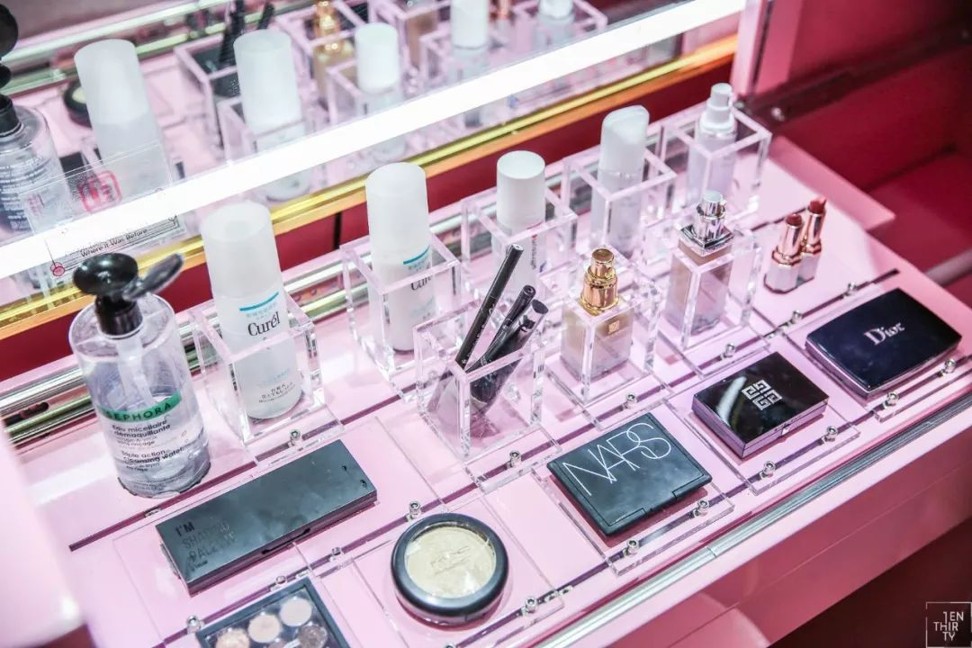 Dr Steven Loo King-fan, honorary consultant in dermatology and venereology at Gleneagles Hong Kong Hospital, thinks the concept is innovative. He says such booths are more hygienic places for people to do a touch-up than public bathrooms, but also warned of the possible health risks of sharing make-up products with others.
"Staphylococcus aureus is the most common [cause of] skin infection. When someone carrying these bacteria uses a brush to apply make-up, the bacteria will get transferred to the make-up container where it will grow," he says. "It is best to bring your own products to the booth for a touch-up."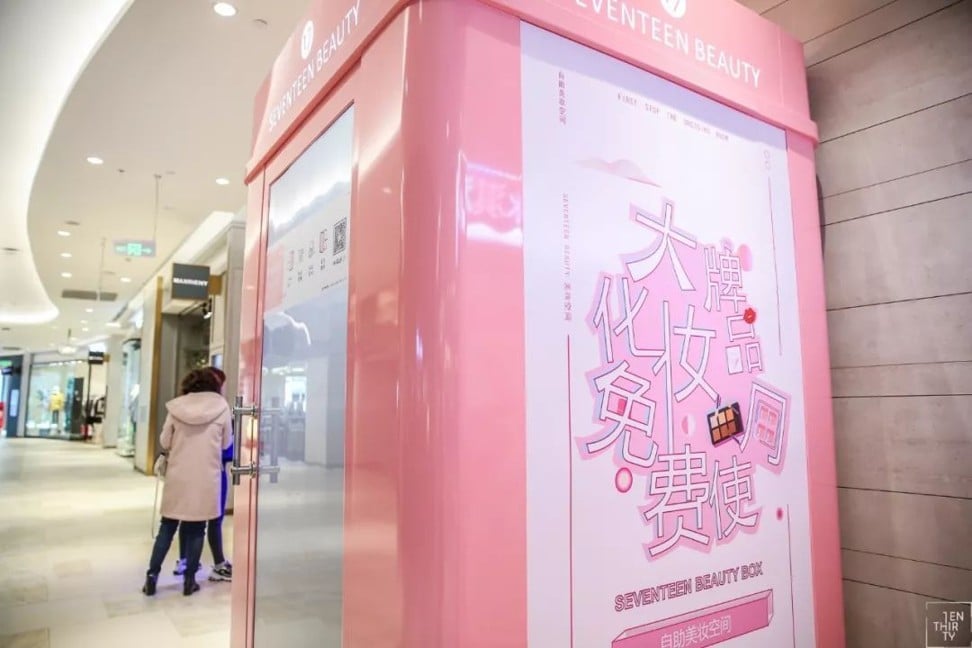 Responding to hygiene concerns, a customer service representative from 17 Beauty said the cosmetics were fixed to each booth's counter to prevent users from, for example, picking up lipsticks and applying them directly to their lips. The company also provides disposable applicators and displays instructions to users that they should use a new brush each time they apply a product.
But Cecilia Kuk Ling-chun, director of the Hong Kong Hair and Beauty Merchants Association and a beauty training specialist, says putting up instructions on the wall is not enough.
"The presence of a make-up specialist is crucial. It is not a cost you can save if [a company] wishes to make this work," she says.
To meet international standards of hygiene, make-up artists should use a new brush on each client and daub make-up on a colour plate before applying it to a client's face, Kuk says. Brushes need to be sanitised according to a standard procedure that involves soaking, washing, rinsing, drying and storing under ultraviolet light.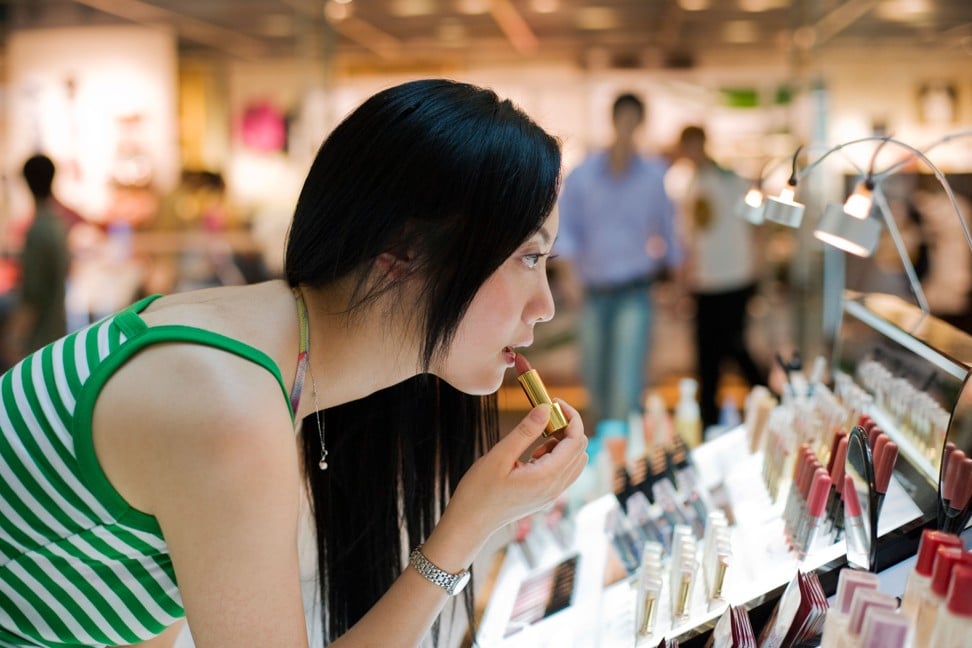 In countries such as the UK and France, make-up counters are always manned by shop assistants who apply the products for their customers rather than letting customers use their own hands. But this practice is not common in Hong Kong or China, as customers often far outnumber assistants, who also tend to avoid arguments with people who want to use the products themselves, Kuk says.
"The education should be both ways. The shop assistants should know what to do while customers should expect to wait and be served," Kuk adds.
"The idea itself is doable because sharing beauty products is not a new concept. We have always been sharing equipment and spaces when we go to beauty salons for facials and make-up services. The key is how you manage the tools and environment in between customers."
This article appeared in the South China Morning Post print edition as: No covering up the dangers of shareable make-up