Fashion
Get more with myNEWS
A personalised news feed of stories that matter to you
Learn more
Five emerging Australian fashion labels to look out for, from Bondi Born to Benjamin Garg
Fashion Week Australia won't feature many domestic brands with international recognition this year, so the spotlight has fallen on talented emerging designers
Hot newcomers to watch include surf line Double Rainbouu, swimwear brand Bondi Born and several recent fashion-school graduates
The Australian fashion industry is gearing up for its biggest catwalk event, Mercedes-Benz Fashion Week Australia (MBFWA), which will run from May 12-18 at Sydney's Carriageworks venue.
The biggest name of the week is American designer Jonathan Simkhai, who will unveil his Resort 2020 collection on May 13, using Sydney's Bondi Beach as the backdrop for his show.
Beyond a few local industry veterans such as Carla Zampatti, Alice McCall and Tigerlily swimwear – the latter to show at the event for the first time in 17 years – major Australian names with international resonance are a little thin on the ground this year.
Zimmermann has not shown in Australia in a number of years and seems dedicated to New York Fashion Week, as does Dion Lee. Ellery is in the process of winding up its Australian business, reportedly to move forward operating the business out of Europe.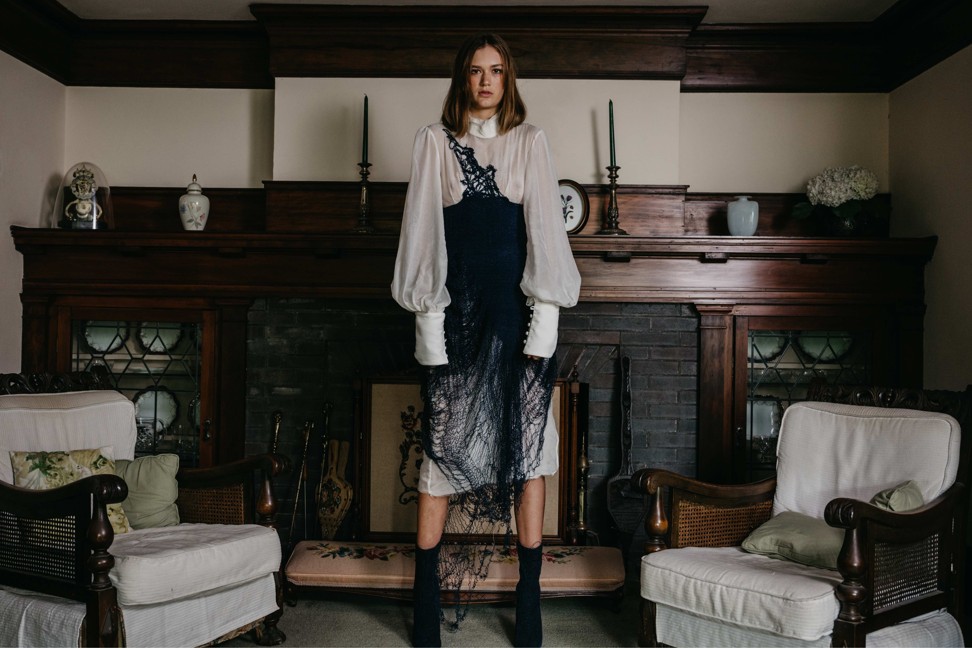 International celebrity favourite Bec & Bridge is on schedule, however, as are hot newcomers such as Albus Lumen, which was a finalist for this year's International Woolmark Prize, buzzy surf line Double Rainbouu and two of Australia's top new swimwear brands, Matteau Swim and Bondi Born.
The latter two are among a slew of labels that are showing at the event for the first time this year. A number will feature in the New Generation show, a showcase for emerging designers that has been a key component of MBFWA since its inception in 1996.
It has launched the careers of among others, Bec & Bridge, Sass & Bide, Akira Isogawa and camilla and marc. Here are five labels to watch out for at the event.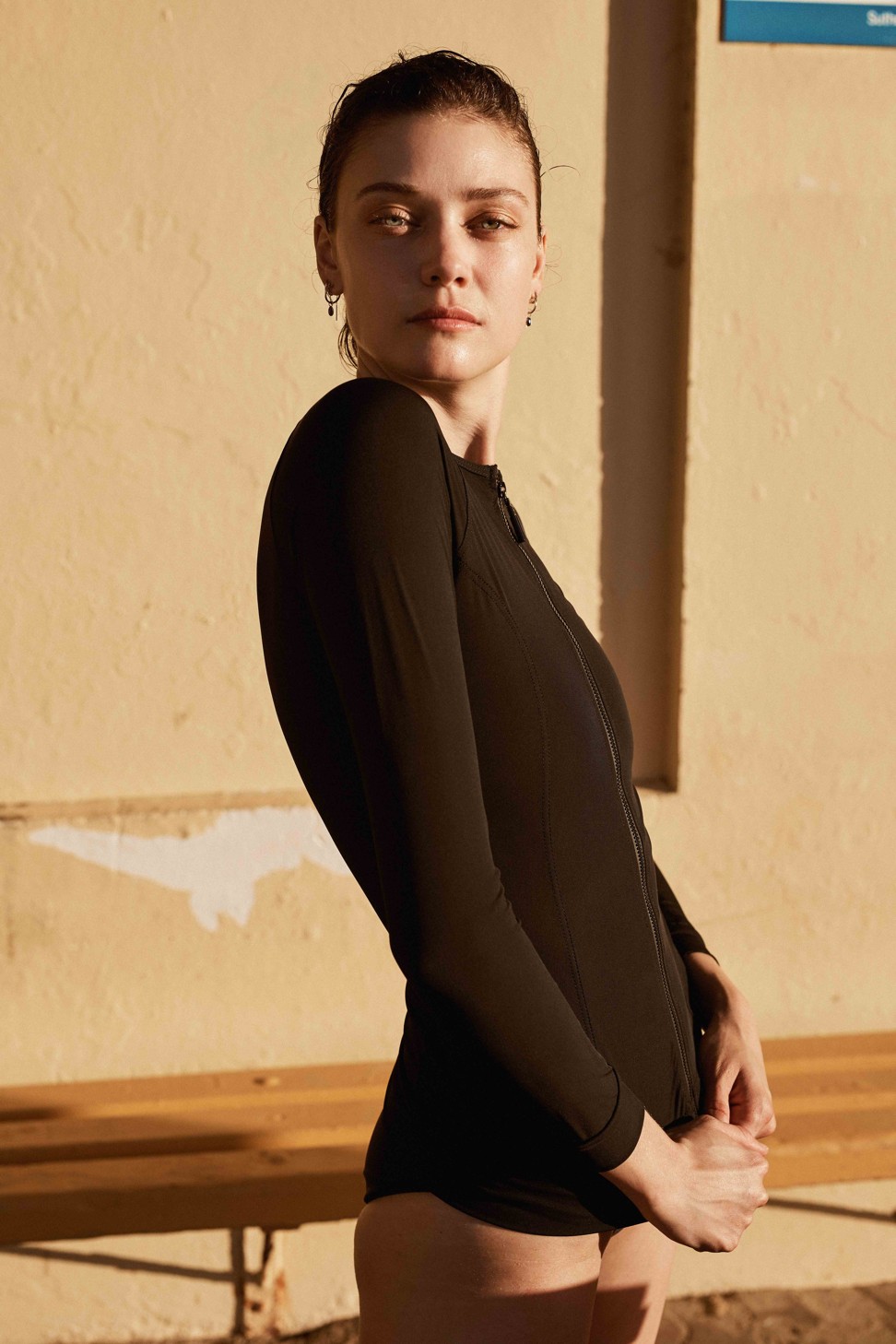 1. Bondi Born
Launched in 2015, luxury swimwear line Bondi Born might meet the criteria for what constitutes an "emerging brand" – being in the first five years of business.
But with several wholesale stockists, including London's Harvey Nichols and Australia's David Jones department stores, its own e-commerce sites and warehouses in Australia, the United States and Europe, and a projected A$2 million (US$1.4 million) turnover for the 2019 financial year, it's a juggernaut compared to some of MBFWA's other first-time participants this year.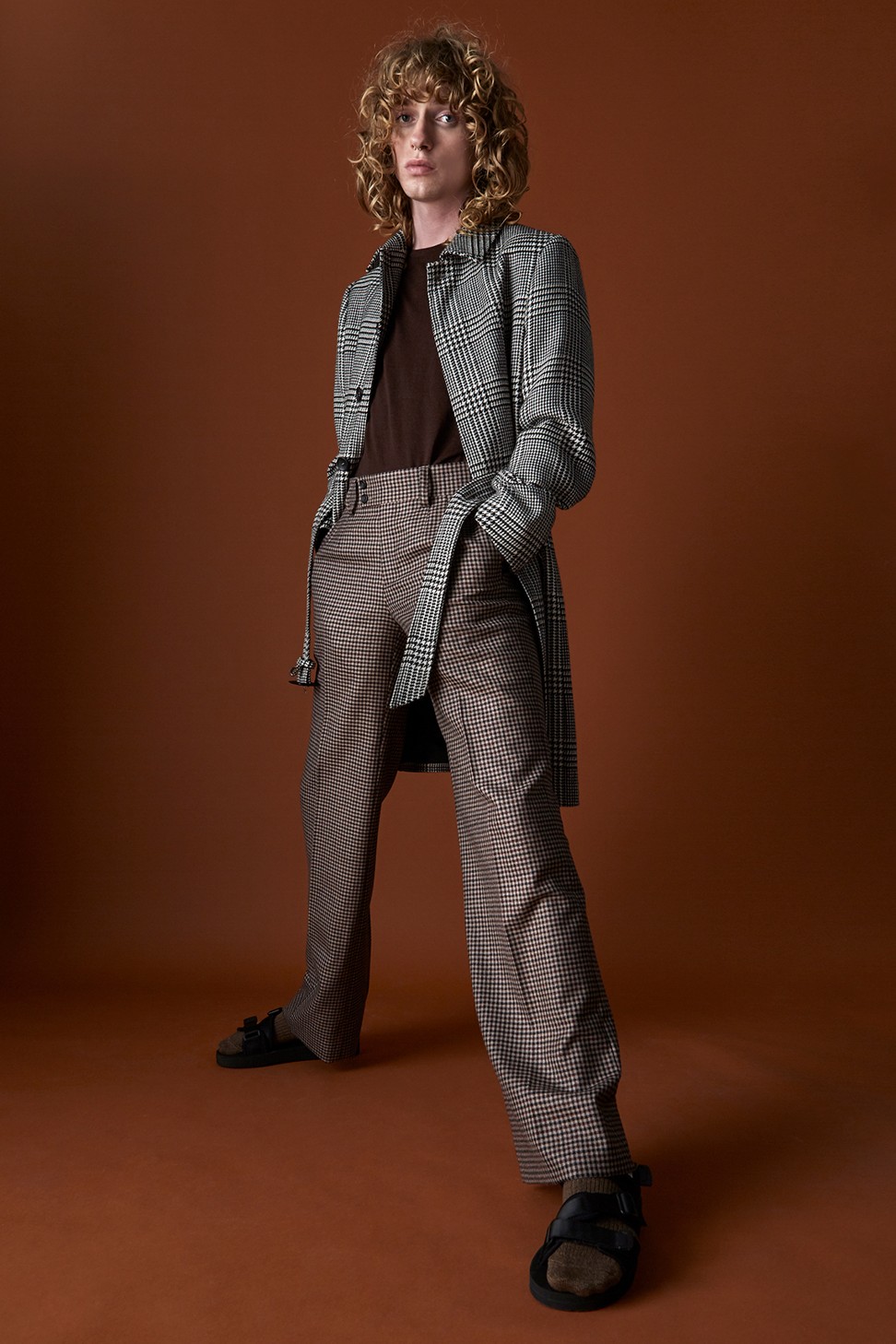 Its Sydney-based founder and CEO, Dale McCarthy, is a former advertising and media executive and venture capitalist who swapped the corporate world for fashion after spotting a gap in the market for luxury swimwear.
She had the resources to make 1,000 units for a first trial season in 2015 and ship them to a UK warehouse to offer to international e-commerce sites. They sold out in six weeks and the brand turned over A$500,000 sales in its first year.
Manufactured in Australia, Bondi Born's swimwear has a sustainable focus and uses premium, Oeko-Tex certified fabrics such as its proprietary "Sculpteur" fabric that was developed in Italy, as well as custom prints and trims.
The brand produces a range of swimwear, including rash guards and bikinis – the latter seen on celebrities such as model and actress Kaia Gerber – but is noted for its sculptural one-pieces, which range in price from A$240 to A$300 (US$168-210) and make up 60 per cent of its sales.
McCarthy will unveil a capsule resort collection during Bondi Born's May 14 show at MBFWA, designed by new creative director Karla Clarke, a former fashion editor-at-large for Harper's Bazaar Australia, who joined the company in December.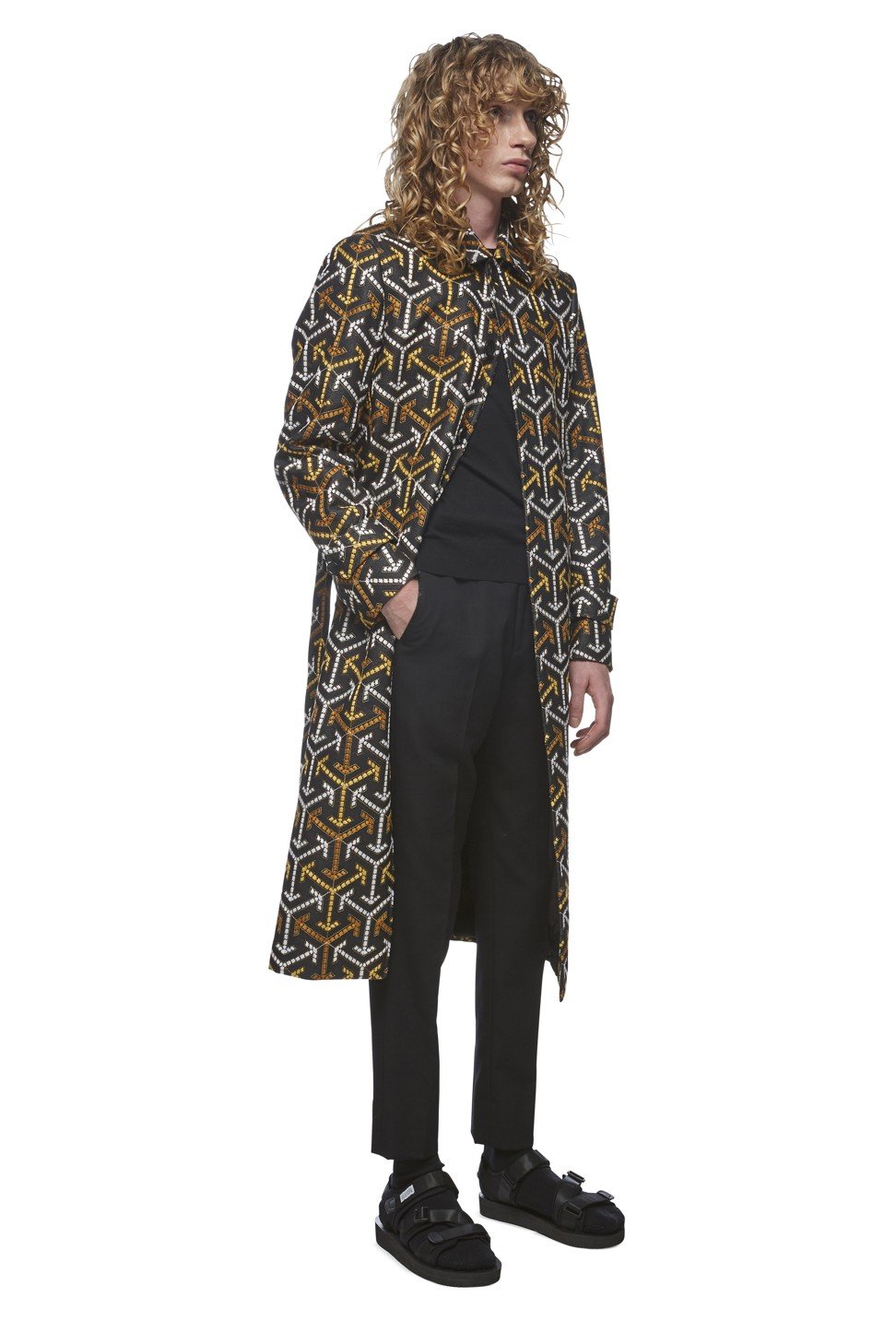 2. Mndatory
Melbourne menswear designer Brian Huynh may not have won the 23rd edition of the National Designer Award, presented at the Melbourne Fashion Festival in March, but considering previous winners have included Dion Lee, Josh Goot and Toni Maticevski, the nomination alone marks him out as one of Australia's more interesting new designers.
The son of Vietnamese refugees, Melbourne-born and-raised Huynh launched his brand in 2016 after graduating with a bachelor's degree in fashion design from Melbourne's Whitehouse of Design. While studying, he worked part-time for a Melbourne tailor for seven years.
A year after launching ready-to-wear menswear label Mndatory he opened his own boutique in Melbourne's new St Collins Lane development on Collins Street in the city centre which provides a made-to-measure service.
Huynh is known for his bold prints and a contemporary take on classic tailored silhouettes. Tailoring is a focus of the brand, accounting for 75 per cent of Mndatory's business, with made-to-measure accounting for 55 per cent of the overall business.
"If global sales give any indication, menswear is definitely an increasing market," says Huynh, who is looking to his MBFWA debut to establish a wholesale network. Currently he sells exclusively through his bricks-and-mortar store and e-boutiques.
"For us it's about gaining a bit more market exposure, increasing our brand equity and getting our name in front of people we wouldn't otherwise have had the opportunity to."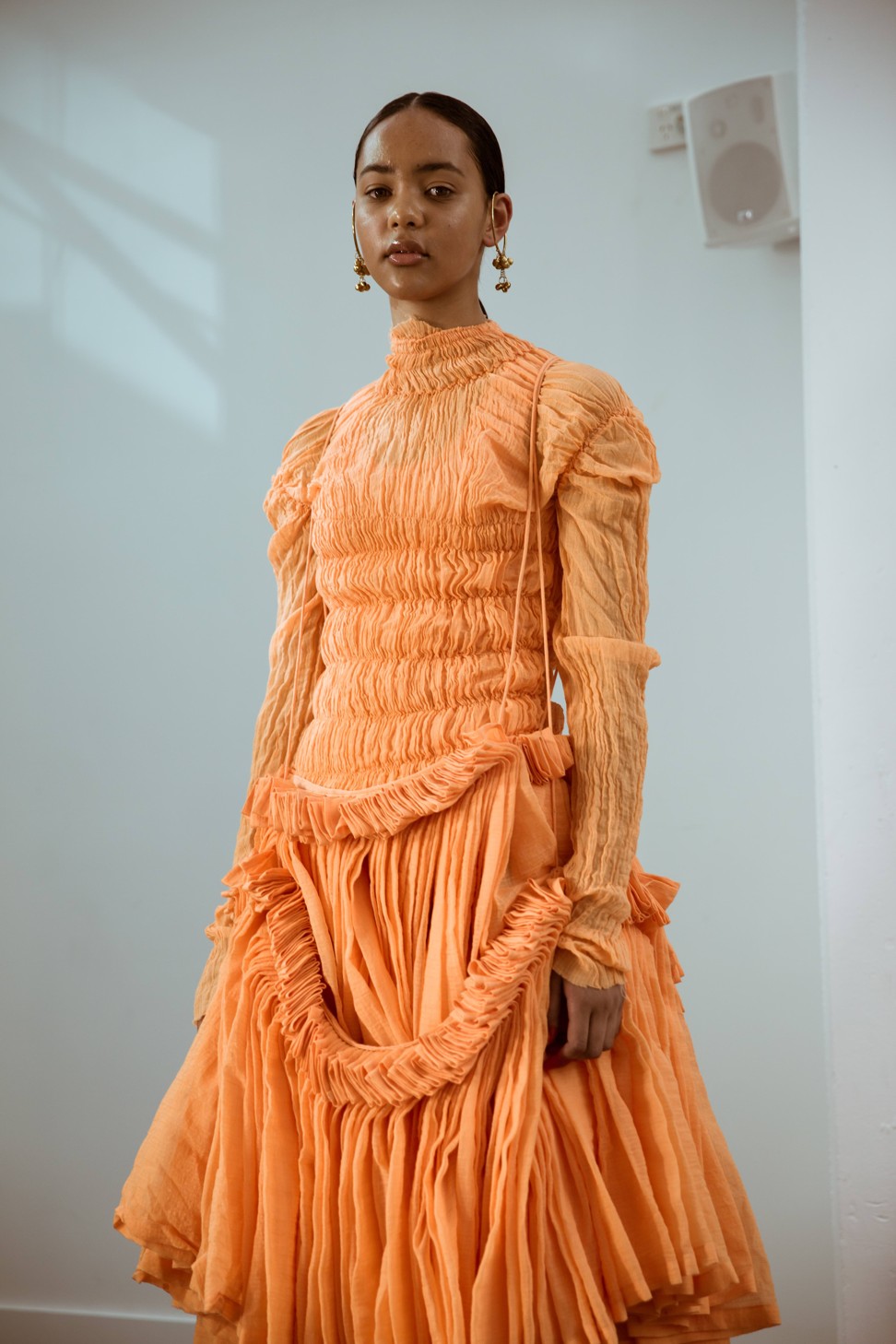 3. Benjamin Garg
Indian migration to Australia has jumped 30 per cent since 2016, making India the third biggest source of migrants after Britain and China, according to Australian Bureau of Statistics figures. The number of Indian students also rose to a seven-year high last year.
Originally from a village called Mudki in Punjab, but now based in Melbourne, Benjamin Garg completed his bachelor's degree at Annamalei University in the southern Indian state of Tamil Nadu, and graduated from RMIT, Melbourne, with a master's degree in fashion design in late 2018, since when he has attracted quite a bit of attention.
Garg's RMIT graduate collection, Doria, which will feature in MBFWA's New Generation show, features Victorian silhouettes with intricate pleating and ruching in vibrant colours, made using Kota doria sari fabrics woven on hand looms in Rajasthan, India.
The catwalk show at MBFWA will be the collection's third outing in as many months. In March, Garg was among 12 finalists selected to appear in the National Graduate Showcase at the Melbourne Fashion Festival, and in April he appeared as a finalist at the A-Z Files Fashion Awards in Adelaide, South Australia.
Garg is selling clothes on a made-to-order basis to private clients in Australia and Denmark, but is developing production in India for a ready-to-wear line, which he plans to launch soon.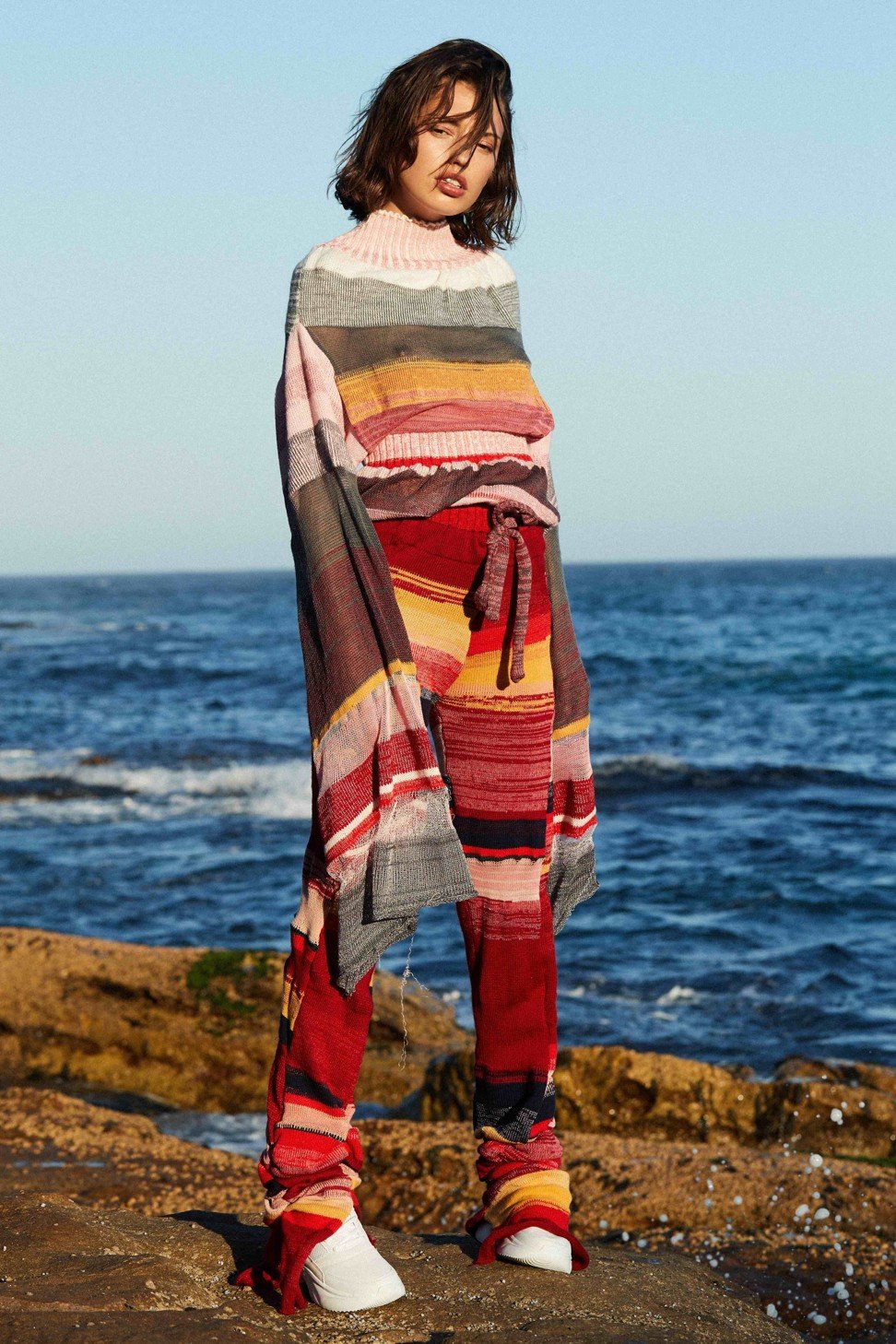 4. Chloe Mottau
Another designer interested in Indian artisanry is Chloe Mottau, who graduated from the University of Technology Sydney (UTS) in 2018 and is working as a design assistant at Sydney fashion label Pol Clothing. Having earmarked a production company in Sydney, Mottau is also making plans to launch her own brand soon.
Mottau hopes to pursue her collaboration with artisans in India's Kullu Valley, where she developed several woven tailored pieces for her sport luxe UTS graduate collection "Unravel", which she will show in the MBFWA New Generation show.
Hand-woven natural textiles, knitwear and sustainability are key areas of focus for Mottau, with knitwear accounting for 60-70 per cent of her graduate range. Highlights include a series of knitted striped lingerie pieces, oversized jumpers and track pants in bold colours.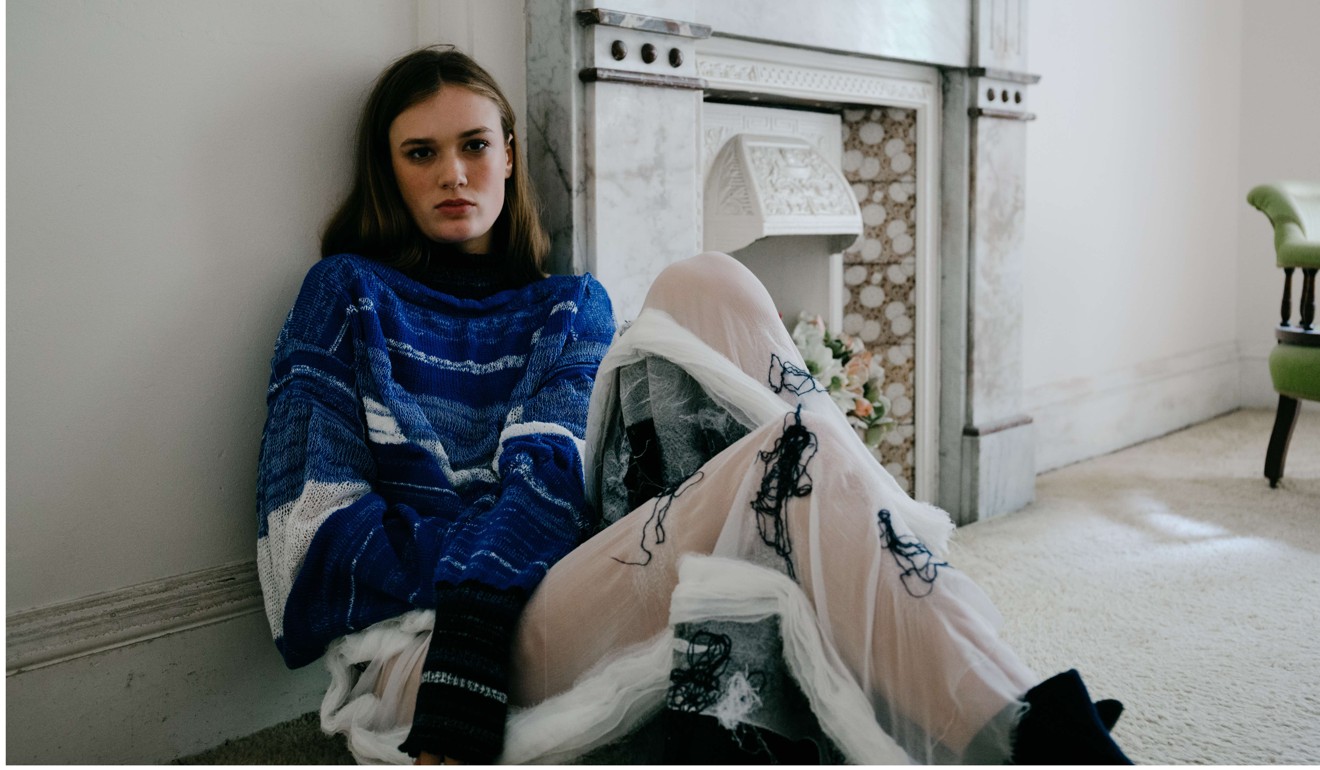 5. Madison Hislop
Of the other recent graduates in MBFWA's New Generation show, Madison Hislop (who graduated from UTS in 2018) is the least likely to be launching a business any time soon.
Later this year she is due to embark on a further two years of study in New York at Parsons School of Design, after winning a scholarship to do a master's degree there.
Evidently Parsons was impressed with Hislop's graduate collection "In Love", which is what she'll be showing at MBFWA.
Inspired by the character Miss Havisham in Charles Dickens' classic Great Expectations, the collection consists of 10 looks fashioned from wool and silk that feature hand-dyeing, deconstructed knitwear and dry felting.
Like a number of well-known Australian designers, such as Nicky Zimmermann and Dinosaur Designs' founding partners Louise Olsen, Stephen Ormandy and Liane Rossler, who all started out in business with stalls at Sydney's Paddington markets, Hislop made and sold her own women's fashion line, called Bear + Bare, at the Glebe and Bondi markets for several years before starting at UTS.
With that line discontinued, for the moment she wants to absorb as much as possible from her time at Parsons and hopefully, some New York internships, before launching a new brand.
Of the honour of being picked to show at MBFWA, she notes: "For me it's an incredible opportunity to show alongside some really established labels and hopefully learn something and to expand my network – and slowly make my way into the industry."