Fashion
Get more with myNEWS
A personalised news feed of stories that matter to you
Learn more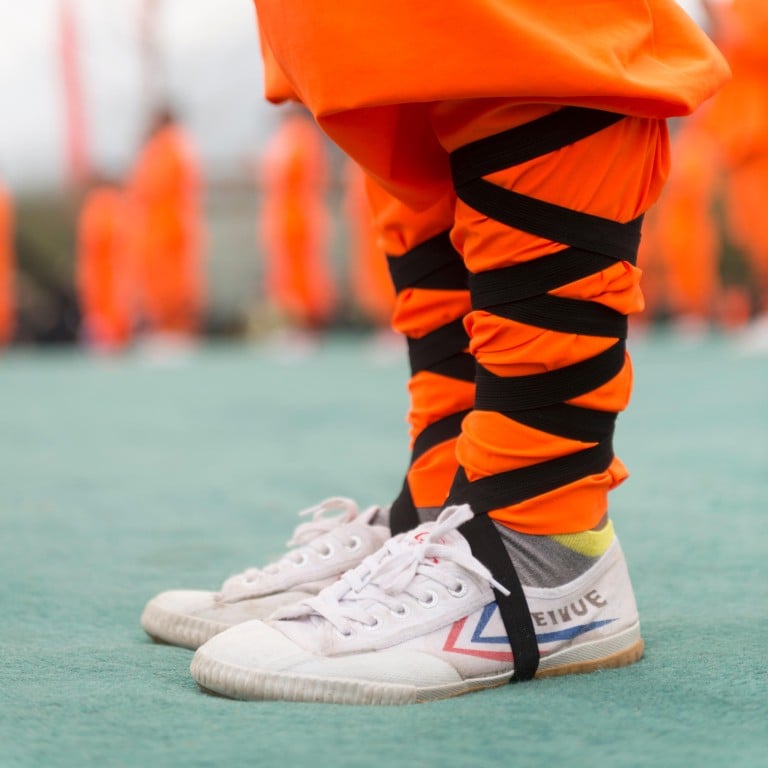 How China's Feiyue sneakers, shoes of Shaolin monks, are making a comeback
Traditionally the go-to footwear of Shaolin monks, Chinese Feiyue sneakers are seeing a resurgence thanks to Gen Z's love of retro heritage brands
New stores have opened in Beijing as the Chinese brand looks to differentiate itself from separate Feiyue brands in France, the US and elsewhere
Chinese sneaker brand Feiyue started out providing the go-to footwear for Shaolin monks; the shoes were lightweight, supportive and cheap.
Fast forward nearly 70 years and the martial art accessory has become a fashionable must-have – and the cause of multiple copyright disagreements. For the past year and a half, Beijing resident AJ Donnelly and his business partner Nic Doering have been working with the Shanghai-based brand to bring it back to its humble roots.
Donnelly's story starts like that of many who encounter Feiyue in Beijing: he stumbled upon the shoes when he started his martial arts training at the Shaolin Temple in Henan province in 2015.
The shoes, which were also a staple of the martial arts performers at the 2008 Beijing Olympics, are made using recycled rubber from the Shanghai Da Fu Rubber tire factory. Their Chinese name means "to leap" or "to fly over", though its slogan "flying forward" will be more familiar to people in the West.
In 2016, Donnelly and Doering launched a company called Cultural Keys to help foreign students in China learn about traditional Chinese culture. It included martial arts programmes conducted in partnership with the Shaolin Temple and Feiyue shoes were part of the students' training outfits. It soon became clear, however, that they would need a greater supply.
"All of the students who were with us were saying, 'Wow, these shoes are so cool, they're so hip, where can we get more?'" Donnelly says.
After discovering that few sports apparel stores in Beijing actually sold Feiyues, Donnelly contacted Da Fu to determine whether they could resell the footwear in their cultural centres in Beijing.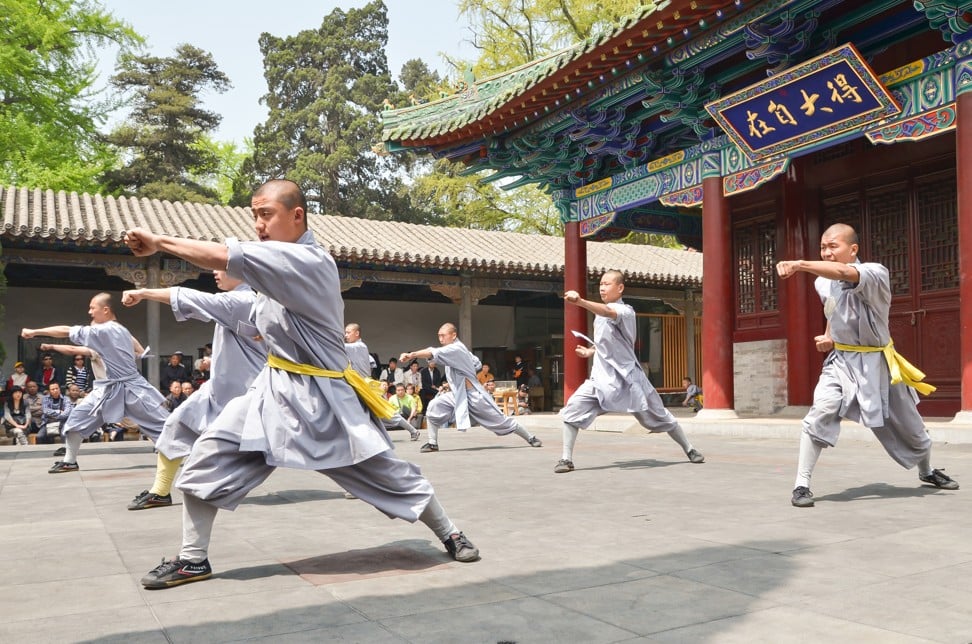 "They basically said the same thing that the Shaolin Temple told us: they said, 'We'd love to do this *[as] we don't have easy access to orders from an international market, so if you could help us by stocking our shoes … we'd love to work with you,'" Donnelly says.
From there, Donnelly says he and his team opened a shop in Beijing called the CK Culture Boutique (now located in the Songzhuang Art District in Beijing's Tongzhou district) where they sell the shoes, along with Chinese calligraphy, kung fu clothes and other cultural products.
Most of Donnelly's customers are tourists who find the shop through TripAdvisor or Google. But the Feiyue shoe has also been making a comeback in the Chinese market thanks to a surge in interest in all things retro, especially among Gen Z consumers.
 The company, buoyed by this interest in "Made in China" heritage brands, has expanded its range of the shoes, as well as its consumer engagement strategy.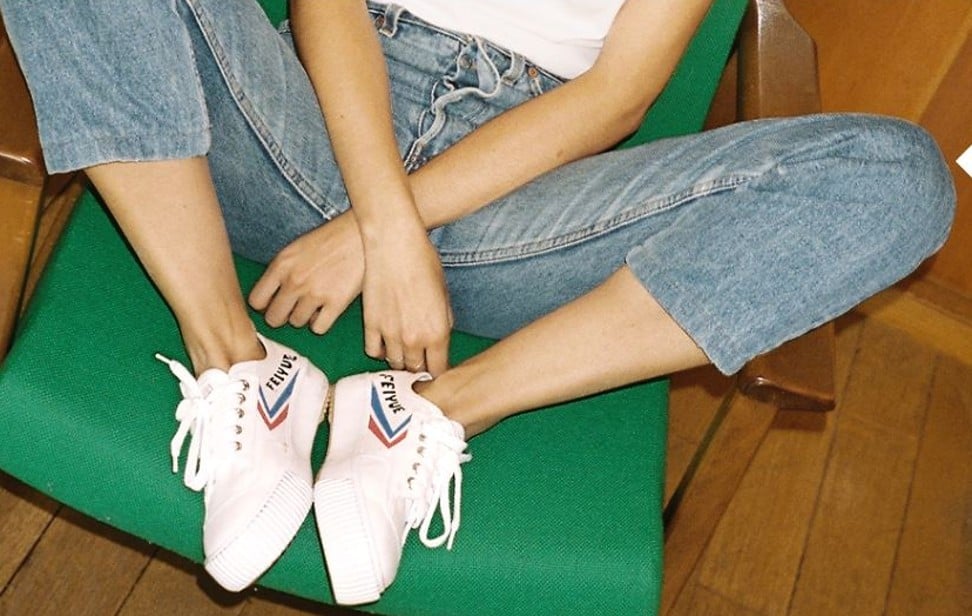 "I've noticed wherever I go I see more and more young Chinese people wearing them on the subway, and just going down the streets," Donnelly says. "But I see older people as well who just pop into the shop when they're walking past who say, 'Oh my gosh, I was wearing these when I was 10 years old and it's amazing to see them here now.' It's great to hear both sides of that."
The increasing popularity of Feiyues can sometimes pose challenges for Donnelly's boutique. Da Fu makes around 150 styles of the shoes, but change out styles yearly depending on Chinese tastes.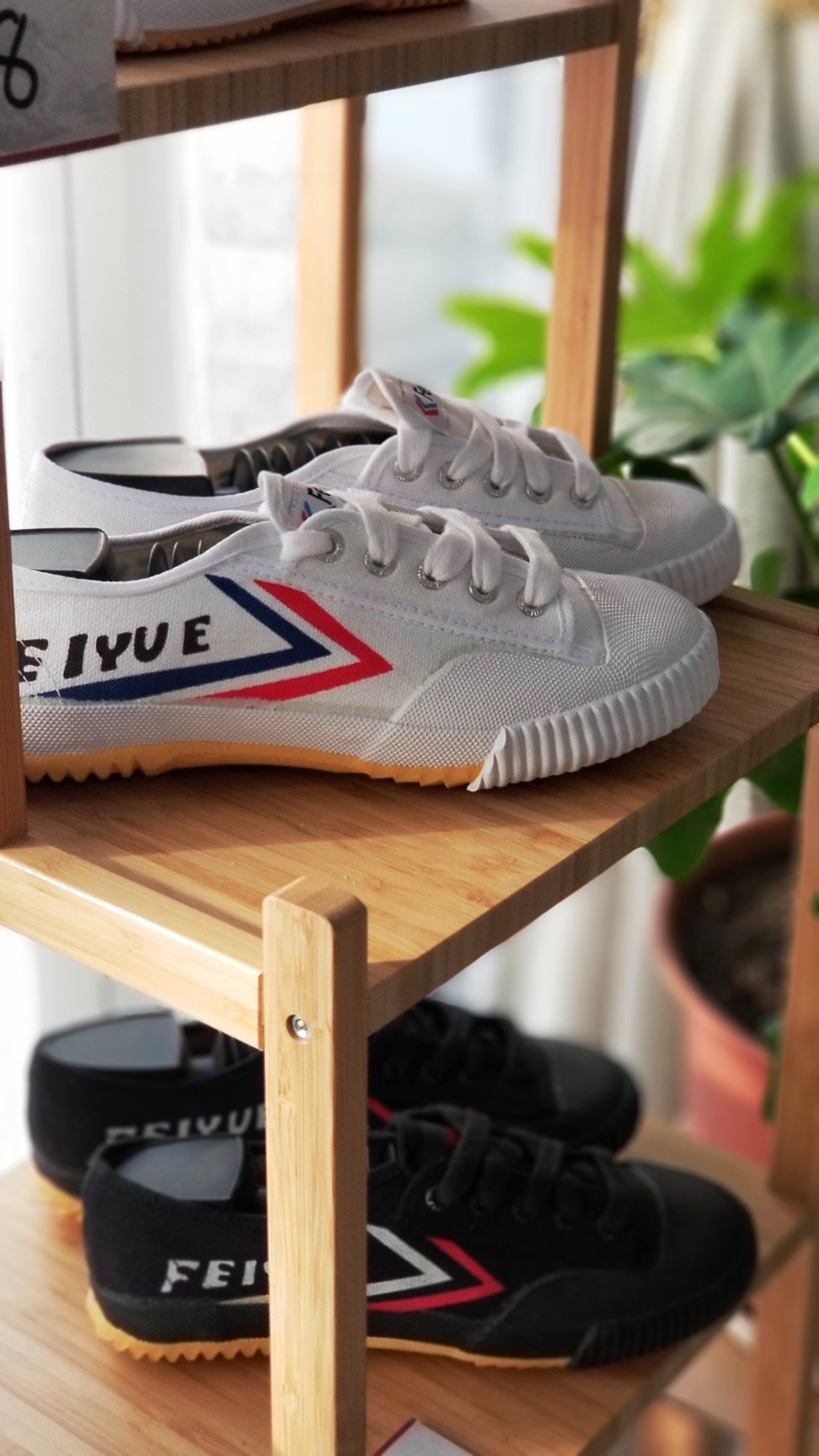 "The Chinese consumer likes very bright and colourful styles, even rainbow-coloured shoes, whereas we see the most popular ones [among Western shoppers] are the most basic … very simple. Grey mid tops with a black line going through them are a number-one bestseller for us, but they're not popular with the Chinese shopper. So Feiyue will stop making them after a year."
Sometimes the range of colourful styles on offer can be confusing for those unfamiliar with Feiyue's complicated brand story.
In 2006, a French marketing and events manager living in Shanghai had the idea to create a hip, stylish culture around the shoe. He bought the brand registration from a manufacturer in China and trademarked the name to sell them in France. Since then, not only has the French brand given Feiyues an updated, fresh look, it has attracted Western celebrities like Orlando Bloom and Poppy Delevingne, who once told W Magazine that she "lived in" the trainers.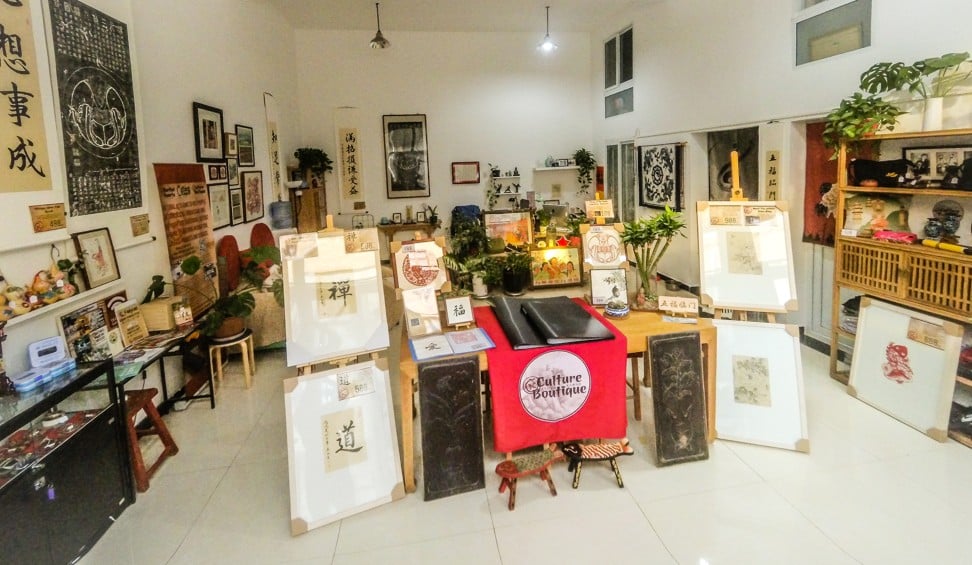 The Feiyue name has also been trademarked in Australia, New Zealand, South Korea and Taiwan – all separate entities from Shanghai Da Fu Rubber and its subsidiary Double Coin, which took over manufacturing the shoes in 1979.
There is also a US version of the sneaker company, headed by a Florida-based footwear firm called BBC International, which bought out the French brand in late 2014, according to new magazine Footwear News. In China, countless copies of both the Chinese and French versions of the Feiyue shoe are also available as the Chinese market still grapples with the protection of intellectual property rights.
For the moment, the Chinese Feiyue is carving out its own niche and recent years have seen the introduction of branded stores in Beijing.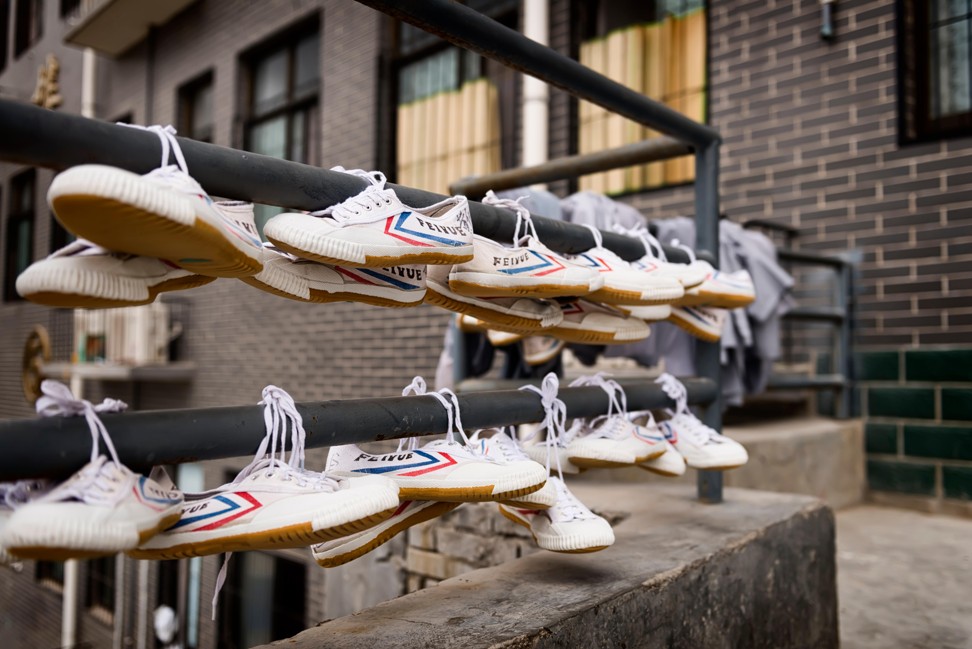 Donnelly believes his company is helping ground the flying footwear brand.
"We serve a very specific group of customers," Donnelly says, noting that his shop has one additional value for foreign travellers that they won't find at Feiyue's branded shops: its collection is available in extended sizes, up to a size 47. "And when people come to us, whether it's for classes or martial arts programmes, or for the shoes themselves, we always try and give as much of the story that we have from our point of view.
"We're not a tour company; we don't talk about modern China and these kind of things. We always take everything back to its roots."
This article appeared in the South China Morning Post print edition as: How a kung fu favourite gained traction