Fashion
Get more with myNEWS
A personalised news feed of stories that matter to you
Learn more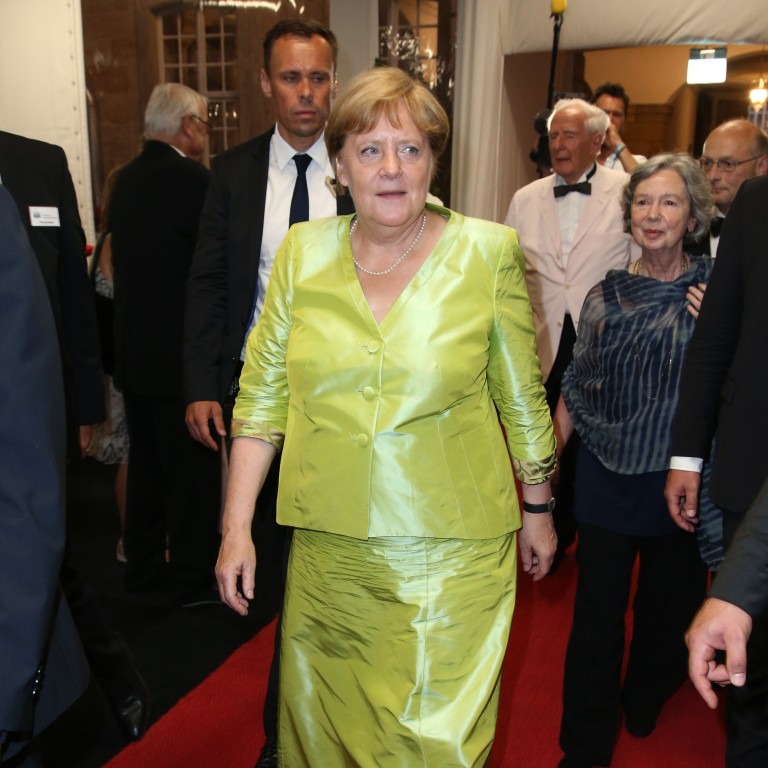 Angela Merkel's style evolution as one of the world's most powerful women
Not one to experiment with different silhouettes or adventurous outfits, Merkel has always liked to project a very low-key and practical image
As she gets ready to end her 16-year tenure at the top of the German government, we glance back at some her most well-known looks over the years
Back in 2013, the late Karl Lagerfeld, creative director of Chanel and Fendi and one of fashion's most recognisable figures, criticised the dress sense of Germany's Chancellor Angela Merkel.
When asked by German magazine
Focus
about Merkel's personal style, the German-born, Paris-based
Lagerfeld
said, "Miss Merkel [should dress] according to her special proportions. The proportions were bad, like the cut. The pants were too long." Lagerfeld was referring to an outfit Merkel wore to greet then US President Barack Obama in Berlin that same year.
Germany's first female chancellor, 66-year-old Merkel has been at the helm of the country since 2005, which makes her the longest-serving chancellor after Helmut Kohl.
Late last year, Merkel confirmed that she wouldn't be seeking another term at Germany's general election in September, ending her 16-year tenure as one of the most powerful leaders in the world.
Merkel's no-nonsense approach to governing, which has generally been praised both at home and globally, has reflected her practical take on fashion.
Not one to experiment with different silhouettes or adventurous outfits, she has always liked to project a very low-key and practical image, opting for sensible pantsuits in a variety of colours that are often the default uniforms for female politicians such as Hillary Clinton.
Little is known about Merkel's fashion choices – does she work with a stylist? Are her suits custom made? – but according to German media, her jackets are from German designers Bettina Schoenbach and Anna von Griesheim.
She tends to eschew accessories such as handbags, although she has been pictured carrying bags from French brand Longchamp, known for its affordable and functional totes.
In 2019, Merkel made a rare comment about fashion and politics in an interview with Die Zeit. "It's no problem at all for a man to wear a dark blue suit for a hundred days in a row, but if I wear the same blazer four times in two weeks, that leads to letter-writing from citizens," she told the publication.
Merkel's approach to everyday dressing echoes that of male politicians such as
Barack Obama
.
"You'll see I wear only grey or blue suits," Obama said about his fashion sense, or lack thereof, in a 2012 interview with glossy Vanity Fair. "I'm trying to pare down decisions. I don't want to make decisions about what I'm eating or wearing. Because I have too many other decisions to make."
As Merkel gets ready to end her career at the top of the German government, we take a look at her style evolution throughout the years.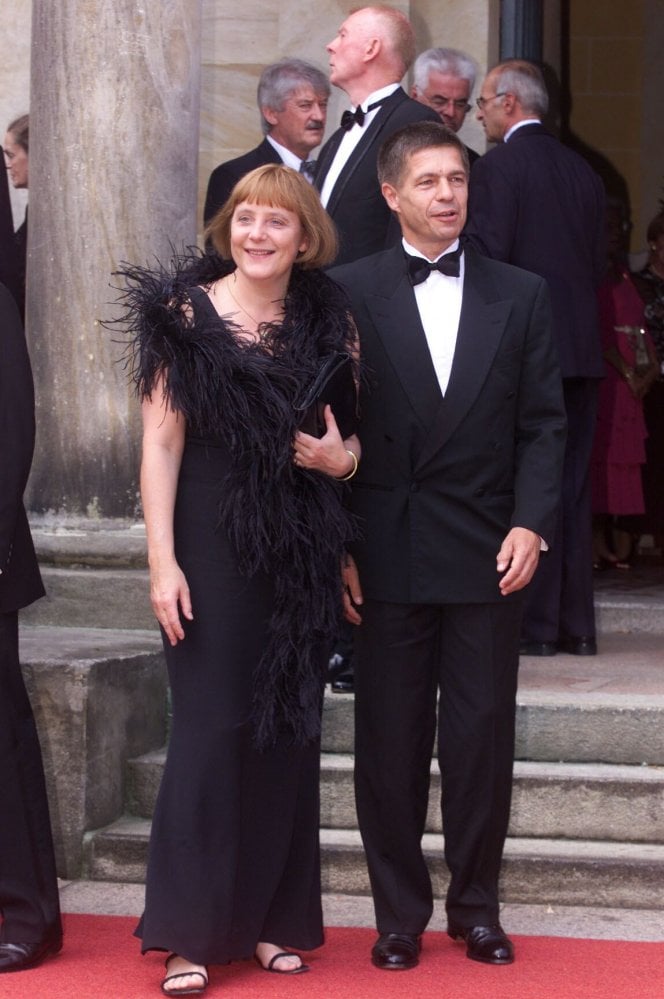 In one of her earliest public appearances back in 2001, Merkel looked quite glamorous in a black dress paired with a matching feather boa. Her haircut, a slightly unruly bob, was also quite different from the shorter crop of her years as chancellor.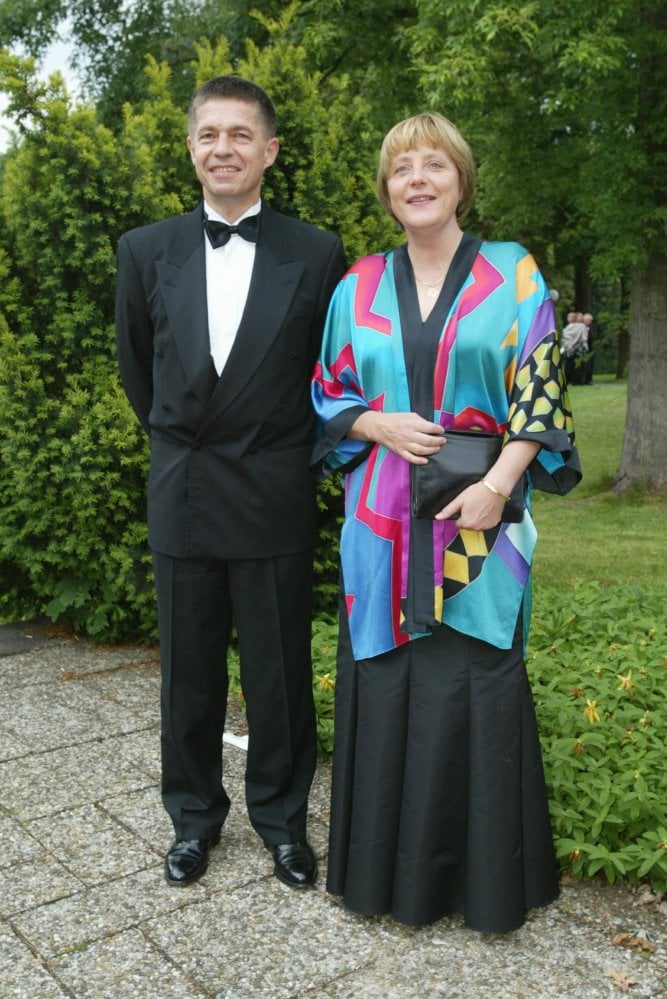 The following year, also accompanied by her husband Joachim Sauer, Merkel, who is generally not a fan of bold patterns, made an unusual choice for another public outing, pairing a black skirt with a kimono-style jacket in a multicolour print.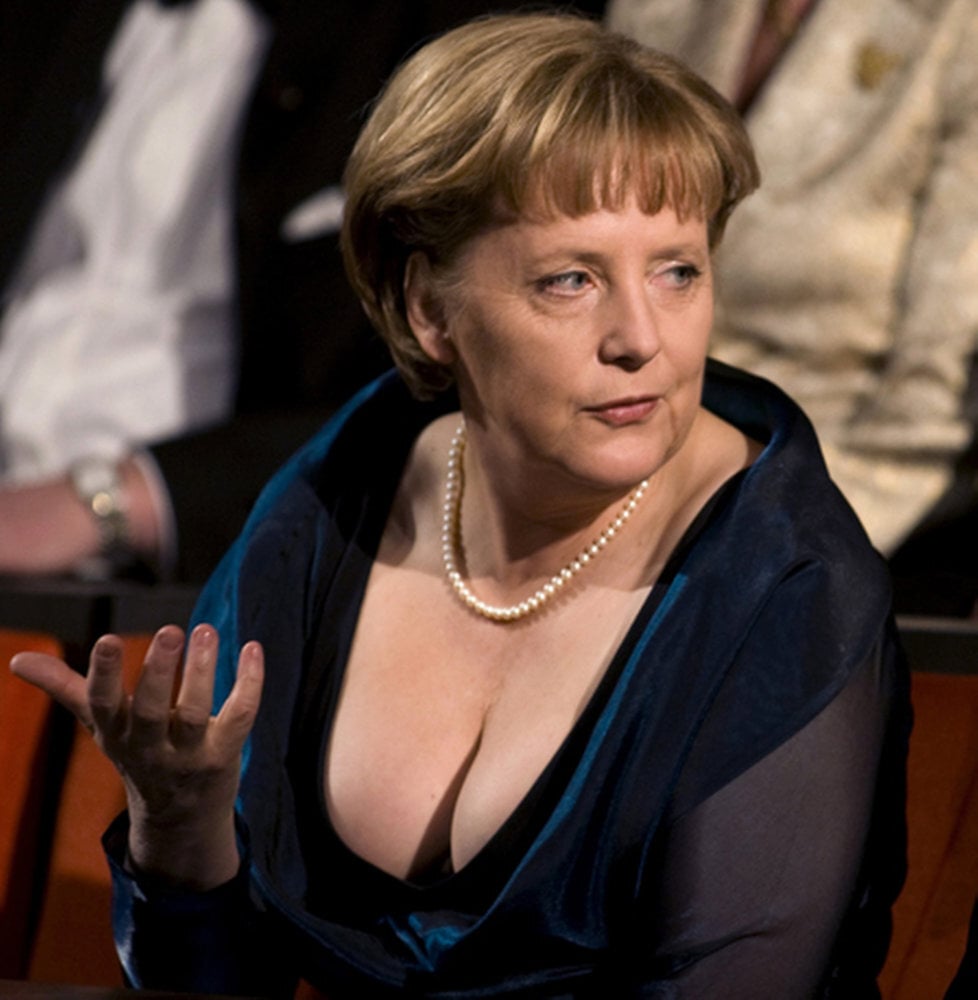 Merkel made headlines for the deep cleavage of her gown at the inauguration of the Oslo Opera House in April 2008. "The chancellor was rather surprised that her evening dress caused such a commotion," her spokesman Thomas Steg said about the ensuing uproar. "But what can you do if the world has nothing more important to do than to talk about an evening gown?"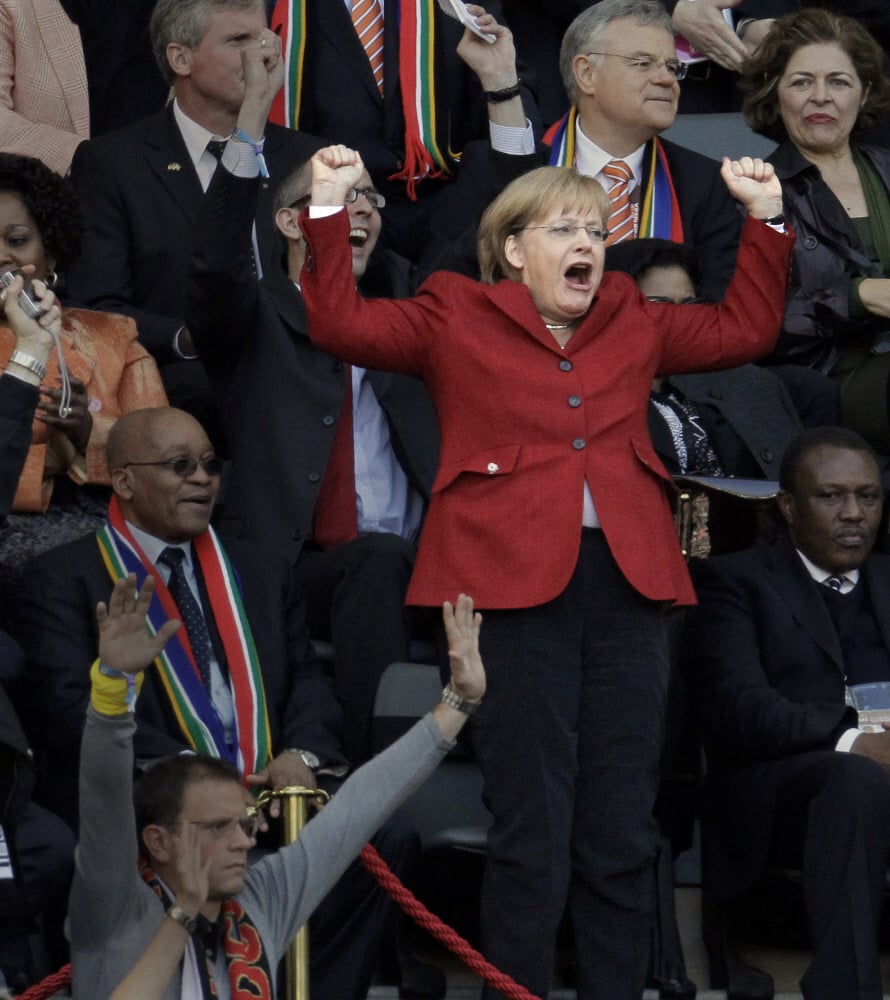 Merkel rarely lets her guard down, especially while under the spotlight, but at a 2010 World Cup quarter-final soccer match between Argentina and Germany at the Green Point stadium in Cape Town, South Africa, she didn't let her tailored look keep her from jumping in celebration after Germany's Thomas Mueller scored a goal.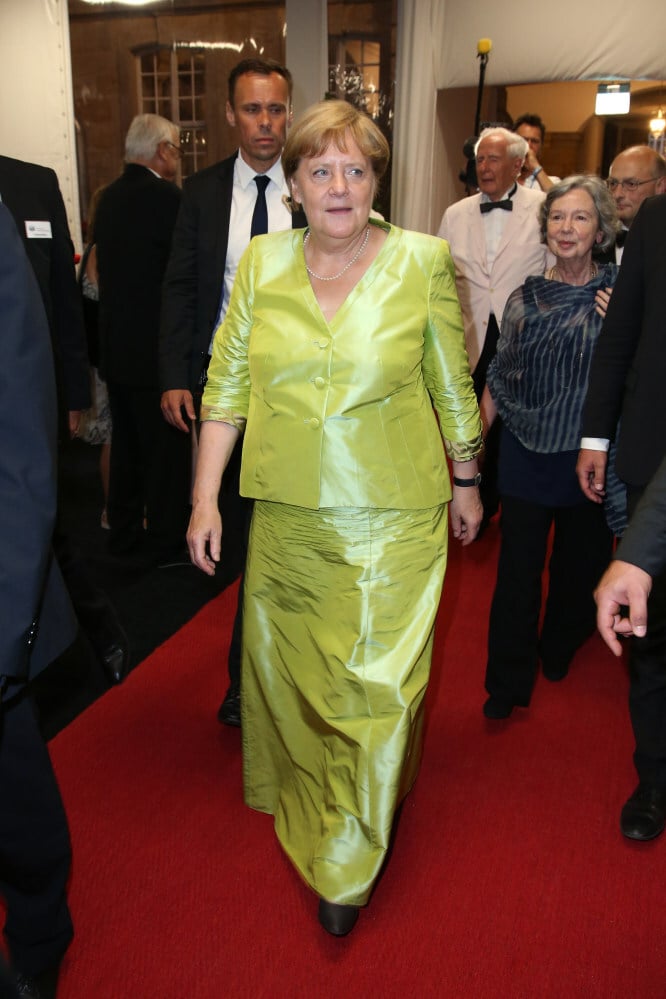 Even for glamorous red-carpet events, such as this reception at the Bayreuth Festival in 2019, Merkel loves nothing more than a well-tailored jacket. Instead of her customary pants, however, she dressed up for the occasion by pairing the yellow taffeta jacket with a matching long skirt.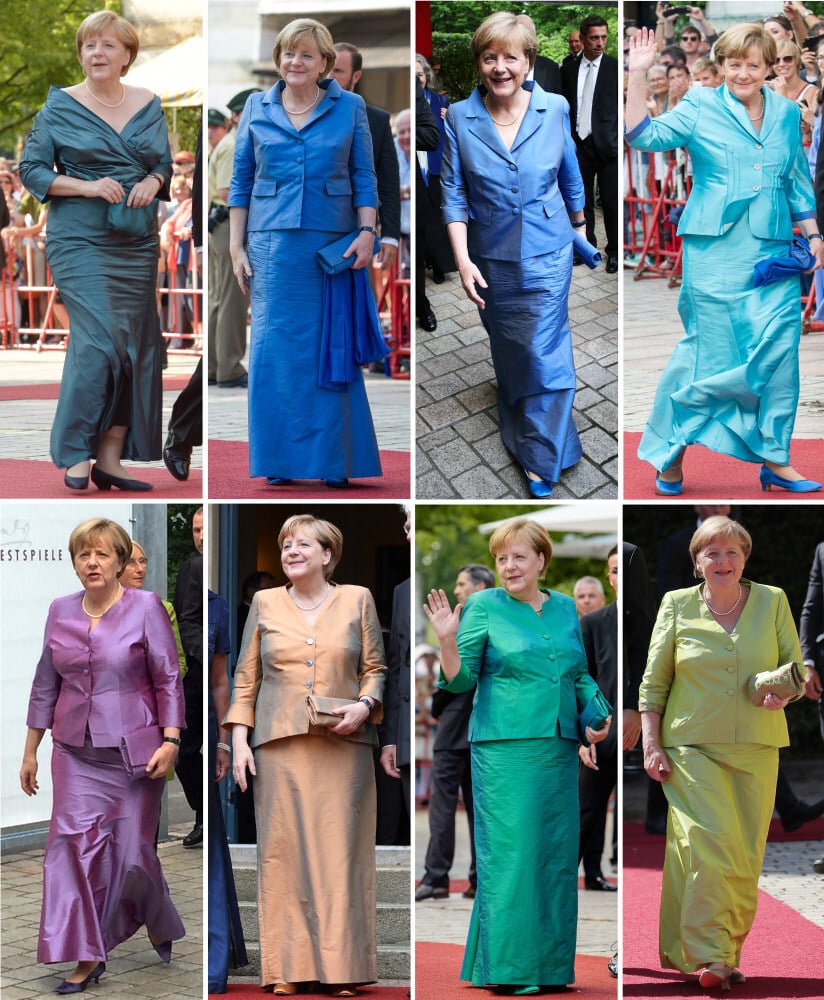 Merkel is a big fan of German composer Richard Wagner, whose operas are the centrepiece of the Bayreuth Festival in Germany. This collage shows Merkel clad in her signature jacket-and-skirt combo at different appearances at the festival.
In June 2013, Obama visited Berlin for the first time during his presidency to give a speech at the Brandenburg Gate. Merkel greeted him in a cream jacket paired with baggy flared brown pants, the outfit that was famously criticised by Lagerfeld.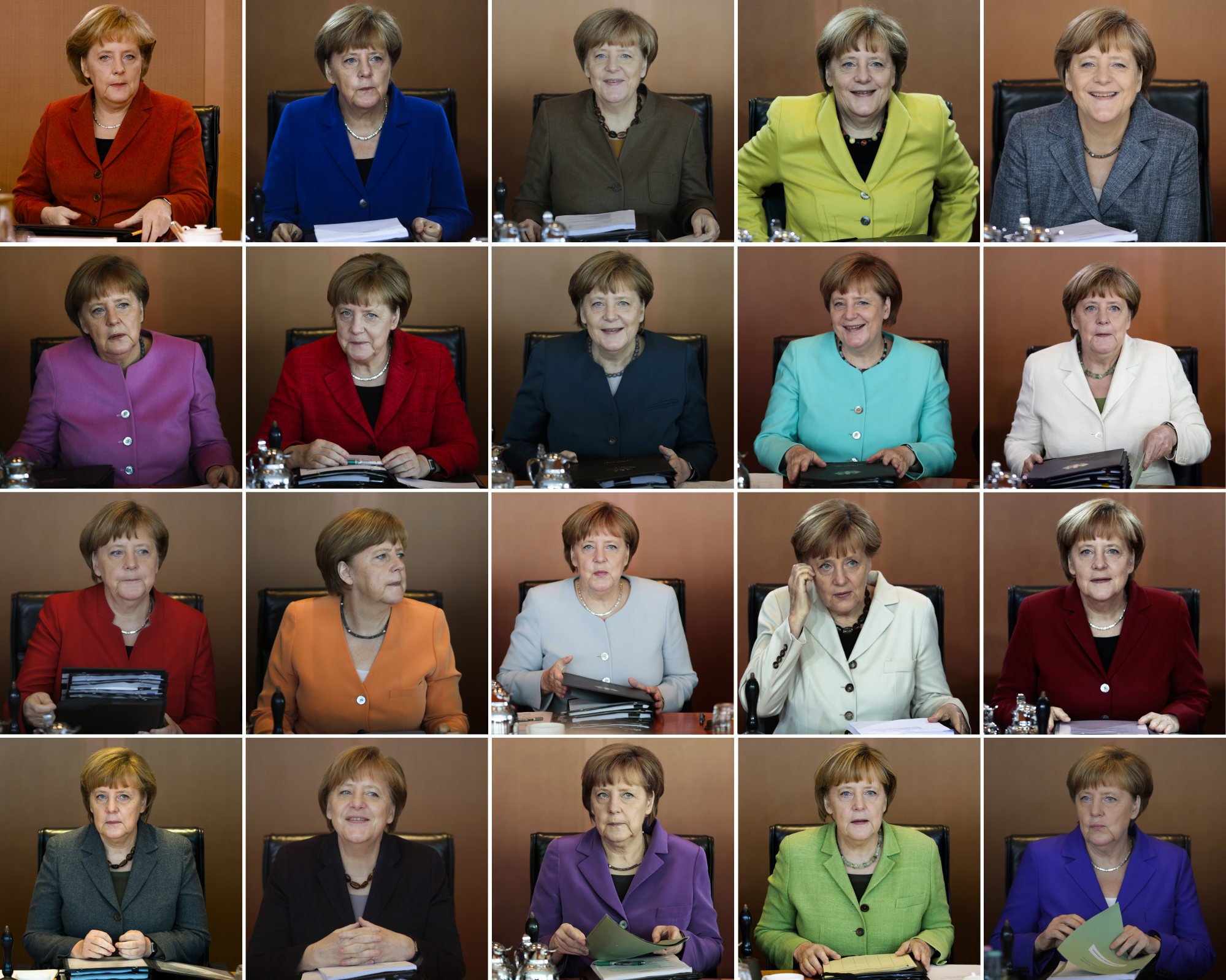 This composite shows Merkel throughout the years at the weekly cabinet meetings of her government at the chancellery in Berlin. Her extensive collection of jackets includes pieces in every colour of the rainbow.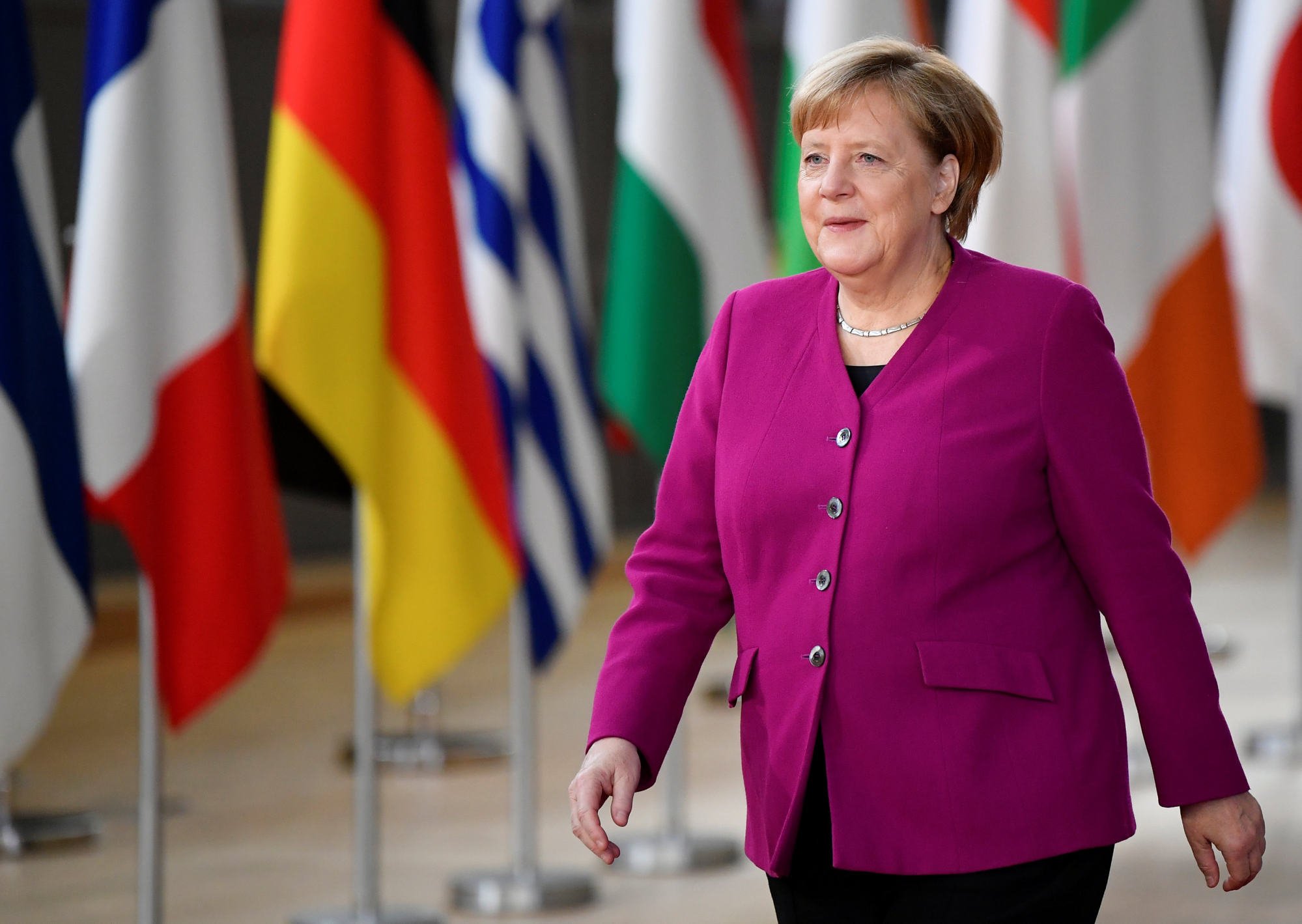 In October 2018, for a meeting with fellow European Union leaders in Brussels, Belgium, Merkel looked powerful and solemn, clad in an aubergine single-breasted jacket paired with a simple necklace and barely any make-up.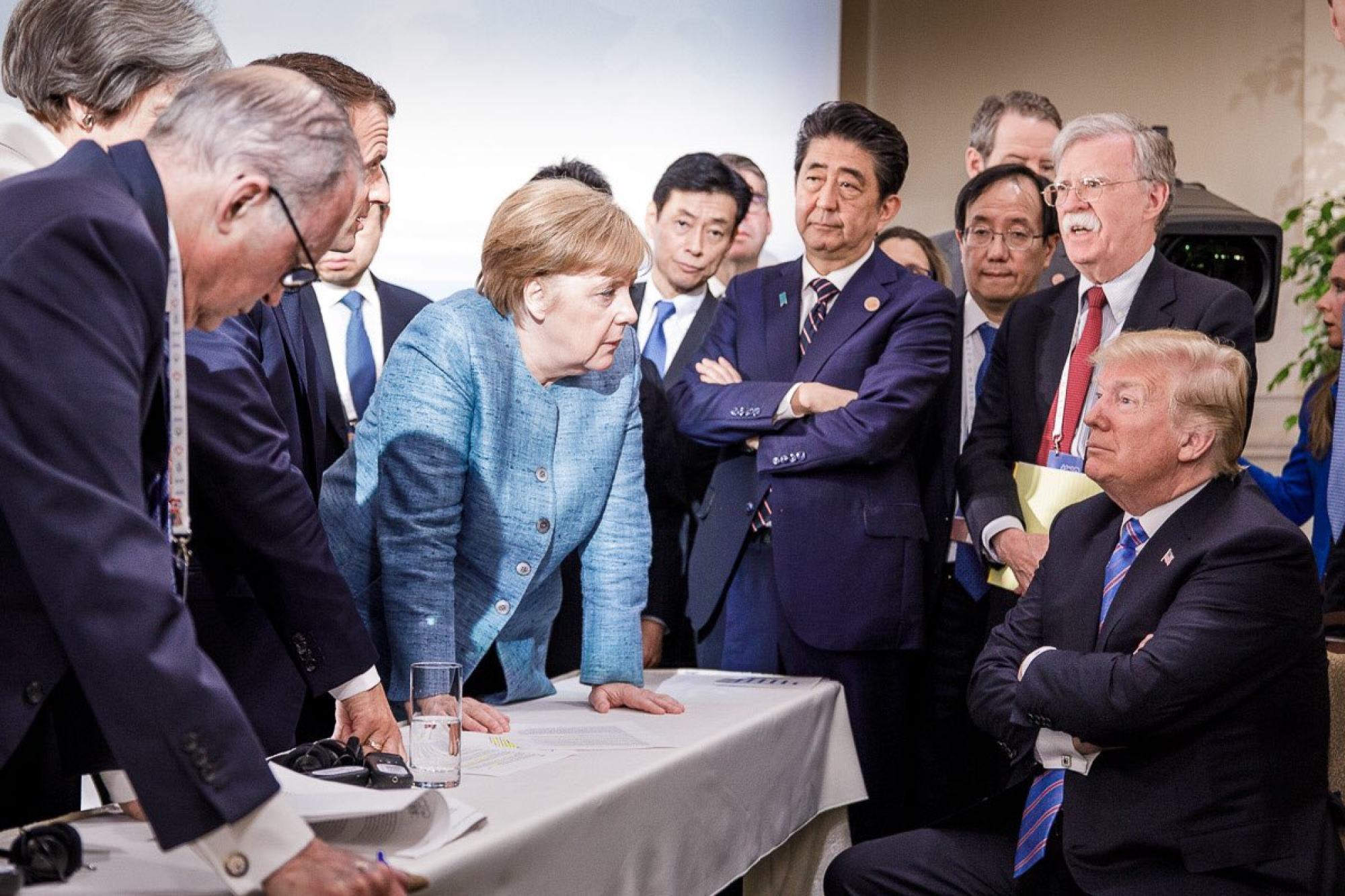 This photo of Merkel, surrounded by other G7 leaders during a meeting of the G7 Summit in La Malbaie, Quebec, Canada, in 2018, went viral because of her assertive expression while confronting then US President Donald Trump. For the occasion she wore a linen-blend jacket in light blue.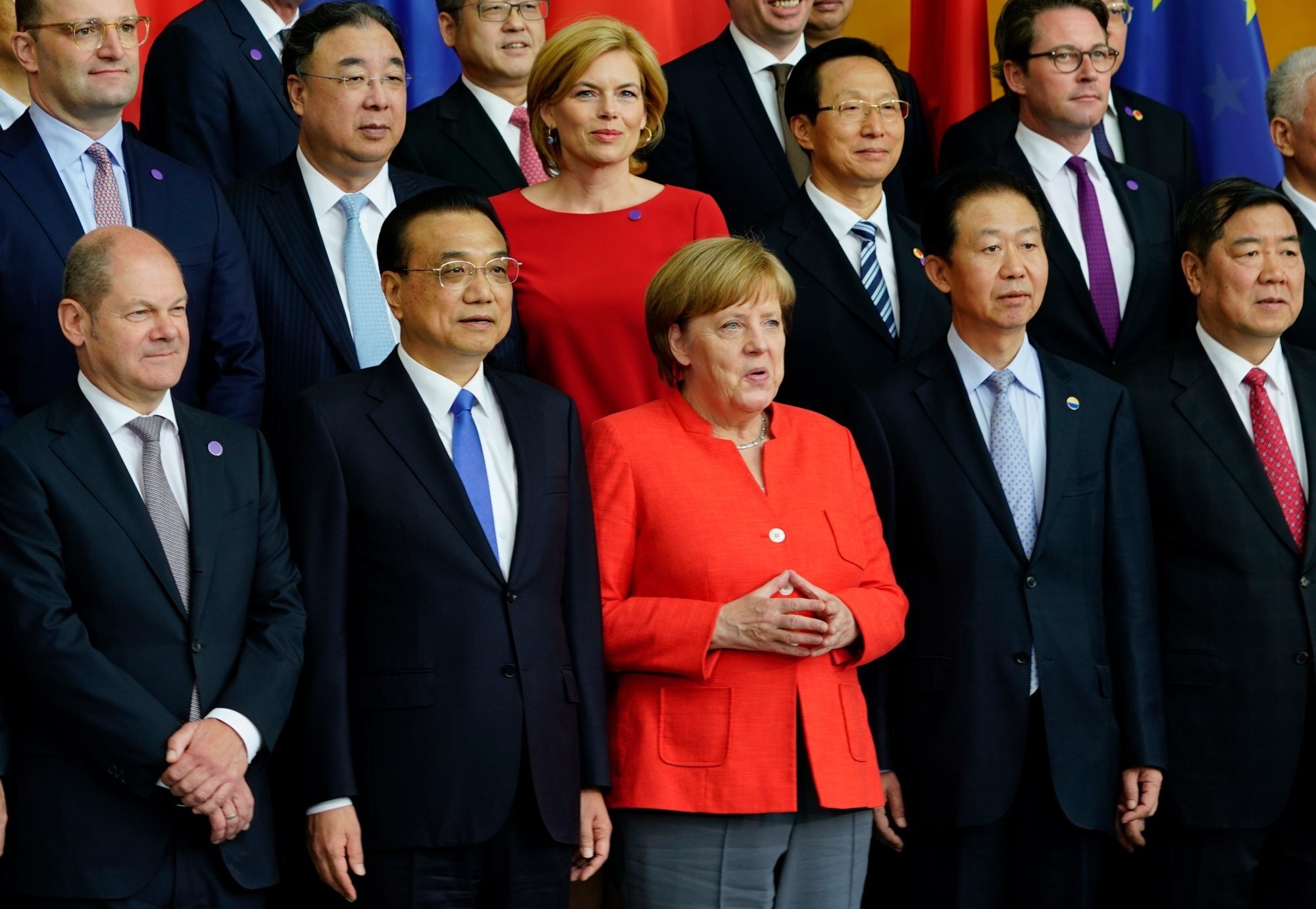 Merkel rarely plays the fashion diplomacy game but she chose to wear red, a colour that's seen as auspicious in China, to meet Chinese Premier Li Keqiang in Berlin, in July 2018, after discussing the deepening of German-Chinese cooperation with a special focus on questions of economic exchange.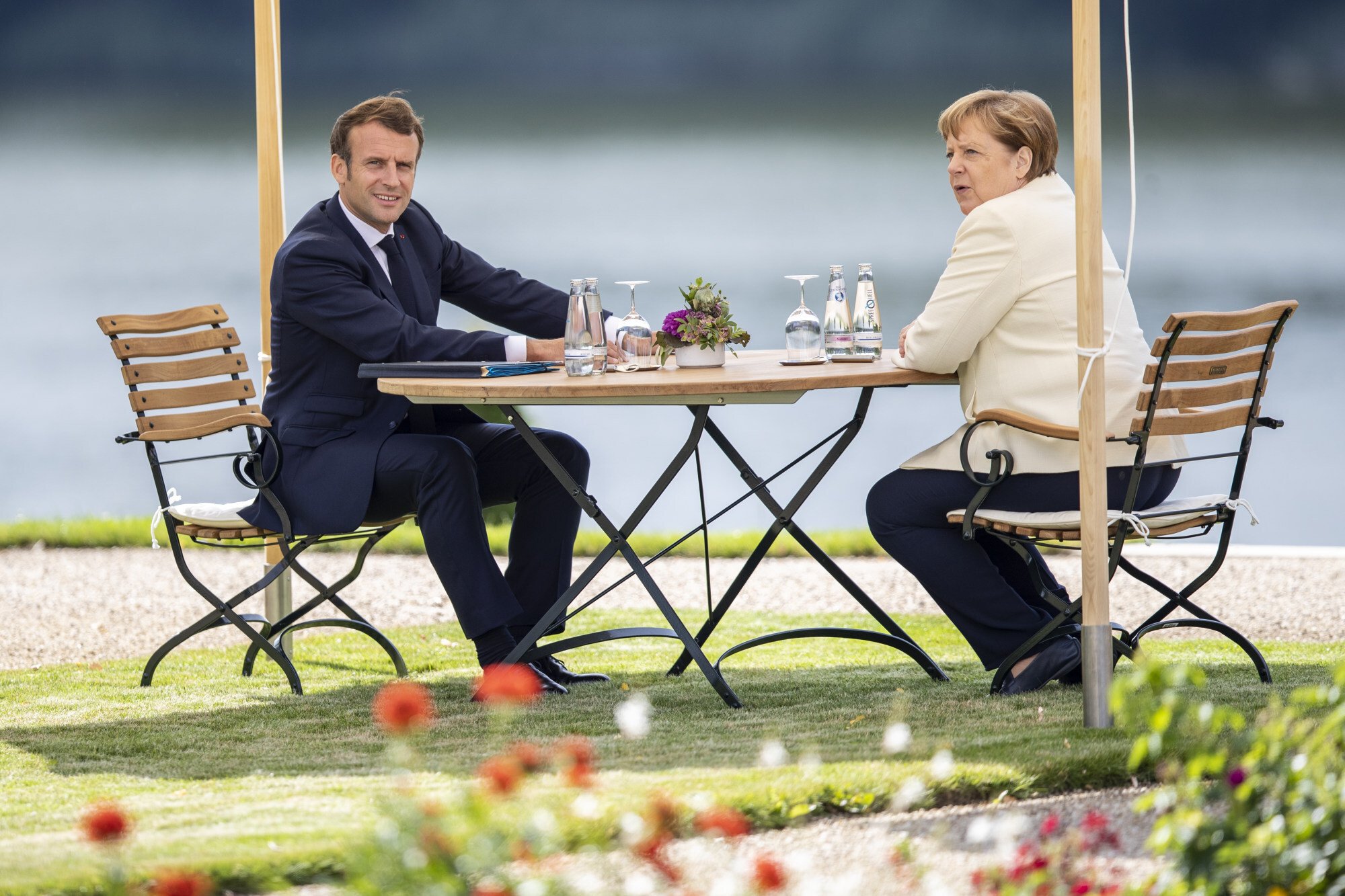 At the height of the coronavirus pandemic in June 2020, Merkel struck a sombre tone clad in a monochrome outfit – a white jacket paired with black slacks – while meeting French President Emmanuel Macron in Germany.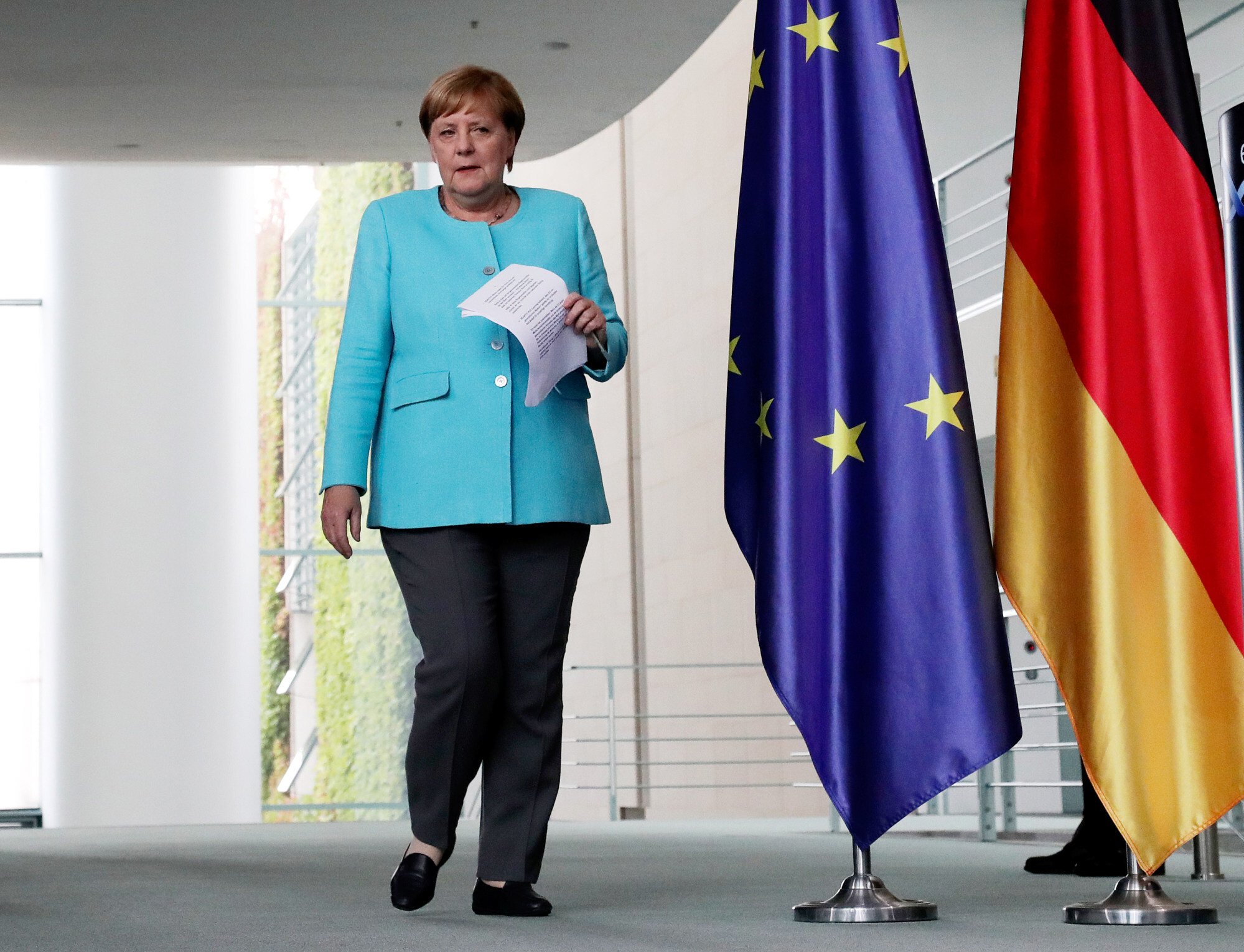 Merkel is a fan of the "broken suit": a jacket and pair of pants in mismatched colours that create a colour-blocking effect. In August 2020 she attended a press conference at the Federal Chancellery in Berlin wearing a bright turquoise jacket with black trousers and a pair of sensible black loafers.