Fashion
Get more with myNEWS
A personalised news feed of stories that matter to you
Learn more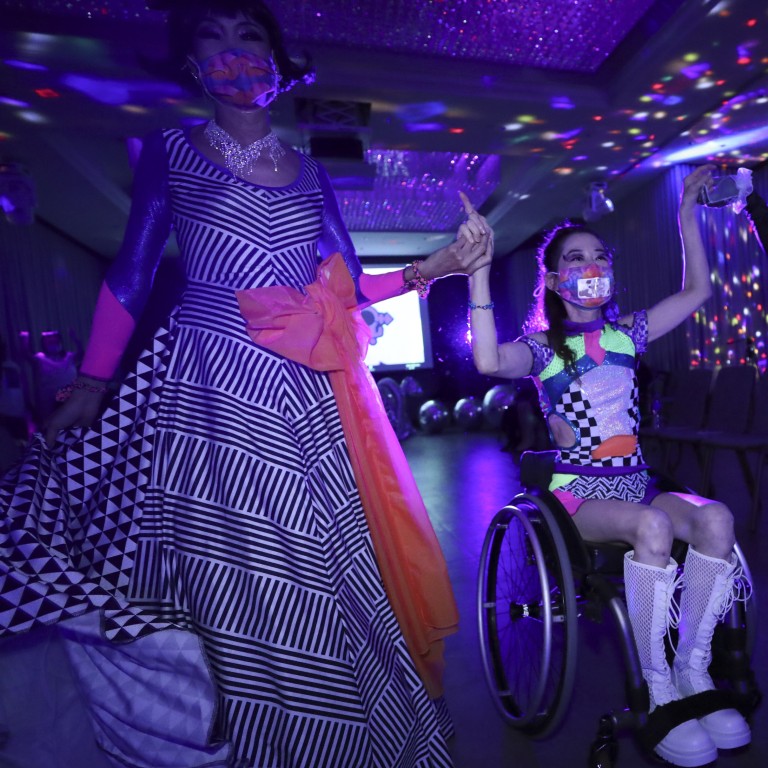 Inclusive fashion – catwalk show celebrates disabled, non-binary and other minorities in Hong Kong
Wheelchair dancer Olivia Chung took part in a fashion show with a difference at the Eaton Hong Kong hotel
She wore an outfit by non-binary American designer Sky Cubacub, who makes clothes for trans, disabled and other minorities
Olivia Chung Siu-king waves to the crowd in the dark ballroom of the Eaton Hong Kong hotel as she wheels herself down the catwalk, swaying to the beat of the song Mexico by Ross Mitchell and twirling around in her wheelchair.
She's dressed in a luminescent outfit with patches of lime green, pink, white, and check matched with her own knee-high white lace-up boots.
The crowd responds to her energetic performance with whoops and cheers and, at the end of the evening, she wins the "Parts & Personality" award and a staycation voucher at the hotel.
"It was lots of fun last night," Chung says, recalling the event, at which the audience were mostly there to vogue – a dance made famous by the singer Madonna but which has its roots in 1960s New York.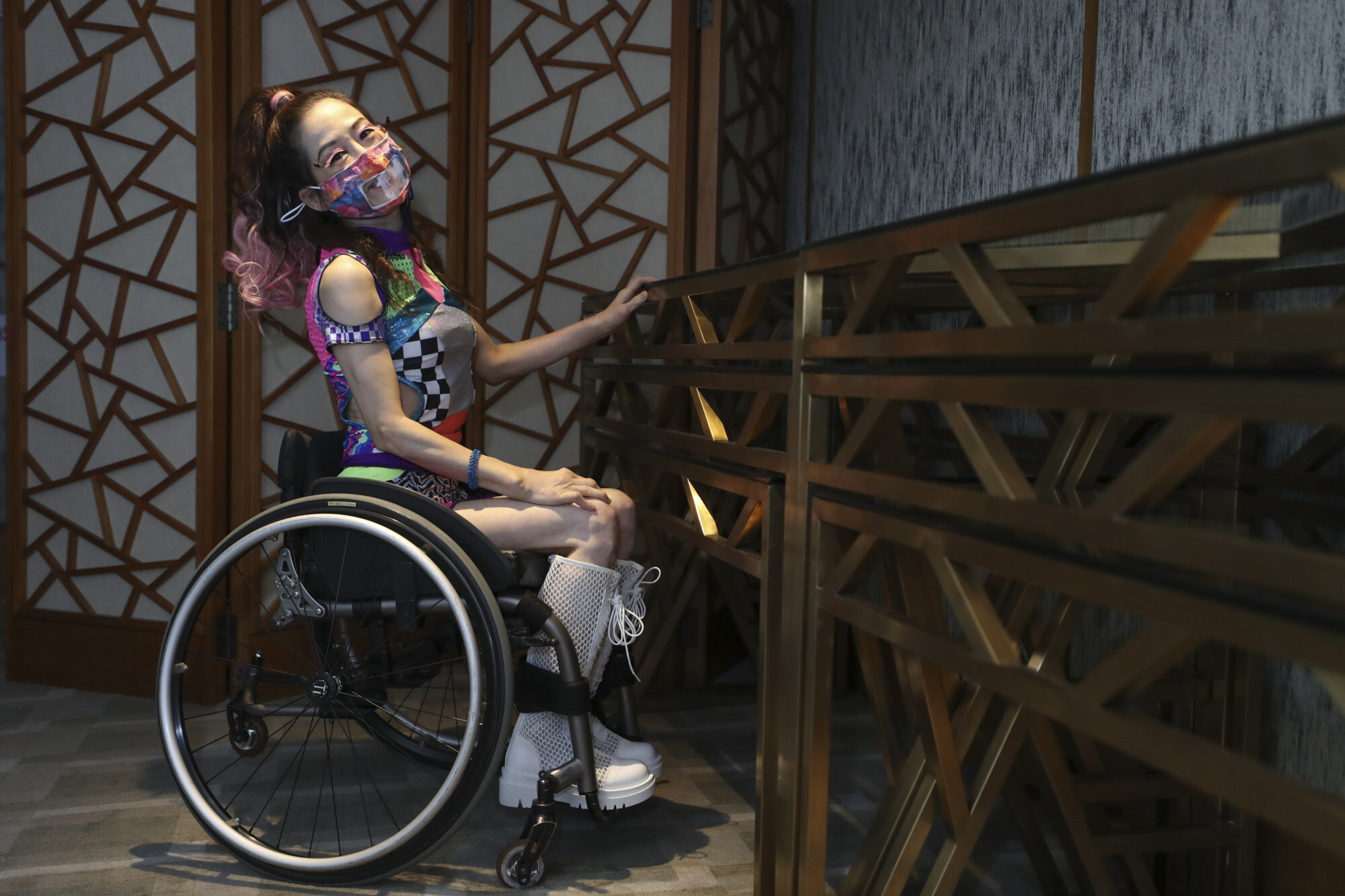 She revelled in the spotlight and loved the sparkly make-up and feather-like fake eyelashes she wore – didn't want to take them off afterwards.
Slim and in her 50s, Chung enjoyed modelling the outfit she wore, which had cut-outs at the shoulders and waist, but admits she won't wear it again any time soon. Her usual wardrobe consists of T-shirts and exercise trousers that have elastic waistbands to make it easy for her to get dressed. On more formal occasions she will put on a pair of jeans.
In 1992 she was diagnosed with rheumatoid arthritis, which caused paralysis of her legs, swelling of her joints and brittle bones. Six years later, she had a bad fall that took three years in hospital to recuperate from.
It took her a further three years to muster the courage to leave her apartment to finish her education and to get around in a wheelchair on her own before she fulfilled her childhood dream of dancing.
"I had always wanted to dance when I was a child, but my family was too poor to even afford canvas shoes for me," recalls Chung, who is the fifth of eight children. In 2008 she began learning wheelchair dancing and a year later began participating in competitions in China, Japan, and Russia.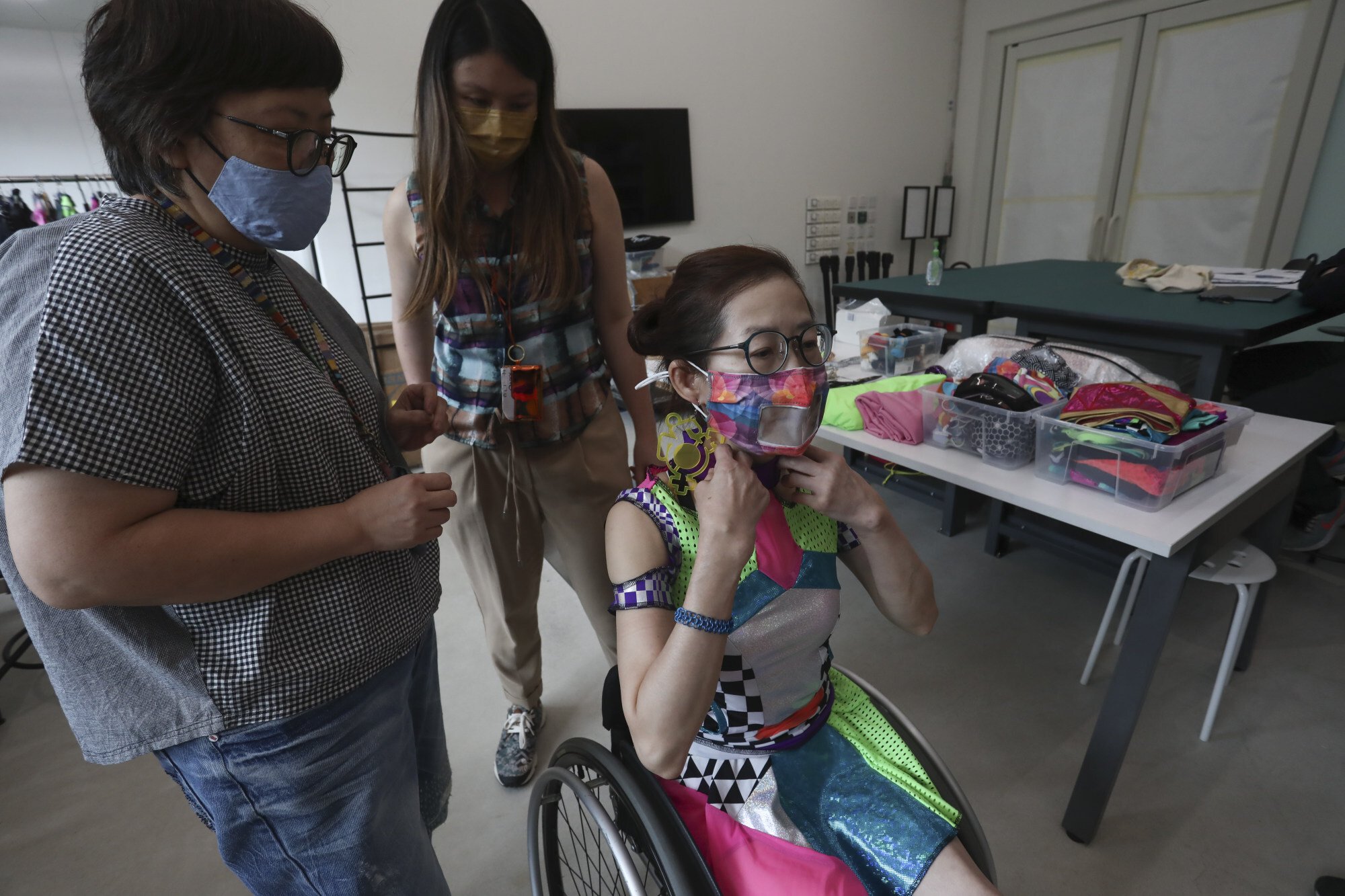 "When you dance, you don't have to compete. As long as you are happy dancing, then you feel like you're progressing," she says.
Chung fills her time volunteering to teach simple dance moves to old people living in aged-care homes, taking dance lessons herself or rehearsing for performances around Hong Kong.
In March, the Centre for Heritage, Arts and Textiles (Chat) in The Mills, an arts complex in Tsuen Wan, approached Chung about taking part in a fashion event called "Access Breach: Radical Visibility" for people who are under-represented in terms of their size, gender, ability, or colour.
Most of the models recruited were from the LGBTQ community, including a visually impaired cross dresser.
Chat's artistic director, Taeyoon Choi, secured the participation of 29-year-old Sky Cubacub, a fashion designer whose clothing line is called Rebirth Garments.
Cubacub, who is non-binary and identifies as they/them, is based in Chicago. The outfits for the show were made in the United States and shipped to Hong Kong in time for the July 2 show.
Cubacub, who is half Filipino, is exploring through clothes what is called "xenogender", an identity that goes beyond the male-female spectrum.
Cubacub says: "I just wanted to make clothing for me and my friends. I'm queer, non- binary, and I identify as disabled. Originally I thought of two separate clothing lines, for trans and disabled, but immediately I realised they should be the same clothing line.
"I haven't seen clothing lines address both identities as well as colour and ages. I wanted to make a clothing line that really highlighted all these identities."
Cubacub want to help people not only to express their identity through clothes, but also to make them feel happy and comfortable.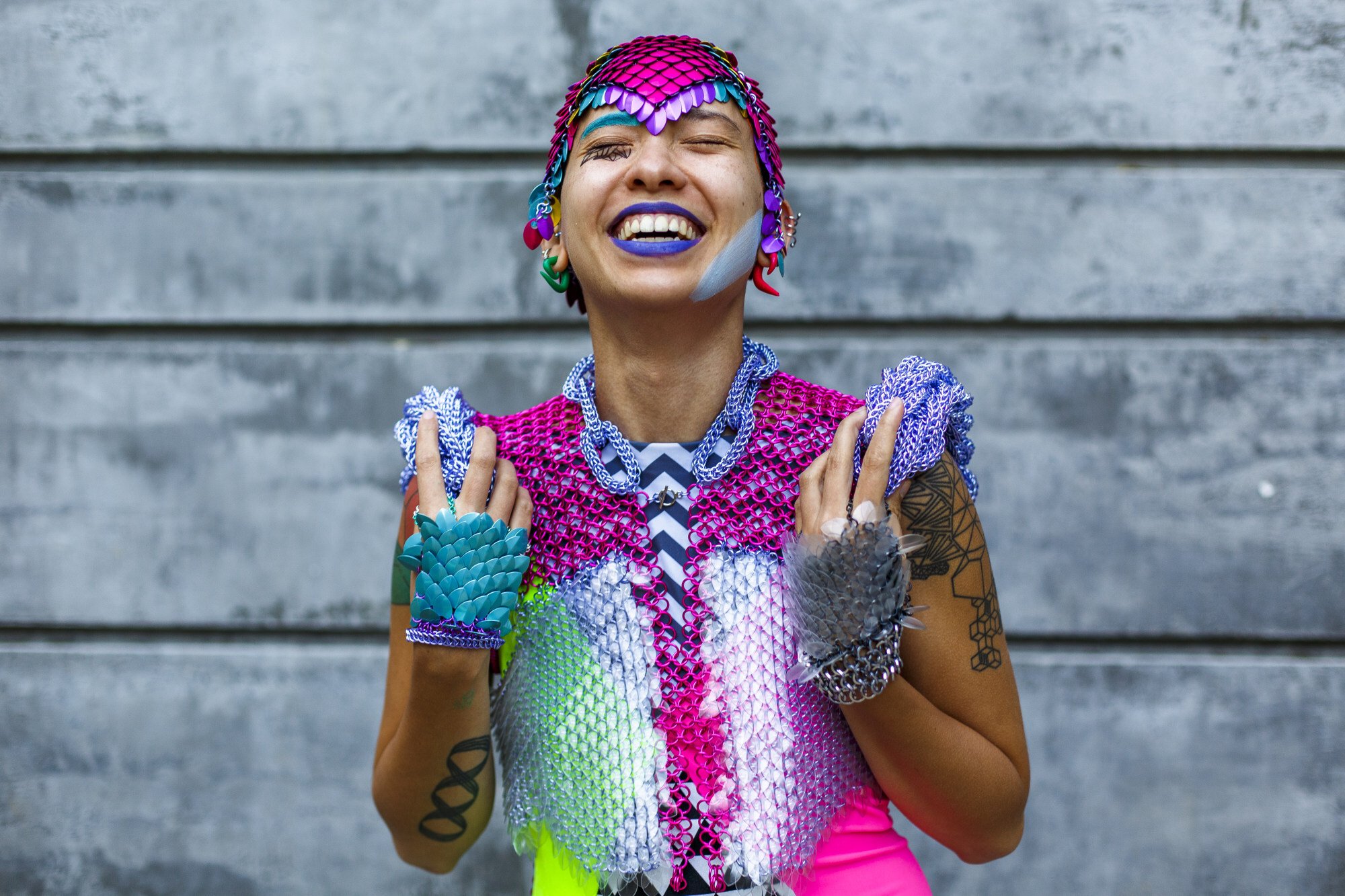 "I just wanted us to have [clothing to have] fun, dance, party, swim and feel sexy, and not feel like you're in the hospital. All the clothing [previously] made for people who are disabled was so drab and sad, it makes you feel sicker because you look sick and I just didn't like that," Cubacub says.
There is now an awareness and effort by major fashion labels to dress people with disabilities; for example, Tommy Hilfiger has a collection called Tommy Adaptive for people with special needs, while top names such as Prada and Burberry have custom-made outfits.
For this year's Academy Awards, Gucci made a suit for director and wheelchair user Jim LeBrecht, whose film Crip Cramp: A Disability Revolution was nominated for best documentary.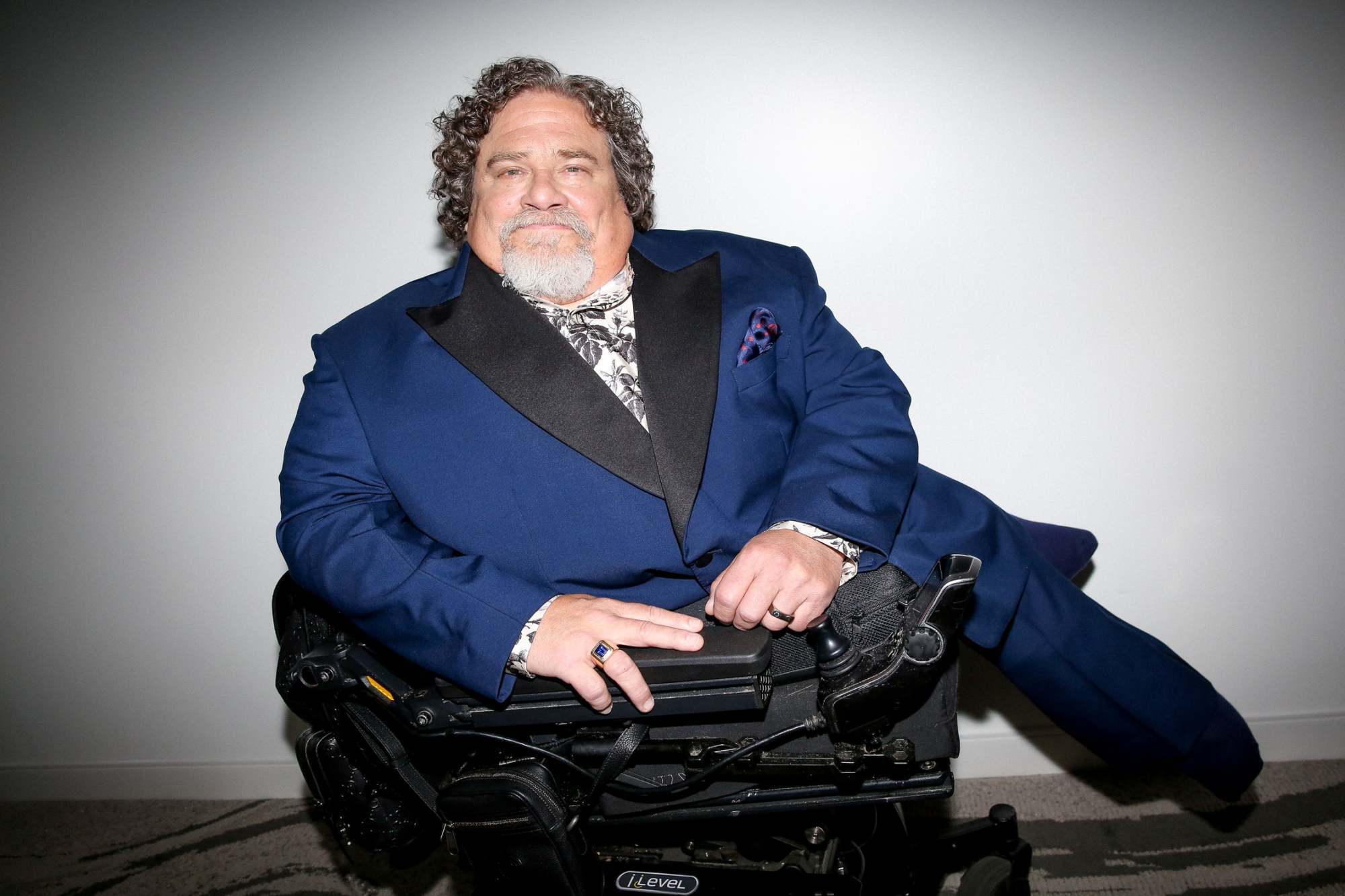 When designing for the disabled, Cubacub likes to use spandex because it makes it easier for them to get dressed, and allows for more mobility and fluctuation in weight. Rebirth Garments designs typically don't have clasps, buttons or zips, as these can be difficult for the disabled wearer to use.
Cubacub says at first wheelchair dancer Chung wanted something loose and conservative, but soon changed her mind when she saw clips of the designer's previous fashion show performances.
"She said, 'I think I want some cut-outs, I want the skirt to be really short. I'm a salsa dancer,' Cubacub recalls Chung saying. "And we're all like, 'Yes! So exciting! She said the outfit can be sexy.'"
A few weeks later the garments arrived in Hong Kong, and Chung tried hers on at the Chat office. Although she needed assistance to put on the colourful outfit, she was pleased it was very comfortable to wear.
Cubacub even made a pair of large earrings for Chung to wear – one blue, one yellow with a play on the male and female gender signs – as well as a beaded bracelet. To finish the outfit, Chung found a pair of knee-high lace-up boots on Taobao.
The night of the show, Chung got into dance mode and owned the catwalk, with disabled friends cheering her on in the audience. After the fashion show, she and her two wheelchair dancing friends took a whirl around the dance floor and able-bodied participants danced with them too. It was a truly integrated moment.