Fashion
Get more with myNEWS
A personalised news feed of stories that matter to you
Learn more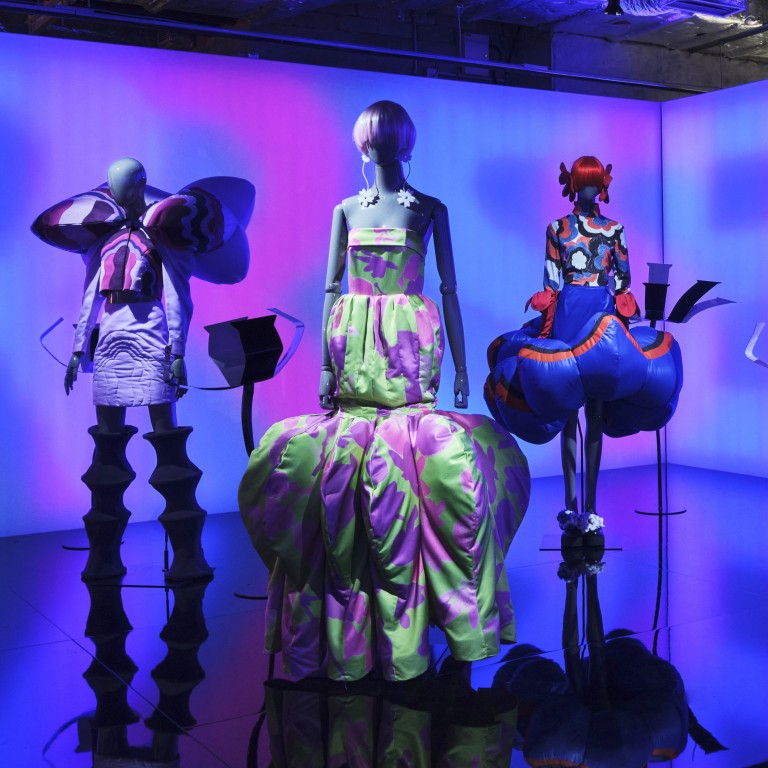 Fashion through the ages inspires 6 Asian designers to interpret classic outfits in new ways for Hong Kong exhibition
'The Love of Couture: Artisanship in Fashion Beyond Time' is an exhibition at the K11 Musea mall featuring historical designs and looks from six Asian designers
One designer explores the relationship between people and prayer, while another weaves flowers – her motif – into her work to 'make someone smile'
Many of Hong Kong's biggest stars and celebrities turned out in their finest in Tsim Sha Tsui, Kowloon, on December 3 for the city's answer to New York's Met Gala.
The glamorous affair was to mark the opening of "The Love of Couture: Artisanship in Fashion Beyond Time", an exhibition at the K11 Musea mall and art space.
Opened to the public on December 8, the exhibition features a curated collection of historical British and French womenswear from the Victoria and Albert Museum (V&A) in London, along with designs from six emerging East Asian fashion designers.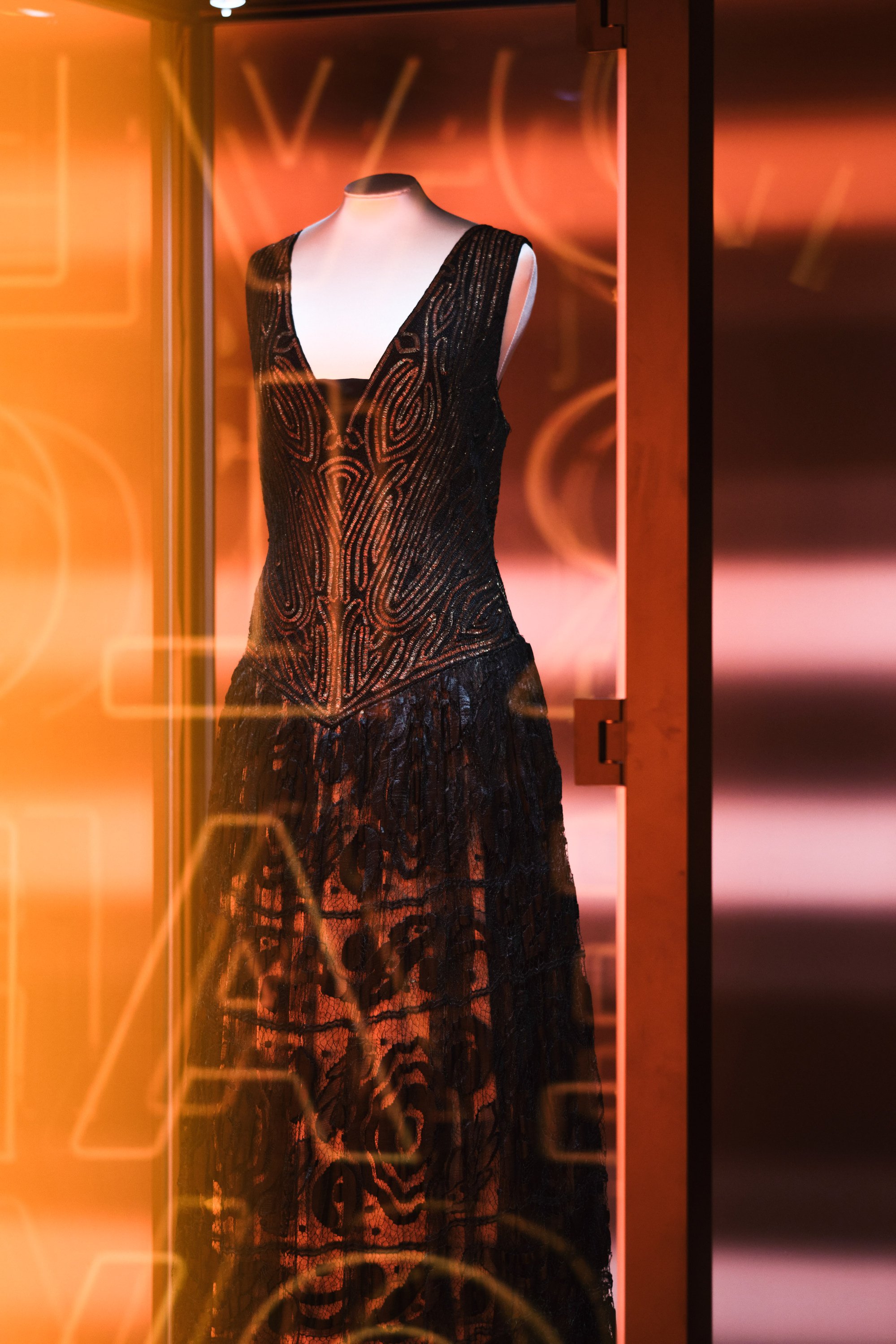 The 12 pieces from the V&A collection date from the 1830s to the 1960s. From the early Victorian era, there is a wedding dress of printed fabric with puff sleeves and a boat neckline, as well as a day dress, bonnet and gloves.
The Roaring Twenties are represented by the drop-waist silhouettes of a black and gold "Samovar" evening dress designed by Paul Poiret and a light pink velvet tunic dress designed for the Parisian fashion house Babani.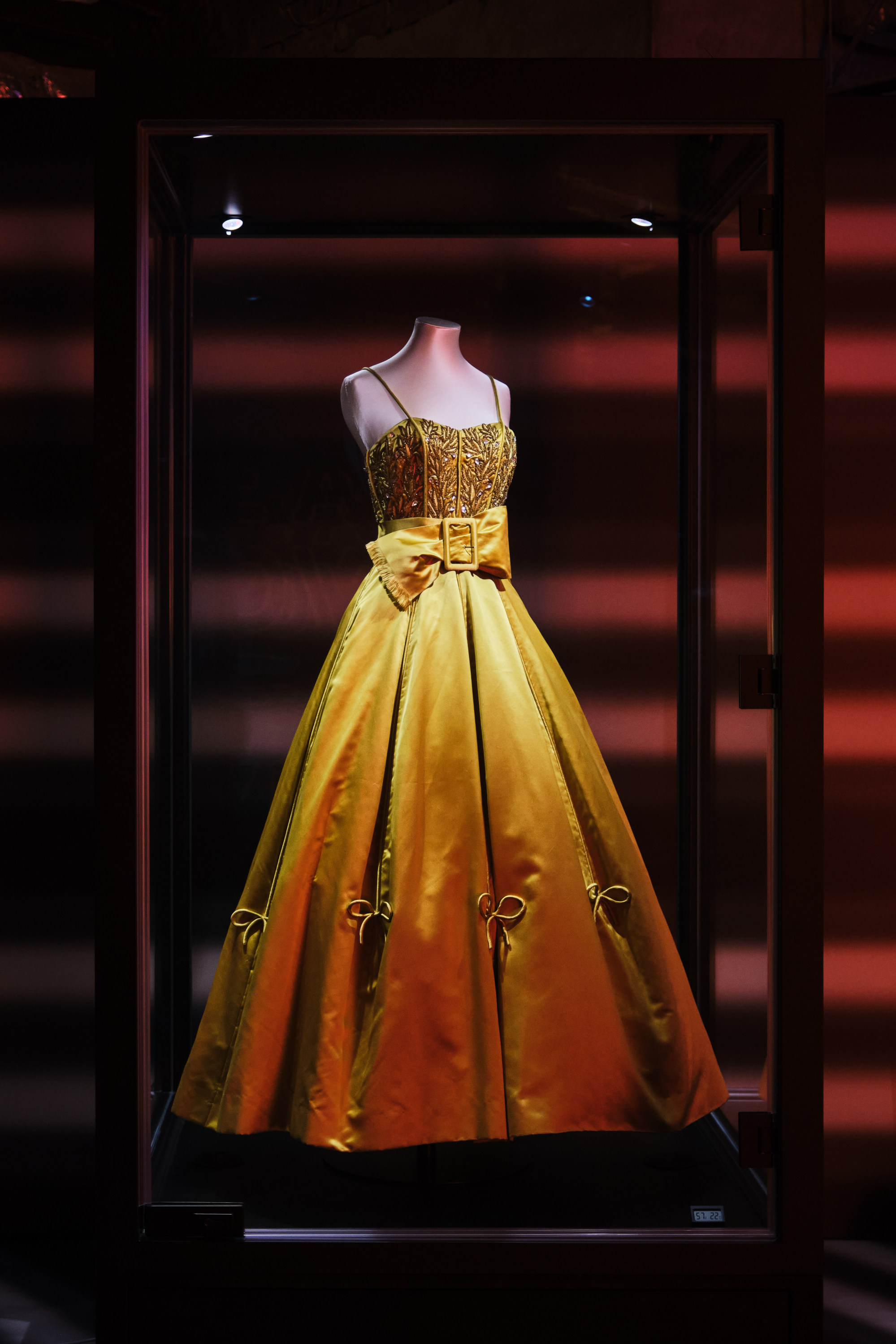 The impact of the second world war, when many women joined the workforce and womenswear evolved to include skirt suits and blouses, is shown in ensembles designed by Digby Morton and Elspeth Champcommunal for Worth London.
Representing the "golden age" of couture in the 1950s are two dresses: a silk satin evening gown with a full skirt designed by Owen Hyde-Clark for Worth London, and a mid-length "Polynésie" evening dress with a tiered skirt made of zibeline – a wool fabric – by Yves Saint Laurent for Christian Dior.
In response to these historical pieces, six designers from Japan, mainland China, South Korea and Hong Kong –
Tomo Koizumi
, Yueqi Qi, Ryunosuke Okazaki, Celine Kwan, Sensen Lii and
Sohee Park
– have created and curated a selection of their own designs for the exhibition.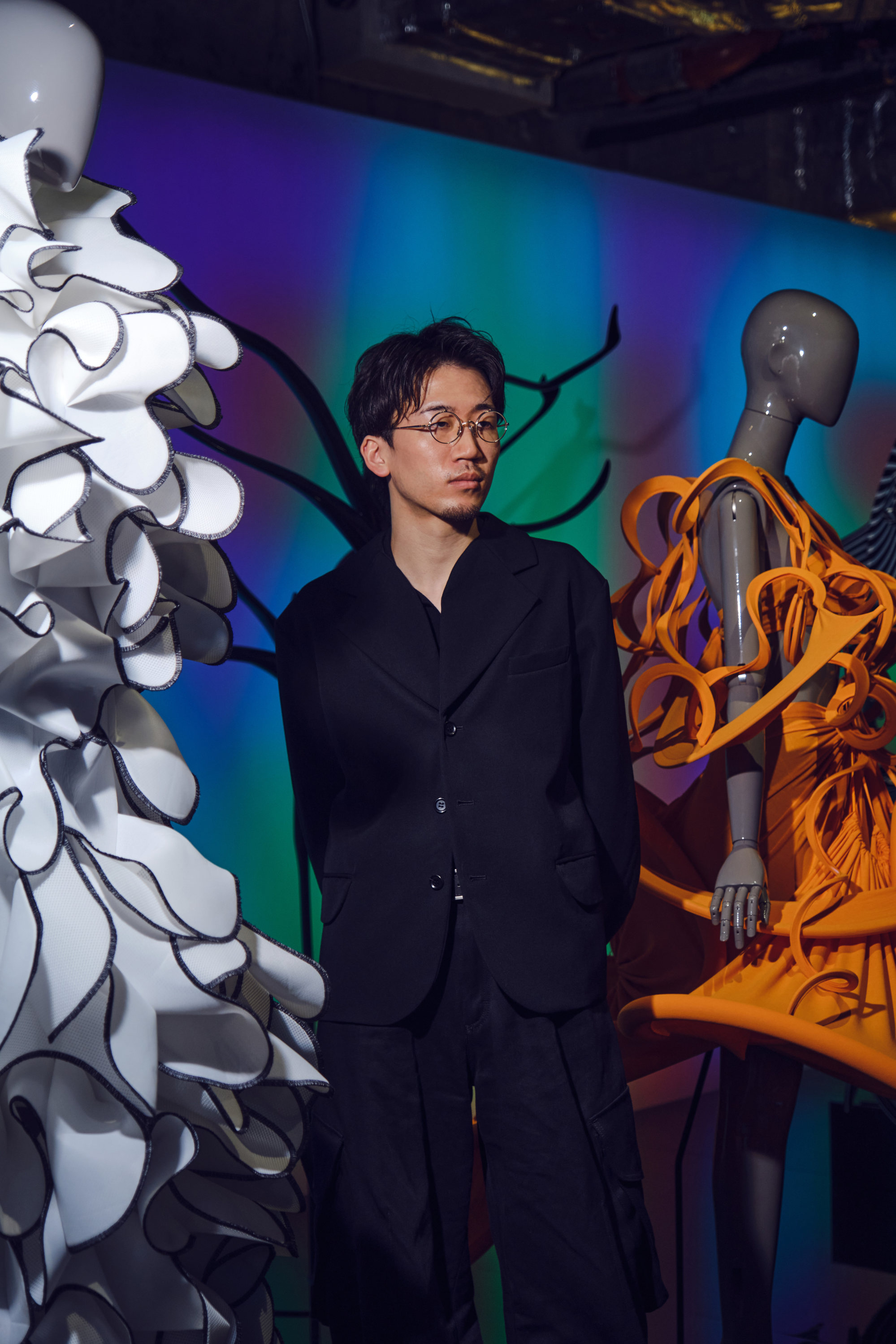 Okazaki, a finalist for
2022's LVMH Prize
awarded to young fashion designers, is showing four dynamic, sculptural and geometric designs.
Born in Hiroshima, one of two Japanese cities struck by atomic bombs during the final year of the second world war, Okazaki's designs explore the relationship between people and prayer, and people's deep connection to and respect for nature.
Okazaki's design process – which he views as a type of prayer – is unlike that of other designers who begin by putting their vision on paper.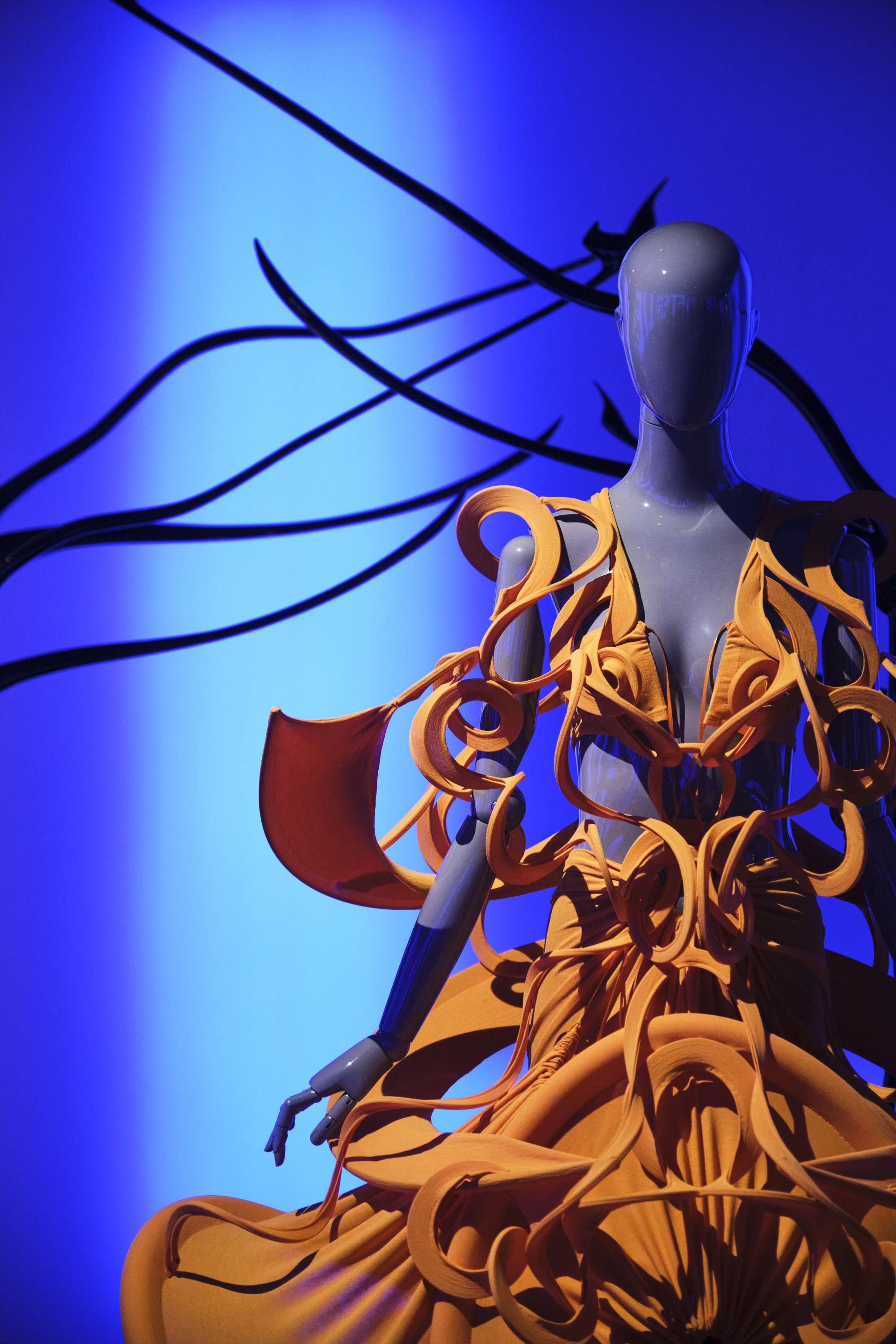 "I never sketch at all," he says. "I rely on the texture and elasticity of the material to direct my designs, because I feel like if I sketched first, that would limit the vision of my final design."
Inspired by the intricacy of the gold threadwork in Poiret's evening gown, he applied the same attention to detail to the three-dimensional and intertwined geometric elements of a bespoke amber dress made for the exhibition.
Hong Kong-born Kwan is presenting four floral-inspired dresses. The designer cites her mother's lasting love of flowers as a key inspiration – the pair would go to the flower market every Sunday when Kwan was young, and even later got matching rose tattoos.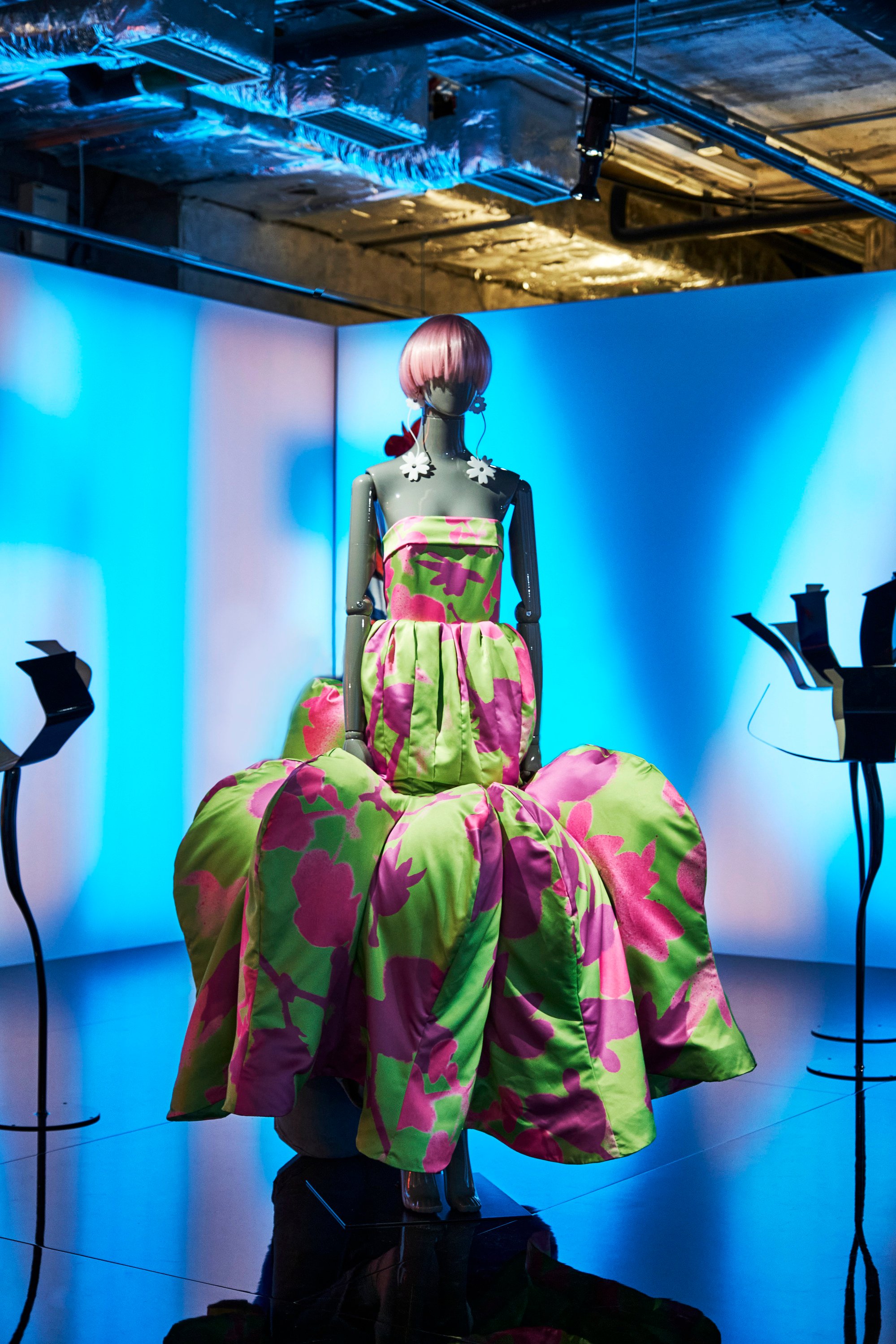 The designer, who cut her teeth working for Viktor & Rolf, Roksanda, and Shrimps, points to flowers' innate beauty as the reason the motif is ingrained in her designs. Her goal, she says, is to "make someone smile".
Kwan moved to the UK when she was 12, and studied at an all-girl religious school. "They had a quote that says 'quietness and strength'. I think that really applies to flowers, because they're so delicate, but they can turn a room," she says. "The colours, the different variations – it's powerful to me."
Inspired by a vision of a woman turning heads while wearing a dress from the V&A archive, Kwan decided to "turn the heads of today's society" by designing an inflatable vibrant green and pink dress.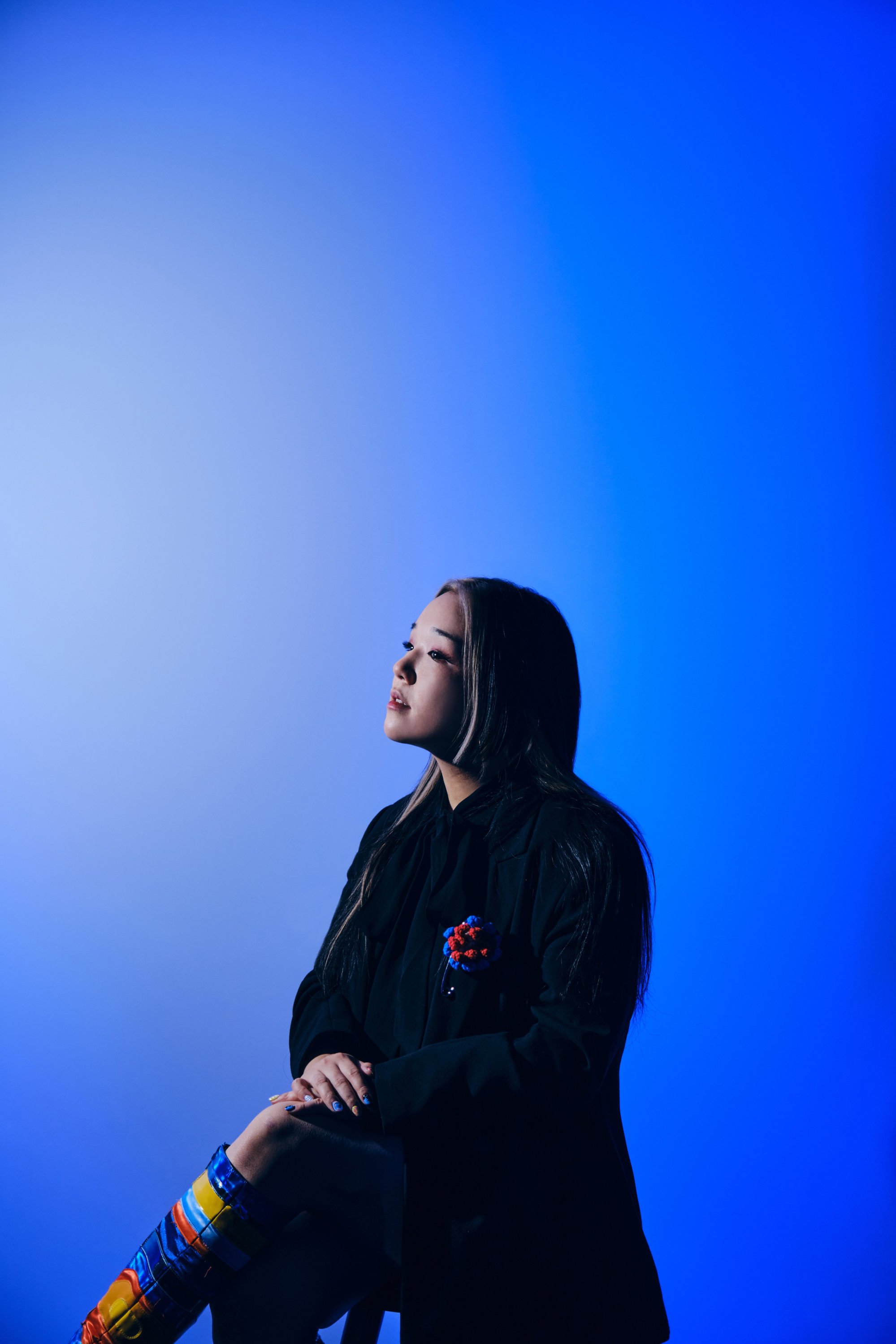 The other looks she has contributed to the exhibition are similarly dynamic, with one featuring a deep pink inflatable floral headpiece and another featuring boots inspired by flower vases.
Qi's four designs each provide a rebellious and edgy take on pieces from the V&A collection. Inspired by Morton's ensemble, one of Qi's designs features an upcycled suit from her musician husband's collection, which the designer has deconstructed to fit a woman's silhouette with safety pin embellishments.
Another reverses the silhouette of Hyde-Clark's satin evening gown by emulating its full skirt in its top half – instead of an embroidered bodice, there is an ornate construction made of laser-cut pieces of the Chinese character for love.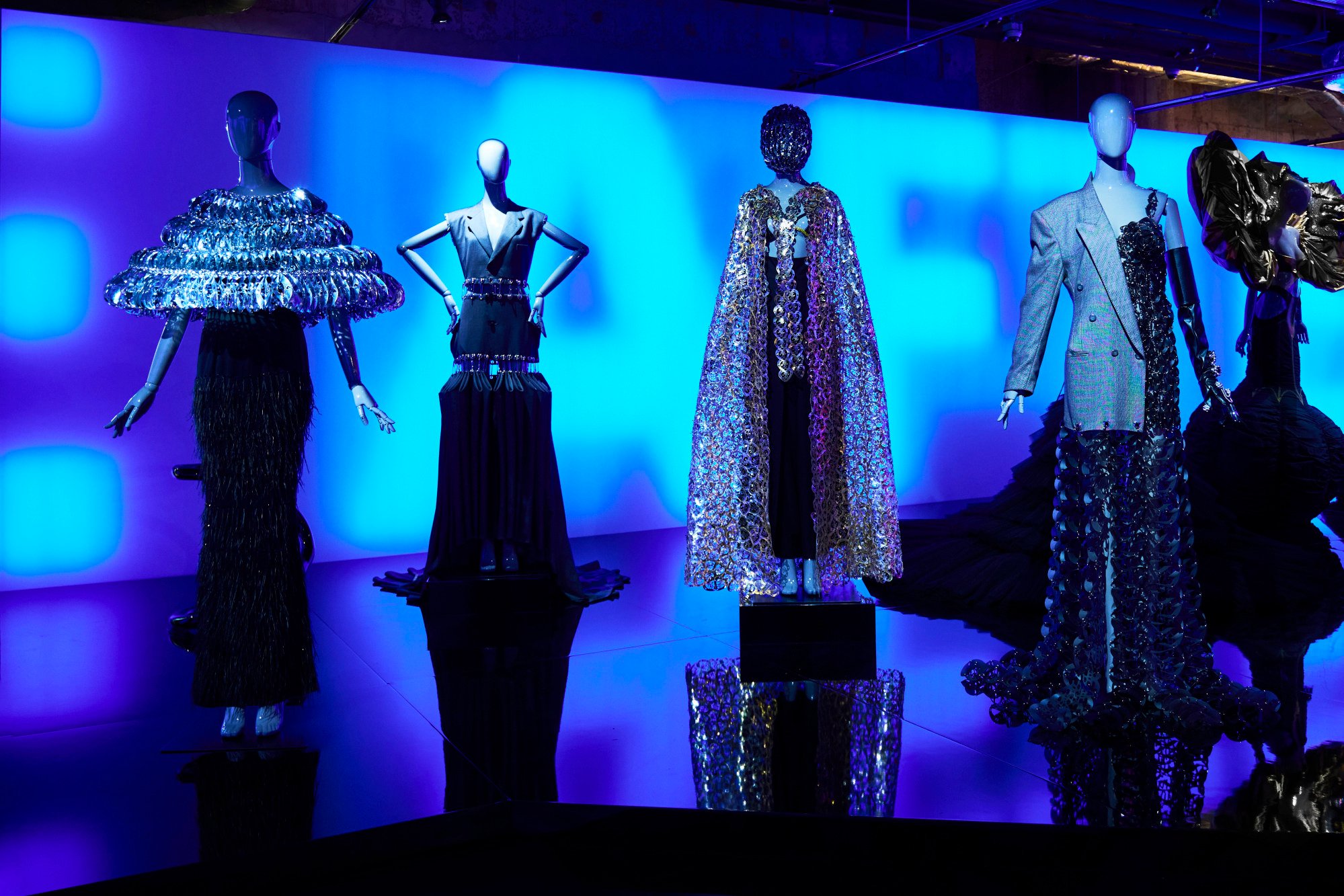 "Love is our signature. We want to express my personal love, [from] small love to big love," Qi says.
Small love, she says, refers to the support and help that she gets from people, which she hopes to translate into big love by giving back to the community.
During the
Covid-19 pandemic
, Qi, based in Guangzhou, southern China, trained women from all over China – many of them single [mothers], housewives or disabled – in handicraft and beadwork, giving them an opportunity to earn money at home by helping with the production of Qi's designs.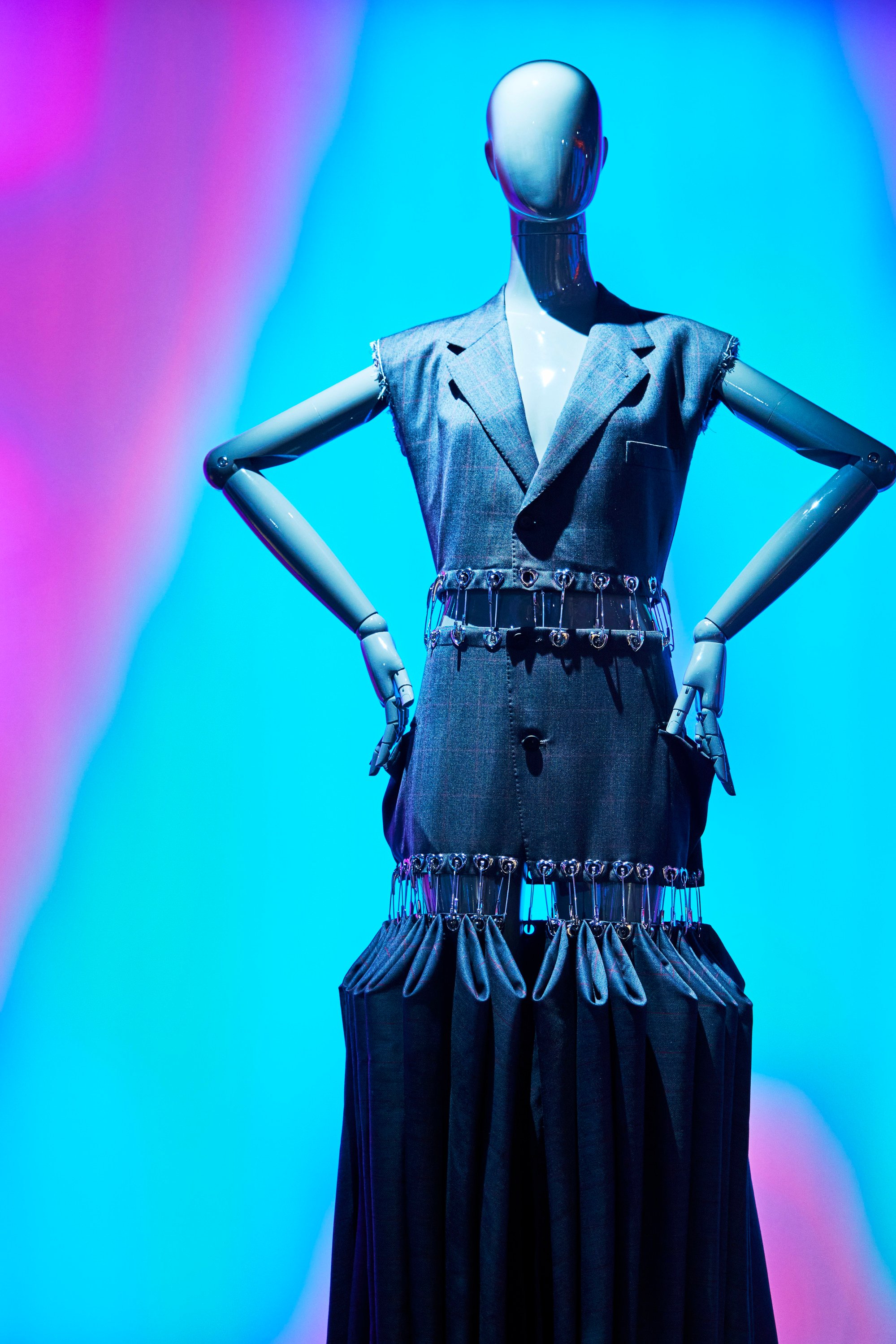 Koizumi, a joint winner in 2020 of the LVMH Prize, is presenting hand-sewn designs that feature his signature look – cascades of voluminous, colourful ruffles in dresses made of Japanese polyester.
Lii, who has dressed stars including Rihanna, Doja Cat, Timothée Chalamet and
Blackpink
, also capitalises on theatrical forms with bold and exaggerated shapes.
London-based Korean designer Park, who designed this year's V&A Christmas tree installation, is showing classic silhouettes with a regal sensibility that enhance the curves of a woman's body.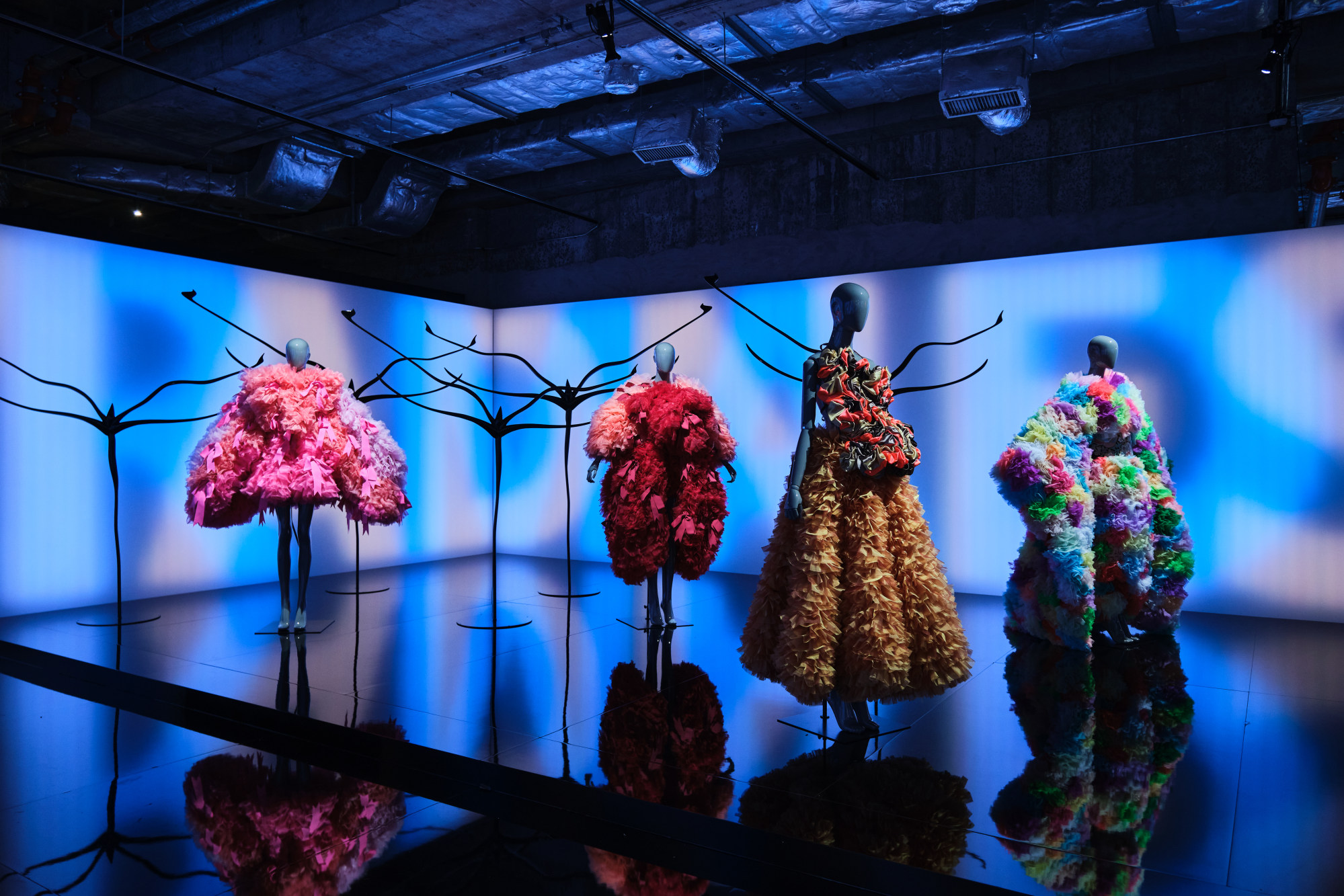 Inspired by the embroidered "Polynésie" evening dress, her fuchsia and black gown features a neckline of sequinned butterflies in the minhwa (Korean folk art) style.
"The Love of Couture: Artisanship in Fashion Beyond Time", 6/F, Kunsthalle, K11 Musea, 18 Salisbury Rd, Tsim Sha Tsui, Hong Kong. Until Jan 29