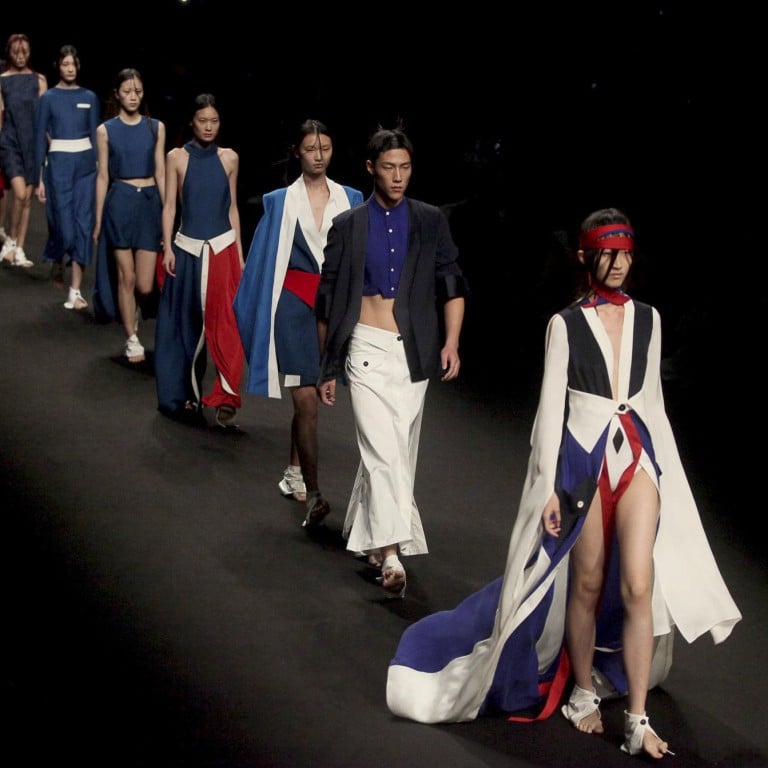 Has Shanghai got what it takes to be a fashion capital?
As Shanghai Fashion Week ends, Jing Zhang ponders whether the city has what it takes to become a global style leader
When the world's eyes aren't on the big four fashion weeks (Milan, Paris, New York and London), regional events in Seoul, Tokyo and Shanghai are vying for attention. Each city will try to push the frontiers of design and fashion commerce with their respective fashion weeks while attempting to boost their cultural clout. The race to become Asia's fashion capital is on.
When it comes to pop culture influence throughout Asia, South Korea might be king right now, with a timely combination of pop stars, television shows, fashion and hi-tech, as we reported in our
story
yesterday. Seoul Fashion Week ran from October 15 to 21.
Tokyo, the respected stalwart of Asian fashion, held its fashion week from October 12 to 18 in the trendy Shibuya district, once again confirming Japan's reputation for being home to some of the most detail-orientated, sophisticated designers around.
Shanghai, however, is a city where everything seems possible, despite fears of a luxury retail downturn. Native Chinese designers are gaining confidence and traction at home and abroad.
Shanghai Fashion Week wrapped up last Thursday having held about 50 official catwalk shows at its Xintiandi space. Most brands on the schedule were independent Chinese labels, including Hui by Eran Hui, Zhu Chongyun and Wang Feng. This season, award-winning Hong Kong/Shenzhen brand ffiXXed debuted its designs in the city.
"It's been an amazing experience," says Fiona Lau, one half of the ffiXXed design duo who won the Asia leg of the International Woolmark Prize in 2013 and are now stocked in Lane Crawford. "There's a really positive response to what we are doing here. We're already excited about next season."
The events kicked off with a huge Ports 1961 show with Kendall Jenner and Joan Smalls flown in for the catwalk show. The enigmatic Gong Li led the contingent of Chinese stars in attendance. Industry insiders are far more excited about the independent designers.
"We've always thought about a more global appeal. Even a year or two ago there was very little response to us in China but this has changed really quickly," Lau adds. "We see an audience growing for what we do. In recent seasons, our Chinese buyers have been gaining confidence and we've seen some really interesting buying selections. In contrast, our European and American retail clients have taken on a more conservative approach."
The tide is turning for fashion consumers in China, and brands are trying to keep up. While the stereotype might still be that of being logo and luxury obsessed, Chinese consumers in first-tier cities, at least, are proving that this is no longer the case.
"Chinese consumers are not satisfied with regular commercial brands or luxury brands; they are pursuing and looking for unique and special products," says Lu Xiaolei, vice-secretary general of Shanghai Fashion Week's organising committee.
"In addition, the retail fashion market is also changing with more attention on multi-brand boutiques and independent designers from traditional department stores. We see lots more buyers, both domestic and international, who are more enthusiastic about buying Chinese designs."
With fashion labels popping up every week in China, there is no shortage to choose from. But consistency, sophistication and quality control still concern some buyers, and the Chinese fashion industry is quickly working that out.
With Shanghai's designer roster getting bigger by the day, it's interesting that those conspicuously absent from Shanghai Fashion Week's official schedule are some of China's biggest rising stars, such as Masha Ma (who shows in Paris) or Helen Lee (who decided to run her own show during the week but off the official schedule). The organisers concede that some designers may have outgrown their Xintiandi show halls, preferring the catwalks of Paris, London or even elsewhere in Shanghai. "Many of the best Chinese independent designers like Uma Wang, Helen Lee, Wang Qingfeng (Simon Wang) and Xander Zhou all previously showed at Shanghai Fashion Week," says Lu. "They've grown up with us and were recognised by the international market with our success and development."
In Shanghai, like many other cities, it's not just about the shows, but the showrooms. This is where contracts are signed, orders are placed and the real business takes place. The range this season is vast, from small, new showrooms such as The Hub to enormous ones like Chic showrooms, largely catering to fast, mass fashion.
The strongest sector of Mode Shanghai, the official trade showroom of the event, was probably made up of a collective of young Chinese designers who have mostly graduated from Central Saint Martins college in London. They are an impressive bunch who, having gone through a competitive, rigorous world-class education, can capitalise on the world's growing interest in Chinese creativity and hopefully build up industry contacts. This group includes recent graduate Xu Zhi, who showed off an elegant, directional collection made from highly textured yarn fabrics that created paintbrush-like swirls around the body.
"There's definitely a change in how China sees and buys fashion," says Xu. "People are really interested in something different."
Lorenzo Hadar, founder of the famed H. Lorenzo boutiques in Los Angeles, has been touring Mode Shanghai. His stores are known for avant-garde designs and artisanal Japanese and European fashion labels, but he's been visiting for several seasons, one of which is to keep an eye on what's happening in this market. "There is an interest in the US in Chinese designers, of course, that's why I'm here," he says, adding that he's already "bought from seven or eight brands", although he declined to say which ones.
So much of Shanghai Fashion Week's success will hinge on more stories like this, as more reputable retailers around the world welcome Chinese designers.
"Making business happen, providing a complete eco-system of fashion week in China provides opportunities and a platform for more Chinese designers," says Lu. "But some buyers have suggested that we can do a better job next time by being more selective on collections."
So will Shanghai ever make it as a global fashion centre? Lu believes that it already has, saying that fashion develops based on the city it lives in, and this city's distinctive heritage, melting pot of cultures and fast paced creativity already makes it unique.
"Last year, Shanghai reigned as the fashion capital of Asia, beating out Hong Kong and Tokyo," she says, referring to research by Global Language Monitor, a US-based firm that analyses trends in word usage, that ranked Shanghai 10th in the world.
Judging from the gleaming luxury stores and small indie boutiques flooding streets around the city, Shanghai has already made it commercially. Creatively, there's still a lot of room to grow, but this is largely an issue of time. Designers, especially those who've studied abroad or been exposed to global fashion, are shaping Shanghai's native industry into something uniquely their own. Many big Western mega brands are feeling shaky about the recent luxury retail slowdown in China, and they should be. Sophisticated shoppers will turn increasingly towards more independent designers.
"The Chinese consumer is definitely becoming more educated about both international and local brands. They are seeking new and unique brands, and not just big labels, so there is a more refined and directional taste emerging," says Lau.
"Shanghai could be considered a fashion capital in the future, it would make sense."
This article appeared in the South China Morning Post print edition as: Coming on strong