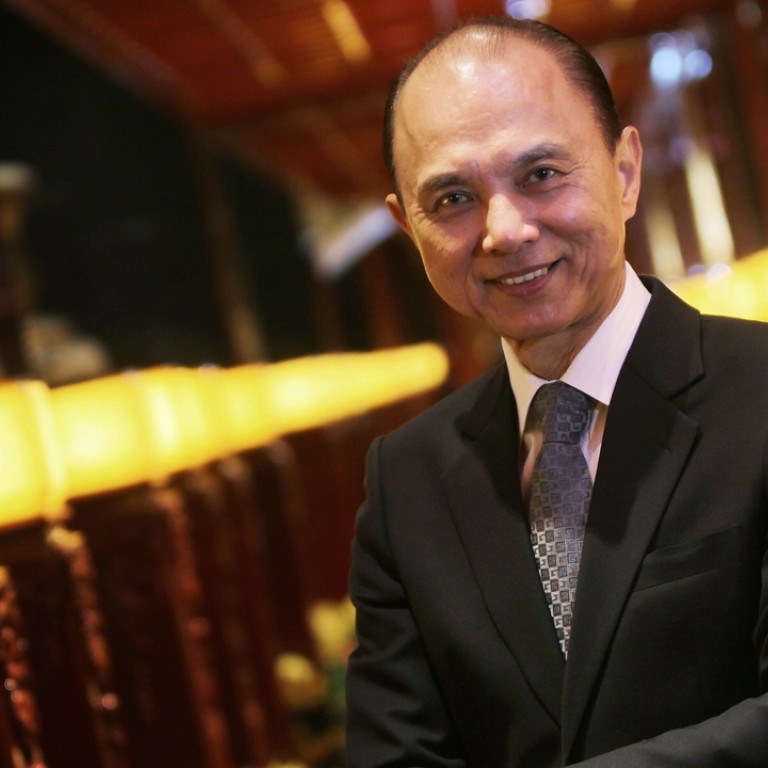 Jimmy Choo helps fledgling Asian talent get a foot on the ladder to design success
Shoemaker eschews spotlight at Malaysia Fashion Week, where a raft of young designers, including a Choo protégée, showed their wares
Emerging talent in Southeast Asia took to the stage for Malaysia fashion week in Kuala Lumpur this month. The event is a showcase for emerging talent in Southeast Asia, and upping the celebrity factor was Malaysian shoemaker Jimmy Choo.
The country's most famous fashion export, Choo has largely eschewed the spotlight, opting instead to help young Asian designers earn the acclaim he enjoyed in his heyday.
"It's quite funny. I realise that I don't have to work now and support myself any more. I could just give speeches everywhere and tell people my life story and how I got to where I am today. That would be easy," admits Choo. "But I want to work with young people. A lot of designers here lack confidence. They are scared to talk to the press and buyers.
"I want to train them to be confident, to own their story and to believe in their design. Because once they do so, people will accept them."
One designer Choo is mentoring is Taiwanese handbag designer Illiza Ho. Ho, who studied at the London College of Fashion, was encouraged by Choo to start her own eponymous handbag label. She is now his protégée.
"The first time that Jimmy [Choo] saw my bags, he asked me if I wanted to come to Malaysia for an internship," says Ho. "Since then, he has encouraged and guided me through the various aspects of running the business. He not only teaches about design, but about the lifestyle and business aspects, too."
Building on the theme of youth engagement that ran throughout the week, The Professor Jimmy Choo Award – Emerging Designer of the Year 2015 , a new prize, was awarded to designers in two categories: fashion and accessories. Choo will mentor the winners - Man Chien of Malaysia for fashion and Pomme d'Ellie of South Korea for accessories.
Among the young designers who stood out in Kuala Lumpur was Max Mak. His collection featured polka-dot garments styled with over-the-top headwear.
"For this show, I really focused on polka dots, which to a lot of people can be cute and girly. But to me, polka dots can be anything you want them to be. So I tried to show the print in different ways. The aim was to show how a classic motif can be interpreted in many different ways," Mak said. The designer will sell the collection at his own multi-brand boutique, Never Follow Suit.
Another collection that stood out was by Wong, designed by Jimmy Wong. For the show, his first, the designer created an all-white collection. The pieces were clean and futuristic, and reminiscent of Calvin Klein.
"The pieces for my collection were inspired by travel because when I'm on a plane, I finally have time to think and be free. And when I look out of the window, I see white clouds, which was why white was so central to my show."
Wong initially wanted to study fashion design but, because of parental pressure, opted instead for interior design. Now that he has the liberty to create his own line of clothes, this schooling in interiors has deeply influenced his work, to which he brings an obvious geometric and architectural flair.
Although there were several interesting designers at Malaysia Fashion Week, the event would have benefited from better curation and a more focused programme. The sheer number of designers showing meant quality varied dramatically. Less successful brands either failed to bring basic design cohesion to their collections or showed humdrum apparel pieces more suited to shop than catwalk.
Some lacked the styling and theatrical finish to bring the whole experience together, but with the industry so new and the event in its early stages there is much room for evolution.
The event's focus on emerging designers is to be commended. With a strong critical eye to steer the event in the right direction, there is no doubt that fashion week in Malaysia can thrive.