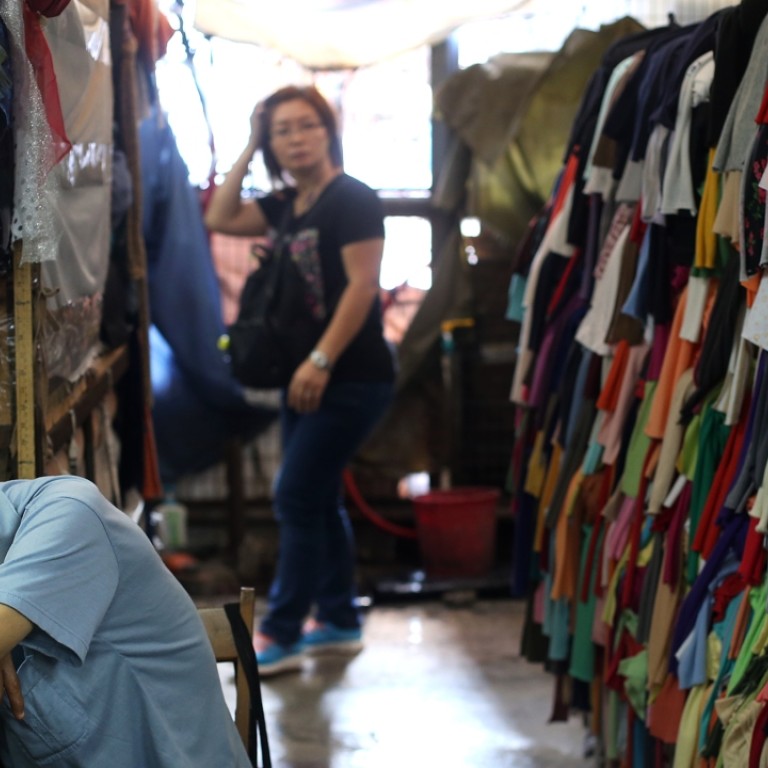 40 years of fashion finished: demolition of Hong Kong's famed Yen Chow Street Hawker Bazaar dismays designers
Warren of stalls at Sham Shui Po market has been a cradle of fashion talent, and designers hope government will give traders a permanent, modern home when it is bulldozed to make way for public housing
In his 38 years selling textiles at the Yen Chow Street Hawker Bazaar in Sham Shui Po, West Kowloon, Chan Yu-tung has always been ready to lend customers a hand. He has helped fashion students select easy-to-handle fabrics for their first clothes-making projects. He accommodates hobbyists' requests to cut just half a yard of material – unless they pick a bolt of fabric stuck at the bottom of a pile that's stacked all the way to the sheet-metal ceiling.
He was even game when designer Dorothy Lam Wing-yu, then a final-year fashion student at Polytechnic University,invited him to model a collection of contemporary tangzhuang for her graduation project in 2003.
"I had been a regular at Chan's stall for years, but our conversation never went beyond business," says Lam. "But when I was looking for the face for my collection, he was the first person who came to mind. I thought he'd take me for a fool when I explained the purpose of my visit, so his swift consent took me unawares. That's when we started to become firm friends."
Eyes crinkling, 82-year-old Chan smiles as he shows off a prized black-and-white picture of himself at a tram shelter in Central, looking dapper in an outfit by Lam.
"Her collection is stunning. I've never thought us pensioners could be so fashion-forward."
Lam, now 36, is among the many Hong Kong fashion designers to have tapped into the colourful chaos of the city's last textile market to realise their dreams.
The bazaar was set up in the 1970s when the government moved hawkers off nearby streets to its site opposite Sham Shui Po Police Station. More than 100 textile vendors once crammed into the site, which resembles a small squatter village with its patchwork roof of corrugated metal, plastic sheets and tarpaulins. Although they are set out along a grid, the lack of clear signage can make navigating the warren of closely packed stalls a challenge for many visitors.
Now this cradle of style makers is set to be bulldozed, like similar markets in Gilman Street, Central, and Bowring Street, Jordan. The Food and Environmental Hygiene Department has given notice to the two dozen traders holding hawker licences to leave by the end of this month, to make way for the construction of public housing.
The bazaar's clearance has been on the cards since 2000, when policymakers decided that fabric traders in the cramped and poorly ventilated bazaar (temperatures can be stifling in summer) should be moved out for redevelopment.
Vendors and activists see the demolition as gentrification. Supporters of the quirky, if scruffy bazaar have plastered fencing next to the entrances with protest banners, and a patchwork quilt peppered with messages of solidarity. At weekends, some have organised guided tours and host sketching and photography events in the hope of garnering support for their cause.
For Chan, it is the second time he is being forced to make way for urban redevelopment. He sold textiles from a licensed hawker stall on nearby Yu Chau Street for 20 years until the site was swallowed up by new bus lanes after construction of the MTR's Tsuen Wan Line.
The octogenarian, whose business has allowed him to put his six children through university, has witnessed the rise and fall of the garment business in Hong Kong. In the heydays of the '80s, he sent bolts of fabric to small-scale manufacturers and measured out small swatches for women factory workers and maids to make new clothes.
"After the women bought cult prints from my stall, they would head to the tailors in the vicinity and get measured. Ready-to-wear fashion was unheard of then," Chan recalls.
Later, as clothing manufacturers moved to China, the textile market attracted fashion students.
As a child, Lam regularly accompanied her mother on shopping visits to Yen Chow Street (the seasoned needleworker not only made quilted jackets and pleated skirts for her four children, but sewed her owncheongsams). Since taking up sewing herself, Lam has often scoured the bazaar in search of lace, denim or sometimes just inspiration.
"When I struggle with design blocks, I enjoy going down the narrow aisles of the market and get inspired by trawling through the large, varied selection. The place is like a treasure trove," says Lam of the summer fabrics arranged next to winter ones, novelty prints stacked upon lace and chiffon.
She says the market has been a second classroom to her, exposing her to a multitude of fabrics that her teachers can't cover at school. "I learned that denim can come with different [degrees of] elasticity, softness and coating."
Two other designers who frequent the textile market are Kei Hui Yip-kei, the respected founder of local label Créature de Keis, and the up-and-coming Mountain Yam, who went on from stints at Cocomojo and Anteprima to establishing two eponymous brands.
Hui, 31, says the market ignites his creative spark. He loves it for its range of unusual fabrics. "A lot of the fabrics there are one of a kind and limited in stock. If I purchase the entire bolt, then I won't likely see designs with the same print or weave on the runway."
Yam, 32, used to swing by with his classmates several times a month when he was a student at Polytechnic University. He appreciated not only the affordable prices and being able to take whatever length of fabric he needed, but being able to play with and overlay materials to his heart's content. In contrast, such behaviour would warrant a glare or scolding from wholesalers on Yu Chau Street, who usually finds serving fashion students more trouble than it's worth – several shops display signs warning "no retail, no students".
"When I asked to buy small squares of fabricfor homework projects, the wholesalers would shoo me away. And there was no way they would cut anything less than three yards of fabric ... They are too short-sighted to know that we will be their future customers," Yam says as he runs his fingers on bolt after bolt of silk, linen and velvet at the market.
Like many of her fellow designers, Lam was dismayed when she got wind of the imminent closure of Yen Chow Street bazaar. She is resigned to its closure, but thinks the vendors should be offered a permanent space since the market has gained a reputation in Hong Kong and abroad. "It's a popular destination among tourists and Singaporean fashion design students," she says.
The government has promised to relocate hawker licence holders and offer some compensation. But officials have yet to hold talks with the majority of the vendors who, like Chan, are tenants.
Should the worst occur, Lam says she will help Chan move his stock to her studio for a clearance sale.
Hui argues that planners should recognise the importance of the market to the local fashion scene even though it has not been around long enough to be hailed as a monument. "If the government knocks the market down, it can't claim to value the development of the fashion industry."
Although Financial Secretary John Tsang Chun-wah announced in this year's budget that the government would spend HK$500 million over the next three years to promote local fashion designers and brands, Hui says it's heartbreaking to see the vibrant place that vendors had spent their lives building disappear.
"I came across a couple who worked at the market day in and day out for two decades, and hadn't even the time to have their pictures taken on their wedding day. They embody the Hong Kong spirit – hard-working, persevering and self-reliant," he says.
To pay tribute to the market, Hui has created an affordable collection using material purchased there. Now on display at his boutique on Hollywood Road, the outfits, including a cut-out cocktail dress and a cardigan with lace inserts, each carries a tag showing not only the name of the brand, but also the source of the fabric.
One tag, for instance, shows that the material came from Mrs Poon of the Tin Wing Hong stall.
Yam says that while it would be a great pity to lose the market, officials can use the opportunity to give the textile retail scene a new lease of life. The government should re-establish the market in an air-conditioned and well-lit complex, where vendors of different kinds of materials and accessories could occupy well-marked sections, he says.
"I'm very particular with colours. Once I bought a piece of black fabric at the market, but unwrapped it later at school and found it wasn't the hue I wanted … The problem is the light at the market is insufficient and varies depending on the hour and weather," Yam explains. "But I believe every cloud has a silver lining. With careful planning, we can turn this misfortune into hope."
Although the future of the market hangs in the balance, the many friendships it has nurtured will endure. Between assignments, Lam still finds time to drop by Chan's stall with a bag of cookies and fruit for a chat.