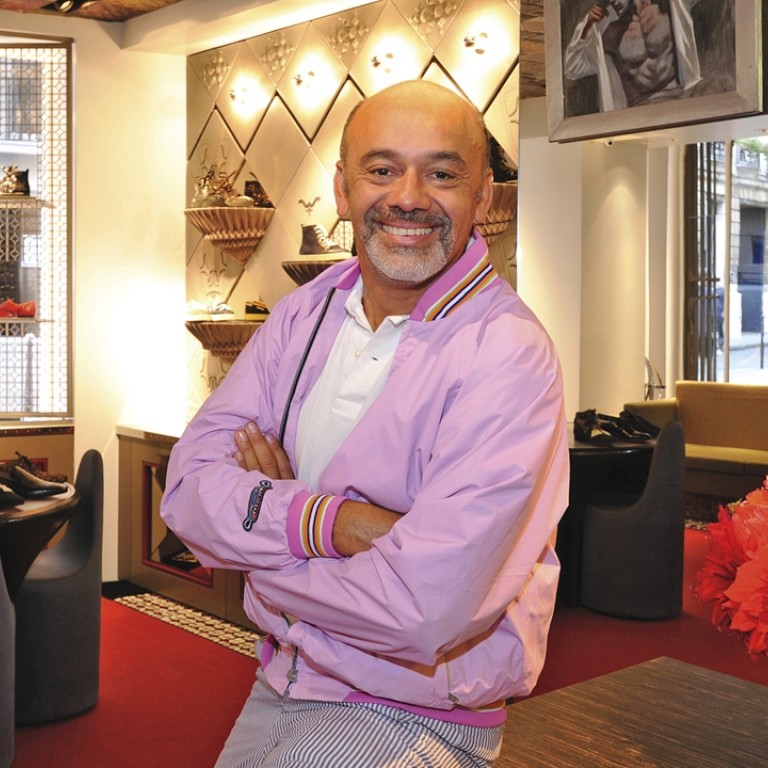 Christian Louboutin opens men's shoe store in Hong Kong
Kanye West, Chris Brown, Elton John, Mika - famed women's shoemaker has developed quite a following for his men's line since launching it - with trademark red soles - five years ago
The iconic red sole, the spikes and stilettos; Christian Louboutin's shoes are probably the most coveted in the world, and inextricably linked with women and sex. In more than 20 years, Louboutin has made magic, almost alchemic, from women's footwear. But, the French designer has also garnered a rather loyal following of men since he started his men's range in 2011.
Alexis Mourot, the company's chief operating officer and general manager, says men's sales make up 10 per cent of their Hong Kong and China business, still trailing behind the 24 per cent the men's line commands globally.
But they are hoping this is about to change with a new Central store in On Lan Street dedicated to men, opened last week. It's the brand's first men's boutique in the city, tapping into a fashion market that is significantly more experimental and less conservative than their Western counterparts.
"This is quite a new category for us with a lot of potential," says Mourot. "The main issue is to be with the correct distribution worldwide and we have been very keen to select the right points of sales."
In Paris, we meet the eccentric designer in a cosy lounge next to his Rue Jean-Jacques Rousseau offices, showroom and flagship stores. Even though it's a chilly September day and the rain has been intermittently falling, there has been a line of shoppers outside his boutiques all day. It's fashion week, and Louboutin is juggling several days of head-to-head appointments.
Those who've talked to the designer know about his effervescent character. He has a quick and frequent wit and is more obsessed with manicured gardens, ancient Egypt and Bollywood, than the big fashion monthly magazines. During our interview I'm surprised to see that he's wearing a pair of dark leather trainers ("I usually don't wear sports shoes," he quips.) rather than a pair of more exotic designs.
"I always designed a few special shoes for men, but the first time I tried a proper collection was for the singer Mika, when he approached me to make shoes for his tour," he says about how the men's range came about.
Louboutin might have transformed footwear into a mass fetish, but of all the designers in the world, why would a male pop star choose one famed for women's stilettos?
"He [Mika] grew up with lots of sisters, and he saw how they were obsessed with my shoes," Louboutin explains. "He says they would be transformed by putting on a pair of my shoes and he wanted that kind of confidence and transformation for himself on stage."
Once the designer started, he ended up making a full men's collection inspired by the stage, which of course Mika didn't need in its entirety. So he put a selection on his shelves, which sold like hot cakes. Five years down the line, with men's fashion driven by a new generation of metrosexuals who like to spend and often, those red soles are finding themselves on plenty of men.
While his women's shoes aim to unleash our inner showgirls, his men's shoes seem to have found a sweet spot with performers, whether it's "sportsmen like famous footballers and basketball players, or singers, musicians, celebrities and actors".
The sex appeal and confidence it lends to women seems to have transferred to a kind of masculine bravado in his men's line, gaining fans such as Kanye West, Chris Brown and Elton John. And they all pay – Louboutin never gifts shoes, not even to celebrities.
While his aesthetic doesn't directly compete with the many more traditional men's luxury shoemakers around, the company hopes to make inroads with this market as it becomes more experimental. And they want to send the message that his eccentric styles never sacrifice on craft and substance.
Just outside Naples is a boutique family-run shoemaking factory, making certain models of Louboutin men's shoes and boots in limited quantities, while also serving its fair share of traditional men's brands.
When we visit, we see leathers being meticulously cut, shaped and crafted for a Louboutin shoe. Firstly, leather is selected to be cut "a mano" (by hand) by one of the craftsmen; a small alligator pelt is chosen for each shoe to ensure that it gets the best part of the skin and that each shoe matches in grain, colour and pattern. The soles are lined with cork, a process called "sughero" for comfort, and then the bottom layer of the sole is stitched to the upper. Not wanting to sacrifice on the pristine red lacquered sole, this final layer isn't stitched so that it maintains the untouched, whole red surface. Colours are painted onto the leather uppers using layers upon layers of natural French dye, chosen for its deep patina effect and shine.
There are slightly different approaches when designing for the different genders, Louboutin admits. The architecture of a heeled shoe, the woman's curved arch make it a very different animal from the more angular, flat men's shoes that use bigger swathes of fabric. Men's shoes tend to require thicker leathers than women's; and some prints, he points out, work better in bigger pieces. But "the surprising combination of textures and materials" is a signature that he uses for both collections.
So what are we to expect for the world of Louboutin men? His items range from formal to casual: velvet embroidered loafers, monk shoes, to daring slip-ons with metallic spikes, and yes even occasionally the odd pair of heeled shoes. There's bright red leather lace-up high-top trainers entirely covered in spikes, the cognac leather and denim Top Daviol flat up flat (a curious take on a formal shoe) or a super shiny slip-on skater shoe. These generally aren't for shy and retiring types. You can see why performers are so attracted to Louboutin's wilder, innovative creations.
While they've been doing more traditional bench-made leather shoes in these past seasons, the focus for the men's collection is still centred around Louboutin's signature style: "a mix of traditional materials, playful prints or special seasonal fabrics with advanced, highly technical applications".
And Mourot says that by "achieving a balanced offering of casual shoes and more formal style, there is very strong potential for the future".
The designer's frequent visits to Hong Kong already has coiffed, grown 40-year-old ladies regularly turning into whimpering schoolgirl fanatics at his store appearances. Maybe it's the men's turn soon?
We have little doubt that this new store is going to do well – when it comes to fashion, Hong Kong men have a daring experimental side and peacocking is a forte. The timing seems right. Especially in the festive season, red soles do seem quite appropriate, don't they?