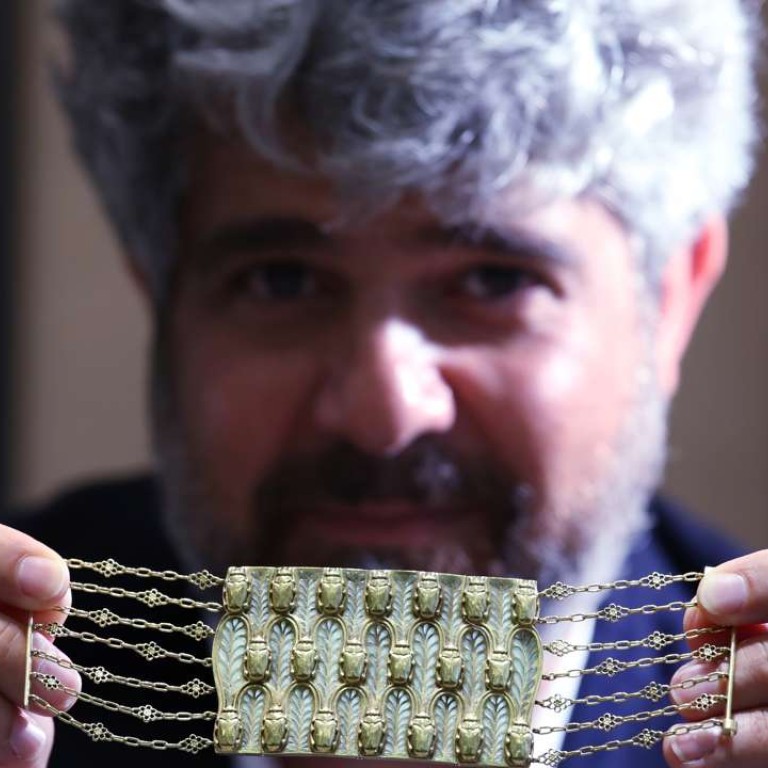 Hong Kong jewellery lovers can get close to some of the world's finest pieces in Central this week
Palais Royal Paris offers Hongkongers a chance to see some of the best jewellery from the 1900s onwards – Lalique, Cartier, Van Cleef & Arpels, Mauboussin and more
Gilles Zalulyan, owner of Palais Royal Paris gallery, has spent the past 20 years of his career scouring the world for the finest jewellery pieces. Working with private owners as well as professional dealers, he has laid his eyes on some of the world's most opulent pieces.
All this experience and passion has come together this month, with Palais Royal Paris inviting the general public to learn more about such fine craftsmanship at its Central showroom. Until May 21, guests with an interest in history, jewellery and art can view the pieces in person while on a private tour of the exhibition. The exhibition offers a glimpse into high-end jewellery from 1900 to 1980, with names such as Cartier, Van Cleef & Arpels, Mauboussin, Sterlé and Boucheron.
"We decided to hold this exhibition because there is a noticeable rise in public interest for historical jewellery over the past few years. For example, a piece we saw in 2006 would auction for US$20,000 to US$25,000. But in the past few years, that same piece would now fetch US$50,000 to US$60,000. This rise in price shows there is more interest from collectors," says Zalulyan.
He adds: "The pieces on show are all now considered extremely rare. For example, finding jewellery pieces from a French jewellery house such as Lalique used to be much easier, and we would find about one piece per month. That said, nowadays it's become so rare to find them that maybe we will stumble across two pieces a year – just maybe."
Pieces on offer are all made by hand, and provide a glimpse into the different moods and sensibilities of each decade. For example, jewellery from the Edwardian era is characterised by a traditional and regal design. This contrasts with the style of art deco jewellery just 10 years later, which features bold, graphic shapes.
Other pieces show a fetishisation and fascination with Middle Eastern and Asian cultures, with designs inspired by Egypt, Japan, China and India. This includes the appropriation of cultural motifs and the adoption of stones such as jade.
"We work a lot with jewellery houses such as Mauboussin, Van Cleef & Arpels and Cartier to verify the pieces for their authenticity," Zalulyan says. "Many of these companies are also our clients, as they will buy back some of the pieces for their own archival collection or sell them again to customers."
He adds: "In terms of other clients, one person who has bought a few pieces from us is Karl Lagerfeld, creative director of Chanel. He's a good client … he likes pieces in a few colours and stones such as diamonds, but he doesn't like brown [ones]."
Zalulyan began his collection many years ago with pieces from Lalique, a company he prizes the most for its aesthetic qualities and rarity. But working for so long in the business as a buyer and seller, he had a high exposure to many other pieces and eventually shifted into buying other pieces from other brands that were representative of each time period.
"I set aside three or four pieces per year for my own collection, while everything else we buy and sell. So when deciding what to keep, I look at how strong the design of the piece is, the character of the stone and line. Most importantly, I have to love the piece," he says.
"Occasionally, I will get an offer for a piece and because the offer is so good I can't refuse. That's not a bad thing. There is a time when you want to collect something else and move on. And I have enough, I cannot add more."
Until May 21, Tue to Sat, 11am to 7pm, Palais Royal Paris, G/F, 74A Hollywood Road, Central, tel: 2964 9088. Groups (maximum four guests) wishing to enjoy a private tour with Gilles Zalulyan must book in advance. [email protected]