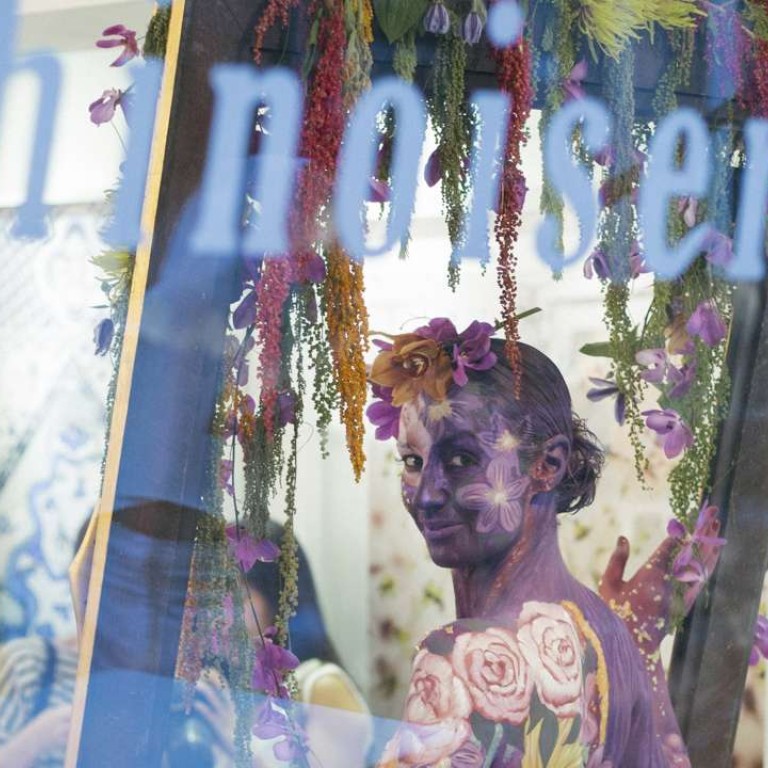 Still live: body art with a Chinoiserie theme at Hong Kong gallery
Emma Hack's models take as long as 15 hours to paint, during which time they have to stand in position in front of the background; in new works Yin and Yang, her muses appear as porcelain busts
Emma Hack started off as a face painter but on advice from her teacher kept on going.
"In my teens I was face painting children and decided to study makeup artistry. My teacher suggested I try painting the whole body and I loved the results, so entered competitions and worked hard on my style of this art form," says the Australian artist.
In 2011, Hack gained global exposure following her work with Australian-Belgian singer-songwriter Gotye on his music video Somebody That I Used To Know.
Today she is a leader in modern body art, her works shown in galleries worldwide, including Hong Kong, where her solo show, "Chinoiserie", is being held at The Cat Street Gallery in Tai Ping Shan, Central, until September 12 (she also staged a solo show in 2013).
Works called Yin and Yang feature the delicate positioning of her muses as porcelain busts interacting within her painted backgrounds, and explore the beauty of Hack's Asian neighbours.
"I choose the theme of the exhibition and what I want to say or have the viewer consider. I then paint the background to suit where the model will be positioned within the artwork. I go into the studio and body-paint the model for eight to 15 hours.
"If it is a camouflaged work, the model has to stand in position the whole time as I paint her to match – the viewpoint is through a camera I check regularly. If there is a bird in the work, they arrive as I am finishing, [and] I then photograph the results.
"I usually create each work as soon as I finish the [previous] one. There is usually a lovely flow through the collection this way and I can better each work technically as I work, focusing on the strength of the last work."