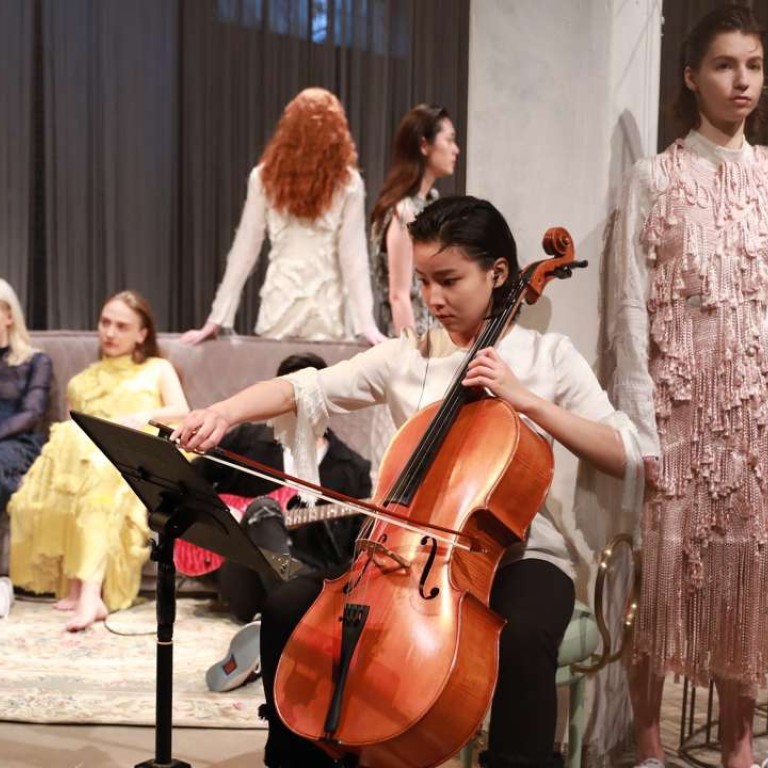 Shanghai Fashion Week: the seven best autumn/winter 2017 shows so far
Looks with exaggerated proportions, wide-leg trousers, high necklines, and neutral tones cut with shiny metallics are among the common themes on the catwalks this week
Shanghai Fashion Week's autumn/winter 2017 catwalk shows run until April 14, but there has already been plenty of world-class fashion action in the tents – and abandoned warehouses – of China's premier fashion city. Strong collections from young designers launching their own brands, having returned to China after studying at top international schools in London or New York , show the benefits China's fashion culture is reaping from the industry's increasingly global outlook.
Popular on the catwalks in Shanghai this week have been looks with exaggerated proportions and wide-leg trousers, often cropped at the ankle. Skirts of a similar length were most popular, as were high necklines, wrapped garments and neutral tones cut with shiny metallics.
Several collections mined early 1980s fashion for inspiration. That meant more than a few appearances for corduroy; silk was also a popular fabric while, for outerwear, oversized cocoon shapes and bomber jackets in every imaginable material were a feature.
These are the seven shows that have stood out so far in Shanghai: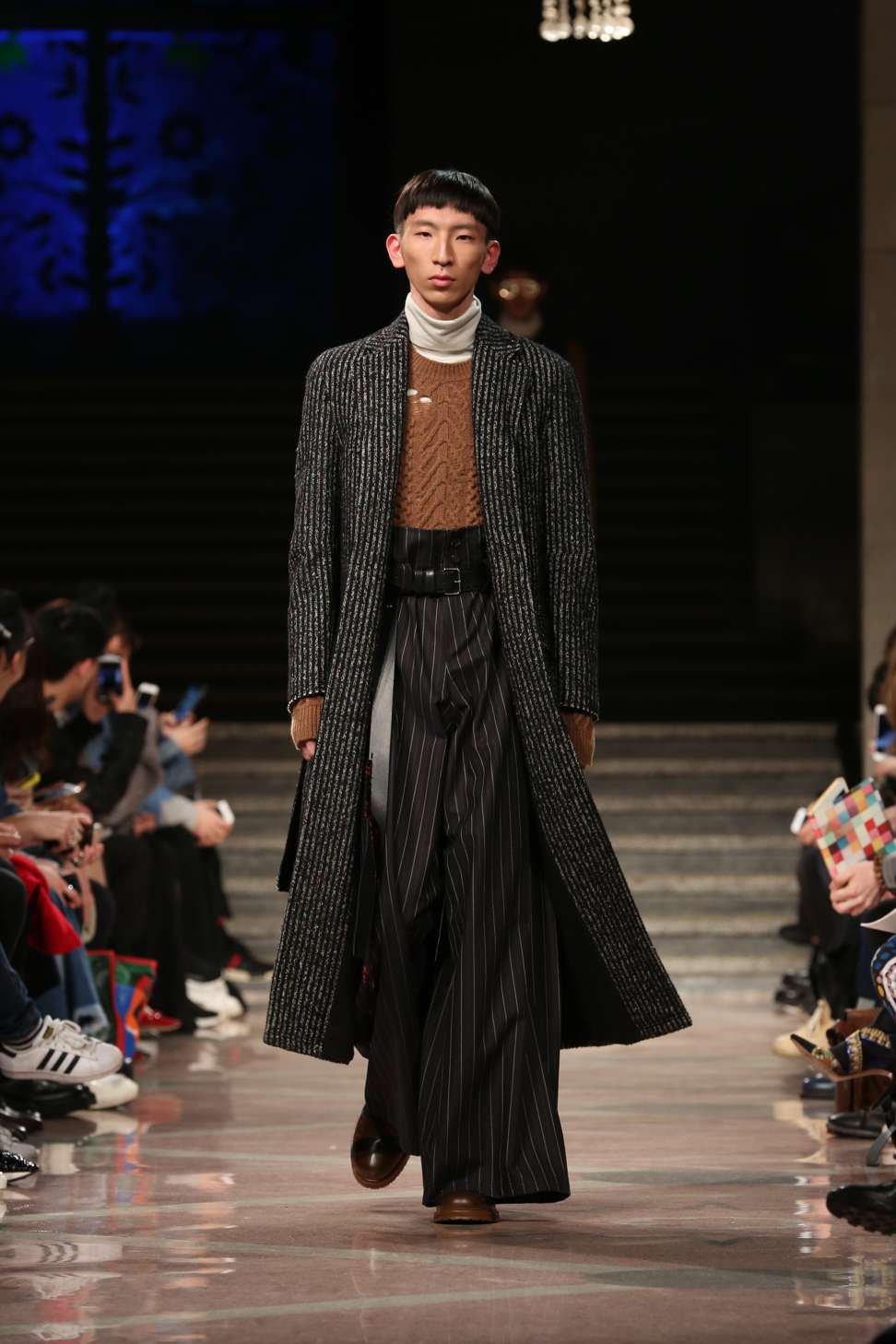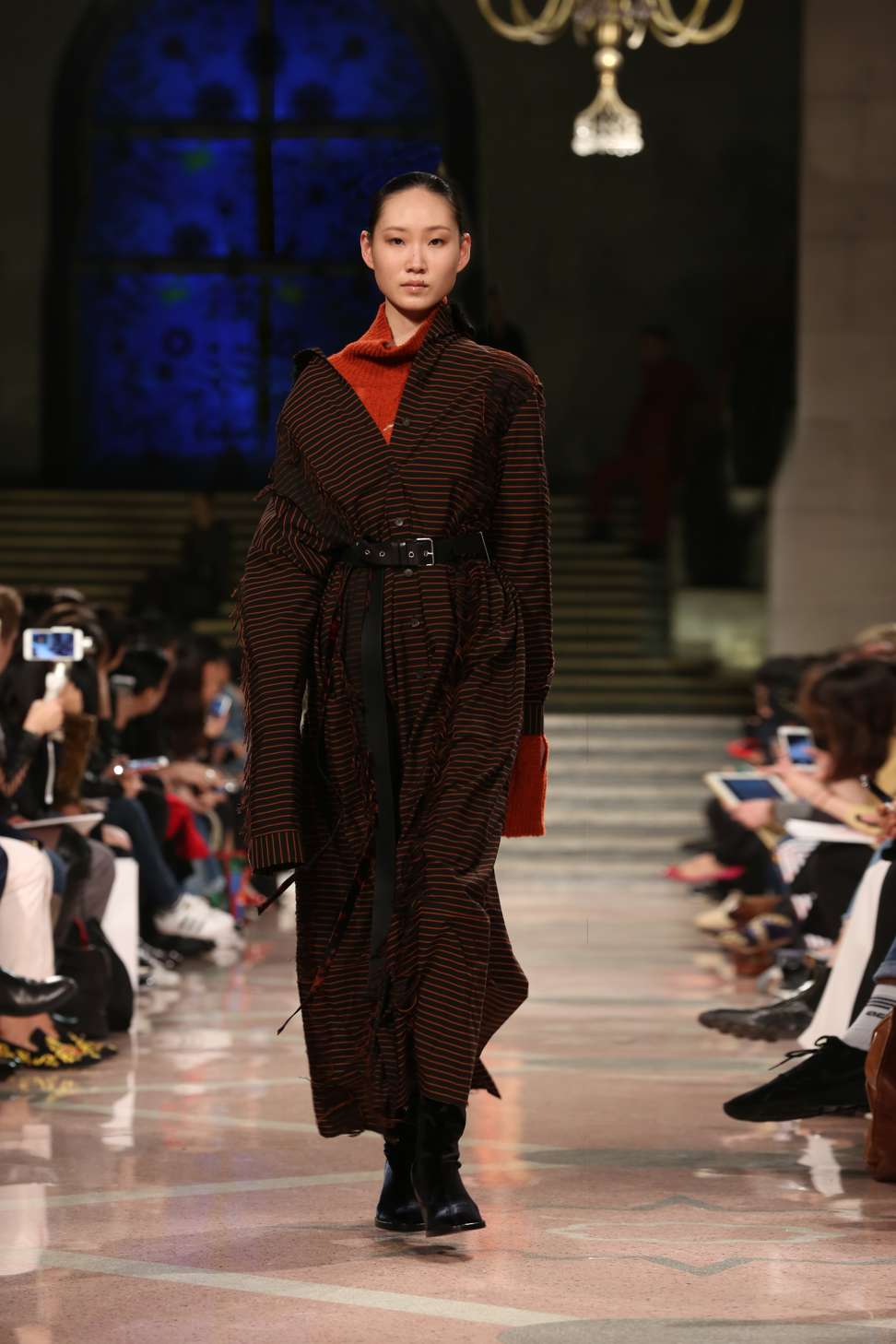 Damir Doma
Croatian-born, Milan-based Damir Doma is known for his subtle, sombre looks and for pioneering a style of unisex dressing that's been embraced more and more by modern men and women. Textural interest was paramount in a romantic, earth-toned collection of draped velvet, distressed knits, wide-leg trousers and soft-shouldered outerwear. Though this collection was first shown in Milan in January, Doma added a dozen new garments for the Shanghai show, featuring slightly different washes and colour combinations among the array of blasted buffalo hide and bleach-spattered satin pieces. The Damir Doma brand, this year celebrating its 10th anniversary, continues to transcend trends and march to the beat of its own fashion drum.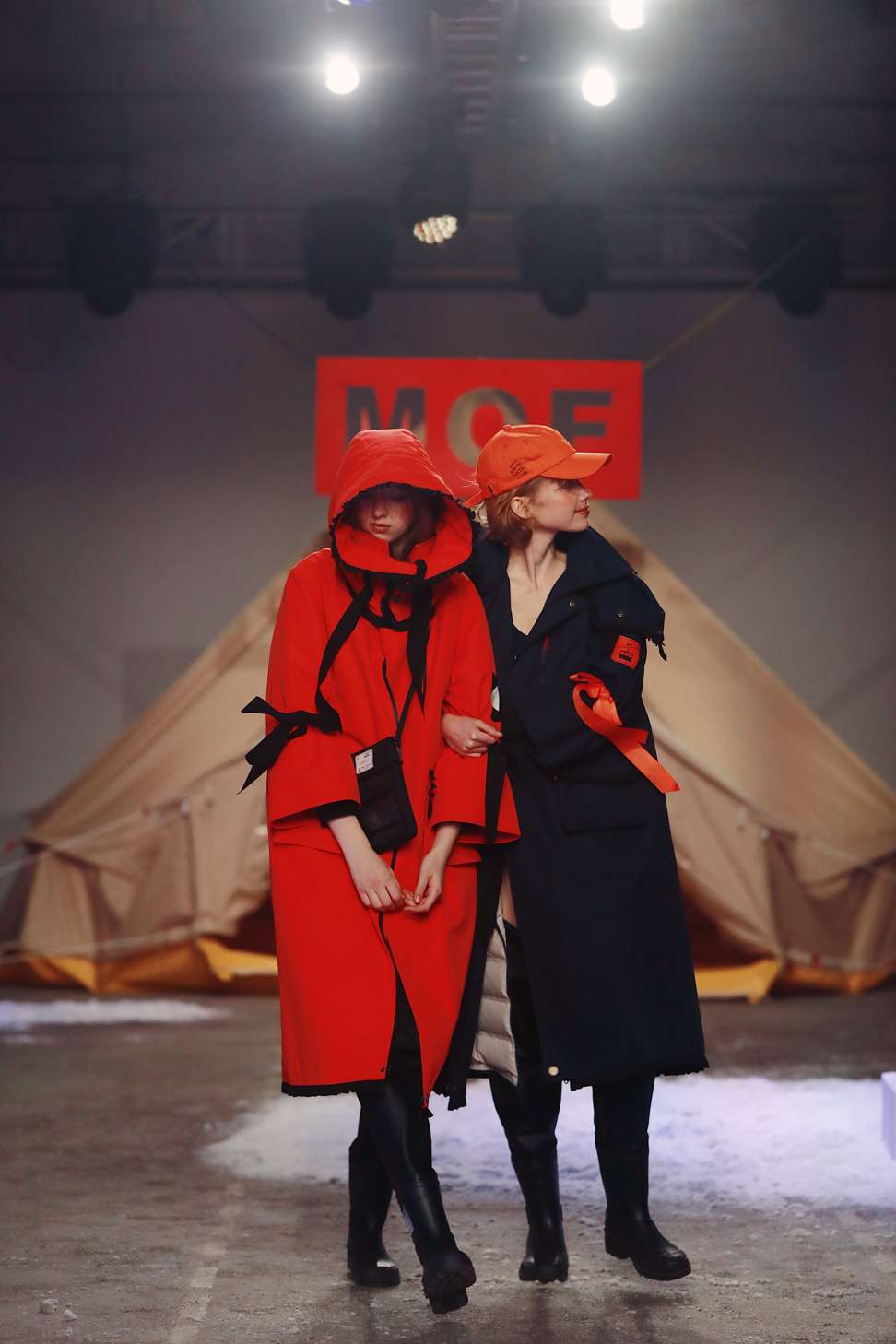 Museum of Friendship
Designer Momo Wang took a major stride forward this season, maintaining her signature playfulness – the models don't walk in a Museum of Friendship show, they dance – but that fun-loving vibe was tempered by a more assured touch than she's shown in previous collections. Many of the looks, including the black, ruched nylon dresses cut just above the ankle, took a turn for the gothic. Shapeless silhouettes in black and blue, adorned with ribbons and gathered and nipped at the arms and hemline, were styled with black Wellingtons.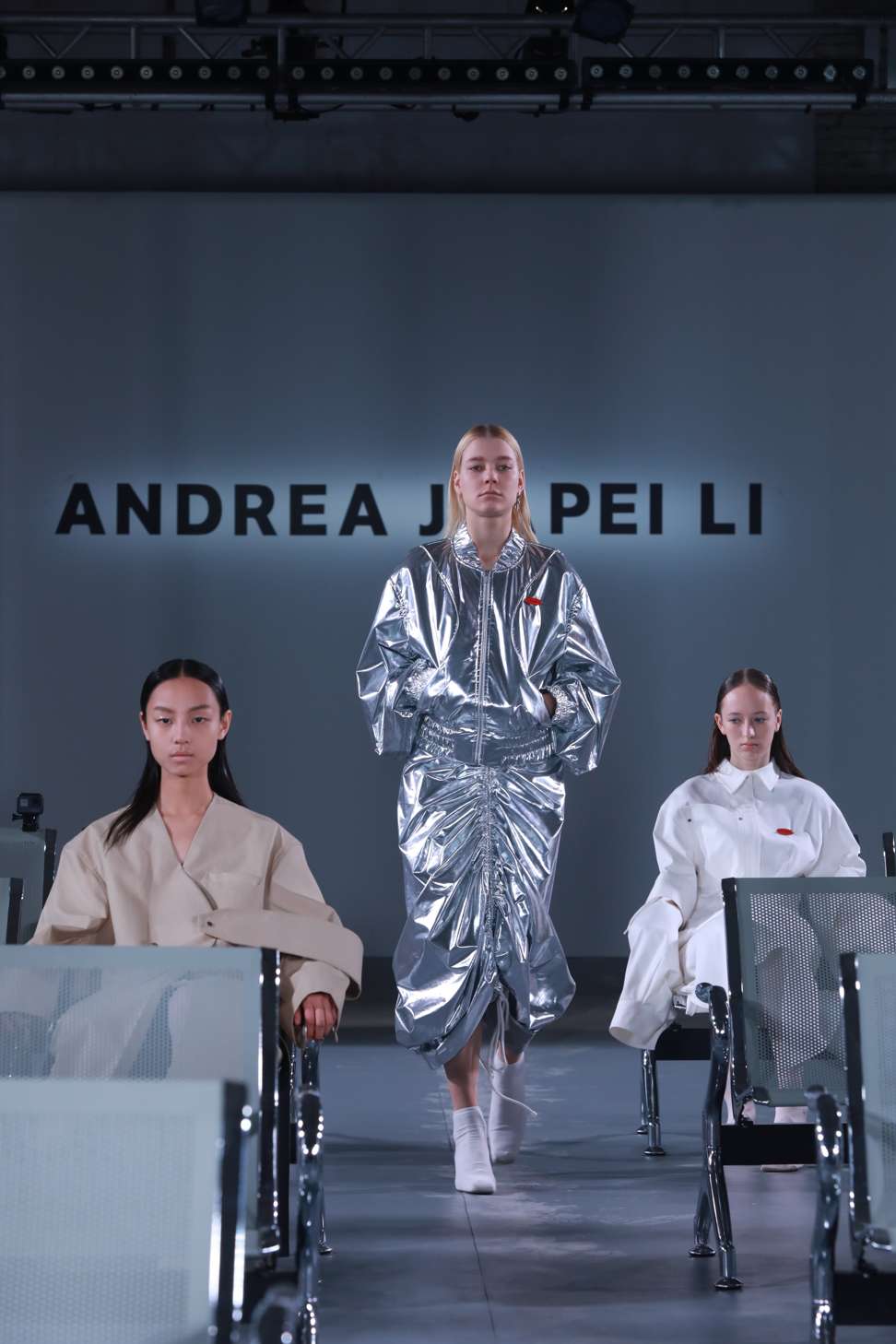 Andrea Jiapei Li
Each of Li's monochromatic looks – in camel, navy and white, punctuated by splashes of colour, and a standout silver lamé bomber dress, cinched at the waist and falling to mid-calf – felt like a modern update of something familiar. Stirrup pants with sporty white stripes up the leg were paired with a coated and matte-panelled tent dress or bomber jacket on top. Though the style was mined from the '80s, the lifestyle this aesthetic represents fits perfectly with the dominant athleisure style that has become the modern, urban woman-of- the-world's uniform in 2017.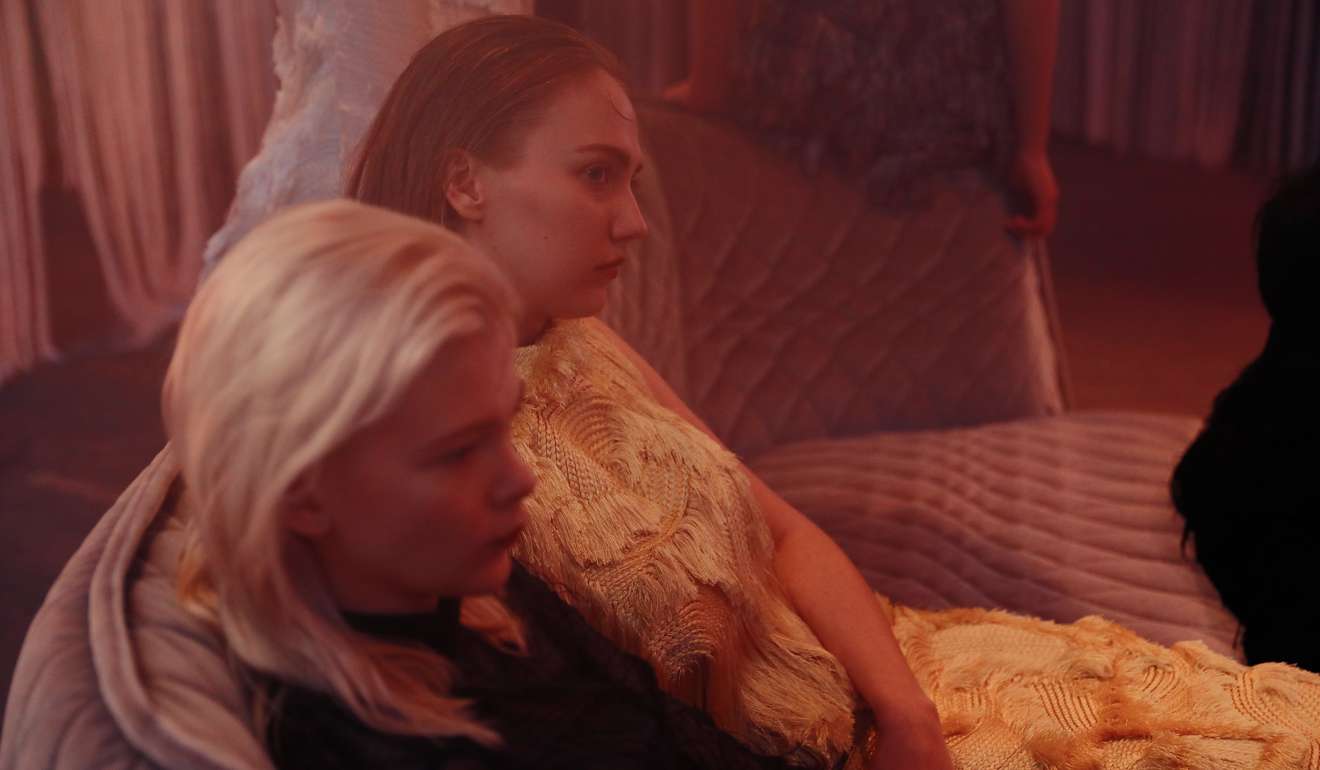 Xu Zhi
An atmospheric and intensely elegant collection from designer Daniel Xu Zhi Chen, complete with the brand's signature braiding technique seen in small and large doses on tops and dresses. Evening gowns adorned in silky, braided texture, with extravagantly sweeping fringe swaying just above the model's untied white canvas sneakers were a highlight. This is free-spirited, bohemian elegance. Reflecting the louche decadence of the clothes, models posed languidly in cordoned off areas, separated from one another with more fringe, this time falling from ceiling to oriental carpeted floor, while musicians added to the ambience with a live performance.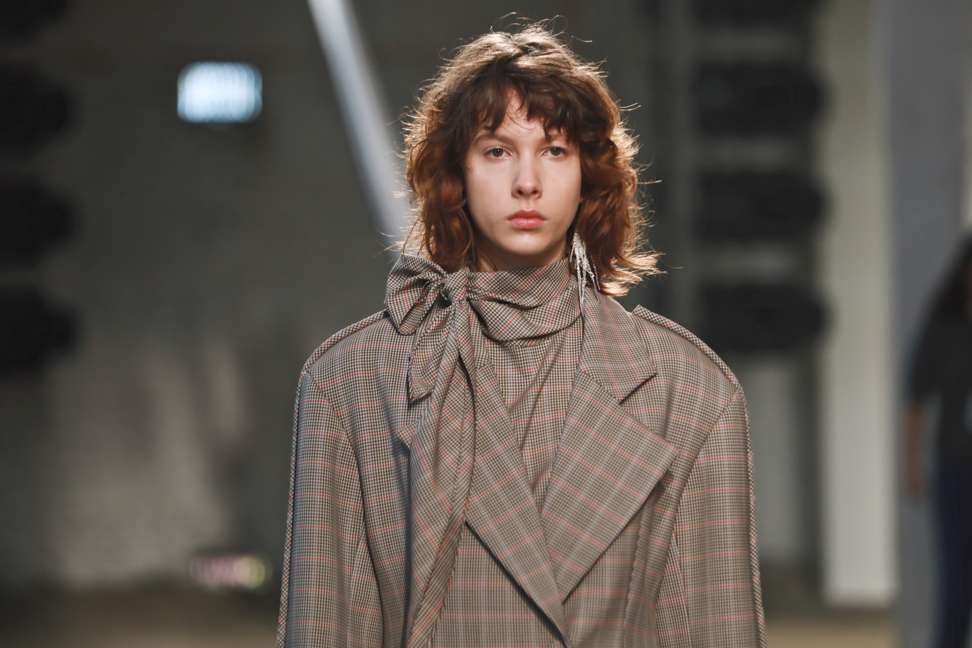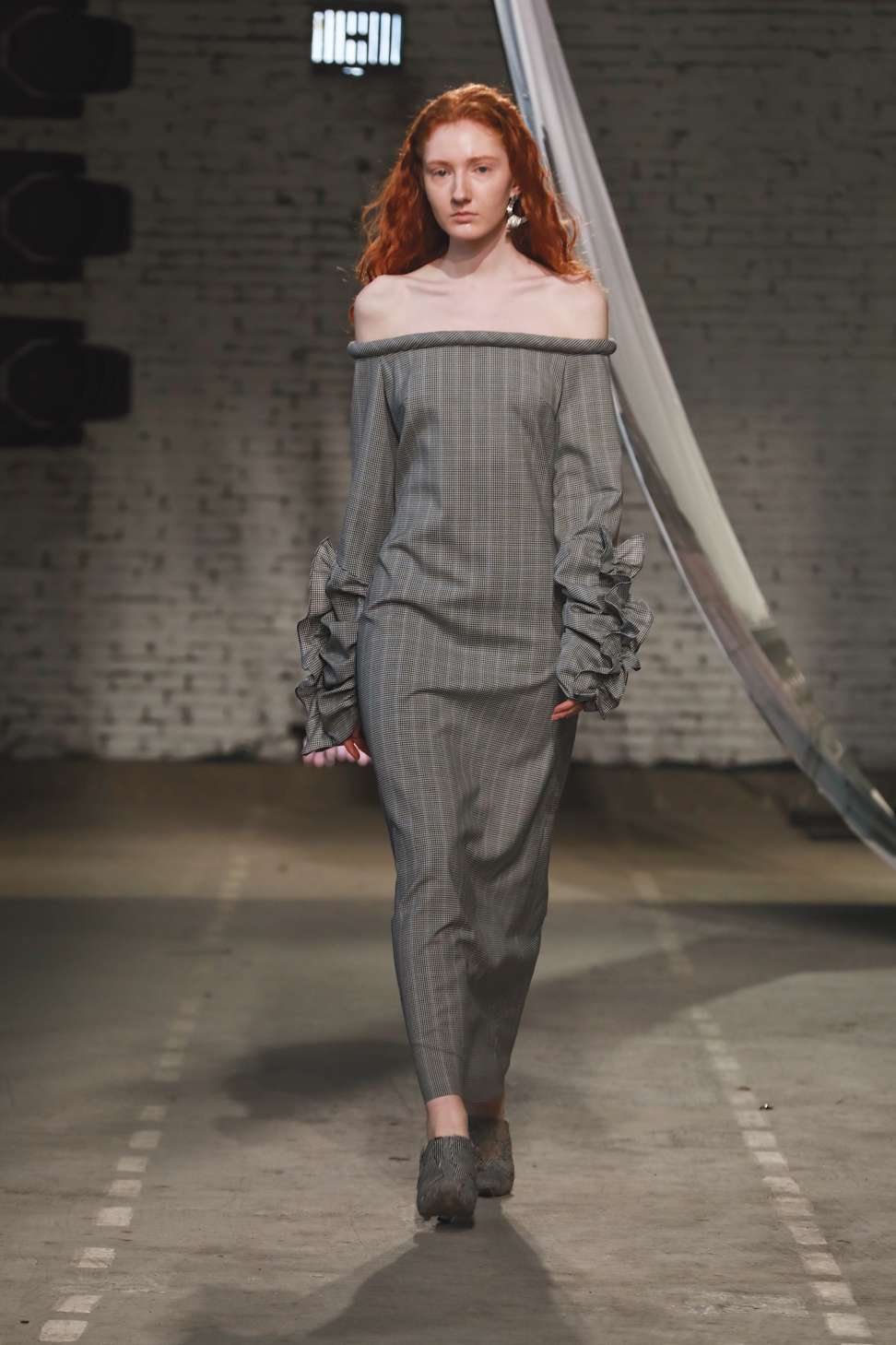 Yingpei Studio
There's a romantic and feminine element to designer Ying Pei's ruffles and languidly cut wool suits for women, but it's never overtly girly – it's a rather more assured, quiet, largely monochromatic brand of femininity. Roomy plaid suit jackets were worn atop sleek mid-calf skirts with high slits, or narrow-leg trousers cropped to the ankle, while ruffled details of varying sizes and proportions adorned hemlines, pockets and seams. The impression was one of easy wearing and easy movement without compromising the elegant tailoring.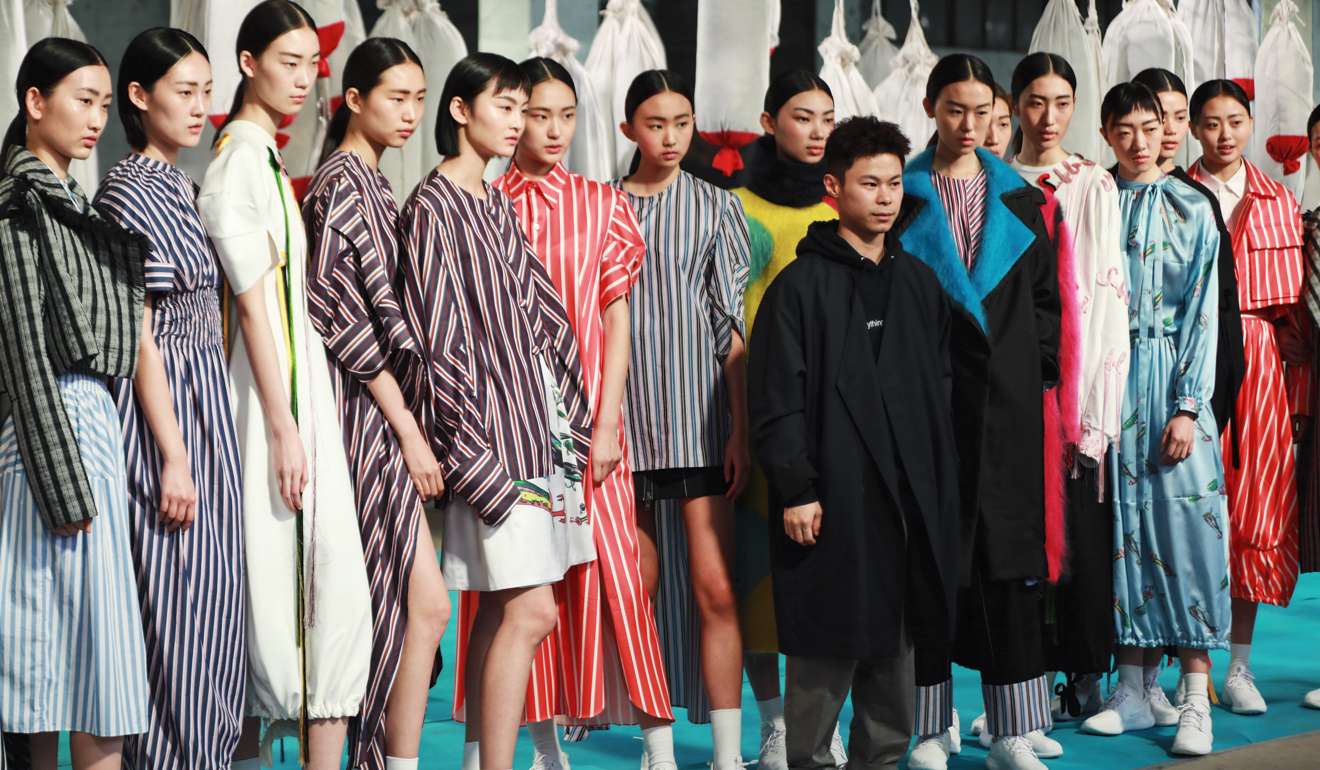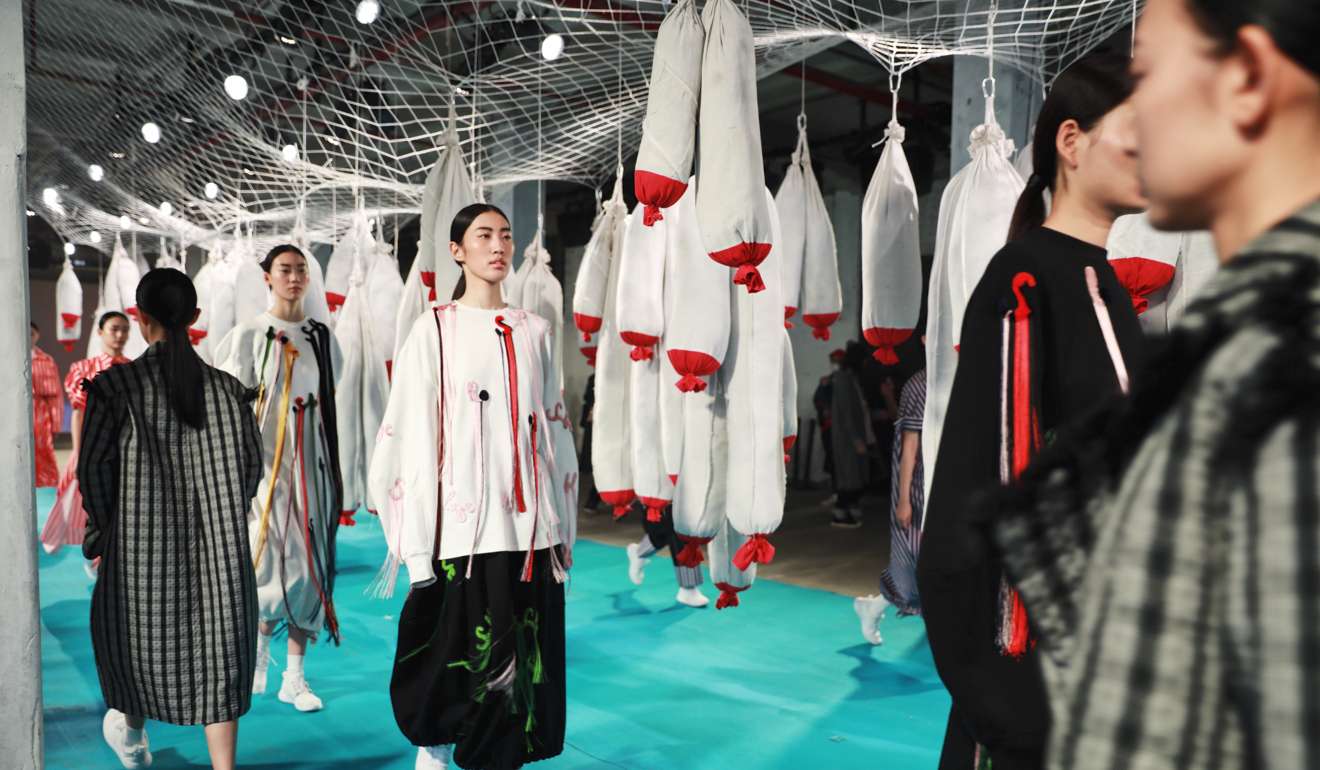 Minki
Hong Kong-born Minki Cheng is has tapped into a geek chic niche that is growing in popularity and influence in Chinese cities, with a generation of 20-somethings raised on anime and Nintendo.This manifests in Cheng's demure cuts in a bold palette. Unstructured woollen outerwear and sweater dresses, for example, featured waves of coloured mohair adorning the fluffy front panels. A range of nicely tailored cotton shirt dresses proved a highlight, some nipped at the middle with a cape effect at the back, others with a straight, boyish cut and hi-lo hemlines.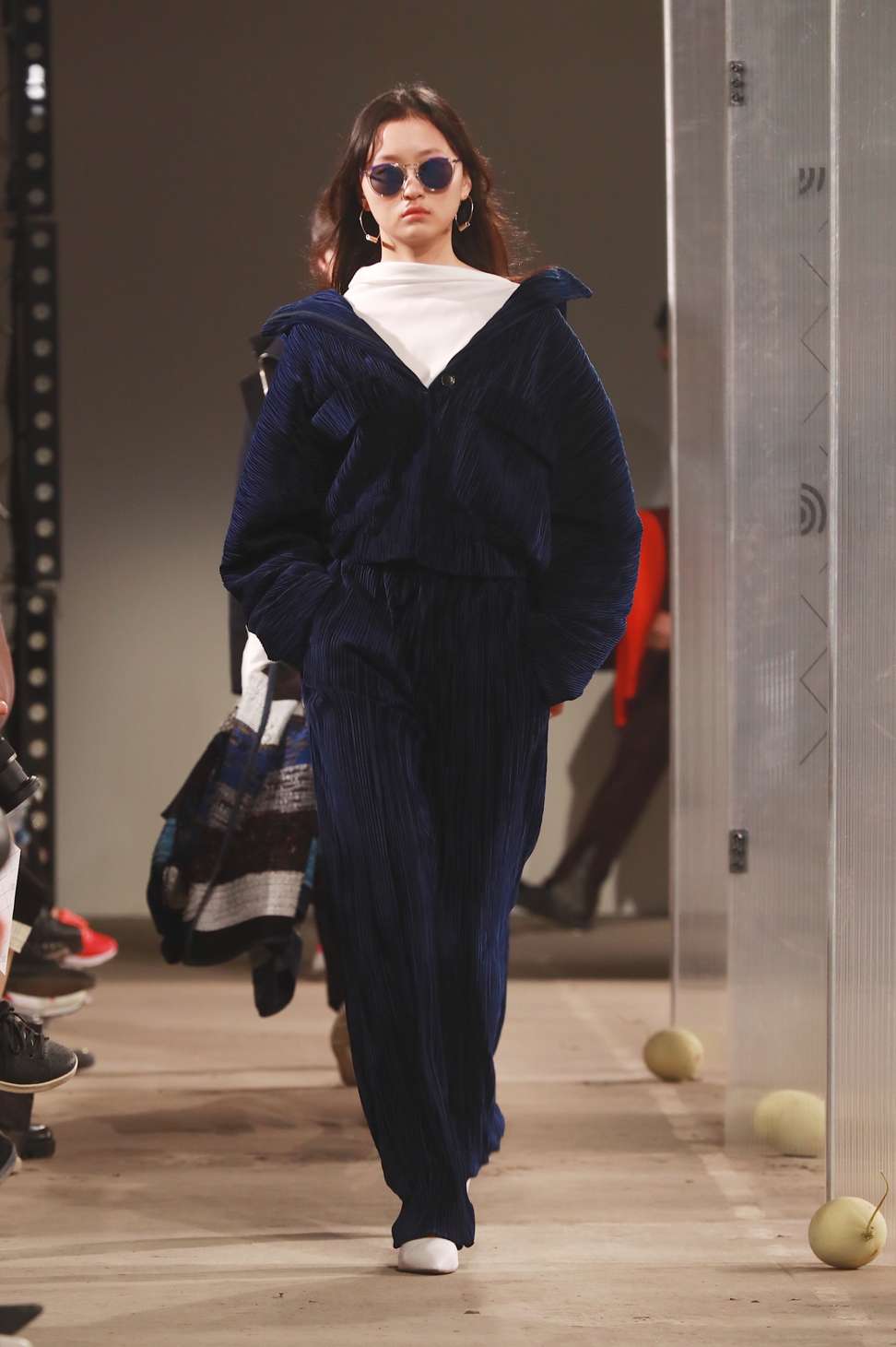 Ffixxed Studios
The ethos of this brand is about blending the way we dress at our most comfortable – when we are kicking back at home – and making that cool enough to wear outside as well. For this collection homely influences, such as aprons and blankets, were reflected in the fabrication. Familiar Ffixxed signatures, such as angular wraparound skirts and thick woven natural fibres were also present. It's the thoughtful details that make this brand something special and this season, the touch of pleated lining on the inside of a jacket with split sides, making it appear as though there was a pleated skirt underneath, proved a particularly clever illusion.