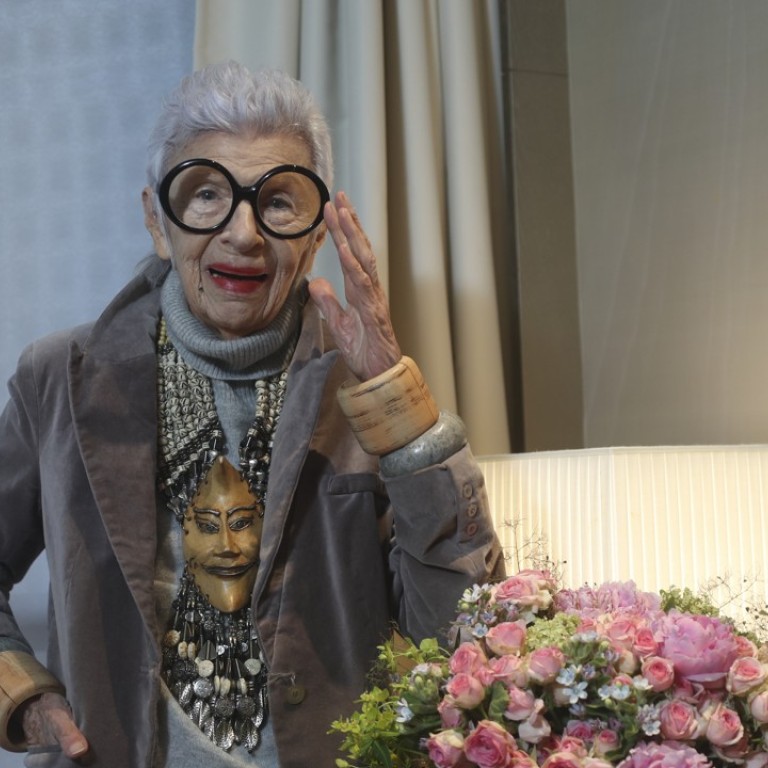 Iris Apfel on style: take a chance - why look like everyone else, says fashion's grande dame on first visit to Hong Kong
New York's accidental fashion icon, now 95, shares her philosophy on life, accessories and individuality, trawls Hong Kong flea markets and snaps up 10 pairs of handmade slippers in Jordan
When the door to Iris Apfel's suite at Hong Kong's Landmark Mandarin Oriental opens, the small foyer reveals two racks of clothing, mostly jackets – ranging from a cowboy number with fringes, to a vivid, striped coat, an elaborately embroidered navy blue one – and a rainbow of shawls.
Now 95 years old, the fashion icon may have some trouble standing for a long time, and be a bit hard of hearing, but she still fires off one-liners and funny anecdotes from a storied career in interior design, textiles, fashion and accessories.
The feisty New Yorker is in Hong Kong for the first time at the invitation of the Landmark to take part in the luxury shopping complex's "A Year of Wisdom" campaign, for which she repeats some of her mantras: "More is more, and less is a bore", "When you don't dress like everyone else, you don't have to think like everyone else", and "Lots of people age, but they don't grow".
Apfel is known for her zany outfits and accessories, but her look is decidedly toned down – perhaps to match the overcast sky: grey velvet jacket, turtleneck sweater and trousers. Dashing any notions of solemnity, though, are a large crescent moon with a smiling face hung by several strands of ceramic beads around her neck, and numerous chunky bracelets that made clacking noises when she moves her arms. And those signature huge, owlish, black-rimmed glasses.
Apfel's schedule is packed – a talk to an audience of several hundred in the Landmark Atrium, sharing ideas with young Hong Kong designers, media interviews, and meals at China Tang and Sevva. But the nonagenarian is most keen to scavenge through Hong Kong's markets.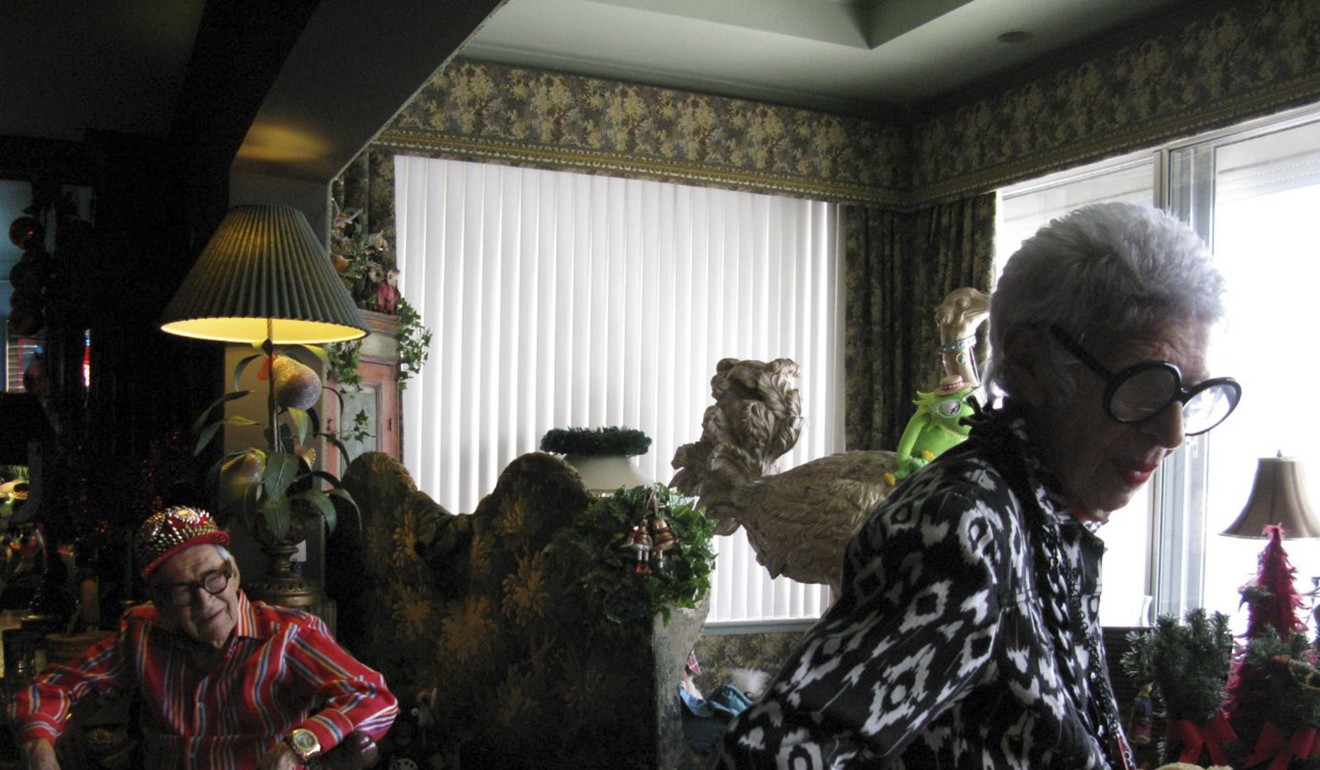 "We went to the Jade Market, but they were already closing when we got there on a Saturday night," she says, disappointed, although she did manage to see Temple Street Market and Sham Shui Po.
Most people of Apfel's age have long ago slowed down, but she's been the opposite, particularly since 2005, when she stumbled into the limelight thanks to an exhibition of her wardrobe and accessories at the Costume Institute of New York's Metropolitan Museum of Art. It hadn't started out as such a large display, but when the curator saw her bulging collection the exhibition took on a new dimension. Nine years later, director Albert Maysles made a documentary about her, called Iris.
"I wasn't prepared for the attention. I'm a very private person, really, but the attention was enormous and I had all kinds of offers to do interesting things – which I love, because my former life was interior design and home furnishings," she says.
"Then I was thrown 'whoopty doopty' into the fashion world. I like to do new projects. I've been a spokesperson, I've done a make-up line, all kinds of jewellery, from low-end to very expensive, and handmade jewellery. I've been a mannequin and I'm probably the world's oldest living broad who's ever graced the cover of a magazine."
While she revels in the attention, claiming she has fans ranging from six to 106, Apfel is taking her fame in her stride.
"I can see how some young people who get all these accolades can fall into a terrible trap and begin to think they're better than anybody else, or get very nervous and take drugs and drink, because it takes a certain kind of self-control to handle all this stuff. It's a lot. I'm very grateful and I'm very flattered, but I let it roll off my back because you can't think you're the best in the world. It's ridiculous," she says.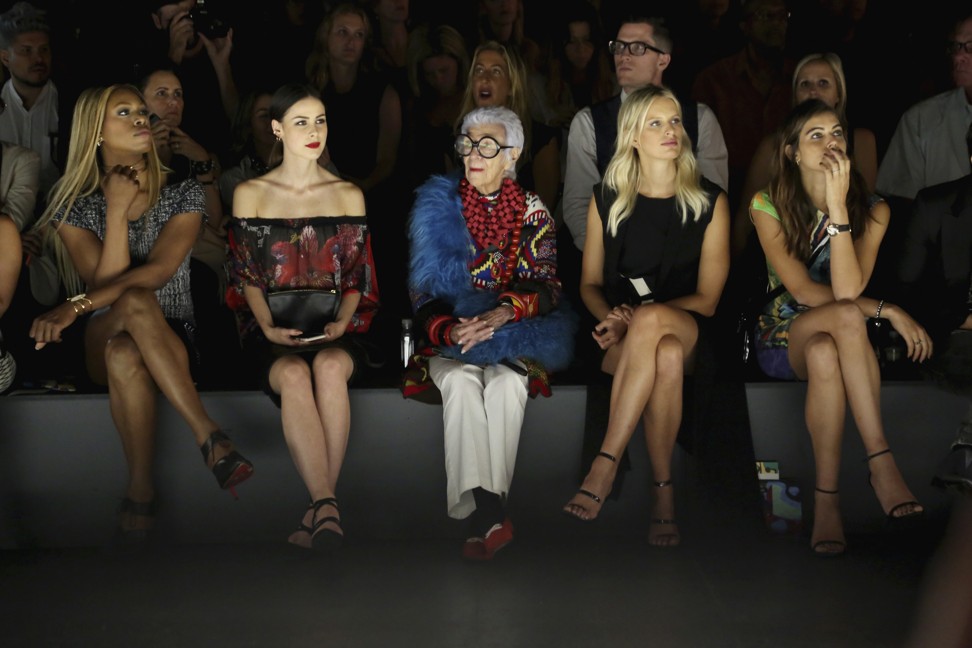 Apfel's career began in interior design, though she later inadvertently moved into textiles when she was looking for an obsolete fabric design and ran into a former classmate whose father was an Italian weaver. He replicated the design for her and she then began designing fabrics for his company. Soon afterwards, in the early 1950s, she and her husband, Carl, set up Old World Weavers.
Among their "top-drawer clients" were Estée Lauder and Greta Garbo, museums and government buildings, the most famous of which was the White House, where they worked with the wives of nine presidents (from Harry Truman to Bill Clinton).
During this time they travelled often to Europe, the Middle East and North Africa, sourcing fabrics and, of course, feeding Apfel's favourite pastime of scouring flea markets.
"I can't tell you what catches my eye until I get there and see what's there. It depends what they are selling," she says. "But even if they're selling a lot of junk, there's a kind of energy and electricity in the market that grabs me. I love to look; it's mystery and it's exciting. I think I was a hunter-gatherer in a former existence."
Apfel was born Iris Barrel in 1921 in Astoria, in the New York borough of Queens, and grew up during the Great Depression. Although her family wasn't poor, money was spent very carefully, she says.
Her mother, Sayde, taught Apfel the importance of buying good quality, basic black clothing while investing more in "interesting" accessories. A simple black dress could be transformed from the office to dinner, or even a gala dinner, by changing shoes and accessories.
"I tell everybody my mother worshipped at the altar of accessories and I was a very eager acolyte," she says dryly.
Her collection of accessories, from bracelets to necklaces and brooches (the bigger the better) to shoes, handbags and belts, went on show at the Met. It was the first time the museum had showcased items from someone's wardrobe and not a designer's collection. The general public had no idea who she was.
"My nephew, at least once a week, would take a different group of friends to see the show and he would give me a report," she recalls. "And one day he said, 'I overheard these two ladies. One asked the other, 'Who is she? ... What does she do? Is she around?' The other one said, 'I don't know, she's probably dead.'
"I said, 'Billy, the next time you hear such conversation, tap the lady on the shoulder and say, 'Auntie is very much alive. She's just walking around to save funeral expenses. That will shut her up'," she recalls, with a chuckle.
The well-received exhibition and the documentary, a decade later, illustrated how fashion lovers didn't need to be slaves to labels, and how clothes can be worn to express individuality. When asked where she gets her fearless dress sense, Apfel doesn't understand what all the fuss is about.
"What's there to be afraid of? The fashion police won't come and take me away. I think everyone should experiment ... take a chance. Why do you want to look like everyone else?
"I think these young people don't have lives any more – they live vicariously through other people. I think technology has ruined the social lives of many, many youngsters. I feel very sorry for them. There's a big life outside the internet."
She appreciates that technology can help with efficiency, but also finds people can be too dependent on machines for everything.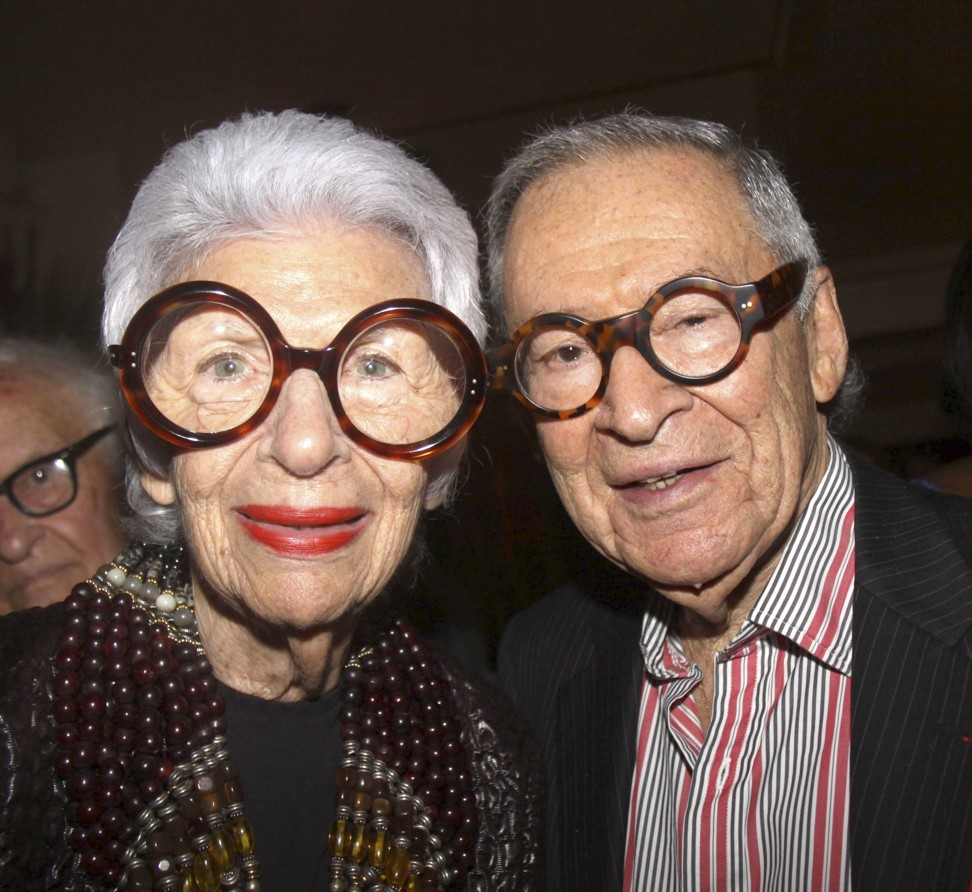 Apfel says she has worked more since her husband died almost two years ago, at the age of 100,
just months after Iris was released. The documentary showed the closeness of their relationship.
"We were together for 68 years, and that was kind of a blow. So I've doubled up on my work so I don't have to think about him. But God has been good to me, giving me all these commissions, so it's been great," she says.
Even in Hong Kong, the inimitable Apfel can't get around without being noticed – even in the depths of Jordan. There, the day before she left Hong Kong, she visited a closet-sized shop on the second floor of a small shopping arcade that sells embroidered shoes handmade by Miru Wong Ka-lam. The 26-year-old escorted Apfel as she walked up the stairs – without stopping to catch her breath – before keenly examining Wong's creations.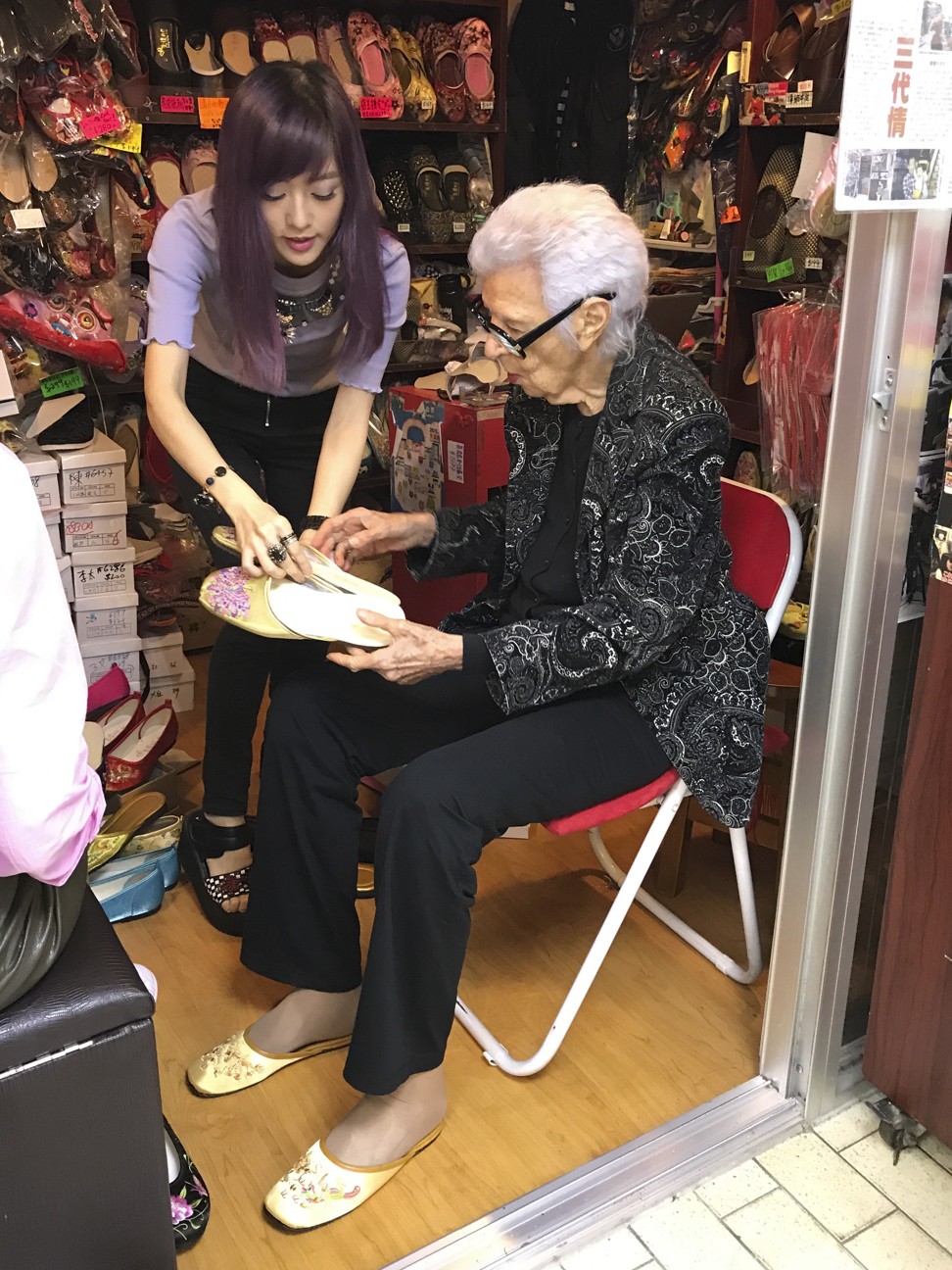 "She tried on so many shoes. She would put them on and then got up and walked around the hallway to see if they were comfortable," says Wong.
Apfel preferred footwear with "strange colours", including a pair in purple and gold, and she praised Wong for her traditional designs and embroidered handiwork.
Local shoppers recognised Apfel and started taking photos, surprised to see her in such a gritty neighbourhood.
Apfel snapped up 10 pairs of shoes and slippers – with a discount – at Wong's shop, before leaving for Sham Shui Po to look for fabrics and accessories.
"When she was leaving in the car, she blew me a kiss," says Wong, excitedly. "It was like winning the lucky draw."
This article appeared in the South China Morning Post print edition as: New york doll