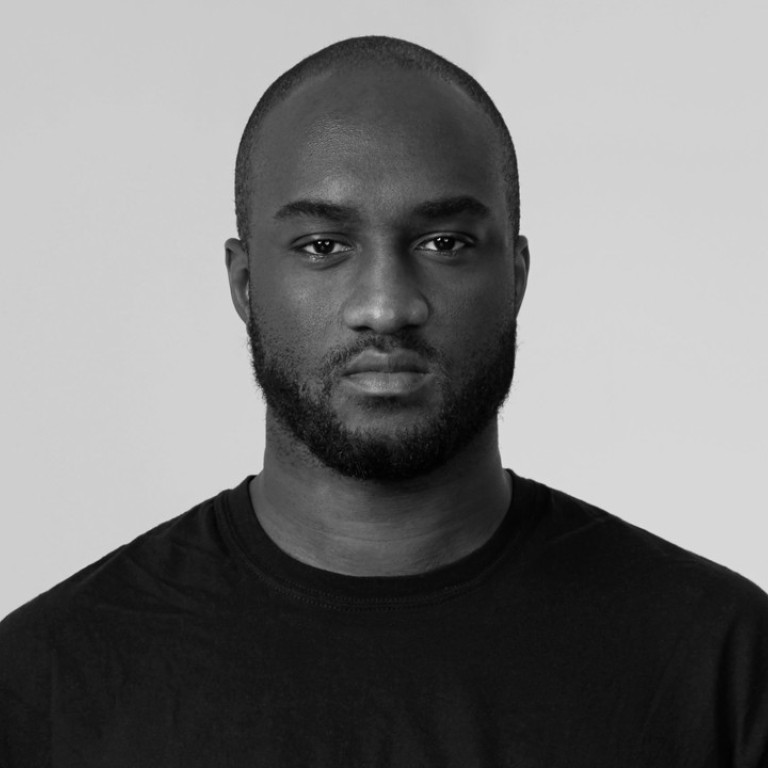 In Hong Kong to launch second store, Virgil Abloh, Off-White founder and Kanye collaborator, opens up
Fashion designer – the 'yin to Kanye's yang' – tells us about his upcoming collections, why he loves Rei Kawakubo and Raf Simons, his desire to lead a legacy brand, and where he's taking Off-White
Virgil Abloh paces around his new store in Hong Kong's Central business district, talking on the phone to journalists while sipping his green tea matcha latte. When he sits down for our interview 15 minutes later than scheduled, he's still distracted.
In between texting he tells me that he arrived from Tokyo in the wee hours of the morning, and is in Hong Kong for one night to celebrate the opening of his second store in the city.
Most interviews I've read about Abloh attest to the fact that he is the ultimate multitasker. When not on a plane (he flies more than 350,000 miles a year), he is up at all hours conceiving and executing a multitude of creative projects, from art installations, hotels and fashion collaborations to designing furniture and DJing.
Top of this ever-growing list is the gig that placed him at the centre of pop culture in the first place – his role as Kanye West's long-time consultant, creative director and yin to Ye's yang (try saying that sentence a few times).
But today we are not talking about Kanye. Instead we are set to discuss Abloh's fashion label Off-White, which he launched in 2013. Off-White isn't his first foray into fashion. In 2012, he launched Pyrex Vision, which took discounted Ralph Lauren rugby shirts and Champion T-shirts, screen-printed them with words and logos, and then sold them at a hefty price.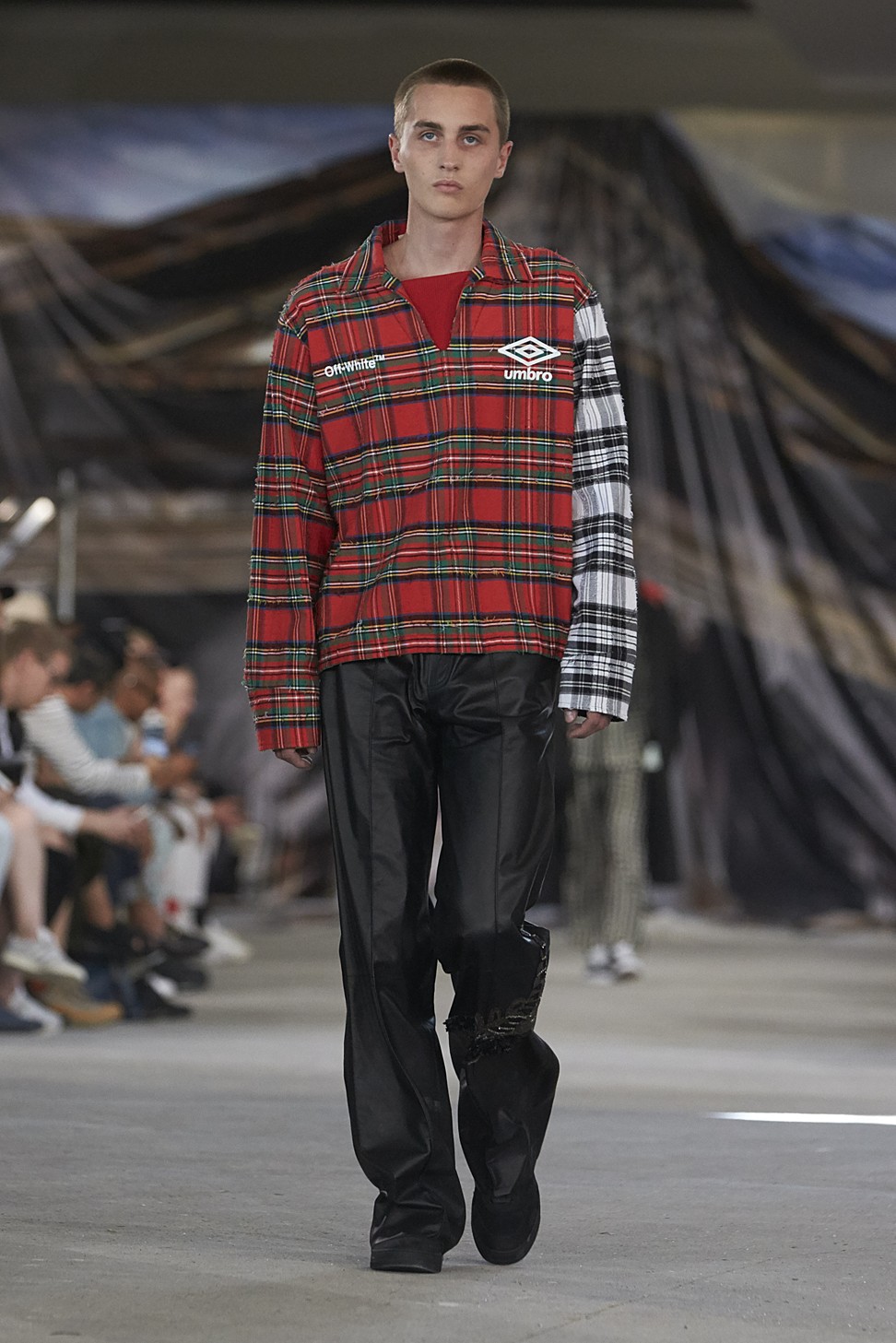 T-shirts costing HK$4,000 may be the norm for most luxury brands today (see Gucci and Vetements), but at the time Abloh was offering consumers something unexpected and desirable, while elevating streetwear to a whole new level. It was an overnight sensation and set the stage for Off-White which, in short, bridges the worlds of streetwear and luxury fashion, while exploring the middle ground between highbrow and lowbrow.
"There are ideas in art that generally don't have a place in fashion," says Abloh, as he finally puts his phone down. "There's Warhol the work, then there's the theology behind the work. It has a heightened value because it's embraced by culture which puts it on a certain pedestal.
"It's the same with Off-White – that's how it's designed and made. It relates to younger people, but has a different sensibility that uses things from classic luxury to stand on. That's where the name comes from – it sits in its own world, in between black and white."
Abloh grew up in a suburb of Chicago and is the son of African immigrants who encouraged their son to pursue a decent profession. Like most kids his age he was into skateboarding and hip-hop; when he was older he DJed on weekends.
He went on to study civil engineering followed by a graduate degree in architecture, where he was introduced to the worlds of Renaissance art and architects such as Mies van der Rohe.
"Ironically, I studied architecture not to necessarily practise it – I thought it was a good base education to do other things. From the start I wanted more than one career, so I just needed a good foundation to understand how design relates to culture and the cities around it," he says.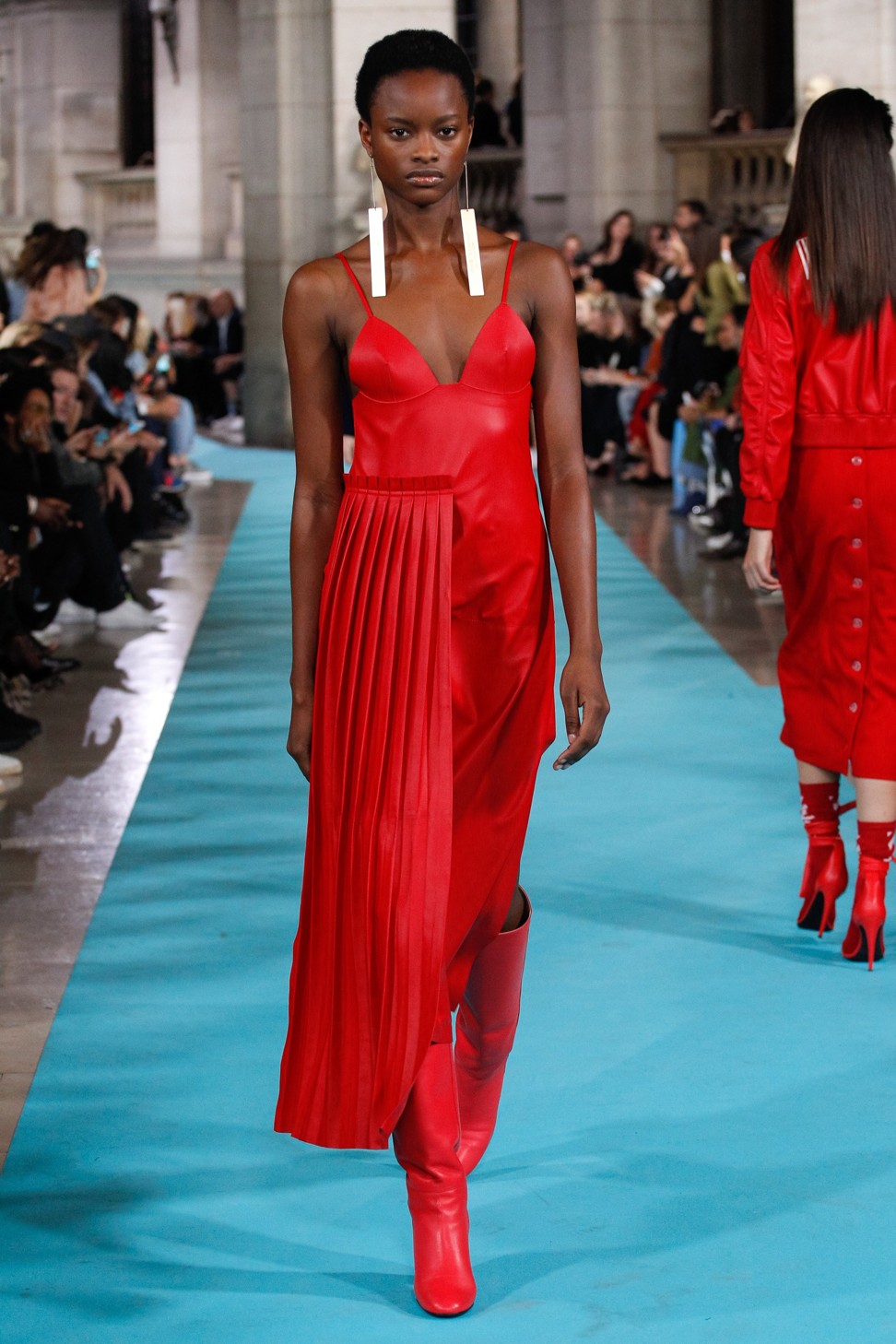 He joined West almost straight out of school, collaborating with him on everything from tour merchandise and set design to album covers. It wasn't until 2009 that he entered the world of luxury fashion via an internship at Fendi, which opened his eyes to the inner workings of brand building and product.
"Customers at the end of the day are looking for a brand, not clothing. You've had clothes since you were born, but the only reason you shop is because you are looking for something beyond that. You wear a brand to reflect who you are.
"Clothing that exists on streets is like this – you aren't buying it for utility, it's for the name, or to add to your personality so when someone sees you they can see you and understand what's beneath. Branding is what you are making; clothing is literally the means to an end," he says.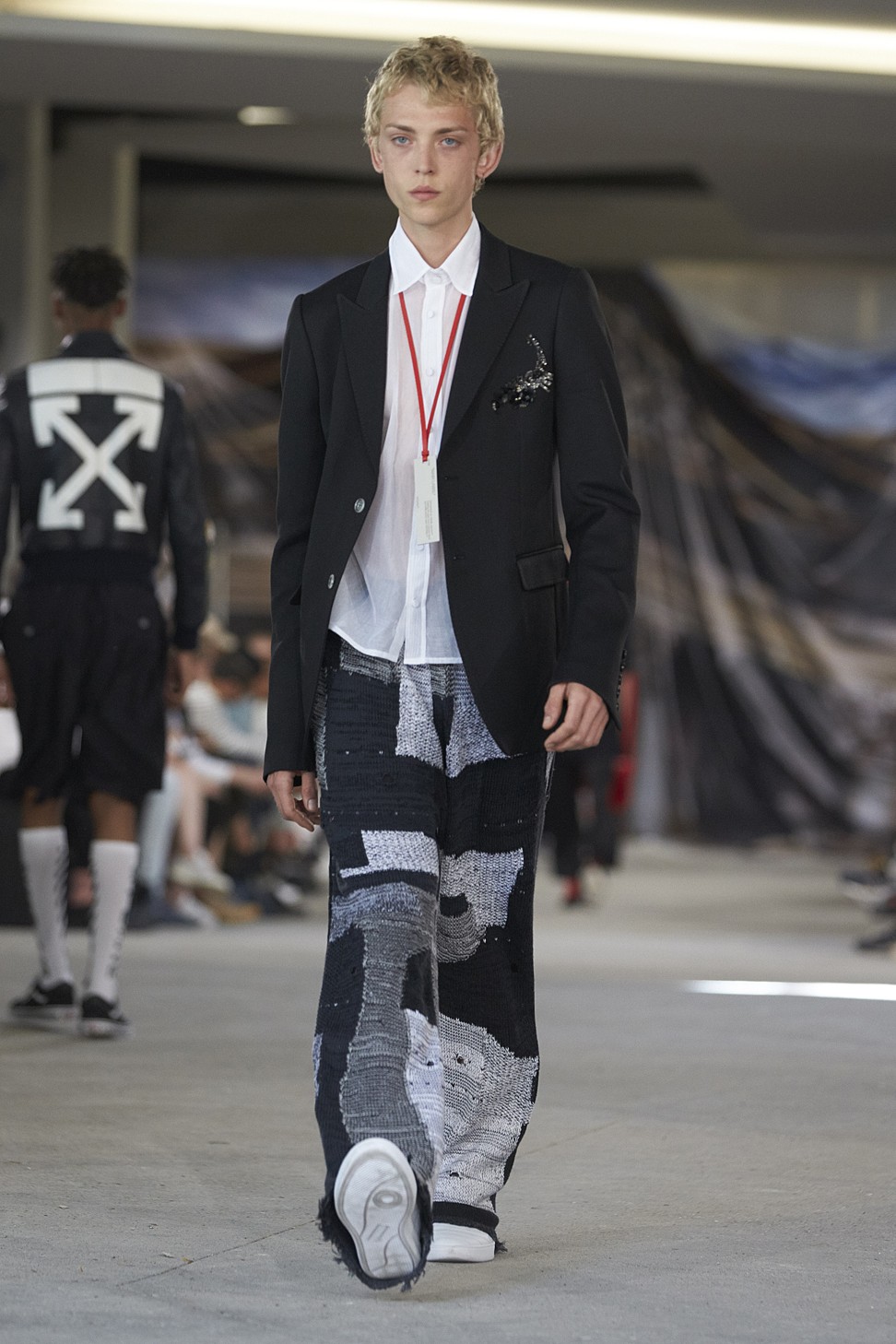 This idea of creating a legacy brand is at the core of Off-White. Abloh chose its logo featuring diagonal white lines because it's was "an international language that exists on streets everywhere, that every culture can understand".
The collections, meanwhile, feature familiar streetwear uniforms – be it a hoodie or sweatpants – but made with the best fabrics or by the best mills in Italy, and then showcased on the European catwalks.
Initially the collections weren't groundbreaking, but they quickly evolved in terms of concept and execution. For spring/summer 2017 for example, the men's collection explores branding throughpatterns, prints and logos, and includes crossover items by multidisciplinary artist Brendan Fowler.
The women's collection is a play on silhouettes – blue shirts are worn off the shoulders while a flaming red bustier cocktail dress comes with a panel of pleats. For the evening there is a mini tuxedo dress with an asymmetrical hem, tailored jackets paired with dip-dyed trousers, and sophisticated ruffled dresses.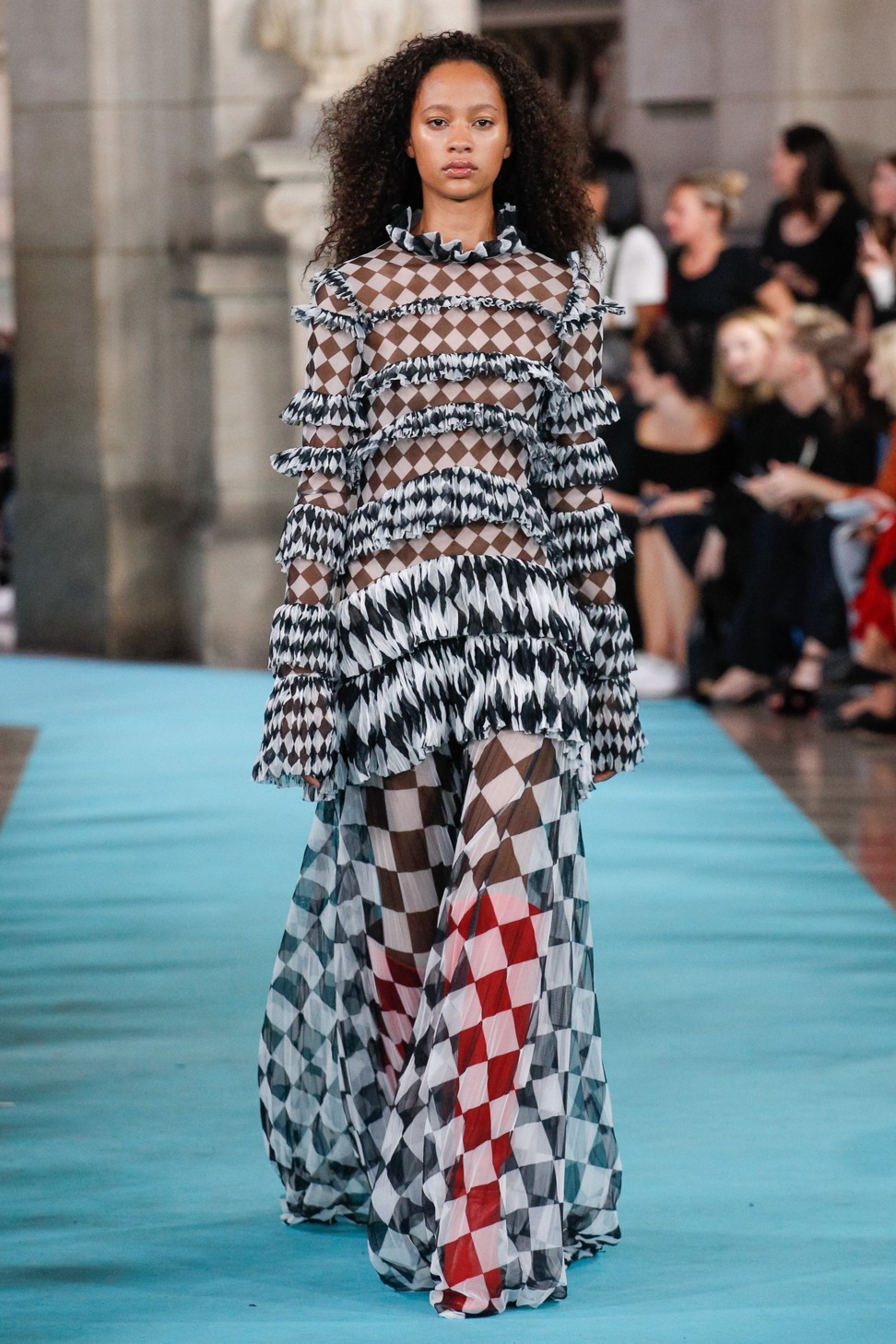 It was enough for the fashion world to sit up and take notice. Today the brand is carried by high-end retailers including Selfridges, Bergdorf Goodman and Colette, while Abloh has opened a string of Off-White stores (or "hang-out zones" as he likes to call them) around the globe.
Every cool kid from Kylie Jenner to Gigi Hadid wears the brand like a badge of honour. In 2015, Abloh was the only American to be nominated for the LVMH Prize for young fashion designers, giving his brand credibility in fashion circles.
Despite Off-White's commercial success, there are still plenty of detractors who dismiss it as unoriginal. (Abloh's response? Titling his autumn/winter 2017 collection "Nothing New".) Others argue that the inaccessible pricing means that it's more elitist than part of a mass youth culture. Abloh has his own take.
"Each brand has its own metric for existing," he says. "I've existed in this youth culture for 14 years. It's a culture most designers peer into, place on a mood board and then design from. You have two ways of existing: you can pretend to be someone you're not to fit in, or you can embrace what made you, your point of view and insert this into the market. I've done the second.
"This is where I see fashion going, and this is what I am responding to. I've spent a tremendous amount of time participating in a culture that I didn't contribute to and gathering knowledge.
"That's how I believe Rei [Kawakubo] and Raf [Simons] became the great designers they are today. They weren't riding a contemporary wave of their time to make a contribution – they had a specific point of difference and continued down that path. Ten years later, you can see how revolutionary that is," he says, citing Chrome Hearts, created by Richard and Laurie Lynn Stark and one of his favourite brands, as another example.
Once he gets on a specific topic, Abloh has a lot to say. One that he's particularly chatty about is an upcoming retrospective dedicated to his work, which will be unveiled at the Museum of Contemporary Art in Chicago in 2019. It's quite an honour for the 36-year-old, who says his work is only just beginning.
"There is a lot of thought behind how I got here, and the museum recognised that there's something deeper behind how I came to be. If you focus on the brand, that's interesting, but we intend to look at the 950 projects I have done, to then reflect on what it says about the millennial culture.
"What does all that stuff mean about a generation of kids that were no longer marketed to, and that started using their own ideas to make things? Adding social media to the mix has meant that niche cultures are no longer niche. It's a continual thread of not just how I think, but how a generation thinks."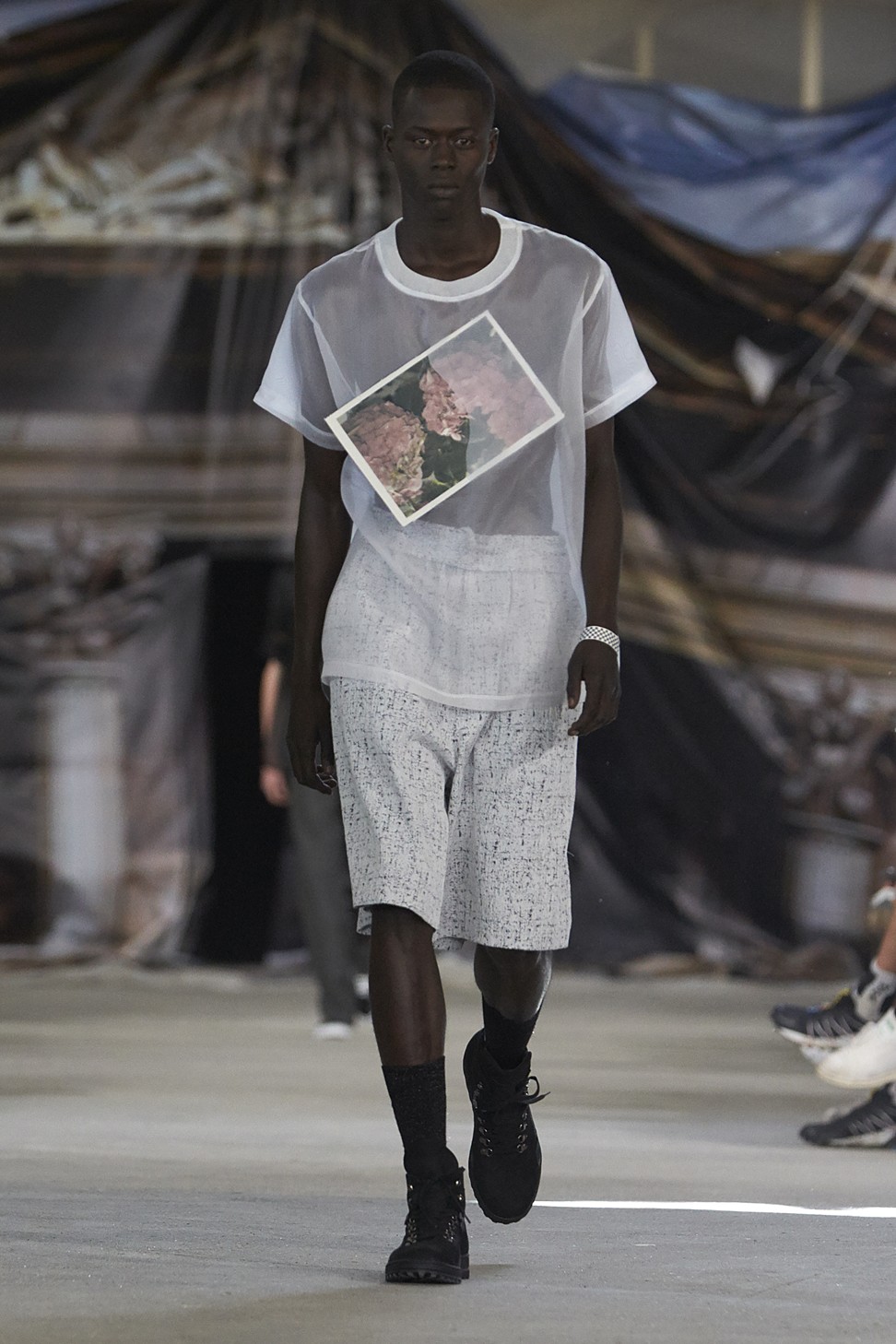 In addition to working on the retrospective, Abloh's ultimate goal is to steer a legacy house (there were rumours that Givenchy's artistic director job would go to him – it eventually went to ex-Chloé designer Clare Waight Keller).
"I would love to steer a legacy house – it could be anyone who wants to work with me," he says. "All of what I'm doing is just creative energy. For me it's about being able to participate in culture, not just sitting in an office looking at images, or having staff that gives me inspiration. I don't use the term artist, but I create based off reaction. As long as I'm seeing things, I am inspired."
This article appeared in the South China Morning Post print edition as: legacy dreaming