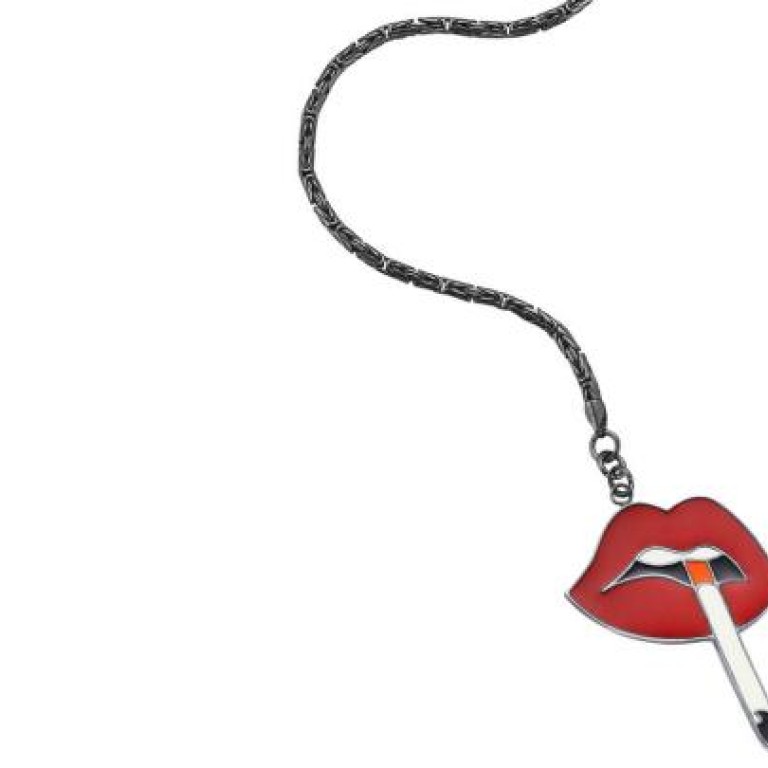 New York jeweller Lynn Ban wows Hong Kong
A young designer's sculptural pieces are finding favour with international celebrities,writes Tiffany Ap
Last February, up-and-coming jewellery designer Lynn Ban launched her namesake label, a core collection of wrought iron and armour motifs, geometrics and Bauhaus. Since then she has gathered the type of momentum that every design student dreams of, charming international fashion magazines and celebrities such as Kate Moss, Madonna, Florence Welch and Kirsten Dunst with her strong, sculptural aesthetic.
Ban, who was born in Singapore and moved with her family to New York at the age of four, first found her passion in vintage. She says she began roving through flea markets and thrift stores, then visiting auctions and finally travelling to source items. She spent eight years doing a vintage couture line for Barneys. But Ban wasn't content to merely curate. Her yearning to create led her to set up her own jewellery brand.
With no formal training in jewellery design, she relied on her creative vision - and perhaps her art history degree from Cornell. For one of her most popular pieces, a smoking lips lariat necklace, she drew upon a painting by pop artist Tom Wesselmann, connecting it with the sensuality of Guy Bourdin and the quirkiness of Prada.
"I think that my line is very different to everything out there," says Ban. "It's clean and sculptural but there's an edge to it. And also there's a sense of humour. Like the smoking lips - it's a little provocative but it's not overly serious. I think that's what appeals to people."
That being said, she wouldn't have come this far without being a capable businesswoman, too; some of fashion's finest creative minds have sunk due to poor financial strategy, Olivier Theyskens and Christian Lacroix among them. Ban's products occupy a mid-priced gap in the market which has fine jewellery - Cartier, Tiffany, De Beers - at one end and costume jewellery, using cheap materials such as nickel, copper or gold plating at the other.
"It kind of set its own category of fashion fine jewellery. You're getting a designer product with strong branding and imaging. Costume jewellery now can be very expensive but our pieces are fine jewellery using diamonds," says Ban.
Her partner interrupts to say that Kristen Stewart, poster child for the A-list irreverent rock'n'roll look, is on the cover of magazine wearing one of her tough-looking, industrial necklaces. As she swipes through the cover shoot of the two stars on an iPad, she points out another of her pieces on Stewart's co-star, Charlize Theron. He shares their secret: "We focused on musicians when everyone was focusing on the actresses. All of a sudden the magazines turned to Rihanna, Alicia Keys - and we had them."
Her aesthetic bends gender lines, and Ban is planning a small men's capsule collection after receiving several custom orders from the gents. It will launch at the end of this year.
"The best feedback you get is by travelling to all your stores, talking to your customers," she says. "So the designs that have been popular with men - the jagged rings in black, a series of link bracelets - will be reinterpreted and designed in a new way."
Ban rejects the notion that timelessness means sticking to bland basics. "Especially in Hong Kong, women are dressed head to toe in the latest fashion. No one needs another simple black dress. You need something emotional, something that speaks to you."
Fashion, she says, is all about having one-of-a-kind things, which is why she's released several exclusives via Lane Crawford, and is allowing customers to make custom requests via the store.
Ban says she looks up to several designers who have managed to create seasonless pieces. "I wear a lot of Rick Owens and Céline. I really look to their design philosophy where it is timeless and edgy. I've always loved Azzedine Alaia. I have Alaia pieces from the '80s or '90s that I still pull out.
"I hope my designs will be enduring; things that you can appreciate 20 years from now, similar to the vintage things I collect. I hope that my pieces will be looked at in the same way - as current and modern, even in the future."
This article appeared in the South China Morning Post print edition as: ShowSomeemotion