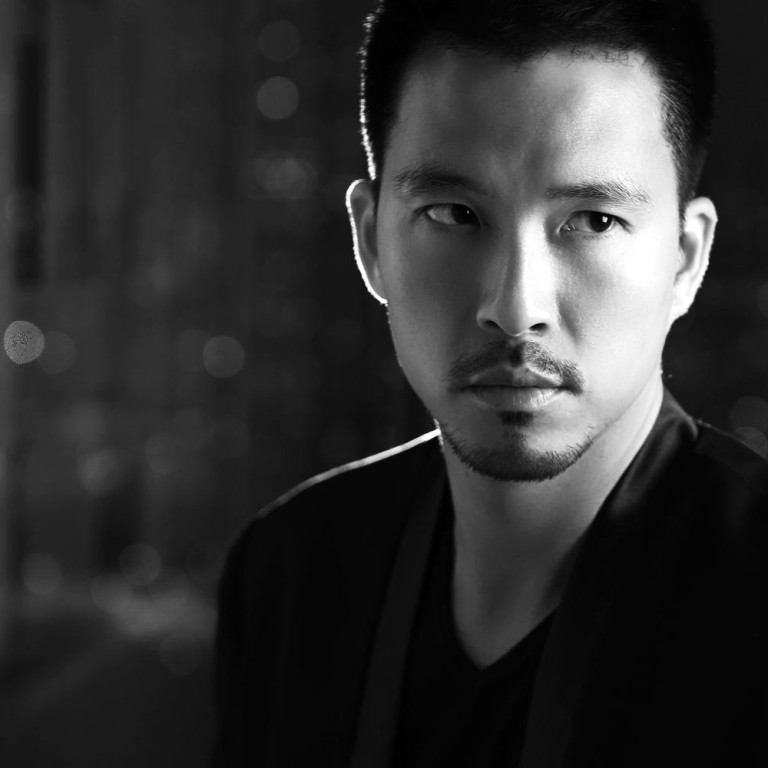 HK-based designers have eyes on Woolmark prize
Three of Hong Kong's hottest young designers - Hei Lau, Harrison Wong and Polly Siu - are out to impress the judges in the regional final of the International Woolmark Prize competition in Tokyo next week.
Wong is the only Hongkonger in the menswear category. "Working with Merino wool is surprisingly easy, as it's a natural fibre," he says.
"It isn't an unfamiliar material to designers in Hong Kong as, even though we may not have sub-zero winters here, we have a large population that travels in winter - they head to ski resorts, travel to Canada or Beijing in winter and so on, so they do buy winter wear."
With a preponderance of outfits in black, it's no surprise that his aesthetic veers towards the dark side. "I used to design womenswear only and then I switched," he says. "Some might say it's limiting to work on menswear, but within these restrictions I found an exciting challenge. There's an elegance to black menswear. There are some colours in my collection but mostly navy and black. It becomes about the design and the cut, the texture, so the focus goes on design, a natural and easy elegance - with an edge."
Competitions are nothing new for Wong, having won both the Hong Kong Young Designer's Contest and the Asian Fashion Grand Prix Contest in Japan. Acquiring a master's degree with distinction from the London College of Fashion before launching his own retail fashion business, Wong broadened his credentials by designing seasonal collections for international runways in New York, Milan, Sydney and Asia. His first menswear retail shop recently opened at Hong Kong's latest design hub, PMQ. "As everyone knows, rent in this city is a killer. To help young talent and emerging designers, we need more PMQs."
In 2009, Polytechnic University graduate Lau took the leap to launch her own label. "Having worked in the business side of fashion I feel I understand the industry a bit better. It is not just about great design and aesthetics - as important as they are. Is it commercial - will this sell, will people want to buy it or own it? These are the questions in designers' minds."
Since launching, Lau has showcased in Paris every season. "I attend trade shows a lot and find my customers are worldwide. Hong Kong is not the only market for Hong Kong designers."
When asked to describe her collection, she emphasises draping and elegance. "The challenge in Hong Kong is also that there are too many options and too many brands that have flooded the market. How can an independent voice be heard in this brand chorus?"
Also in the mix is Hong Kong-based Australian designer Siu with her brand Nishe, which she launched in 2008.
"Although my brand and company is in Hong Kong, I think the handwriting of my brand is very English, so working with wool is nothing new for me. My customers are not just here, but globally as I retail online at Aesos. In Hong Kong, it's available at Ztampz."
With a glamorous debut in London in 2010, Siu has customers worldwide. Having studied textile design at Central Saint Martins, Siu faces the challenge of working with wool head on.
"I can't reveal what I plan to do, but it won't vary too much from my brand's natural aesthetic; young, sexy and contemporary."
A panel of judges (from fashion, media and business) will be at the July 17 event to decide which two brands will go through to the final for the menswear and womenswear categories. Winners from each region (Asia, Australia, Europe, India and the Middle East, and the US) receive A$50,000 (HK$363,000) towards their next collection, as well as an invitation to take part in the international finals early next year.
A fiercely competitive enterprise, last year's judges included Franca Sozzani, editor-in-chief of , and
Last year, Hong Kong-based designers Kain Picken and Fiona Lau (from ffiXXed) impressed - they placed second - with their exquisite work in shades of navy and white. Their clever reworking of woollen accessories won universal acclaim.
This article appeared in the South China Morning Post print edition as: Designers hope to impress with their original spins