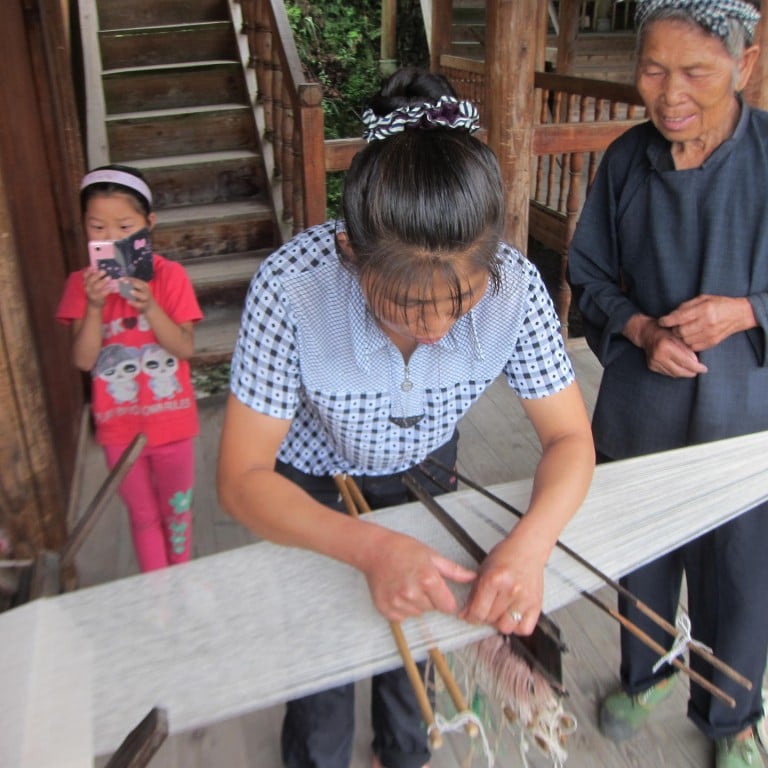 Designer helps to preserve the textile-making tradition of China's ethnic minorities
Angel Chang wants to ensuring the younger generation is rewarded for their artisanal work
Touring the Shanghai Museum five years ago, Chinese-American designer Angel Chang was immediately struck by displays of the intricately woven textiles of the Dong and Miao ethnic minorities.
This was the couture of cloth: fine, handwoven damask and cotton fabrics covered in hypnotic, repetitive hand-stitched patterns that represented aspects of nature.
Chang traced the textiles to Guizhou and began making regular visits to provincial villages to meet the women who produced them. They did it all - grew the cotton, spun the fibre and wove thread into cloth on handlooms, before dyeing the material and stitching it into heirloom clothing.
"The women would take months or years to finish the clothes and pass them down to their children to wear," Chang says, speaking from Shanghai en route to Guizhou.
Yet the material can be repurposed and given new life; for example, a baby carrier made using the Miao's distinctive blue and white geometrical weave can be taken apart as the child grows older, and turned into a jacket for the toddler.
What she saw inspired her to create a funky capsule collection using ethnic fabrics that was shown last year to buyers in Paris, Madrid and New York.
The ethnic influence was a shift in direction for Paris-based Chang, who previously won accolades for combining technology and high fashion (a self-heating vest, for example).
For Chang, explaining the background to her collection - the culture of the Miao and Dong, and how their traditional textile techniques are in tune with the environment - is a key component of her mission.
But the fabrics are being produced mainly by elderly or middle-aged people whose skills will die with them if the techniques aren't passed on.
"The indigenous fabric-making tradition in Guizhou is disappearing because the younger generation is not picking it up," she says.
It is painstaking work that has typically paid little, and most young people have preferred to seek easier work in factories in bigger towns and cities. Still, during her visits to Guizhou, Chang had observed a trickle of young people returning to the villages.
Many were young women ready to raise families and they would need an income; she thought the way to interest them in learning fabric-making skills was to ensure that they could generate a reasonable income from what they produced.
"I want to show them that their traditional craftsmanship is an important part of their culture and is worth learning and continuing," she says. "The way to do this is by showing it has monetary value."
Collaborating with organisers of the Dimen Dong Cultural Eco-museum, an established private non-profit that aims to preserve Dong culture, she has launched a project to pass on traditional textile-making techniques. She uses the fabrics in small collections for luxury clients who appreciate the ethnic feel. The museum brought two master craftsmen to Dimen village to teach young people how to work the looms, dye fabrics using indigo, tree bark and other plant-based pigments, do the stitching, and record the methods for making patterns.
But the heart of Chang's project is in Tang'an, Zhaoxing township, a village known for its indigo-dyed fabric. A workshop is being built where young people can make textiles using cotton and indigo grown in the area - a farm-to-fabric production model with a small carbon footprint.
While their fabrics can be produced for any interested customer, the workshop will start with steady demand producing material for Atelier Angel Chang designs. Each villager is paid about 100 yuan (HK$126) a day for the work.
The villagers were suspicious about her enthusiasm for using fabric they had made for generations, and it took a while to explain what she hoped to achieve. But she managed to persuade the elders to show her the fabrics they had made in their younger days - stitchwork produced by pregnant women is considered to be the best, because they spent the long months awaiting the birth of the baby focused on making clothes for their expanding family.
"I got to see fabrics made 20 years ago and stored away until now. Not even their grandchildren had seen them until that moment. For me, it was like discovering gold."
When the traditional fabrics were incorporated into Chang's modern designs, the elders finally conceded her clothes looked good.
"Even the teenage girls really liked them. When I sketch at my workshop, the young village girls get really excited and choose the ones they like. Like all girls around the world, they love fashion. I told them, 'These will be made from your village's traditional fabrics. You can make these kinds of clothes at home with your grandmother, too.'"
Mixing in what some might regard as woven collectibles, clothes from the Atelier Angel Chang collection are aimed at luxury consumers. For example, the perfecto biker-style jacket costs US$1,000 because it takes a month just to handweave the fabric, although the garment is sewn together relatively quickly on electric sewing machines.
(Chang had seen Dong people in villages making baby jackets with blue and white fabric woven with auspicious symbols and decided to create an adult version.)
"Ideally, I'd like to have everything made by hand. Perhaps in the near future," she says. Chang is keen for greater understanding about China's ethnic minorities. Many in the international community view China as being made up of one race with one history, she says.
"But the indigenous tribes have their own history and mythological stories of creation, which are expressed in their clothing and songs. Since they did not have a written language until 1956, the iconography and patterns in their costumes are visual tools to pass down their oral history."
These traditions have been preserved in the villages of Guizhou because their mountainous locations isolated them from external influences. "With few roads until very recently, these rural areas were difficult to reach. That is why the practice of making traditional costumes has been able to continue until now."
The province is relatively poor, and officials have been keen to stimulate the economy, primarily by promoting Guizhou as a destination for tourists to see how its diverse minority groups (including the Bai, Yao, Yi and Tujia) live.
"The rapid influx of outside tourists is, ironically, eroding the traditional village life that they are coming to see," Chang says. "The villages are rebuilt into a kind of Disneyland setting, and people are paid to dance and sing in their traditional costumes. It seems to be purely for entertainment.
"I prefer to bring outside revenue into the villages in a way that is more in line with their lifestyle. They have a shamanistic religion, and believe there are spirits in the sun, moon, rivers, and trees. They live in harmony with nature."
They also make the handwoven fabrics according to the cycle of the seasons, using organically grown cotton, indigo and natural dyes. "When an economic model is respectful of the laws of nature, this is when we can achieve long-term sustainability," she says.
Besides setting up textile workshops to create work opportunities that allow young Dong and Miao people to stay in their villages, Chang hopes to attract long-term investors to support a womenswear collection built around their artisanal cotton weaves every season.
Eventually, she hopes to add handwoven silk to the mix. Speaking to a grandmother who made such silk, Chang was intrigued by her description of the process, from raising silkworms at home to spinning and weaving.
"The more she explained it, the more mysterious it became. For her, it represented a hard life from the past. But for me, it just seemed so beautiful and modern."
Travelling from Paris to Guizhou every few months to check on her textile project, Chang finds her Chinese-language skills have improved. Her father was from Fujian, her mother from Shanghai, and she and her three siblings spoke Putonghua at home when they were growing up in Indiana.
"We were the only Chinese family in my hometown, so I didn't have much opportunity to speak Chinese. But since I've been working on my collection in Guizhou, they are very pleased to see my Chinese has improved significantly," she says with a laugh.
This article appeared in the South China Morning Post print edition as: Material benefits