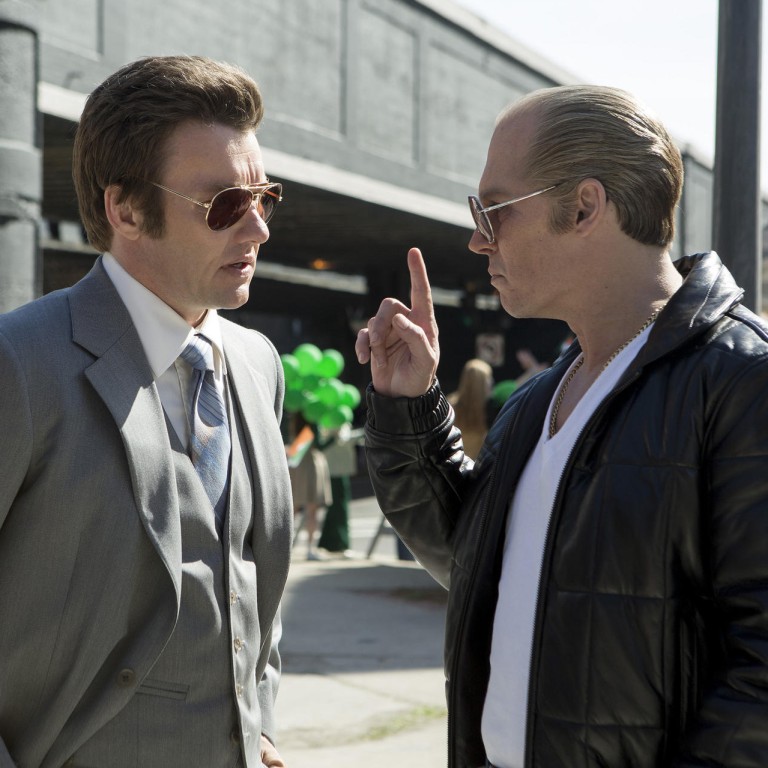 Johnny Depp and Black Mass director on why bringing Whitey Bulger to the big screen was a struggle
True-crime drama brings a vanished Boston of the 1970s and '80s to life - despite the reluctance of many local people to talk openly about that time
When director Scott Cooper was first approached about directing - the story of notorious Boston crime boss James "Whitey" Bulger and the FBI agent who abetted his bloody rise to power - he had some serious trepidation.
Not only was the film in a genre that included some of the most acclaimed movies of all time, including and , but it also would require re-creating a world that was all but lost to history: South Boston in the 1970s and '80s.
Once he'd committed to the project - with an ensemble cast led by Johnny Depp as Bulger, Joel Edgerton as corrupt FBI agent John Connolly and Benedict Cumberbatch as Bulger's politically powerful brother, William - Cooper laid out a mandate for his crew.
"I told them, 'Though this takes place in the '70s and '80s, I want us to feel like it's 1975 and we're making a contemporary film'," he recalls. "It's not 2014 and we're making a film about 1975 - we are in 1975.'"
However, that was easier said than done. The realm over which Bulger reigned - the blue-collar, Irish-Catholic neighbourhood known as "Southie" - had become increasingly gentrified over the years, as expensive condominiums and chic, yuppie-friendly restaurants moved in and scrubbed away much of the area's grit.
As an illustration of how much had changed, the bar where Bulger held court and conducted much of his business, Triple O's, was eventually replaced by a sushi restaurant, with a Starbucks across the street. So jumping off from the 2001 book , by former reporters Dick Lehr and Gerard O'Neill, that formed the basis for the script, Cooper and his cast and crew set about their work like archaeologists.
Through surveillance photographs, interviews with FBI agents and associates of Bulger, and other research, they gradually gleaned a sense of the look and feel of the crime lord's realm. Then they looked for locations around the city that - with some altered street lights here, some old cars there - could fit the bill.
"We shot everywhere from Cambridge to Lynn to the North End to Southie," says Cooper, who previously directed the dramas and . "It was really about, 'What can we alter to make it look like the '70s, keeping in mind only what the camera sees?'"
In scouting locations, production designer Stefania Cella visited a number of key places where Bulger's story played out, from the house where he lived with his girlfriend to the spot along the Neponset River in Quincy where he allegedly dumped bodies.
"We went to the house where he buried people in the basement," Cella says. "The woman who owned it showed me with a special light all the blood that was still splattered all over the stone walls."
One potential source of information who was decidedly unavailable as a resource was Bulger himself. After being arrested in Santa Monica, California, in 2011 after 16 years as a fugitive, Bulger was tried and found guilty in 2013 of having been involved in 11 murders, among numerous other crimes, and is currently incarcerated for life in Florida. Through his lawyer, Bulger, whose story had already been told in a fictionalised form in Martin Scorsese's 2006 film , made it clear he had no interest in being involved in the film.
"Initially, I made my best attempt to set up a meeting with him," Depp explains via email. "However, knowing he wasn't the most ardent fan of the book , I always knew that was unlikely to pan out."
Instead, Depp immersed himself in Bulger's world by reading as much as he could about the crime boss and meeting Bulger's former lawyer Jay Carney and several of his other former associates. "Just listening to them talk was more than enough to streamline the dialect alone," Depp says. "I just gathered from what wells I could. I kind of ran between the raindrops, collecting tidbits of solid information that could be incorporated into his character."
Working his way into the character from the outside in, Depp collaborated with make-up artist Joel Harlow, with whom he has made 14 films including and the movies. Harlow fitted the actor with ice-blue contact lenses and created prosthetic headpieces to simulate Bulger's receding hairline, a process that involved 3½ hours in the make-up chair each day for Depp. The actor studied footage of Bulger to get a sense of his quietly menacing presence.
"Johnny transformed his physique to be more compact," Cooper says. "We looked at a lot of FBI surveillance tapes and photographic images from Massachusetts State Police of Whitey to get a sense of how he moved, how he carried himself, how he crossed his arms, how he sized up people around him, and how people acted in his company."
In the end, Depp became all but unrecognisable. "The first time I ran the movie at Warner Brothers, the projectionist asked, 'Who's that playing Whitey Bulger?'" Cooper says. "He had no idea."
It fell to costume designer Kasia Walicka-Maimone to capture how Bulger, his associates and the FBI agents of the time dressed. Using surveillance photos as her primary source, she found that, in terms of style, Bulger and his cronies looked nothing like the clichéd criminals she might have expected.
"A lot of the guys looked like they were going sailing. They looked like the Wasps of Boston," she says, noting that she employed US President Barack Obama's tailor, Martin Greenfield, to fashion Bulger's impeccable custom-made suits. "They did not look like loud, ostentatious guys with big leather jackets and big collars. We just had a ball with that because that breaks all the stereotypes."
To understand the mindset of Stephen Flemmi, one of Bulger's closest compatriots, actor Rory Cochrane met everyone he could who had inside knowledge of Bulger's world, including two of his former henchmen, Johnny Martorano and Kevin Weeks (played in the film, respectively, by W. Earl Brown and Jesse Plemons).
"South Boston has changed so much that you really have to be sort of a detective to go in there and try to extrapolate information without being this kind of intrusive outsider," Cochrane says. "A lot of it was by chance. There were some, let's say, go-go dancers who used to live with Flemmi who are now in their 70s. Once you break the ice, you can get a little information, but they're still very concerned that you're some sort of government person trying to talk to them."
Indeed, while most locals in the areas of Boston where was shot were welcoming, there were some who were exceedingly wary of the film. To a certain segment of the population there, Bulger is still a mythic figure - and even a heroic one.
"There was an elderly lady who I had considered casting for Whitey's mum," Cooper says. "I said, 'I'd like you to be a part of this film'. She said, 'I have no interest in that. I think very fondly of Jimmy.' Everybody in the neighbourhood called him Jimmy."
Los Angeles Times
opens on Oct 29