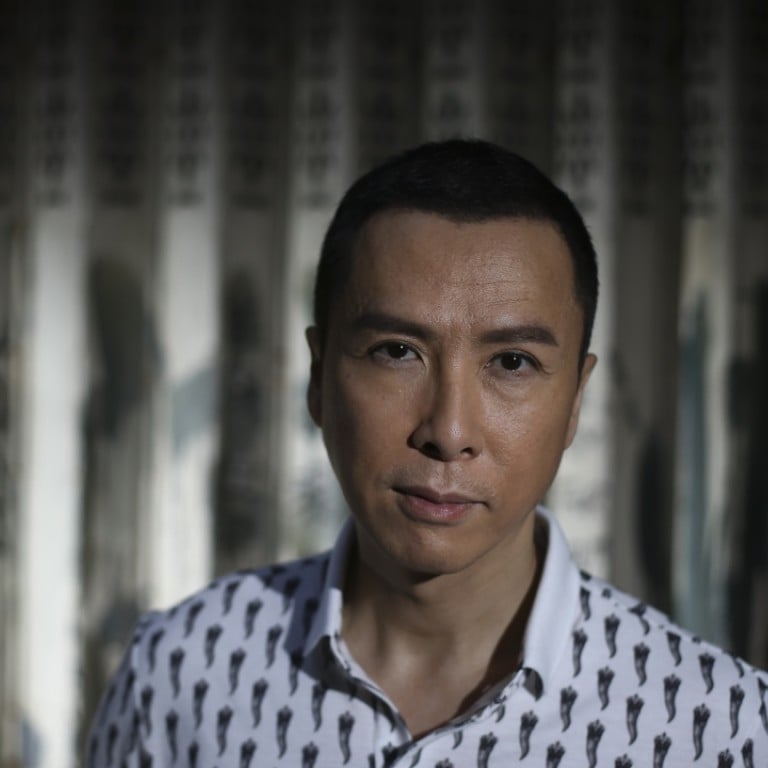 Donnie Yen talks Ip Man 3, Star Wars spin-off and his final kung fu film
With two big Hollywood projects in 2016, the martial artist's star in the West may be about to rise. But first, he returns to the role that made him famous for the last time ... or is it?
For an actor who persevered through two decades of minor distinction before finding superstardom (with the 2008 martial arts biopic Ip Man at age 45), Donnie Yen Ji-dan seems remarkably sanguine about giving up potential earnings for creative ideals.
Few would walk away from what may be shaping up to be a blockbuster franchise, as Yen did with 2014's
The Monkey King
. Made as the first instalment in a series, the film
grossed more than 1 billion yuan in China
despite being panned by critics. But the 52-year-old action icon was eager for fresh challenges.
"It's not just that the filming was tough – and it was tough to be both the lead actor and the action director – but I felt that I'd already given my all to the character. I wanted to move on. I told [director ] Cheang Pou-soi and the investors that if they cast me in the next instalment, I'd just be repeating my performance."
It is not the first time Yen has walked away from a lucrative franchise.
Although Ip Man 2 (2010) made more than HK$43 million and became that year's highest grossing Chinese-language film in Hong Kong, Yen defied conventional market wisdom and put the series on hold. During the hiatus, The Grandmaster , Wong Kar-wai's 2013 biopic on the same wing chun master, made over 300 million yuan in China.
But as Yen prepares himself for the worldwide release of Ip Man 3 – almost seven years to the day since the first film in the series propelled him into the A-list – he allows himself to be a little nostalgic over his meteoric rise.
"For me personally, that is my representative movie. I had made countless action movies before [Ip Man]. But it was the first time a movie of mine won the affection of the general public and turned many people into my supporters. It happened in a very short time."
Ip Man, also known as Yip Kai-man, was a formidable martial arts exponent from a wealthy family in Foshan who became known in the 1930s.
Ip, as portrayed by Yen developed into a folk hero, defying sadistic Japanese soldiers in the first film and then restoring Chinese pride against British imperialist bullies in the second.
Ip Man
3, again directed by Wilson Yip Wai-shun, is a relatively gentle story set in the 1950s that gives particular attention to the everyday life of Ip and his wife (played by Lynn Xiong Dailin). It offers a humorous glimpse of Ip's most famous student,
Bruce Lee
(Danny Chan Kwok-kwan), and pits Yen against a high-profile opponent in Mike Tyson, who plays a boxer-turned businessman in the film.
"It was all Yip Wai-shun's idea," says Yen of casting the American boxing legend. "But does this mean that in the next film – if we make a next film – I'll proceed to fight an alien from outer space? I think not. That's not the main point of this movie. This is a movie about life."
Ironically, the latest film sees him sharing the screen with Max Zhang Jin, the breakout star of The Grandmaster whose production team has had an acrimonious relationship with Yen's over the years. But as Yen likes to say, if life has taught him anything, "it's never say never."
More intriguingly, Ip Man 3 also replaced Sammo Hung Kam-bo, who was action director on the first two films, and instead enlisted Yuen Wo-ping, who won the best action choreography prize at the 2014 Hong Kong Film Awards for The Grandmaster.
Yen was training with the Beijing wushu team as a teenager when he first met Yuen during a stopover in Hong Kong. The action choreographer later cast him as the lead in his 1984 film, Drunken Tai Chi, and Yen has since viewed him as his sifu, or master.
Was he concerned that his mentor would unconsciously recycle moves from The Grandmaster, where he created a memorable Ip Man role for Tony Leung Chiu-wai?
Not at all, Yen says. "Yuen designed the moves to fit his actors. He knew we faced pressure from the big success of the first two movies, and he had to rack his brain to make this production even better viewing."
Just before returning to play Ip Man, Yen was busy playing the lead in another Yuen-directed film – Crouching Tiger, Hidden Dragon: Sword of Destiny, which is scheduled to open in Hong Kong and China at Lunar New Year.
The English-language sequel to Ang Lee's 2000 Oscar winner, it marked the first collaboration between Yen and his mentor in over two decades.
Talks about making a sequel had gone on for years, Yen says, but he had always been reluctant to sign up for the project. "First, how do you surpass the accomplishment of the original? If it's impossible to make a better movie than Lee did, what's the point of making it? I wouldn't want to make the movie just to bask in others' glory."
However, influential Hollywood producer, Harvey Weinstein, eventually convinced him to make the wuxia fantasy in English.
"I found that very interesting," Yen enthuses. "It could be really refreshing. Whether the audiences like it is one thing, but at least we've given it a new artistic angle. Every piece of work is subject to scrutiny before it starts to be seen as art. But once it succeeds, people will realise what a good idea it is."
The actor sees no reason that a film with Chinese-specific subject matter shouldn't work in English. "Would you find [Bernardo Bertolucci's]The Last Emperor weird? No, you'd be fully engaged all the same. And it didn't stop you from enjoying the Kung Fu Panda movies, which are essentially wuxia films in English," he says.
"Put it another way: we're not restricting ourselves to a Chinese audience only. There are going to be many foreign viewers for this movie, and they won't find it as awkward as you do. The movie may find its way to someone living on a farm in Texas and has never watched a wuxia film before – and it will widen his horizons."
Yen then lets slip: "I will put more of a focus on foreign films in the future."
The actor is currently wrapping up his part in Rogue One: A Star Wars Story, the Gareth Edwards-directed spin-off from the sci-fi franchise, which is expected to open in a year's time.
"I can't reveal too much about the Star Wars movie, although I can assure you that I'll be in fight scenes," says Yen. "When I watched Star Wars for the first time I was only 14 or 15. I could never imagine that more than three decades later, I, as a Chinese, would become a lead in it.I'm enjoying the process. It's a lot of fun."
On rumours circulating in Chinese media that he's the highest paid actor on
Rogue One
, Yen merely says: "Don't give too much credibility to the rumours, all right?" With a grin, he adds: "Let's stay off the gossip."
The actor is much more forthcoming, however, about his purported retirement from kung fu films. "I've made kung fu movies for so many years now. Can I still find the satisfaction as an actor? I can't think of a new character that would prove as fruitful as Ip Man has been in my career. At three movies, I think it's the perfect moment to wrap it up."
Hedging a little, he adds: "If the audiences march on the street to demand another Ip Man movie, I wouldn't be so sure. So never say never. But as a kung fu movie, I really hope that Ip Man 3 is my last."
To draw Yen out, I point to Crouching Tiger.
"That's a wuxia film. The differences are huge, actually; I'm not playing with words," Yen says. "Kung fu movies are about the strength from the waist and feet, about fists and kicks," he says, citing 1978 classics such as Drunken Master and The 36th Chamber of Shaolin. "Wuxia films, however, are about the spirit [of ancient China's wandering warriors], often adapted from novels."
"I still have a lot of fire in me to make contemporary action movies,"Yen continues. "They're different from kung fu movies because the fights are not as protracted. But it's still a form of expression for martial arts. I really want to keep going in this regard. I still have a lot of ideas on the creative side."
If all else grows stale, Yen can at least test his range in a different language. Unprompted, he returns to the topic: "Will I make another
Ip Man
? Possibly. I may take back my word on retiring from kung fu movies if I can make them in English. "
"When you play a part, you have to think of your target viewers. And if the audience consists of a different demographic in the West, I'd be proud to promote my own culture as a movie actor, as a director and – if I'm magnifying my ambition a little bit – as a Chinese. Then I'll find it really worthwhile to keep fighting."
Ip Man 3 opens December 24