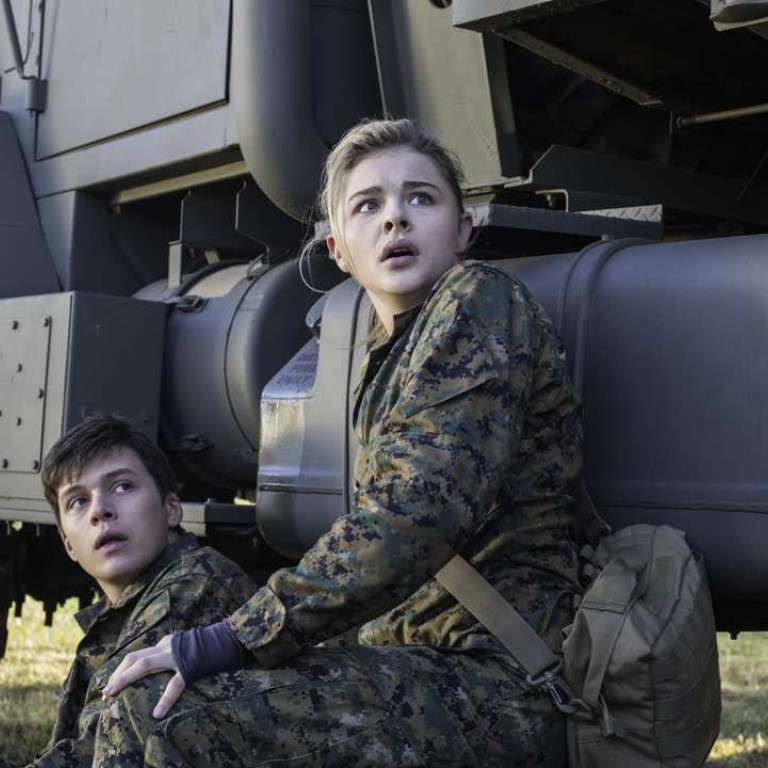 Review

|
Film review: The 5th Wave - Chloë Grace Moretz braves apocalypse in young-adult adaptation
Move over Hunger Games, the next dystopian franchise has begun. Alien invasion story sees lead character Cassie transition from schoolgirl to guerilla fighter and killer in a plot that's thankfully unpretentious, if full of stock-character types and with a very obvious ending
No sooner has The Hunger Games been laid to rest than another dystopian sci-fi franchise is born with this big-screen adaptation of Rick Yancey's warmly received young-adult page turner. Chloë Grace Moretz plays the reluctant heroine searching for her little brother in the midst of a full-scale alien invasion, while Jurassic World's Nick Robinson is recruited into a child army of survivors being trained to protect the species.
An alien attack on Earth comes suddenly and in catastrophic waves: first an electromagnetic pulse knocks out all technology, then earthquakes flood the land, before a mutated bird flu finishes off the rest. As the army rounds up survivors, teenager Cassie Sullivan (Moretz) is separated from her last surviving family member, Sam (Zackary Arthur), but remains determined to get him back.
Still only 18, Moretz may lack the onscreen maturity of Jennifer Lawrence, but competently sells Cassie's transition from ordinary high-schooler to self-sufficient guerilla fighter. Cassie is vulnerable, fallible and still very much a teenager, but is also able to take care of herself and even kill when necessary.
Inevitably, considering the film's target demographic, Cassie is soon caught in a romantic crossfire between classmate Ben (Robinson), now being trained for frontline combat, and superhuman backwoods stud Evan Walker (newcomer Alex Roe), who comes to Cassie's rescue but may harbour secrets of his own. Meanwhile, at his boot camp Ben is experiencing funny feelings of his own for no-nonsense recruit Ringer (Maika Monroe).
Evoking everything from Independence Day and The Road to Starship Troopers and Red Dawn - in addition to almost every YA sci-fi offering - The 5th Wave will surprise nobody, introducing a procession of stock-character types into well-worn narrative arcs. The third act reveals are obvious from the get-go, while the prospect of sequels to come couldn't seem less enticing. But to its credit, the film's modest ambitions are ultimately its strongest asset.
Aside from a few obligatory 'money shots' of recognisable skylines taking an extraterrestrial pounding, it presents a grounded perspective of these cataclysmic events. While the likes of The Hunger Games, Divergent and Maze Runner expend too much energy developing their ridiculous dystopias, complete with archaic hierarchies, ultra-modern aesthetics and utterly incomprehensible vocabulary, The 5th Wave at least appears to play out in a recognisable reality.
The 5th Wave opens on January 14