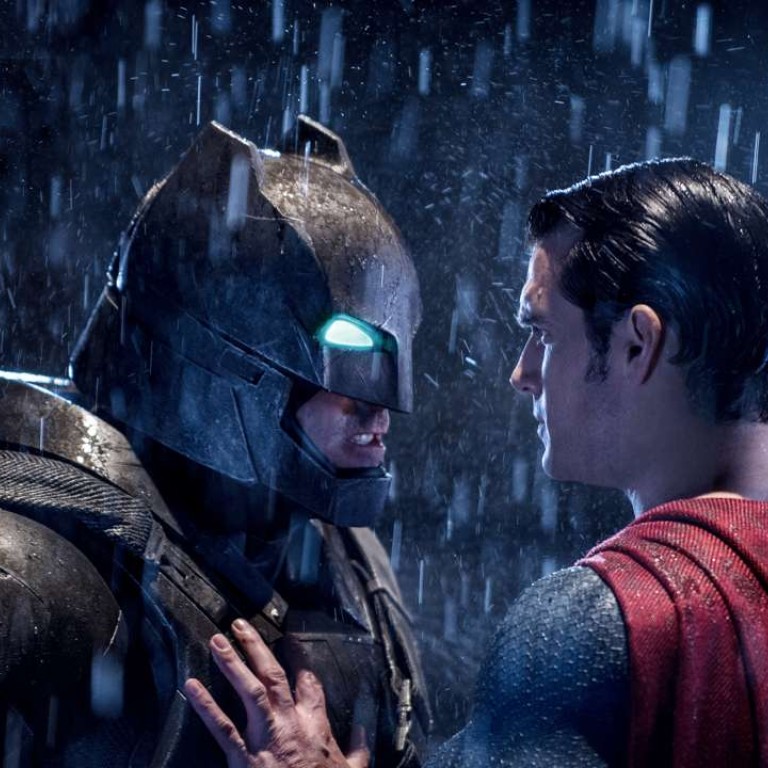 Film review – Batman v Superman: Dawn of Justice is an opportunity missed
Warner Bros is trying to catch up with Marvel, and the desperation shows in this joyless, overlong and depressing mess that seems anxious to cram everything in
2/5 stars
When Marvel Studio's superhero team-up
The Avengers
smashed box office records
worldwide in 2012, it left execs at other Hollywood studios scrambling to copy its "shared universe" formula. In the four years since, Sony, Fox, Universal and Paramount all tried – or are still trying – with their version of connected films, but it is Warner Bros' attempt that intrigued fans the most, because its roster of DC Comics characters have been rivals to Marvel's line of heroes for more than half a century.
Sadly for fans, Warner Bros' plan is off to a rocky start, because Batman v Superman: Dawn of Justice completely misses the mark on every front.
As a superhero flick, it's shockingly joyless and overlong, with the two iconic crimefighters presented as angry, cranky, easily manipulated men in tights. As an adventure film, it's surprisingly devoid of action in the first hour – in fact, the film relies on an extended dream sequence to stage its first action set-piece. As a piece of dramatic fiction, it relies far too much on expository dialogue and the aforementioned dream sequences to reveal plot points.
Even as a vehicle to launch DC's version of the shared universe – which is the film's ultimate reason for existing – Batman v Superman flops for two reasons. The first is time, or lack thereof: since Warner Bros is playing catch-up – Marvel's eight-year-old cinematic universe is heading toward its 12th film this April – there's almost a sense of urgency to cram everyone into this film, and it shows.
Wonder Woman (Gal Gadot) pops in and out of the picture in the first two hours not doing much, then joins the big climatic battle with no stakes attached. The other DC heroes (The Flash, Aquaman, Cyborg) are shoehorned into the story via highly contrived cameos.
The second reason
Batman v Superman
's rapid-fire world-building fails to resonate is due to its director, Zack Snyder. The 50-year-old filmmaker behind films such as
300
(2007) and
Sucker Punch
(2011) is known for his visual flair and not much else.
His version of Superman is the most sombre and depressing depiction of the American icon in the history of any medium, yet he still comes off like a boy scout compared to this Batman, a violent vigilante who shoots criminals dead without batting an eye. It's unfortunate, because in a different film, Henry Cavill's physical chops and boyish good looks would make a perfect Man of Steel, while Ben Affleck's smug persona would have made for a fun Bruce Wayne.
As arguably the most popular superhero in the world and the undisputed star of DC's cast, Batman's introduction in this film was important, but Snyder simply lacked the nuance to get it right. Given the chance to show audiences a different take on the Dark Knight – this version of the character is much older than previous screen versions – Snyder could have skipped the origin story and presented a seasoned, veteran Batman who's sure of himself.
But no, this film opens with, for seemingly the hundredth time onscreen, the killing of Bruce Wayne's parents, and then devotes several scenes to Bruce standing at his parents' grave. Yawn.
There are a few highlights, but they're almost always followed by something asinine. The much advertised heavyweight bout between the two heroes takes heavily from the pages of
The Dark Knight Returns
, the seminal 1985 comic series that climaxed with a smackdown between the two. Although the reason they come to blows (due to manipulation by Lex Luthor, played by Jesse Eisenberg in annoyingly over-the-top fashion) is silly, the reason they call a truce is even more absurd.
Wonder Woman jumping into action is perhaps the film's one emotional high, but she's there to participate in a battle with a generic CGI monster with no motivation. The final minutes also bring a surprise twist that's unique to Hollywood blockbusters (though it is also taken from an iconic DC storyline), but Snyder ruins it by undoing said twist with the very last shot.
If Warner Bros wants Batman, Superman and Wonder Woman to successfully battle Iron Man, Captain America and Thor on the big screen in the next few years, it will have to rethink its approach.
Batman v Superman: Dawn of Justice opens on March 24
Want more articles like this? Follow SCMP Film on Facebook