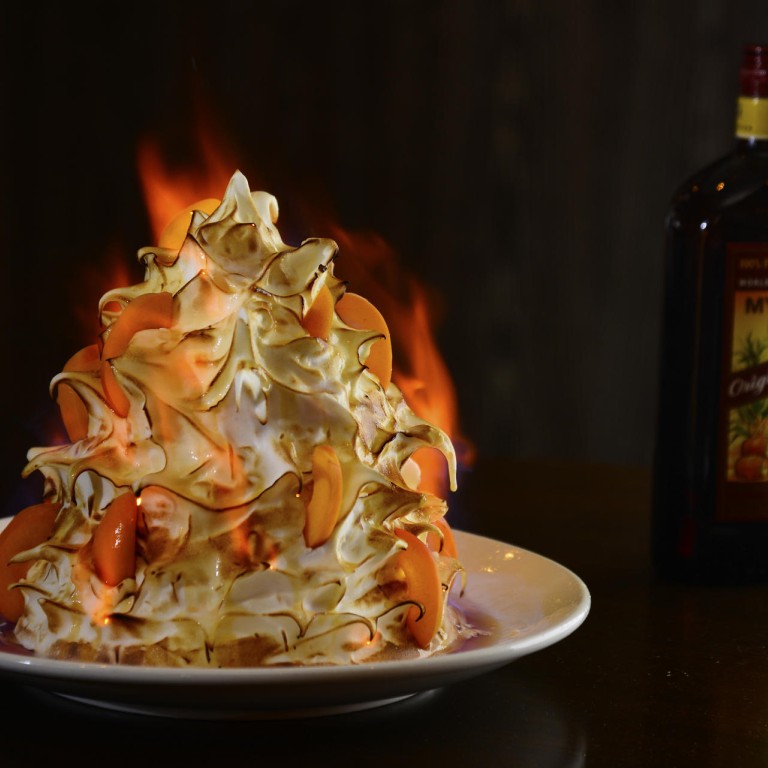 The Hong Kong restaurants that have revived baked Alaska
A once-popular fine dining dessert with the wow factor is making a comeback in the city
When pastry chef Jerry Thornton was creating the dessert menu for Mr & Mrs Fox in Quarry Bay, baked Alaska didn't come to mind: he had never eaten one before, let alone made one.
"When I started in the restaurant business 15 years ago, baked Alaska was out of style," he says in his defence.
Nevertheless, before the restaurant kitchen was even built, Thornton and executive chef Joey Sergentakis brainstormed some very sweet ideas. "He likes flutternutter sandwiches - peanut butter and marshmallow spread with banana. Do you know what flutternutter [marshmallow crème] is? It's like meringue in a jar. He would add that to his sandwich. So we thought why not do something similar, cover it with meringue and set it on fire?"
The baked Alaska they created (HK$155) isn't anything like the dessert your grandparents might have enjoyed: it's a combination of peanut butter ice cream with salted caramel, toasted peanuts, crisped rice and crisp chocolate pearls, with a crunchy base of praline mixed with French frosted flakes and chocolate, the whole thing covered with meringue and surrounded by caramelised bananas.
The result is a combination of several soft and crunchy textures, and the portion easily feeds three hungry diners.
"I previously worked for Daniel Boulud [of Daniel in New York] and he likes to work surprises into the centre of things, so we thought we'd follow that idea," Thornton says.
It's a popular dessert - the restaurant serves about 20 of them a day.
And it has a rich history. US president Thomas Jefferson was served an early version of the dish at a White House dinner in the early 1800s, but the one we know today is widely credited with being created at New York's Delmonico's Restaurant in 1876.
The dessert is hot on the outside and icy cold on the inside, and turns heads when it is flamed tableside. It was especially popular in the 1960s and '70s, but fell out of favour a decade later. However, baked Alaska has found its way back onto dessert menus in Hong Kong, impressing a new generation of diners who aren't familiar with the treat.
At The Pawn in Wan Chai, the dessert (HK$140) has been on the menu since British celebrity chef Tom Aikens redesigned the menu about a year ago.
"A lot of people ask about it when they see it served, and after we explain what it is, they want to order it," says head chef Douglas Forrest.
Presented in a copper pan, Aikens' version features home-made panettone that is soaked in brandy, topped with three to four scoops of ice cream, covered with more panettone and then a layer of meringue.
The dessert is then baked for four to five minutes to give the outside a golden-brown colour, then at tableside, brandy is poured on top and set alight.
The use of panettone adds more texture and different flavours to the dessert, and it also has to be locally made as importing it to Hong Kong is "ridiculously expensive", Forrest says. "Panettone is only available at Christmastime, so we make it ourselves."
So far there's only been one mishap, Forrest says. "One time the meringue was on fire, and it was like one of those birthday cakes where the candle keeps relighting. But we sorted that out quickly."
Probably Hong Kong's granddaddy of baked Alaska comes from Jimmy's Kitchen (HK$184), where it's been on the menu since the '60s. "We've been famous for serving baked Alaska in Hong Kong," says Tom Watson, general manager of the restaurant for almost 13 years, "and the recipe has basically stayed the same".
Watson says the dessert uses a cake base, with scoops of vanilla ice cream topped with fruit salad, such as diced peach, pear and maraschino cherries, then covered in Italian meringue. It is torched on the outside to create the golden-brown colour and then is doused with Cointreau or Grand Marnier before it is set on fire.
The Steak House Winebar + Grill at the InterContinental Hong Kong serves what is probably the largest baked Alaska (HK$328) in the city: it weighs 1kg and usually requires at least four hungry eaters to finish. "Some guests come only for the dessert," says executive pastry chef Cyril Dupuis, adding that it has a wow factor that impresses diners.
The dessert is made with two layers of sponge cake with lemon cream or jam, followed by several balls of ice cream or sorbet to construct a three-layer tower. Dupuis changes the ice cream and sorbet combinations three to four times a year, depending on the season.
Some flavour combinations include lemon, pistachio and apricot, or green tea and red bean. Once the tower is done, it's covered in Italian meringue and browned on the outside before it's brought to the table, covered in rum and flamed.
Hugo's at the Hyatt Regency in Tsim Sha Tsui has been serving baked Alaska for about 30 years, although it's called bombe Alaska (HK$290). Pastry chef Gary Lau Wing-chuen says their dessert has evolved with the times.
"Previously there would only be one or two flavours of ice cream inside, but now we have three," Lau says. "And before, the outer layer would be a very thick and rich meringue, but now we make it much thinner, more for decoration."
He explains the dome shape is created upside down by putting the layers of sponge cake slabs in a large ceramic bowl, filling it with vanilla, raspberry and chocolate ice cream, then covering it with more sponge cake before inverting it.
Meringue is then piped on top and flambéed with brandy and garnished with berries and served with chocolate sauce.
Hugo's manager Paul Lau Sze-lai says at least two people are needed to devour the dessert. He adds many young diners who come to the restaurant have never heard of the dessert before, but after seeing it, are eager to try it. It's so popular that 40 per cent of the restaurant's dessert sales are from the bombe Alaska.
BAKED ALASKA HOTSPOTS

23 Tong Chong St, Quarry Bay, tel: 2697 8500

2/F, 62 Johnston Rd, Wan Chai, tel: 2866 3444
South China Bldg, basement, 1-3 Wyndham St, Central, tel: 2526 5293
Kowloon Centre, 29 Ashley Rd, TST, tel: 2376 0327

LG/F InterContinental Hong Kong, 18 Salisbury Rd, TST, tel: 2313 2323

Lobby level, Hyatt Regency Hong Kong, 18 Hanoi Rd, TST, tel: 3721 7733
This article appeared in the South China Morning Post print edition as: Return of an old flame