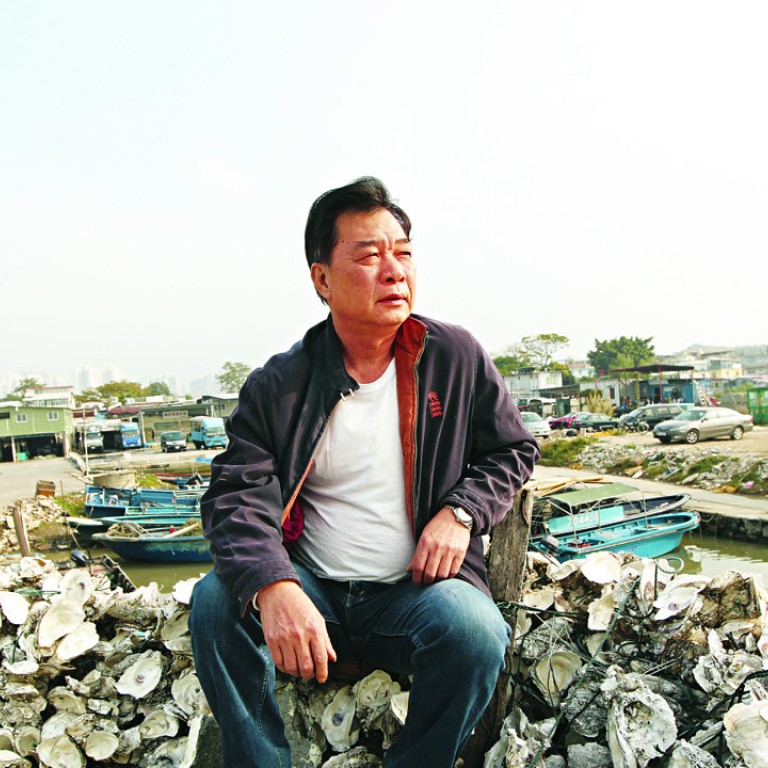 The scientists helping Hong Kong's oyster farmers get over hard times
For 700 years, the oyster beds of Lau Fau Shan have been producing the prized shellfish, but they've lost their lustre amid contamination fears linked to climate change. A four-part plan aims to revive the industry
This time last year, Chan Yu-tong was working flat out on his annual oyster harvest at Lau Fau Shan. From first light he would take his sampan out to oyster rafts anchored in the middle of Deep Bay. Filling the boat with the bivalves that had been suspended underwater, he would ferry his load to a processing facility on the waterfront, where they were shucked and washed.
Half the shellfish would be sent to local barbecue venues, while the rest would be partly dried in the sun over a couple of days to make "golden" oysters, a delicacy the area is known for and an auspicious ingredient favoured for Lunar New Year banquets. But on a recent Friday, the waterfront at Lau Fau Shan is strangely sleepy. Harvest, it turns out, is late this year.
For the past 40 years, Chan had begun gathering his oysters in September after the Mid-Autumn Festival. By the following month he would have shipped off 80 per cent of his stock, keeping the remainder till the Lunar New Year, when he can expect better prices.
"But we haven't been blessed with fine weather this year. The oysters aren't plump enough," he says.
A fully developed 10cm oyster can weigh up to 114 grams, but the flesh now is only a third of the usual size, says Chan, who is chairman of the Deep Bay Oyster Cultivation Association.
A third-generation oyster farmer, he has seen the 700-year-old industry in Lau Fau Shan struggle to cope with challenges from inefficient cultivation methods and an ageing workforce to the occasional health scare.
But Chan, 60, isn't too upset at the setback that unseasonal weather has caused for the local oyster business. That's because there's help at hand from a team of scientists at the University of Hong Kong.
An ambitious four-part initiative spearheaded by marine biologist Vengatesen Thiyagarajan aims to ensure that the cultivated oysters will not only taste good but be safe to eat; and help farmers achieve sustainability.
"Oyster culture is important to Hong Kong because it is our cultural heritage, and the [cultivated] species [Crassostrea hongkongensis] is named after our city," says Thiyagarajan.
Local farmers are struggling in many ways because they lack scientific know-how, adds Ginger Ko, Thiyagarajan's PhD student, who grew up eating oysters from Lau Fau Shan and has made them the focus of her research. "The problems aren't rocket science … but the farmers don't speak English and don't understand scientific journals. So it's hard for them to overcome the obstacles."
When the project takes off, Ko foresees that "in 10 years' time the oyster culture industry will do well".
The first step of the HKU team has been to overcome the bacterial contamination scares that caused Lau Fau Shan to lose its lustre as a seafood paradise. Consumers began avoiding local oysters after media reports about hazardous levels of bacteria and heavy metal in shellfish. In 2013, the Shenzhen government even threatened to ban sales of the shellfish as being unfit for consumption.
But despite marked improvement in the water quality in Deep Bay and oyster growers' assurances about the safety of the shellfish, Lau Fau Shan has yet to overcome its image problem.
"[Local oysters] have a limited market in Hong Kong and abroad because people still perceive that they are contaminated. This has to be broken down scientifically," says Thiyagarajan.
Although cooking easily kills the bacteria, oysters are more valuable in the raw form.
That's why the researchers are working to install a purification system in Lau Fau Shan, where harvested oysters will sit in ultraviolet-sterilised seawater for up to four days to remove bacteria from their system.
The 2,000 square metre facility, which can handle 10,000 oysters every day, is expected to open in the summer. Once the system is up, seafood lovers should be able to savour the home-grown oysters raw.
Having sampled the oysters themselves, the scientists can testify to their flavour and safety. The team has been studying local species at the HKU marine science centre in Cape D'Aguilar and whenever they had more than required for lab work, the extra shellfish would be cleansed in purified water before the colleagues are invited over for a raw oyster feast.
"The homegrown oysters were all gloriously plump when eaten in their purest form. Their quality is on par with imports … None of us suffered food poisoning," says Ko.
Chan is palpably elated at the prospect of a new market opening up this year. He believes the facility, supported by a grant from the Sustainable Fisheries Development Fund, could allow Lau Fau Shan oysters, which now sell for about HK$4 each, to fetch as much as HK$10 each.
"We want to win the consumers' trust," he says.
Still, the system does not eliminate the problem of heavy metal contamination, which the scientists suspect stems from farmers importing spat (baby oysters) from the Pearl River Delta to fatten on their rafts.
Before raft culture became widespread in the '80s, villagers in Lau Fau Shan practised bottom culture. This meant cultivating oysters from scratch, allowing larvae to settle naturally on wooden posts planted across a tidal flat and leaving them to grow to marketable size – a cycle that took up to four years. "If the conditions are right, all the wooden posts would be enveloped in oysters. But if we are unlucky, we'd be growing barnacles. This happens about every five years," Chan says.
Scientists attribute the phenomenon to acidification of marine waters, which stunts the growth of oysters in the larval stage, making it difficult to accumulate the calcium carbonate that forms their shells. If the higher acidity doesn't kill them outright, an increased susceptibility to disease and predators often will.
An effect of climate change, ocean acidification affects oyster growers worldwide. And if Chinese spat suppliers are hit, the impact on Lau Fau Shan cultivation will be just as tough.
The solution is straightforward: breed baby oysters in the controlled environment of a hatchery.
"If we have a hatchery, we will have a steady supply of baby oysters regardless of the season and climate, and free of heavy metal," says Chan.
The process is routine for HKU scientists who have been hatching baby oysters – up to a million per month – for their experiments. But they will have to scale up operations considerably to help the Lau Fau Shan cultivators. For a commercially viable hatchery, they will need to set up a facility covering about 4,000 square metres that can produce 10 times the amount of baby oysters.
That will allow them to select baby oysters for shell depth, flesh content, growth rate and disease resistance so that only the meatiest and healthiest individuals make it to dining tables.
To realise the second part of their initiative, the researchers will apply for another grant in hopes of churning out their first batch of baby oysters next year. But it will likely take two years before hatchery operations are sufficiently optimised so they can hand its protocols to the farmers.
After resolving safety and supply chain issues, the HKU team plans to introduce techniques used abroad to help local growers cultivate well-shaped individual bivalves that can be easily served in the half shell and therefore command higher prices like imports from Australia or France.
But it will take time to identify the model that best suits Lau Fau Shan oysters, which now come in unappetising clusters with an occasional barnacle lodged onto the shell.
Both oyster growers and scientists are acutely conscious of the need to bring new blood into the industry. There are only about 100 oyster growers left in Lau Fau Shan, compared to 700 people in the halcyon days of the '60 and '70s.
To sow the seeds for a new generation of oyster cultivators and scientists, Thiyagarajan will run an annual undergraduate course in oyster culture, including a field trip to hatcheries in Penang, from June. Places in the two-week course have filled up quickly, which is an encouraging sign, he says.
Although securing funding and land for the initiative to revive local oyster cultivation has meant having to go through a complex application process, Ko says it has all been worthwhile.
"It is rewarding to be able to apply my scientific knowledge in the real world and help society. This is what scientists should do. It's gratifying to help solve questions that have been troubling oyster growers for ages. "They would ask me: Why do oysters taste better in winter? Why is the harvest season later year after year?"
Chan is grateful for HKU's support in the efforts to put Lau Fau Shan oysters back on the map, and on the plate. "Without HKU, how can oyster growers like us, who haven't graduated from high school or even primary school, overcome the multiple problems? ... We want to revitalise our backward industry, give better prospects and confidence to the future generations so they would carry on with a tradition that has been with their families for hundreds of years. It's our legacy."
Explore: Many people visit Lau Fau Shan to dine at its restaurants and pick up some dried seafood. However, BiciLine, an eco-tourism social enterprise under the Tung Wah group, offers a broader view. It runs a five-hour cycling trip to Lau Fau Shan that takes visitors around oyster beds and mangroves before finishing with a seafood dinner. The tour costs HK$280 per person. For details, tel: 2478 3880 or email: [email protected]
How to get there: the nearest MTR station is Tin Shui Wai, from where minibuses serve Lau Fau Shan.