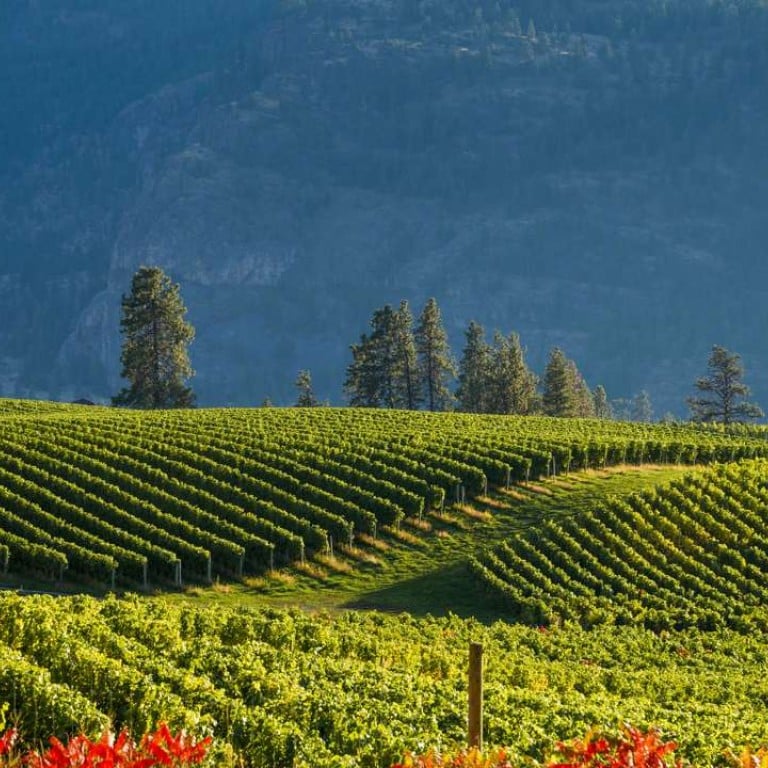 Opinion
Grape & Grain
by Jane Anson
Grape & Grain
by Jane Anson
Why you really should try French red wines from Canada
More renowned for producing that wonderfully sour-sweet drop known as ice wine, the home of the maple leaf also turns out some very good French vintages
In summer 2014, when Li Wencheng bought the 12-hectare Chateau Puy Guilhem in Bordeaux, he was not only the proud owner of one of the most beautiful views in the whole of Fronsac, overlooking the valley of the river Isle, but he also left former owner Jean-Francois Enixon with something of an opportunity.
Selling to the Chinese architect (who also owns La Fleur Jonquet in Graves, Chateau Lucas in Castillon and Wencheng Castle near Beijing) gave Enixon the chance to do something he and his wife had thought about for a while – move abroad and make wine somewhere new.
"We decided the best way would be to find a French company with an estate overseas," says Enixon. There are plenty, from the Rothschilds in Chile, China and Argentina to the Drouhins in Oregon, to LVMH in pretty much all of the above. But he went instead to the Merlaut family, owners of the prestigious Chateau Gruaud Larose in Saint Julien along with more than a dozen wine properties in Bordeaux through their Taillan Group. "I was introduced to the wines of Osoyoos Larose through a friend who works for Denis Merlaut. I was surprised to find that they even make red wine in Canada, and even more surprised by how good it was."
Enixon may not be the only one. For most people, Canadian wine means ice wine, that wonderfully sour-sweet kick of pleasure that comes from white grapes such as vidal, picked at temperatures of about -10 degrees Celsius when they are frozen on the vine.
But head further south to British Columbia, about four hours from Vancouver, you'll find the 212km Okanagan Valley. You'll still find ski resorts here, but not so much ice wine, as temperatures rarely drop low enough for the grapes to freeze for prolonged periods. Instead, for the past 20 years this has been the scene of increasingly exciting red wines, particularly in the southern tip of the valley where the sun shines longest.
One of my favourites is the truly excellent syrah from Le Vieux Pin Cuvée Violette, but the more usual style here is the Bordeaux blend: merlot, cabernet sauvignon, cabernet franc, petit verdot and malbec. And because there is still the risk of frost on the valley floor, most winemaking takes place on the slopes on either side of Lake Okanagan, so enhancing the complexity that happens naturally in fruit grown at altitude.
There are 170 wineries across the Okanagan Valley, and among the best Bordeaux blends I have tried are Painted Rock Estate Red Icon and Burrowing Owl Athene (cabernet sauvignon and syrah). There are dozens more that I wish I could get hold of more easily outside Canada, but I'm thrilled that one that does make the trip beyond the Okanagan Valley is Osoyoos Larose.
Osoyoos Larose is a wine that I have increasingly enjoyed since its first vintage in 2001. I opened a bottle of the brilliant 2012 earlier this week, and it's maybe the best vintage that I have yet tried, still so young, hugely elegant but with mouthwatering luscious fruit and lovely spice. I liked it so much that I called the winemaker, which is how I discovered the link with Li.
There has been a French winemaker at Osoyoos Larose since its inception and regular exchanges with the winemaking teams at the various Bordeaux properties. For the past three years, the man on the ground has been Mathieu Mercier, a Cognac-born winemaker who previously worked at Swanson and Cain in the Napa Valley. Last year he moved back to France, and the fortuitous timing of Enixon's sale meant the two men have spent the past six months working together on the handover.
"The vines here sit on slopes at about 400 and 500 metres altitude," Enixon says, "giving a natural vibrancy and intensity to the fruit. And although I am used to working with merlot and cabernet franc grapes back home in Fronsac, it is fascinating getting to know how they react out here. It's thrilling to be part of the wider development of this area, to be in a place where there is such a sense of cohesion and potential between a small group of estates who are starting to open up Okanagan Valley to wine lovers all over the world."
There's a way to go. Even with the Bordeaux connection, this is a wine that only exports about 10 per cent of its 15,000 case production. Berry Bros in Hong Kong is a good place to start, and although just 100 cases were exported to China in 2015, I found a few bottles in two Hong Kong merchants through an online search. A reminder again of how following the grapes first made famous in Bordeaux can take you to the most unusual of places.