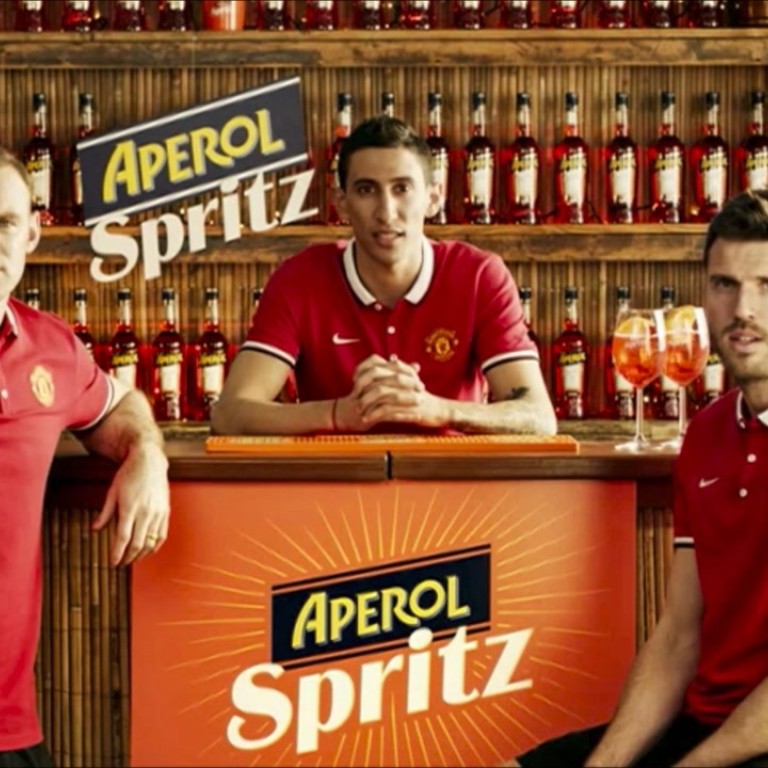 Opinion
Grape & Grain
by Robin Lynam
Grape & Grain
by Robin Lynam
The rise of the Aperol spritz and the three best places in Hong Kong to drink the aperitivo
An Italian concoction of prosecco, soda and bitters, the Aperol spritz became popular in the 1950s, and with Aperol now Manchester United's official spirits partner, interest continues to grow
There are few obvious links between the former Austrian Empire and Manchester United, but they do have the Aperol spritz in common.
The drink is an Italian institution, and Italy's tradition of spritz cocktails as aperitivos dates back to the intermittent Austrian occupation of the Veneto region between 1797 and 1866.
The Austrians had a taste for wine mixed with carbonated water, a drink still internationally known as a spritzer. The Venetians adopted it, and its popularity spread throughout Italy with various adaptations along the way. Among those were the substitution of prosecco for still wine, and the addition of Italian bitter liqueurs such as Campari and Aperol to the mix.
In recent years, the Aperol spritz in particular has become internationally popular as a summer aperitivo, partly because it is refreshing and easy to make, but also because it has benefited from the support of some serious marketing muscle – which is where Manchester United enters the picture.
Aperol is "official global spirits partner" of the world's highest-earning soccer club, the sort of association that requires the kind of money Gruppo Campari has splashed out since acquiring the brand in 2003, when it bought Barbero 1891 which created and owned the Aperol formula.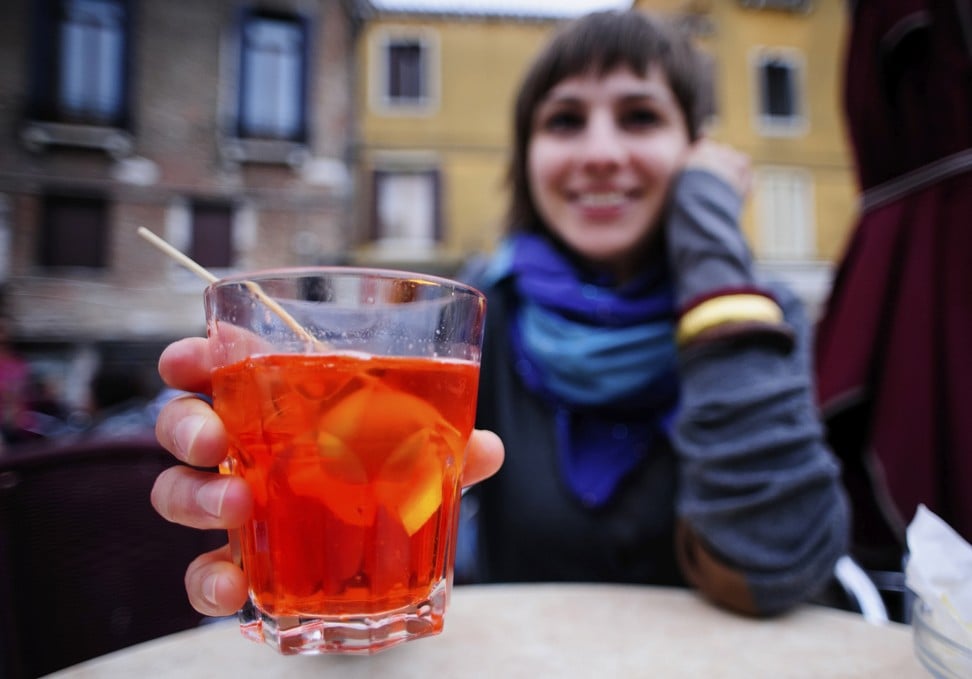 Made with bitter and sweet oranges and an assortment of herbs and roots, Aperol was created in 1919 as a competitor to Campari, which had been around since 1860. Aperol has a lower alcohol content (just 11 per cent), a lighter colour, and a less bitter taste.
The recipe, as those for bitters and liqueurs tend to be, is secret, but includes rhubarb and gentian. Campari claims that it has never been changed.
The Aperol spritz began to catch on in Italy during the 1950s and it has long been a popular thirst quencher and aperitivo all over the country.
Investment in overseas promotions during the '80s and '90s began to build an international following for Aperol, but Gruppo Campari's aggressive advertising and sponsorship campaigns, which have associated the drink with fashion, soccer and other sports, took its appeal to another level.
The drink even has its own Guinness World Record. In 2010 in Venice, what was then the world's largest Aperol spritz – with a total liquid mass of 573 litres – was poured.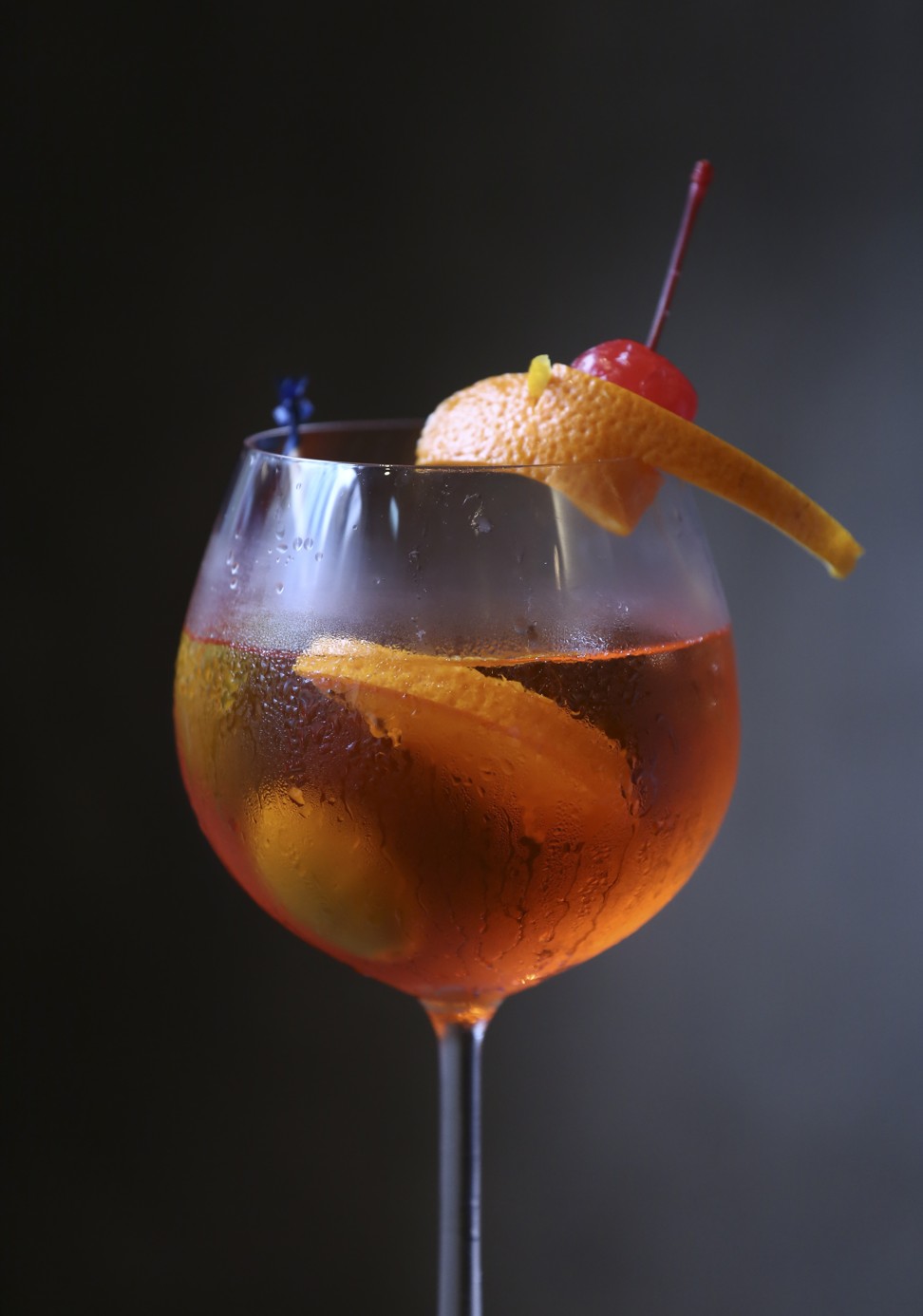 That record was smashed last year when a 1,000-litre version was poured aboard the Italian cruise ship Costa Favolosa.
The basic formula for the Aperol spritz is a combination, in whatever proportions the bartender determines, of Aperol, prosecco and some form of sparkling water. The current Guinness Record holder comprised 667 bottles of fizz, 333 litres of Aperol and 167 litres of soda, which sounds like a bit of an undertaking, but a regular sized one is easy to put together at home.
It is also one of the house specialities at DiVino in Wyndham Street, in Hong Kong's Central nightlife district.
"This is a bar like in Italy. You come here for dinner and for an aperitivo," explains manager Giulio Gongarini. "In Italy it's normal to have an Aperol spritz from about 6pm to 8pm with some canapés. For some people who come here, that is dinner.
"We also have a Campari spritz, but we're famous for the Aperol spritz. It's lighter and it's not as strong as the Campari. The orange goes well with the bitterness and the sweeter prosecco, so it's a perfect combination. It's good for the warm weather, and one at the start of the evening is really nice for stimulating your appetite."
According to DiVino bartender Lawrence Sampagna, the proportions in which he mixes the elements, poured over ice, are 40ml of Aperol to 60ml of prosecco topped up with a splash of soda and garnished with a slice of orange and a couple of green olives.
DiVino uses large Cerignola olives from Puglia in southern Italy, which Gongarini believes add an additional touch of bitterness to contrast with the sweetness of the prosecco, introducing a savoury element. The olives are optional, and a simple orange or orange peel garnish is thought by many to suffice.
Although the drink is often served in a rocks glass, Gongarini says he uses wineglasses because they add a touch of elegance.
"Some people like to use still white wine rather than prosecco, but with the soda water it's still a spritzer," he says. "You can also substitute champagne for the prosecco."
The Aperol spritz appears on the drinks lists of most Italian restaurants that are serious about Italian drinks, but is also a featured cocktail in many other bars.
Vermouth bar Pirata in Wan Chai also knows a thing or two about aperitivos, and offers its own Aperol Spritz. Red Sugar, the cocktail bar of the newly opened Kerry Hotel in Hung Hom Bay, offers both an Aperol Spritz and its own twist on the idea, an Aperol Mojito which substitutes a mixture of fresh orange and lime juice for the prosecco, and adds a garnish of mint.
DiVino 73 Wyndham Street, Central, tel: 2167 8883
Pirata 30/F, 239 Hennessy Road, Wan Chai, tel: 2887 0270
Red Sugar 7/F Kerry hotel, 38 Hung Luen Road, Hung Hom Bay, Kowloon, tel: 2252 5279
This article appeared in the South China Morning Post print edition as: Bringing new sparkle to an old favourite