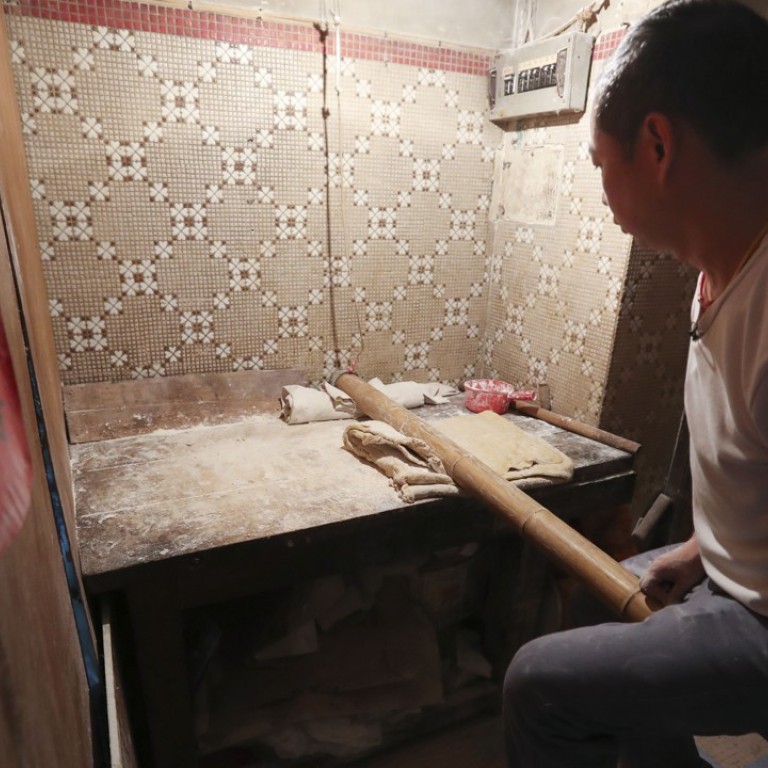 One of Hong Kong's last bamboo pole noodle makers shows how it's done, as it always has been, at Sham Shui Po restaurant
As a schoolboy Lau Sum Kee Noodle owner Lau Fat-cheong began helping on his father's noodle stand and, to this day, he carries on the family tradition of rolling noodle dough by sitting on one end of a bamboo pole
Even though it's 2pm, there's a constant stream of people coming in and out of Lau Sum Kee, a restaurant in Hong Kong's Sham Shui Po district. Its speciality is noodles made using a bamboo pole, which is why they are called jook sing noodles, or bamboo pole noodles.
There aren't many restaurants in the city that make their own noodles from scratch, but Lau Fat-cheong, in his early 40s, and his two younger brothers make them this way as Lau Sum Kee has done since the business began operating more than 60 years ago in the working-class area in Kowloon.
"My grandfather was in Guangzhou when he started learning how to make noodles in the 1930s," Lau says. "Then in the 1940s, together with my father, they had a roving noodle stall where they carried all their equipment on bamboo poles. After the war, they started up their itinerant noodle stand again."
In 1954 Lau's father came to Hong Kong and went to work at his uncle's noodle shop in Shau Kei Wan on Hong Kong Island. A few years later Lau's father branched off on his own in Sham Shui Po and opened a cart noodle stand in Pei Ho Street that operated in the evenings.
When Lau's parents got married, one would make the noodles, while the other would cook and serve them.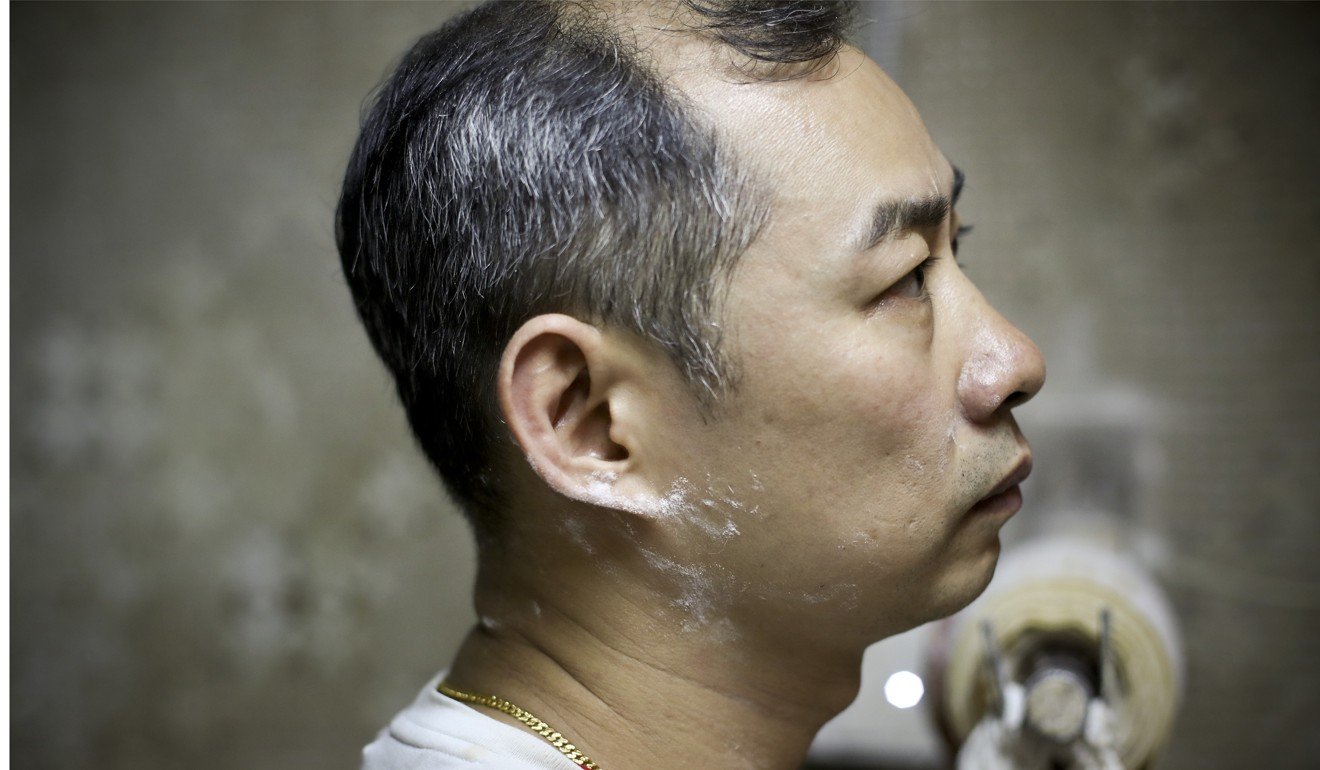 The authorities began gentrifying Pei Ho Street in 1975, and food cart owners had to get a cooked-food stall licence to keep their business going, which is what the Laus did. Twenty years later they finally moved into a shop space in Kweilin Street, and have since opened two more branches in Hong Kong.
When Lau was 11 years old, he remembers one day his father had a bad bout of arthritis and called him to help make wonton wrappers. That was his first introduction to the business besides washing dishes. From then onwards, the younger Lau would help out making noodles and wrappers after school and during school holidays.
"It wasn't difficult, but for a kid, after a while it got boring," he says.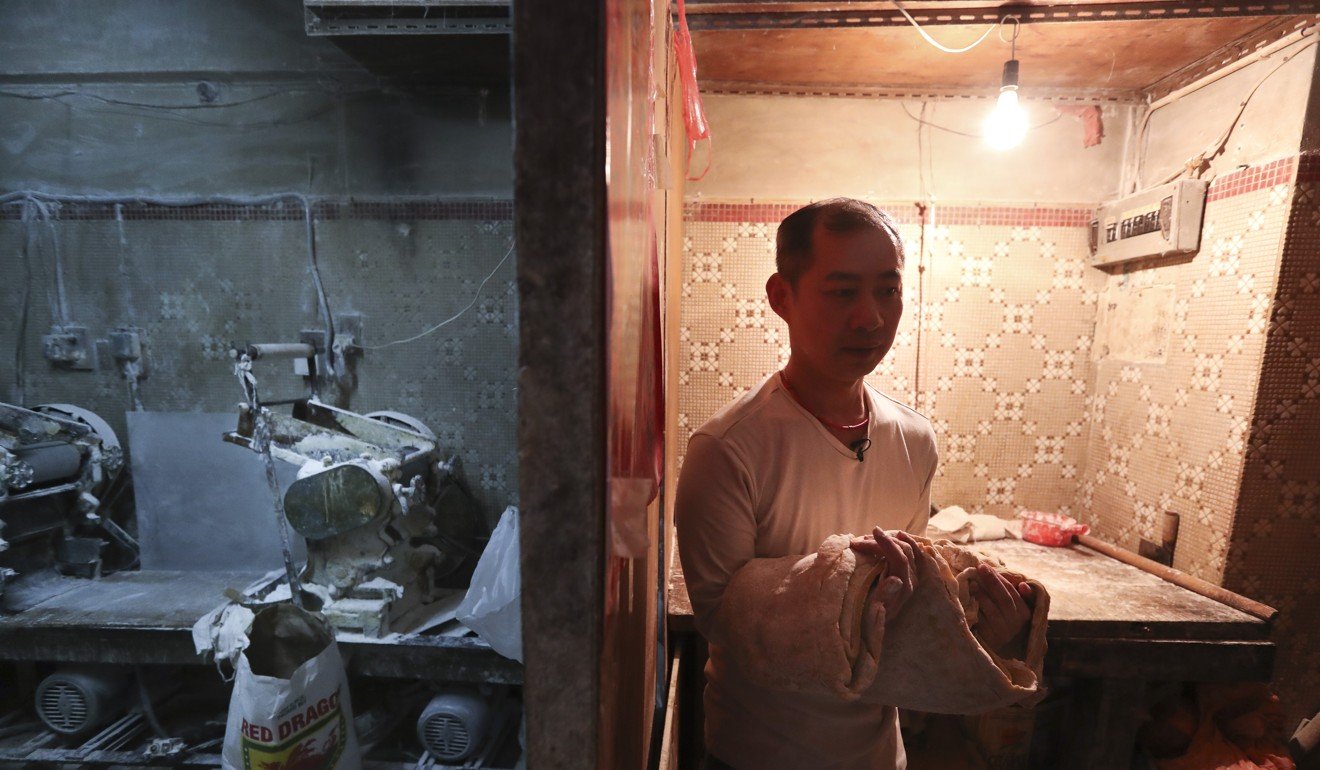 While standing outside his shop, Lau is very observant of the weather – when making noodles, much like bread, the recipe is tweaked slightly: if it's more humid, then add more flour, more dry, add more eggs.
It can take almost two hours to make a batch of noodles into just over 100 portions, and Lau demonstrates how it's done.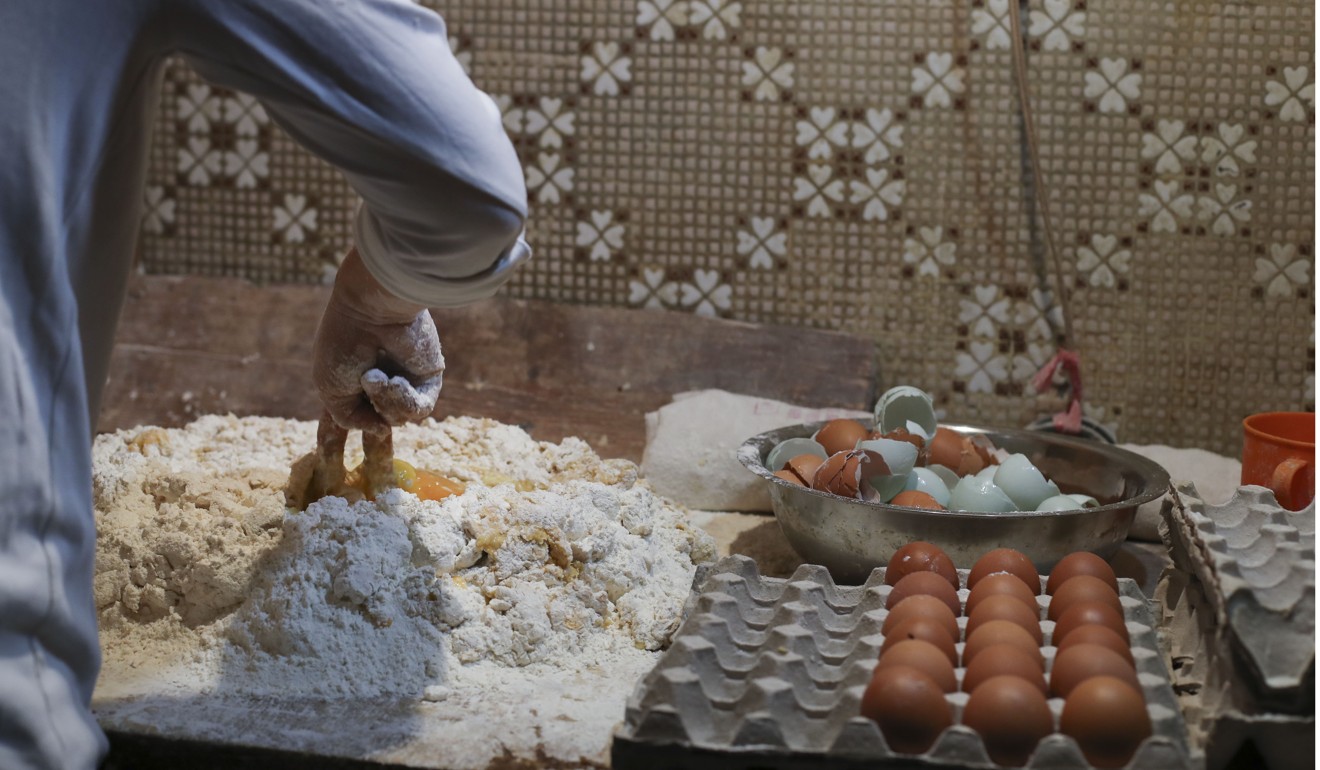 Much like how pasta is made, he creates a well with flour and then brings out a tray of duck eggs and begins cracking them. He adds a few at a time, breaking them with his fingers and mixing them in with the flour.
"We use around 50 eggs; two-thirds are duck eggs to give the noodles flavour and colour, and then the rest are chicken eggs," he says. No water is used, just a bit of oil.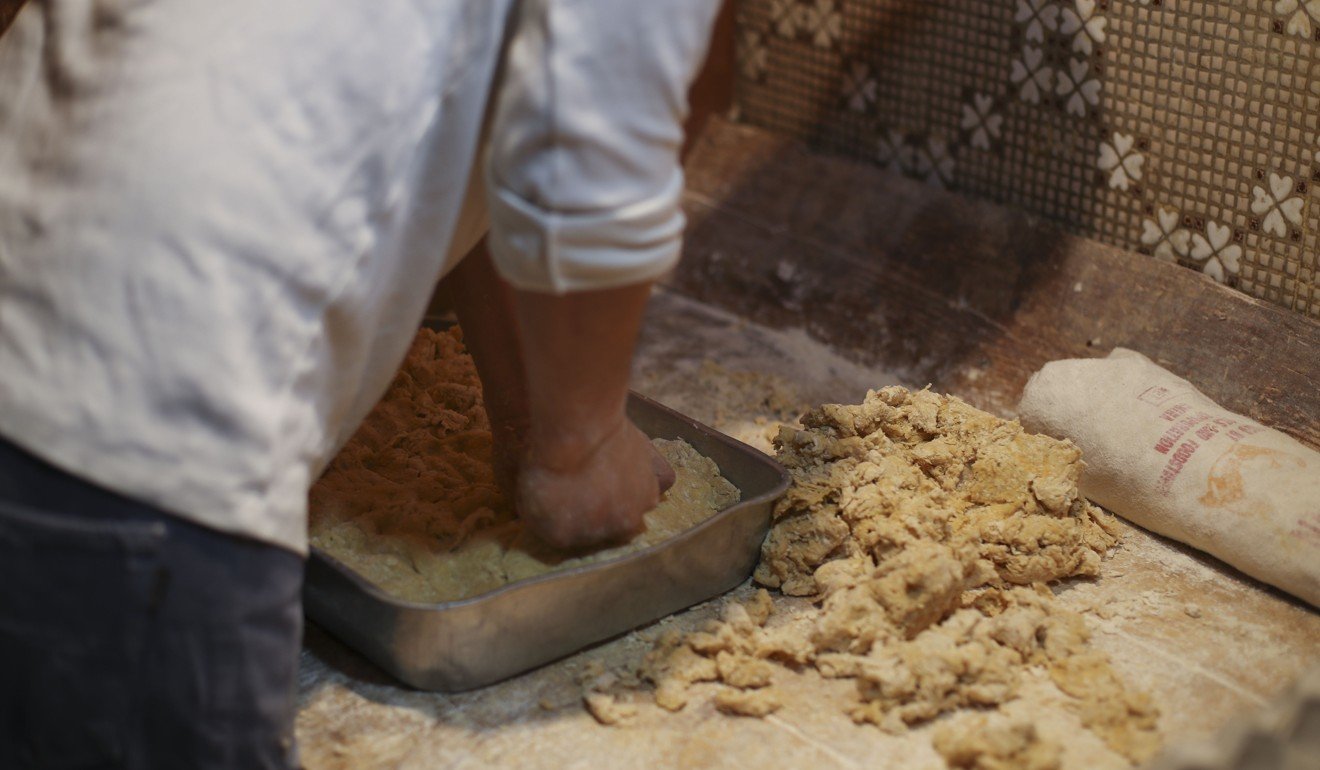 When they are all mixed into the flour, he begins kneading the dough by hand, then puts it in a deep tray, where he begins punching the dough. It is removed from the tray and a bamboo pole is put in place with a loop on the wall.
Lau sits on the other end of the pole, and bounces effortlessly up and down on the pole to flatten the dough. The trick is to leverage your weight to knead the dough, he says.
Lau throws flour on the dough, folds it again and bounces once more on the pole – the third one he's used since he started making noodles as a child.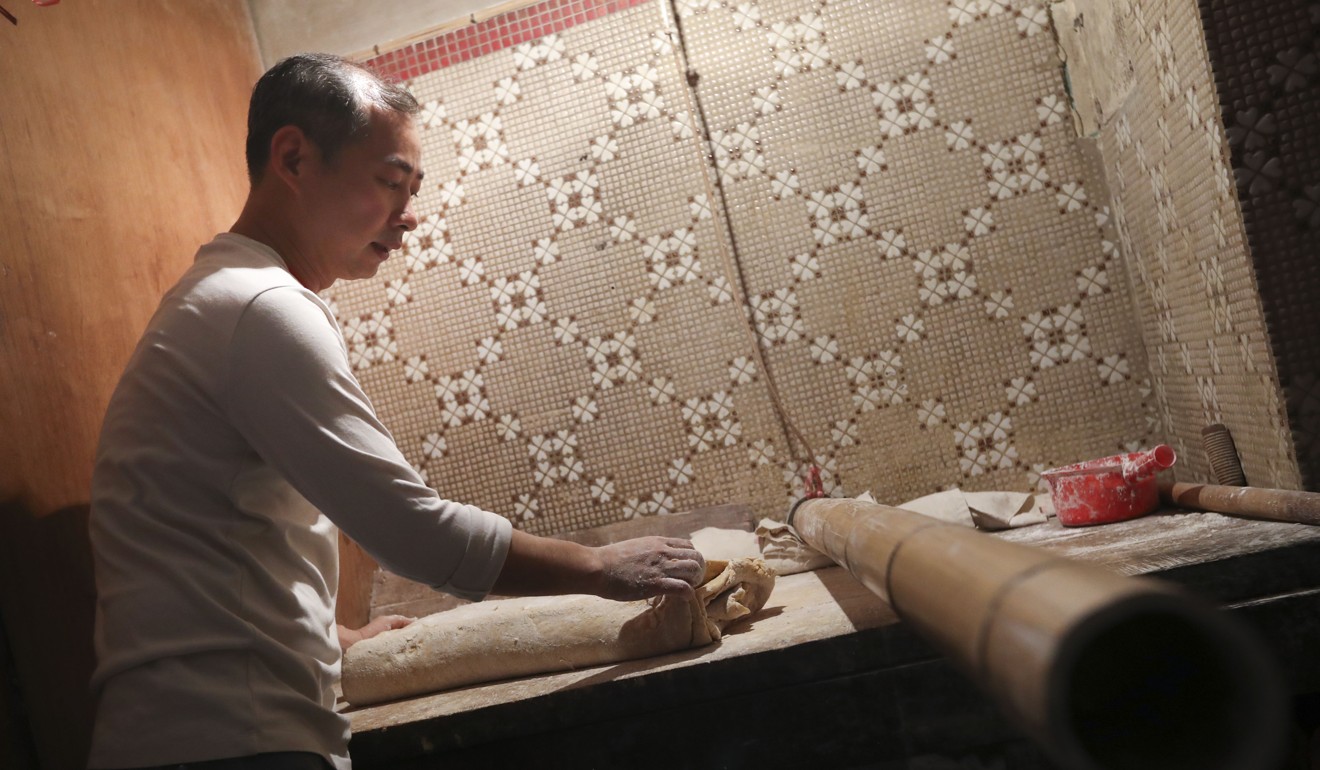 It's important not to put all one's weight on the dough for too long, otherwise the layers all stick together. It looks much like a thick piece of fabric he keeps making thinner.
The dough is then placed in a machine to roll it out thinner and the more evenly. This is done a few times, each time adjusting to make the dough thinner.
Then it's placed in another machine that automatically adds flour to it as it gets rolled up like a paper towel. This is done another few times until finally Lau places the dough into a third machine that cuts it into fine noodles.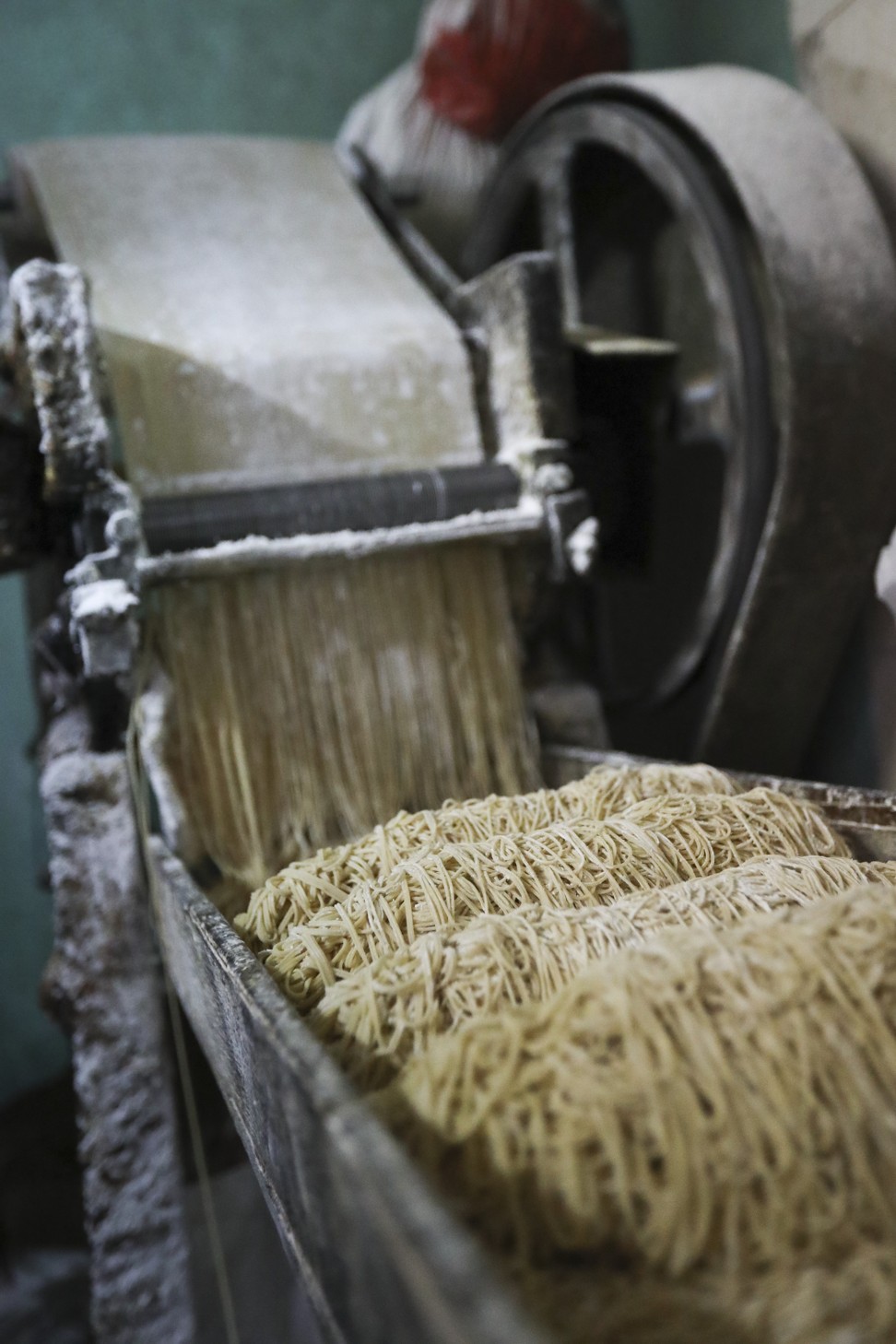 For the final step, Lau takes the giant heap of noodles and folds them into portions. He takes a bunch of noodles, then twists and folds them, before ripping them by hand. They are portioned off this way so that it is easier for the cook to grab a portion of noodles and place them into boiling water.
"After making noodles for a while, you start to see you can make a nice batch of noodles and you feel good about it, and feel like you've improved," Lau says.
His son is not yet two years old, but Lau doesn't expect him to follow in the family business. "During my father's time there were lots of noodle shops making noodles with bamboo poles, but nowadays there aren't many," Lau says.
He doesn't seem too concerned there won't be many noodle makers left, saying there are some in Guangzhou, though he admits not many young people are interested in taking up this kind of job because of the monotony.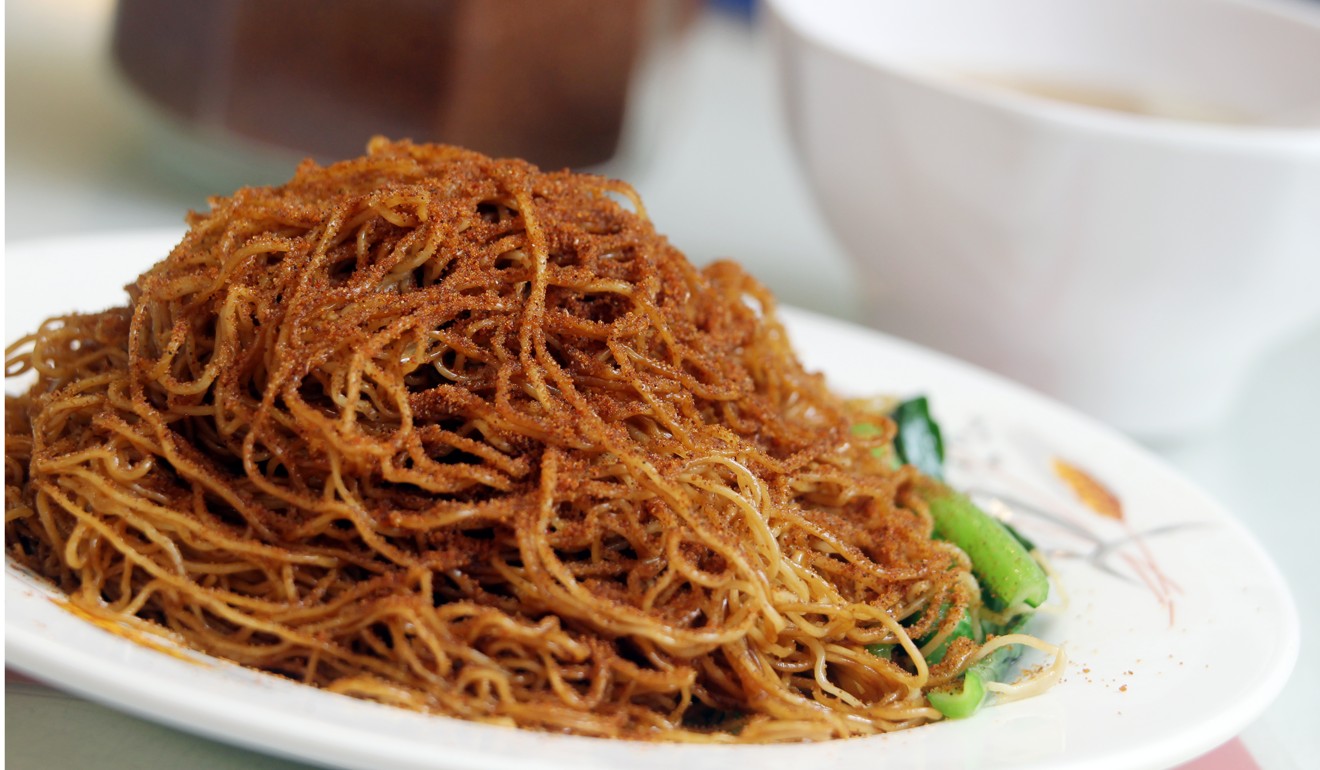 Back in the shop, the most popular items are the wonton noodles and noodles tossed with dried shrimp roe. The wonton wrappers are very thin, and filled with a whole shrimp and a bit of pork. Customers like the latter dish too, because the noodles aren't stuck together and are coated with shrimp roe.
"We don't have much alkalinity in our noodles which makes them get stuck together. So our dish has more flavour – at least that's what our customers say," says Lau.
Lau Sum Kee is featured in the book A Traditional Taste produced by Miele. It is available at bookstores including Eslite and Kelly & Walsh, and via Miele's website shop.miele.hk. The book costs HK$450 and all the proceeds of copies ordered through Miele's website will be donated to the charity Feeding Hong Kong.